Written by Matt Gwin, Rachael McDaniel, and Joshua Howsam
Attack of the Yankees Young-ins
The Yankees have the second best record in the American League. At an active roster age of 28.1 years, they're also quite young.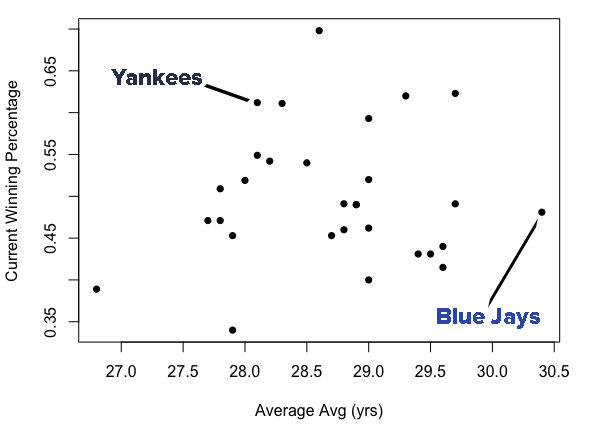 If it were any other team, that'd be a nice feat, but for the 'aging' Yankees, it's seems like a miracle. Seem is the operative word here, however, as the Yankees have actually been de-aging since their most recent peak average age of 31.8 in 2013. However, there's a reason that we've been trained to think of this team as being old. Not since 1992 have the Yankees finished the season with an average age under 29 years. Ergo, the last time that the Yankees were as young of a team as they are right now, Roberto Osuna hadn't even been conceived.
New York took an interesting path to get to this point, as well. Unlike the Astros and Cubs of this world, the Yankees never opted for an everything must go fire sale. Instead, a bout of patience, timely trades, and player development have gotten them to their current point.
In this series, the Blue Jays will be facing New York's youngest player in 23-year-old starter Luis Severino as well as their third youngest player in 24-year-old starter Jordan Montgomery. The Yankees' starters will be caught by 24-year-old catcher Gary Sanchez and their lineup will be anchored by 25-year-old outfielder and offensive world beater Aaron Judge. Judge has been so good to start this season that with Angels' youthful phenom Mike Trout injured, some think Aaron could win the AL MVP Award.
This isn't all to say that the Yankees are devoid of veterans, however, as New York's first starter will be their second oldest player: 36-year-old C.C. Sabathia. But it does mark quite a stark contrast with a truly aging Toronto team that has refused to adjust and retool. Players like Marcus Stroman, Devon Travis, and Kevin Pillar, who we generally think of as being on the younger side of the team, are all well older than the four key Yankees players mentioned above. In fact, in terms of the Blue Jays core players, only Aaron Sanchez and Roberto Osuna are under the age of 26. Let's just hope this team of aging stars can outdo the Yankees' young-ins.
CC Sabathia Is Commanding His Cutter Again
We're only two months into the 2017 baseball season, but for C.C. Sabathia, this year has already been quite the roller coaster ride. After beginning the year with three consecutive quality starts, allowing only three earned runs over 18.1 innings pitched, Sabathia followed this up with four consecutive starts allowing four or more earned runs. The Yankees managed to win two of these games thanks to their offense, but concerns about Sabathia's longevity in the Yankees rotation began to be bandied about in earnest.
Over his last three starts, though, Sabathia has done much to quiet such concerns, seemingly having reverted to the fine form he showed in his first three starts. Since his 5-3 loss against the Reds on May 9th, he has once again allowed only three earned runs over 18 innings pitched, most recently striking out nine batters over 6.1 innings in a 3-2 win over the A's.
What was going wrong for Sabathia during his rough stretch, and what has he done to turn it around, at least for now? Sabathia himself imputes his recent success not to any mechanical changes, but rather to increased focus on locating his cutter.
Sabathia described his use of the cutter over his four bad starts as "a little bit lazy" – instead of riding in on the hands of right-handed hitters, his cutters would stay over the plate, making them an eminently hittable pitch. Here's where Sabathia's cutters ended up during his four bad starts.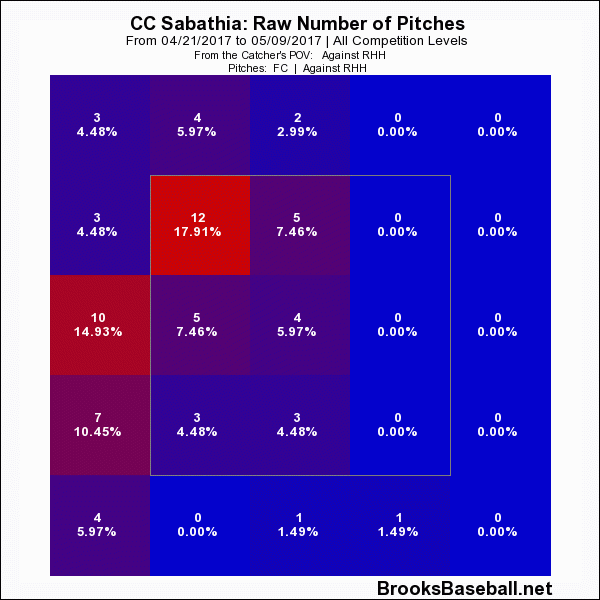 Almost half of the 67 cutters Sabathia threw to right-handed batters over this period ended up in the strike zone. As a result, right-handed batters hit .407 and slugged .741 against this pitch.
Compare that to where Sabathia's cutters have been located over his past three quality starts: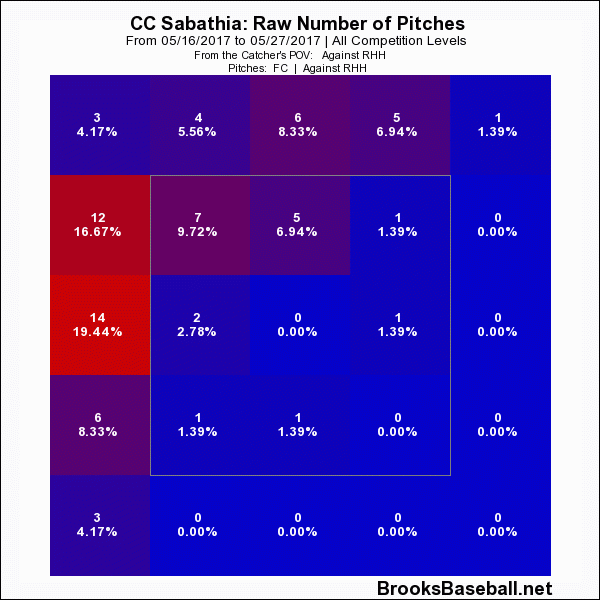 Instead of staying on the inner half of the strike zone, Sabathia's cutters have tended to run inside on right-handed hitters, to great success. Right-handed hitters' batting average against the cutter over Sabathia's past three games has dropped all the way down to .174, and Sabathia has generated nine strikeouts with the pitch – as opposed to three strikeouts over his four bad starts.
Sabathia has consistently thrown the cutter around 30 percent of the time this season. With the Jays' lineup heavy with right-handed hitters, Sabathia will likely continue to use it frequently in his Thursday start against the Jays – and while the Jays scored six runs off Sabathia last time they faced him, that start was in the midst of Sabathia's period of struggle commanding the cutter. (And the Jays lost that game anyway.) The Jays' success, or lack thereof, in the series opener should have a lot to do with Sabathia's command of this pitch against the Jays' right-handed power.
Those Tired Arms
The Blue Jays' recent string of wins has fans all excited about the prospects of this club, especially with Liriano rejoining the club this weekend, but they have come with something of a price. Of the Blue Jays' eight wins (in their last nine games), only two game with a margin of greater than two runs runs. That has meant an awful lot of work for the quintet of Roberto Osuna, Joe Smith, Ryan Tepera, Danny Barnes, and Aaron Loup. That group has thrown 22 innings across that stretch in 24 appearances.
It's not all that hard to see why John Gibbons has relied so heavily on those five arms, as while Joe Smith and Roberto Osuna have ERAs slightly above 3.00, the case could easily be made that those two have been the two best options. Osuna has been dynamite since junking to his twoseam fastball, and Joe Smith has 39 strikeouts in just 25 2/3 innings. Those two lock down the eighth and ninth, and the three-headed trio of Barnes, Loup, and Tepera are handling the middle innings (with a combined ERA of 2.65) with ease.
This isn't really anything new during this winning streak either, as the Blue Jays relief corps leads the AL in innings pitched out of the bullpen (193), despite the second place Mariners (191) having played three extra games. They also lead in innings per game (3.8) and total reliever outings (a whopping 188, which is 12 ahead of the second place Mariners). That means that not only are Jays relievers tossing a bunch of innings as a unit, they're using so many different pitchers that nobody is really getting much rest. This is a far cry from last year when the Blue Jays led baseball in innings pitched from their starters. Obviously a big part of this has been the injuries to 3/5 of the rotation, combined with ineffectiveness from the fill-ins, but it is clearly an area of concern.
There is some potential good news on the horizon, however. Not only will the returns of Liriano and Happ and the continued build of Joe Biagini hopefully provide more innings from the rotation, but the Jays are starting to see a couple of out of favour relievers round into form.
Jason Grilli probably would have been on the DFA bubble if not for the injuries. To say his early season numbers were bad would be an understatement. But things have looked much better of late for the veteran righty; he hasn't walked a batter in his last nine outings, eight of which have been scoreless. J.P. Howell isn't quite there yet, but he has put up three scoreless outing in a row, despite pitching full innings (and four outs in one of them) instead of the one or two batter bursts that he was expected to be throwing when signed.
With Osuna, Smith, and Loup likely unavailable for the opener, combined with the potent Yankees offense (second in the AL in runs) potentially knocking a starter or two out early during the series, the Blue Jays are really going to need that secondary set of relievers to perform. If that doesn't happen, some of these games could get out hand in a hurry.
Lead Photo © Gregory Fisher-USA TODAY Sports