Jose Bautista's career with the Blue Jays has been nothing if not eventful. From walks to bat flips and punches to home runs, Bautista has been through it all over his 1132 games with the Blue Jays. Through all of this, he's managed to be an extremely productive hitter.  Even last season, in which he missed time due to injury and had his worst offensive showing since 2009, he produced a true average of .270. He's had his ups and downs throughout the years production wise, but has always ended the season with the numbers of an all-star caliber hitter. Bautista looks to be on a similar path in 2017.
Through May 31, Bautista is hitting .251/.362/.455 with a .287 tAV. He's been producing well so far, but glancing at his slash line doesn't tell you the whole story. These numbers don't give the true sense of the ups and downs of a major league season, especially during one as tumultuous as Bautista's. The Toronto outfielder has gone through very different stretches of baseball in 2017, and luckily for us, these stretches can be fairly easily divvied up four ways. These four stretches of Jose Bautista's 2017 season are what we are going to look at today.
Before we get to the numbers, it would be irresponsible to avoid running through a couple of disclaimers. Firstly, this article deals with completely arbitrary endpoints. Second, the sections that are divided  up below span no longer than 17 days, which means we are barrelling head-first into small sample size territory. It would be unwise to make any bold, sweeping claims about how the rest of Bautista's season will go down based on some of the trends outlined below. But it sure is fun!
Now that we have that out of the way, we can get right to it. Here are the numbers for the four different Jose Bautista's that we've seen in the 2017 campaign to date:
| | | | | | |
| --- | --- | --- | --- | --- | --- |
| Period | PA | BA | OBP | SLG | OPS |
| April 3 – April 20 | 66 | 0.109 | 0.242 | 0.145 | 0.387 |
| April 21 – May 3 | 59 | 0.298 | 0.424 | 0.468 | 0.892 |
| May 5 – May 16 | 50 | 0.186 | 0.300 | 0.442 | 0.742 |
| May 17 – May 31 | 54 | 0.435 | 0.500 | 0.826 | 1.326 |
The Struggles
Bautista started off the season particularly poorly, as was thoroughly documented early on. His power had completely disappeared, he was missing the ball loads more than usual, and when he was making contact, was not seeing his batted balls fall for hits. Even more uncharacteristically, he struck out in one third of his plate appearances, while his walk rate continued to decline from its previous absurdity.
Essentially, everything that made Jose Bautista one of the most feared players in the MLB had vanished. His poor start seemed to erase the excellent spring training and World Baseball Classic that he had, and brought about debates as to whether or not he was over the hill. Even with his arm seeming to reappear on the defensive side of the ball, Bautista's offensive woes were painful for everyone involved.
The Renaissance
Bautista put an end to his April struggles with a glorious three-run shot in extra innings over the Angels in late April, a momentous first home run of the season. This game marked the start of his own renaissance, where Jose reminded everyone why he is known as one of the league's premier power threats. The most notable indicator of his turnaround lies in his contact rates. Take a look at the fastballs Bautista was missing during his early season struggles, and compare it to the renaissance: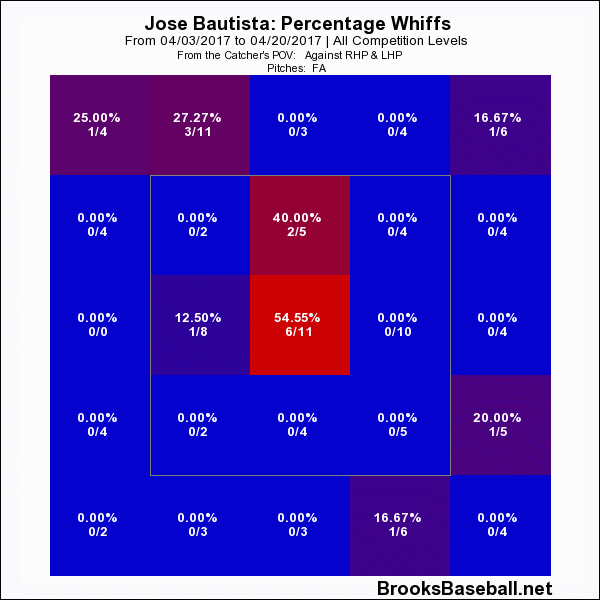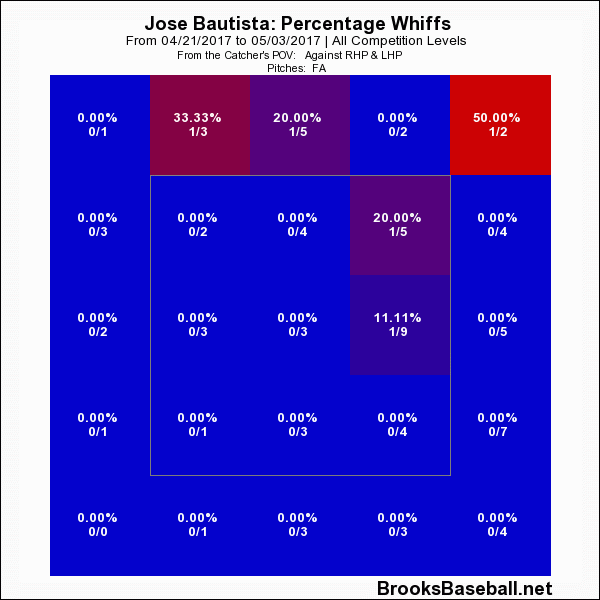 Bautista seemed unusually prone to missing fastballs stright down the middle of the plate, a problem which he seems to have corrected now. After a dreadful start, Bautista reminded us of his greatness through phase two of the 2017 season. We were treated to some fantastic moments from this period as well, including the game-changing home run mentioned above, a pair of key RBI singles in a win against the Cardinals overshadowed by leaps and pitcher doubles, and yet another clutch hit after nearly getting hit by a pitch earlier in the game. Jose was back and better than ever.
The Lull
The next portion of the season is the lull, which may be an ill-fitting name considering that Bautista didn't hit all too poorly. He produced at around a league average rate, making contact like his normal self and carrying over the power stroke he reclaimed in the Renaissance. While it wasn't necessarily a bad offensive stretch, his offensive production did decrease, largely due to a drop in BABIP (.192, down from .364 during the previous stretch) that brought Bautista's batting average down to .193 on the season. This matters less than most players due to his power and walks, but even considering this, Bautista's OPS sat at a low .658 on May 16.
Bautista still provided some memorable moments over his quick lull in production – most of all, a couple of key lead-changing three-run home runs against Cleveland and Seattle as the Blue Jays began to pick up steam . Nonetheless, these home runs didn't dispel the fact that his offense had started to slow once again, whether or not it was due to an unlucky stretch of balls in play. Thankfully, this would all change as the Blue Jays headed south, where a bat flip marks the start of one of Bautista's more intriguing stretches in recent memory.
The Tear
Since May 17, Jose Bautista has been making opposing pitchers fear for their lives every time he steps into the box. He is hitting .435, reaching base in half of his plate appearances, and has earned a mind-boggling .826 slugging percentage. He has hit safely in 11 of these 13 games, while recording a multi-hit game in seven, over half of his games.
Bautista's post-Atlanta bat flip stretch has been especially notable not only for its downright deadliness, but for how it has been accomplished. For starters, take a look at Bautista's average exit velocity and launch angle divided up over the four above mentioned sections, along with his expected production level over each period:
| | | | | |
| --- | --- | --- | --- | --- |
| Period | PA | Velocity | Angle | xWOBA |
| April 3 – April 20 | 66 | 88 | 21.2 | 0.264 |
| April 21 – May 3 | 59 | 91.4 | 21.8 | 0.388 |
| May 5 – May 16 | 50 | 90.9 | 15.3 | 0.346 |
| May 17 – May 31 | 54 | 88.8 | 11.6 | 0.474 |
While Bautista's average exit velocity has declined, he's hitting balls at a much lower angle than earlier this season. This lower average launch angle is leading to more hits for Bautista, as his expected production has been even better than his actual production over the same stretch. One would think that by lowering the angle at which he's hitting would decrease a hitter's power, but Bautista has found a way to make it work over the past two weeks. He's hit five of his ten home runs over the same stretch, meaning he doesn't seem to be sacrificing his power at all.
Another thing to note about Bautista's latest stretch is how often he's been swinging the bat. His swing rate from May 17 through May 31 is at 70.8%, which is a massive leap from the 53.4% it was at before Bautista's insane offensive run. Impressively, his contact rates have not wavered even with the increased amounts of swings, leading to more and better contact.
In the midst of a career filled with up and down swings, Jose Bautista's 2017 season seems to be following a similar pattern through the first couple of months. Bautista has struggled, rebounded from those struggles, and then gone on a ridiculous tear all before the season is even a third finished. Much like the Blue Jays as a whole, Bautista has been on both sides of the coin in 2017.
Will his latest historic streak continue? Probably not. A lot of things can happen in 13 games, and it looks as if everything has gone right for Jose Bautista over the last two weeks. While it may not continue, his performance at the plate will be something to continue to watch, specifically his recent launch angle and swing trends. Even the trends reverse and Bautista goes back to his usual self, it still will be worth noting. At the end of the day, watching one of the greatest sluggers in Blue Jays history do things a little bit differently than normal has still been an utterly enjoyable experience.
Lead Photo: © John E. Sokolowski-USA TODAY Sports