Roberto Osuna had a troubling start to his 2017 season. A disastrous WBC outing was followed up by cervical spasms on the cusp of opening day that put the young closer on the disabled list. Then he had to watch the Jays get off to an bad start in his absence. Osuna's return from the DL was met with cheers from Jays fans who'd been watching a rickety bullpen, but he too had his struggles, allowing runs in four of his first six outings, blowing three saves in the process. Why did Osuna struggle? Was it the injury, and shaking off the rust to start the season? Or was there an underlying problem that the team should be concerned about?
Turning the calendar to a new month has brought back the dominant Osuna, as he's held opponents scoreless over five innings in May, striking out eight. Did Osuna change something from April to May, or was it a great reliever finding his normal? Over the last season and so far in this one, Osuna has had some interesting shifts in his pitch usage. Let's take a look at some of them.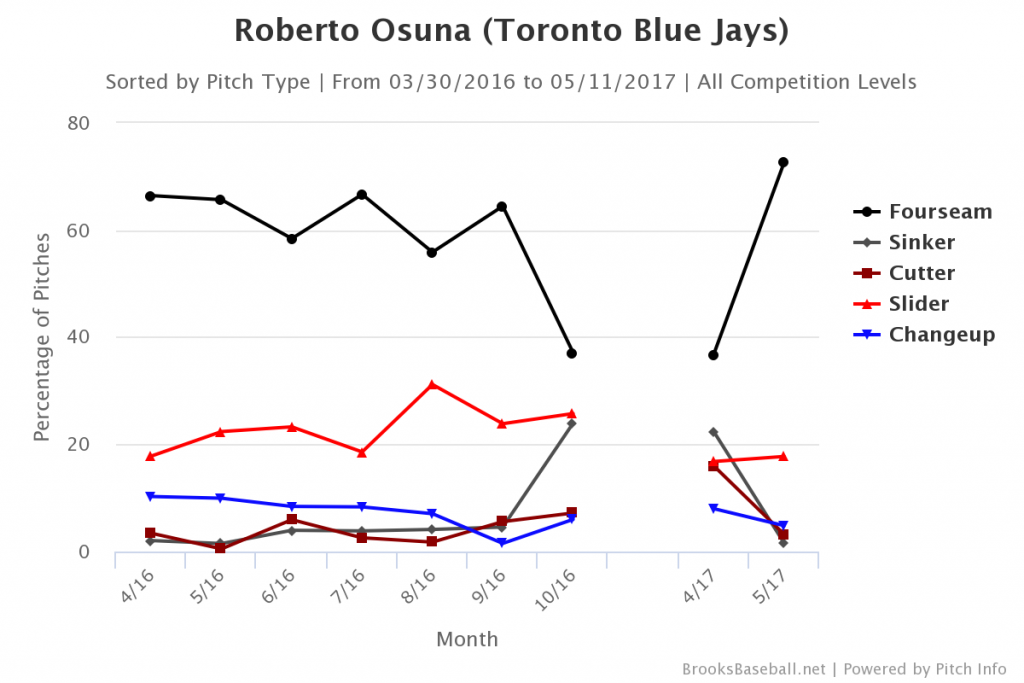 There are some interesting changes here. The decreased usage of the changeup late in the 2016 season in favor of his cutter and sinker is one. The near equivalence of his cutter and slider to start this year is another. BP Toronto's Kyle Matte examined Osuna's evolving arsenal in the spring, suggesting that Osuna should scuttle his cutter to increase the effectiveness of a dominant slider.
As a reliever, Osuna probably doesn't need five pitches to keep on top of, given the effectiveness of his fastball and slider. Unless the Jays have plans on converting him to a starter- which doesn't appear to be the case- it's more important that Osuna refine the stronger pitches he has been having success with already. More offerings complicates matters, making his shorter outings and warming up more difficult to manage. As long as he can get hitters out from both sides of the plate, he's probably in good shape.
This may have been the impetus behind the increase in cutters and sinkers: Osuna, like most righties, is better against same handed hitters, and used those two pitches much more against left-handers than right-handers. As Matte detailed, the cutter didn't really work on several levels. The sinker kind of did: Lefties hit a miniscule .133 against the pitch in 2016. So it makes sense that Osuna would go back to that pitch to start this year.
While the sinker worked by the numbers, it didn't have much going for it. According to Brooks Baseball, the velocity is close to his four-seamer, and it has less movement than most sinkers. If it's just a regular fastball; there's not a lot of reason for him to use it during the season.
If Osuna were in a more traditional point in his development curve with the team (maybe somewhere in the high minors, or on the cusp of the majors) or building up to be a starter, then his new additions should have been encouraged and developed. But the Jays called him up early, seem to have no intention of changing his role, and don't have the luxury of letting him experiment in regular games given that they're a veteran team with designs on contention (even if the results so far suggest otherwise).
The move to May has seen a simpler and more effective Osuna. Thus far, he and his catchers have tossed the cutter and sinker into the sea in favor of the two pitches he throws best. This is good news for a Jays team that could use the stability Osuna provides at the back of the bullpen. With Biagini plugging a hole in the rotation, and Jason Grilli turning back into a pumpkin, the team could ill afford to have it's closer struggle for much longer than he had been.
Osuna's struggles to start the season may have given Jays fans pause, but recent outings have shown that he's rounding into form, quickly returning to his throne as one of the elite closers in baseball. While the team should be encouraged that he's looking for ways to improve, they should be equally encouraged that he and the catchers noticed his early struggles and adjusted the game calling accordingly. Until the league adjusts, Osuna should keep doing what he does best.
Lead Photo: © Dan Hamilton-USA TODAY Sports