Written by Greg Wisniewski, Sean Addis, and Richard Lee-Sam
A Slugger Returning to form, or not
Hey there, let's watch Josh Donaldson. He's been looking pretty sharp, especially with that 1.162 OPS in August. Instead of the video highlights, I want to look at this chart, which looks complicated, but might inform us about what's been happening with the Bringer of Rain when he's at the plate this season.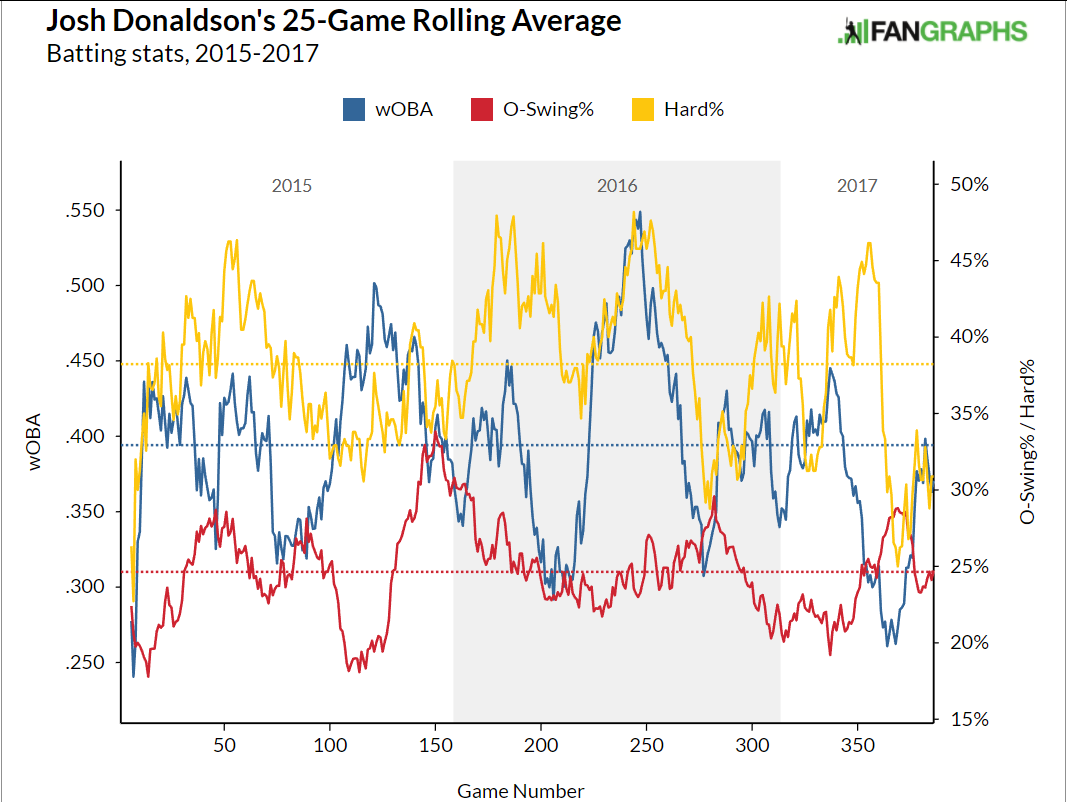 Yes, that's a lot of lines, but let me go through them all. All of the lines are 25 game rolling averages, which smooths things out to make long term trends more apparent. The blue line represents Donaldson's wOBA, a Fangraphs metric for total offensive output. Josh has spent a good chunk of recent seasons over .300 (the reference lines are his personal average performance), peaking at .550 in the middle of 2016. In 2016 we see he tumbled to the worst output of his entire tenure in Toronto.
However, the yellow line represents his hard hit percentage over the same time frame and we can see, in 2017, that Josh continued to hit the ball hard for a good stretch of games after his wOBA started to fall off. The process was not yielding the results we might have expected.
The red line represents JD's swing percentage at pitches outside the zone, and once his production fell off, Josh started chasing significantly more pitches than his career average…. broadcasters say a player is 'pressing' when this happens. At some point very recently, if appears Donaldson was able to recognize the problem and reel in his plate discipline. The hard hit % and wOBA have started climbing in lockstep since. If Josh Donaldson maintains this pattern to the end of the year, it looks very much like he's a player in a down year, not one who's fallen off a cliff.
On the other hand, we have the same chart for Jose Bautista.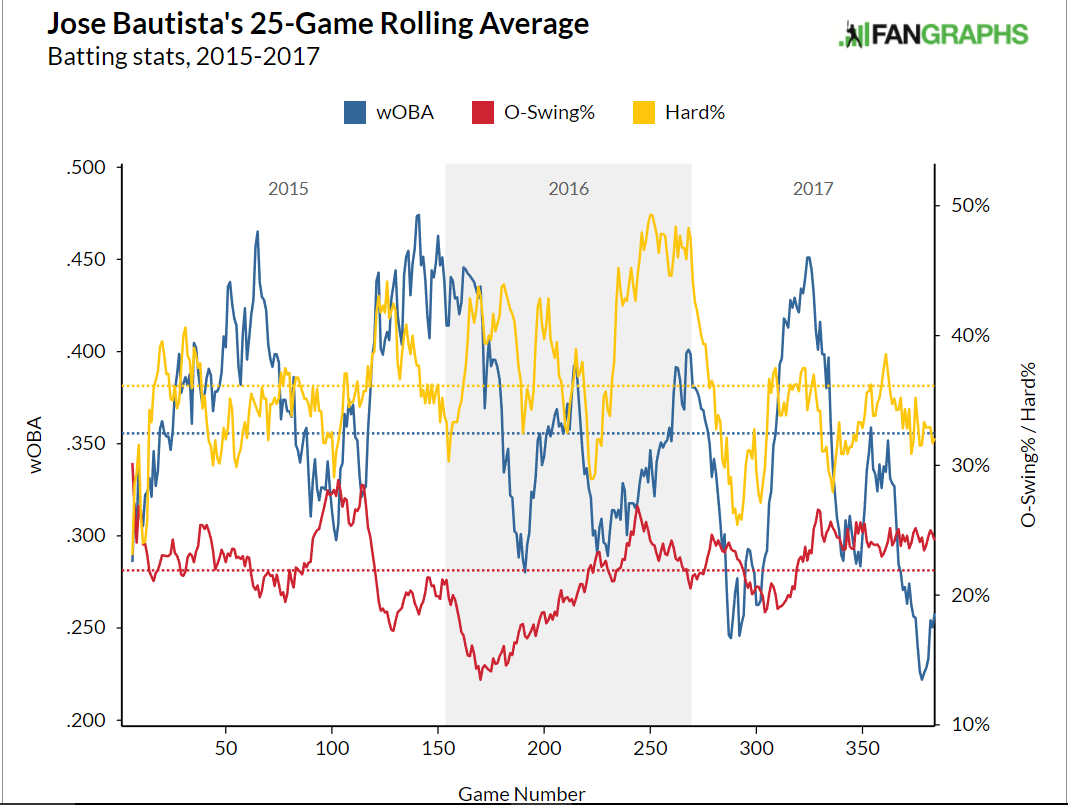 Remember, the reference lines are personal average, not league average. Bautista has had a good spike in his wOBA in the middle of 2016, brining him up close to some of his career hot streaks. The hard hit percentage says he hasn't been locked in for any stretch of time at all. He's been under his career number for almost the entire season, and dropped to a three year low in hard contact in May. On top of that he Just. Keeps. Chasing. Joey Bats is known as an extremely disciplined hitter, which is why that reference line is at about 22%. But since his hot streak in June, Jose has been very consistently hacking at more pitches outside the zone, for a longer stretch, than any of the last three seasons.
If Bautista was crushing pitches left and right and his wOBA was spiking up, we could forgive him for a little bit of free swinging confidence. It's not that though. If Jose can't control the zone like in the past, pitchers aren't going to give in with better stuff to hit. If the trend on Bautista's chart holds true through the end of the year, he's going to have a tough time finding work next season.
Reliable Rays Rotation
The Tampa Bay Rays enter this series having been struggling recently. They are 5-7 in August, but have lost seven of their last nine and 11 of their last 17. On the other hand, the Toronto Blue Jays have won their last two series and four of six, with a record of 12-7. Quick observation would indicate that the Blue Jays are facing the Rays at the perfect time. However, with closer inspection that might not necessarily be the case.
Even though the Rays have struggled, their pitching has been best in the American League for the month of August with a team ERA of 2.83. Combine that with the stats of the projected starters facing Toronto and the timing doesn't look as good for the boys in Blue. Below is the slash line of Blue Jays hitters against each of the Rays starters in the series:
Jake Ordorizzi: .189/.267/.392
Blake Snell: .236/.337/.361
Jacob Faria: .240/.269/.280
Chris Archer: .211/.278/.350
The pitching staff has allowed five runs or more only twice in the month with the starters averaging 5.2 innings per game and a 3.17 ERA. Archer just had a streak of 15 straight starts of six or more innings snapped against Cleveland on Saturday and Odorizzi and Snell have pitched effectively since the All Star break.
On the Blue Jays side, the lineup has traditionally struggled to hit against this rotation and now they are already down another regular in the line up, with the injury to starting catcher Russell Martin. However, some things to be aware of are the durability of Odorizzi, who had to leave his last start with a foot contusion, and the effectiveness of Faria who, after a torrid start in June, has seen a steady regression in performance. Overall, the Rays may be limping into Toronto but the Achilles heal for the Jays, the Tampa Bay pitching, seems to be doing just fine. 

Jays Rotation Depth
Due to a blister, the Liriano trade, and a general lack of starting pitching depth to begin with, the Toronto Blue Jays rotation has two huge voids in it. Thanks to two fortunate off days in the first two weeks of August, John Gibbons was able to temporarily go to a four-man rotation (with Cesar Valdez and Nick Tepesch combining as the fourth starters) so we would see more of regulars Stroman, Estrada and Happ. All three have been performing well as of late and they've been keeping the team alive. This is a four game set, and the team only has one off day between now and September 6th, so we'll be seeing Nick Tepesch start game one and Chris Rowley, fresh off his first MLB victory, in game four. This could really hurt Toronto in this series.
Over the past 14 games, Marcus Stroman, Marco Estrada, and J.A. Happ have made three starts each, going deep into games and being effective. The trio have pitched a combined 61.1 innings, allowing just 13 runs (good for a 1.91 earned run average), striking out 8.6 and walking 2.6 per nine. The other five starts have gone to Francisco Liriano, Cesar Valdez, Nick Tepesch, and the recently debuted Chris Rowley, and outside of Rowley's debut, they haven't gone nearly as well. In the other four games, the starters have only gone 15 2/3 innings, giving up 20 earned runs (11.49 ERA), striking out 6.3 and walking 2.9 per nine. The short outings and the lack of bat missing (despite reasonably solid control) have let to lots of runs, putting even more pressure on an already overworked bullpen to not only work to finish games, but to work with razor thin margins as any additional runs would likely put games out of reach.
Somehow, playoff dreams are still alive for this team, and the good news here is that they go into the Rays series just four games back of the second wild card team Los Angeles Angels. The bad news is that there are six teams between the Jays and Angels, with the Rays being one of them. A strong showing in this series will be vital if the Blue Jays want to start chipping away at this deficit and begin passing some teams, making that bridge to the last playoff spot shorter. That just becomes a lot tougher with 60% of a rotation.
Lead Photo © Troy Taormina-USA TODAY Sports