It's incredibly touching to see so many Canadians getting back in to baseball; enjoying a once forgotten professional sport in Canada. Having become attached to this team in an era in which attending a game with more than 20,000 fans was a blessing, walking in to the Rogers Centre with a near sold out crowd these past few seasons has been otherworldly. However, with the Blue Jays running through a tricky transition of eras, the increased fandom may actually hurt, rather than help the team.
That transition of eras is of course from the Blue Jays of the last few years, a team that's made it to the ALCS in back to back seasons, to one with an aging core and a fading supporting cast. This new team has done just enough to fake competing for a playoff spot, but not enough so that'd you'd reasonably bet on them get one. In spite of a pythagorean record of .434, which pegs them as the fifth worst team in baseball, Toronto is somehow just 3.5 games back of the playoffs, or 'close' as the sports pundits say. Putting aside the fact that being 3.5 games back of a playoff spot doesn't actually make this team 'close' to the playoffs, the narrative makes for a convenient talking point and continues to get Torontonians to come out to the games. So much so, that it has made the 2017 Blue Jays among quite the list of outliers in the history of attendance trends.
As it stands, the Blue Jays have averaged over 40,000 in attendance while maintaining a .479 record. In the history of baseball, there have been 118 seasons in which a team has averaged over 40,000 in attendance and just 19 of them occurred in seasons in which the team played sub .500 ball (16 percent of all seasons). Of the 19, just 11 averaged more in attendance and had a worse record than the 2017 Jays.
| Team | Season | WL | Average Attendance |
| --- | --- | --- | --- |
| COL | 1994 | 0.453 | 56,094 |
| COL | 1993 | 0.414 | 55,350 |
| TOR | 1994 | 0.478 | 50,573 |
| COL | 1998 | 0.475 | 46,823 |
| ARI | 1998 | 0.401 | 44,571 |
| LAD | 2005 | 0.438 | 44,489 |
| TEX | 1994 | 0.456 | 43,916 |
| COL | 1999 | 0.444 | 42,976 |
| SFG | 2013 | 0.469 | 41,594 |
| SFG | 2017 | 0.395 | 40,870 |
| BAL | 2000 | 0.457 | 40,704 |
| TOR | 2017 | 0.479 | 40,627 |
In theory, it matters not that the team isn't performing well while they continue to draw. Again, in theory, it's a great thing, more people are enjoying Canada's only major league baseball team, and that's reflected in the team's own attendance trends.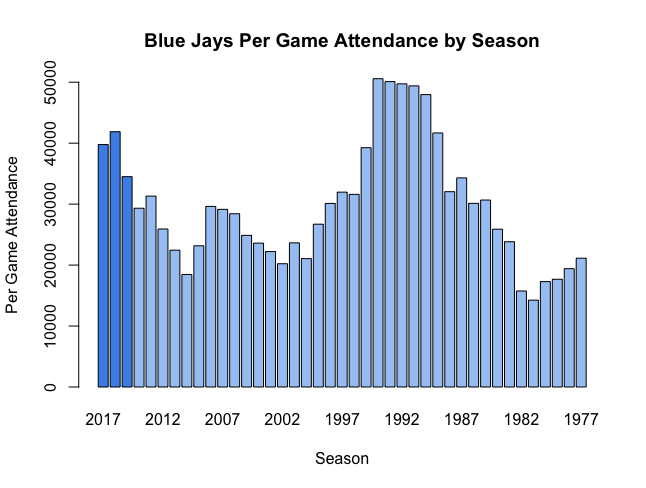 However, it's concerning when it's not just bad luck that's behind the poor performance. Why? Because it's then more likely that the underlying issues will crop up next season too. This makes for an unfortunate cost-benefit analysis for management and—more importantly—for the Blue Jays' publicly traded ownership. When the team draws well in the stadium, they're generally drawing even better on Sportsnet. When the in-game and TV viewership increases, Rogers Communications seeks to gain revenue. When a publicly traded company has the opportunity to make additional revenue with little short term cost, they'll do it 10 times out of 10. It matters not what the underlying numbers tell us, and GM Ross Atkins reaffirmed that prior to the trade deadline by first standing pat and then re-upping his stance that the Blue Jays are a contending team, this time with a specific reference to 2018.
The result here is a situation where the Blue Jays attempt to optimize their team for the highest potential short term revenue. In turn, that means trading away fewer tradeable assets (and accepting whatever potential return there could be) while simultaneously trying to compete in both the 2017 and 2018 seasons, which have incredibly difficult paths to playoff contention.
It also likely means being more aggressive come the offseason, which includes digging deeper in to the free agent pool and exploring larger scale trades. Both avenues could be helpful to the team in the short term, but will require them to give up key prospects or a significant portion of their future budgets. Even then, it's probable that the team won't be a playoff favourite heading in to 2018, as they're unlikely to be one or two players away with their already present stars continuing to age. This is the real problem.
If you assume that a World Series victory is the fans' most desired goal, then attempting to compete when all odds are against you isn't the best way to get there. The argument has been made that by simply getting to the playoffs, the anything can happen environment could end up bringing the World Series trophy to Toronto. That may be true, but not only does that require betting on luck in the playoffs, it also requires betting on luck to get the team there. I'm willing to bet that even those who have reasonably made the argument that the Blue Jays should compete this year and next would admit that, on a talent level, the Blue Jays don't stack up with the American League's best.
Instead of a compete-at-all-expenses attitude, great baseball-ing teams take notice of the lulls in team performance and are flexible enough to adapt their strategy to accommodate it. Think of the Cardinals, Cleveland (ironically), and the Astros. Granted, there's still time for the Blue Jays to shift their strategy. But given their insistence earlier this season that they'd try to compete in 2017 as well as Atkins' recent comments that they plan to compete in 2018, a shift seems unlikely.
In the end, should the Blue Jays choose to, even partially, mortgage the future to compete in the present, I won't begrudge that decision. Baseball's a business, especially so when you're the subsidiary of public company. With that said, it'd be nice to see even a shred of flexibility. It could be argued that a lack of it hurt the team over their many playoff-less seasons and it'd be a shame to see that trend continued for the future.
Lead Photo © John E. Sokolowski-USA TODAY Sports