While the Blue Jays remain improbably close to the second Wild Card (at least in terms of games behind), the team continues the tenuous balancing act of having some of its most dependable and relied upon talent excel and flounder simultaneously. In a season where the entire roster has yet to get on an upswing at the same time, one of the few truly consistent positive presences was Roberto Osuna. Until lately, of course. The most bankable, expected-to-be-great Blue Jay has faltered as they sit unexpectedly within reach of another postseason berth.
Though Osuna's blowups have been mostly contained to three horrific outings, he has seen a dip in velocity since the calendar flipped to June. The current suspected culprit of his troubles is his fastball, as he has shown a tendency to turn away from the pitch as its velocity dips. That's also a chicken-and-egg debate, but any way you slice it, he's using his fastball less and it has been less effective when he's calling on it. Pitchers are humans and like every one of us they will fall prey to stretches where they just don't have it. The turn of phrase "lost his fastball" is a bit on the nose, but that's where we stand at the moment.
Still, Osuna has been so dominant since he arrived that even this blip on the radar, assuming that's what it turns out to be, has stuck out like a sore thumb. Is it dumb luck coinciding with a typical dip in velocity? Nope. In his first two years he has ended up at the same level if not a tick stronger. And that goes for almost all his pitches, not just the fastball: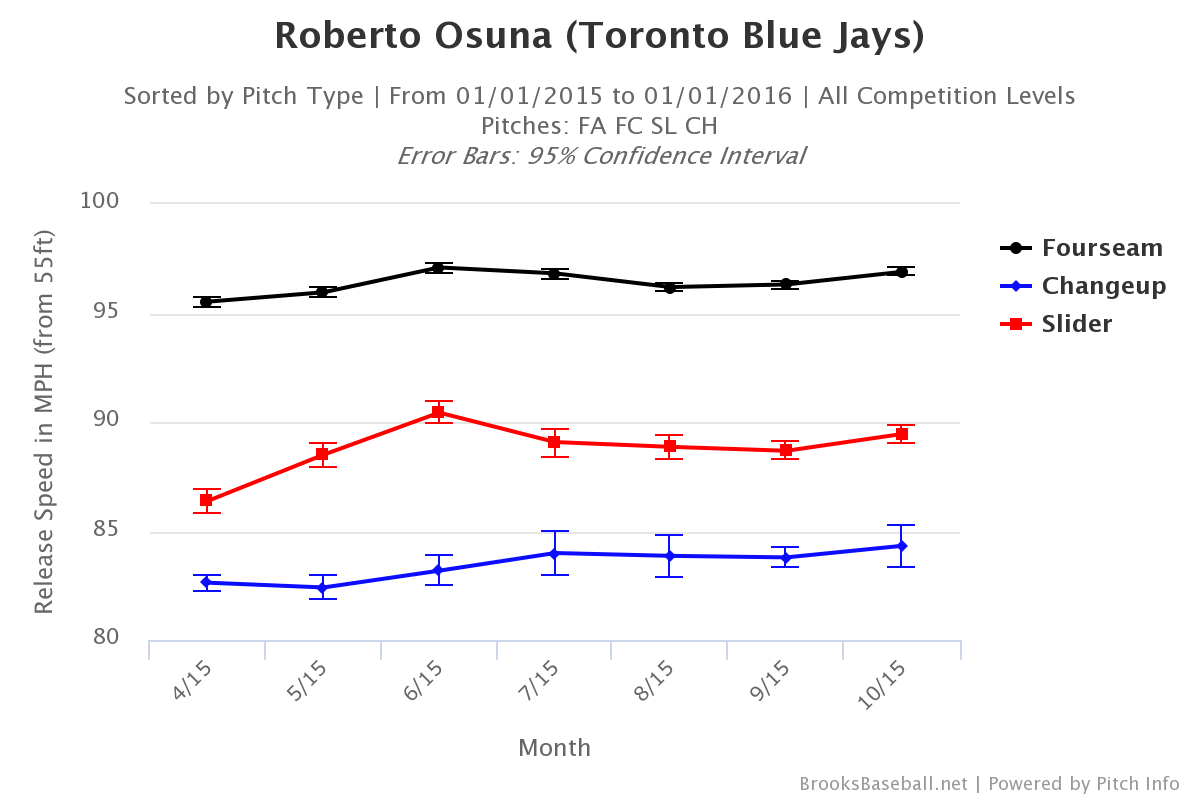 Could it be that Osuna always cuts down on his fastball usage over the course of the season? Maybe we're just noticing it more since it's coming with some high-profile missteps. Let's take a look at his pitch mix through August for his three seasons in the league: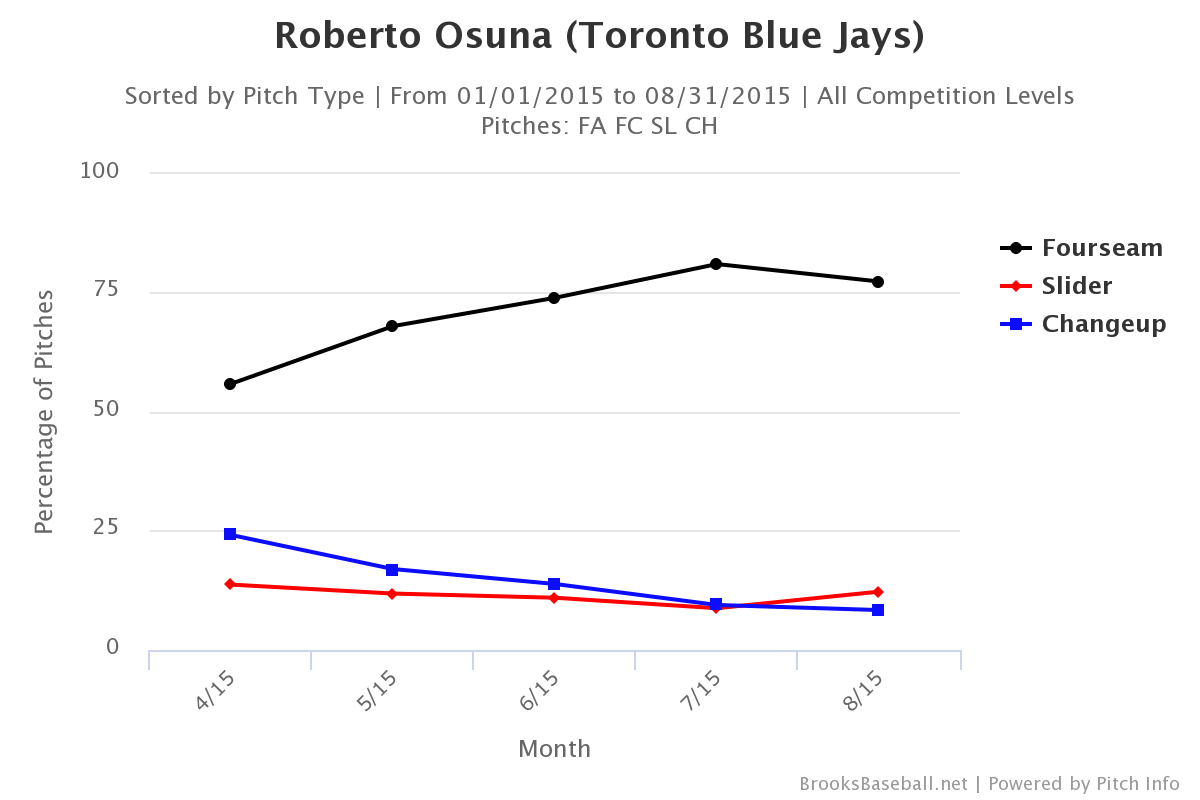 So again, no — at least not to the extent we've seen this season. If we expand his first two years to the full season, however, it suddenly looks like this: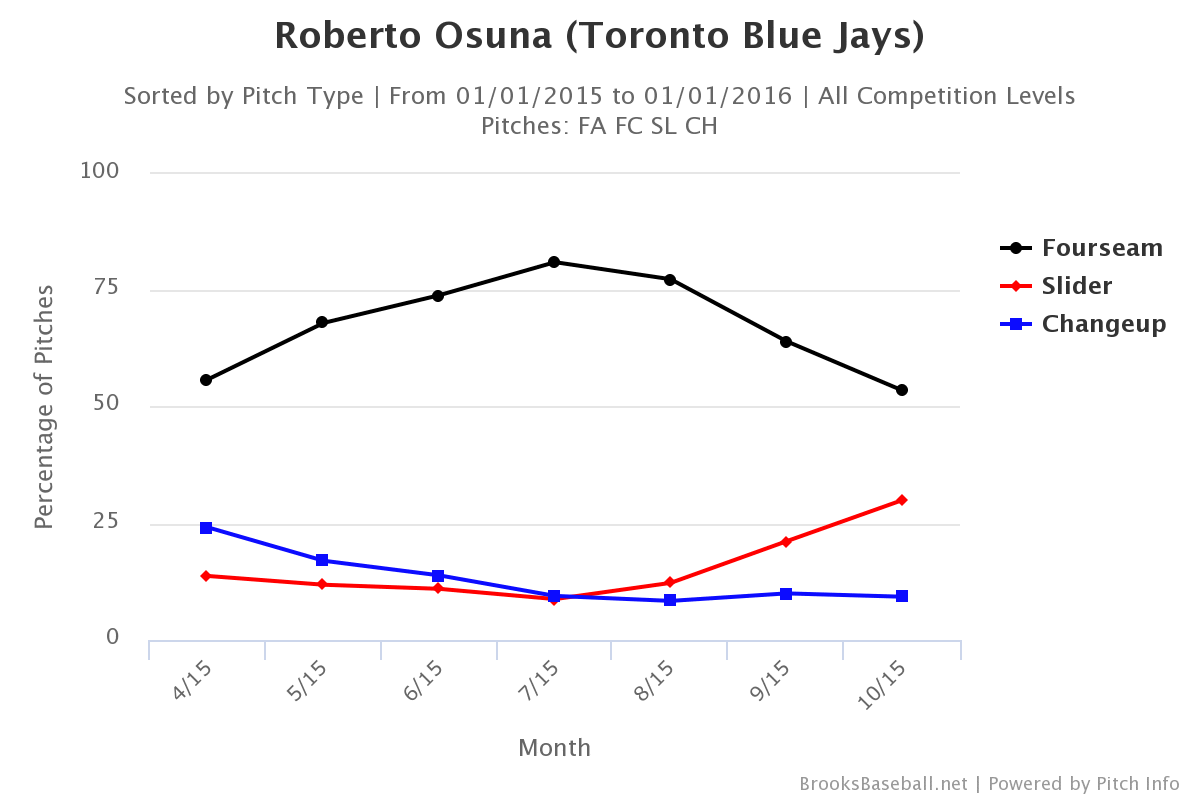 So yes, Osuna does use the fastball a bit less over the course of the season. This year he just happens to be going to his other pitches far more and far sooner in the year. There could be multiple reasons for that and the one that pops into mind first is that he's playing his own profile against hitters who've mentally accounted for Osuna relying so heavily on the fastball for most of the year, especially in those Septembers and Octobers. A far less strategic one is that he's simply tiring out this time around. So how about workload?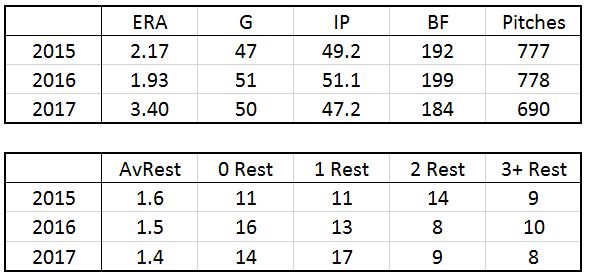 While he's doing less work in terms of innings pitched, batters faced and sheer number of pitches in 2017, we might be onto something when looking at the time between each of Osuna's appearances. It should be noted that those numbers are all through August 8th of their respective years and I've excluded the appearances that either opened the season or came after the All Star break from the 3+ Rest column. You can add two to each if you'd like.
This year, Osuna has had six stretches of three appearances or more where he received either zero or one day of rest between each game. He also had two separate streaks of five and six games with those rest parameters. Through the same date in 2016 he had five streaks of three games or more but maxed out at four appearances with one day or less of rest in between each. In 2015, Osuna had only four streaks like that, and none of them extended beyond three games through this point in the year.
As for those two five-plus game 'busy stretches' he's had this year, Osuna was effective throughout the first but followed it up with a 0.1 inning, 2 H, 1 ER performance against Atlanta after two days of rest. The second included his first two implosions against the Angels and White Sox, both on one day of rest. That streak was snapped by two days off in between the end of the White Sox series and his save in Houston on August 5th, but the August 6th game was his ugly 0.2 inning, 5 H, 4 ER showing.
To make matters worse, the 8/5 game finished at 10:26 ET while the 8/6 game was a 2:10 PM start that ended at 5:26 ET, meaning that Osuna warmed up, pitched in a high leverage spot, cooled down and then did it all again within 24 hours. He threw 11 pitches in the first game and 21 in the second.
In the first game, his four-seam fastballs clocked in at 94.3, 94.8, 93.9, 95.2, and 93.8 mph.
In the second, they very clearly were not up to snuff. His four-seamers came across the plate at 92.5, 94.3 and 94.0 mph. And yes, he only threw three of them.
That begs the follow up question, is Osuna's fastball usage prone to dip when he's getting lots of action? It seems counterintuitive that he'd go away from his bread and butter, but perhaps he knows that his fastball simply isn't as effective when his appearances are stacked up together. Let's take an isolated look his 2017 game-to-game fastball usage as a percentage, with his three-game busy streaks noted by green dots and the five and six-gamers by red dots at both start and end.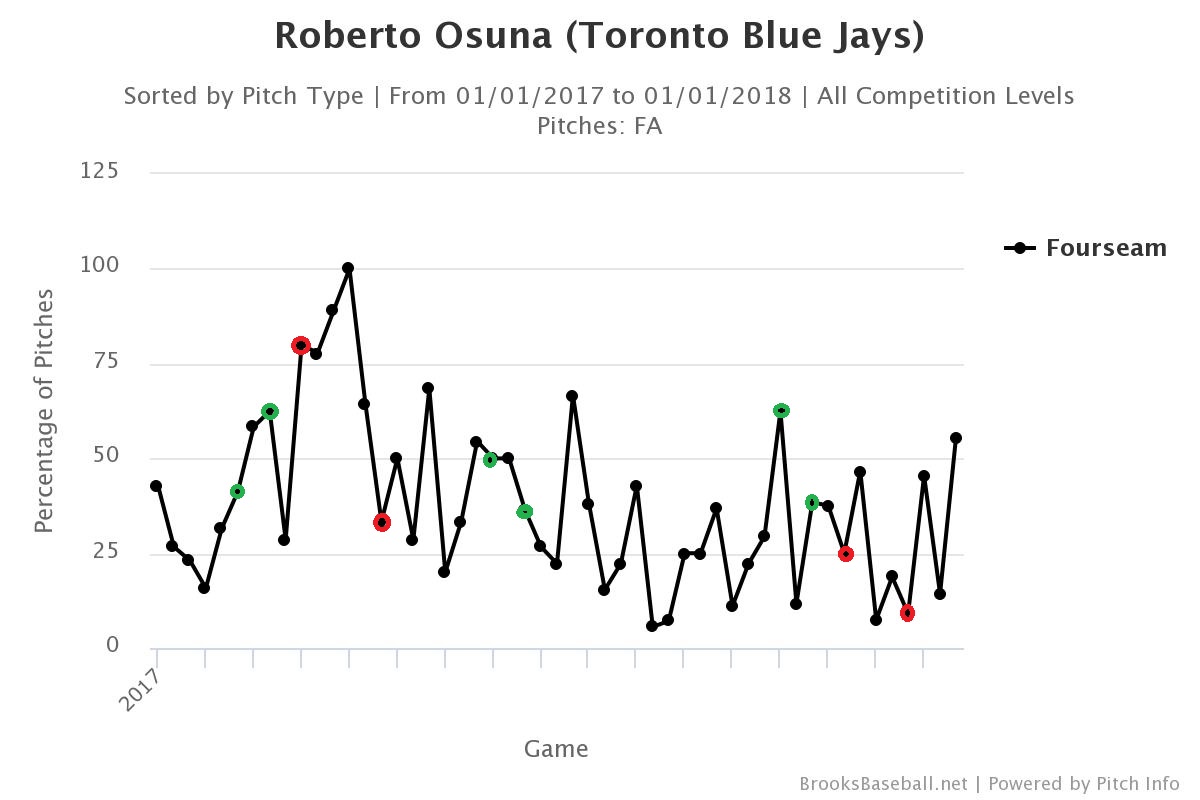 While there's not a super clear pattern, Osuna has only ended one of his busy stretches by throwing his fastball more frequently at the end of his run than the beginning, and it was his first of the year that occurred from April 27th to April 30th. There are some totals vs. percentages issues there as well, but it suggests that he's looking to cut down on the heaters when he's used a lot in a short time frame.
It might not be that he's pitching more, but that he's doing more of his pitching in concentrated periods. Our own Dr. Mike Sonne might be able to shed some light on pitching fatigue in this situation, but there's no doubt that Osuna is seeing an unprecedented dip in fastball velocity despite seeing less work overall.
If Osuna knows – and there's no reason to suspect that he doesn't – that his fastball slows down after frequent use then it's entirely possible that he's shaking it off more often, regardless of what gets said after the game. Luckily for him, there's enough spread in both velocity and movement between his other three primary pitches that he can still be effective if his fastball velocity dips down into the 92 MPH range. He achieves that to such a degree that there's no great comparable in terms of MPH and pitch mix out there, though Bud Norris and Dominic Leone are at least near the same ballpark.
So is it a problem going forward? Possibly. A few things line up that'd make you think fatigue is the culprit and there isn't much else to say that doesn't venture into speculation about his health and mechanics. He doesn't need to be moved into low leverage work or get a few days to clear his mind. Osuna needs an extra day or two to just rest his arm. At that point, any mental boost would just be gravy.
Either way, the Blue Jays should start pumping the brakes on Osuna. It's tough to hear in the midst of a playoff chase but the team simply needs him to be at his elite-level best, and that guy probably isn't coming back if he keeps being used on short rest so frequently.
Lead Photo © Kevin Sousa-USA TODAY Sports