Written by Sean Addis, Dave Church, and Matt Gwin
Freddie Freeman's Ascension to Hitting Royalty
Atlanta Braves first baseman Freddie Freeman is the best kept secret in the major leagues. During the Braves' rebuilding process, Freeman was the one piece that the team wouldn't move. He's repaying that loyalty in a big way.
Freddie Freeman has always been a solid hitter, but not quite as explosive as he is now. Over his first five seasons, he hit an average of 21 home runs and put up a slash line of .286/.368/.850. But in his last 155 games, spanning most of 2016 and the start of 2017, Freeman has hit .315 with a .417 OBP, 1.046 OPS and 40 home runs. Those are numbers that should garner MVP votes, even for a player on a win-lacking team like the Braves.
So, what changed?  In one word…everything. Bill Shanks of The Telegraph wrote that Freeman started this hot streak when Brian Snitker took over from Fredi Gonzalez as manager on May 16, 2016. He put Freeman third in the order and left him there. Shanks later went on to discuss how the addition of Matt Kemp provided Freeman with the protection he had been lacking behind him in the order.
Exploring deeper into Freeman's zone breakdown, it is clear that on pitches in the strike zone Freeman has made hard contact, excluding those up and middle away. This coupled with his patience at the plate makes him a difficult out.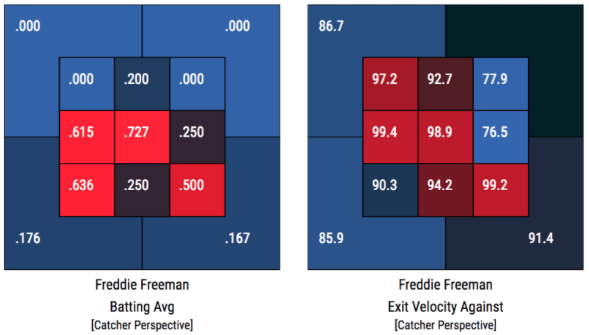 Another aspect of Freeman's success has been his ability to hit almost any type of pitcher.  As seen in the Pitch Breakdown chart, the only pitch with enough of a sample size that has given him any difficulty are the two-seam fastball.  However, this will go against the Jays starters strengths as they rely on sinkers, curves, change ups and four-seam fastballs.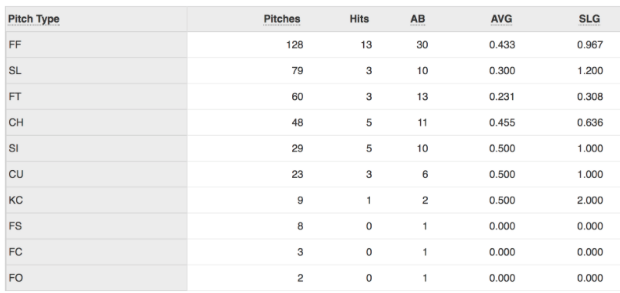 The key for the Blue Jays pitchers will be to make sure that Freddie Freeman doesn't beat them. If they can neutralize him, it could go a long way to helping Toronto win the home and home series and continue their climb back to .500.
The Bats Are Back in Town… Kind Of
The Blue Jays' biggest problem so far this season has been one that they unfortunately brought over from last year: a struggling offense. An early injury to Josh Donaldson—the one bat in the lineup that wasn't a cavernous sinkhole of disappointment—didn't help matters, as the Jays struggled with a slow start.
The series against Seattle appears to have woken some of the dormant bats from their slumber. After scoring eight runs in the last game of the Cleveland series, the Jays have scored seven, four, seven, and three runs in the four games against Seattle. While this isn't a huge outburst, it was a welcome sign to fans who have seen the Jays struggle and produce an offense that's 21st in the majors in runs scored.
The outfielders have been leading the charge: Ezequiel Carrera, Kevin Pillar, and Jose Bautista, who have notched OPSs of 1.000, .925, and .946 respectively. While Pillar has been good at the plate for the majority of the season, it's the return to form of Bautista which should be the most encouraging sign. BP Toronto's Nick Dika speculated on this possibility recently, which has borne out in his recent play.
Normal reserve infielders (and defensive stalwarts) Darwin Barney and Ryan Goins have joined the hit parade as well, rocking OPSs of .905 and .901. Though they're less likely than most to keep that up, any contributions they make until Troy Tulowitzki and Josh Donaldson return will help the Jays get back in contention.
There are still some holes: Kendrys Morales and Devon Travis are scuffling, and Luke Maile is a hitter only in the sense that he holds a bat and addresses the plate as a hitter should. But after an abysmal start offensively to the season, seeing the Jays put up some crooked numbers is an excellent sign. A matchup against a struggling Braves team can only help their offense continue to get better.
The Back End of the Blue Jays Bullpen Can Finally be Counted On
Coming into the 2017 season, a back end of the Blue Jays bullpen that consisted of Roberto Osuna, Joe Biagini, and Jason Grilli looked like the one piece of the reliever puzzle that need not be worried about. After two seasons of wear, Osuna had shown no signs of regression from his dominance as a closer. Despite being a Rule 5 pick, Biagini flourished at every opportunity in which he was given more relief responsibility. While he had a rough start to the 2016 season in Atlanta, Jason Grilli became a shutdown king in Toronto.
Then April happened.
In April, the Blue Jays were second only second to the Milwaukee Brewers in meltdowns, and their bullpen ERA was getting eerily close to 5.00. This was in large part due to failings from the back end two key pieces: Roberto Osuna and Jason Grilli. The former posted an April ERA of 5.63, the second highest single month mark of his career, while the latter couldn't find the strike zone. The back end's only saving grace was Joe Biagini; the only one of the trio to perform just as well as expected. However, as we now know, Biagini has left the setup role for a temporary(?) place in the rotation, leaving the Jays to find another solution. As such, the Blue Jays were left with two of their original late game trio, with the only two left fallen away behind expectations. The team needed a solution.
One piece of that solution looks to have come in the form of tweaks from Roberto Osuna. Last Friday at BP Toronto, Dave Church wrote about how, in May, Osuna has returned to the pitch mix that he's been most successful with over the last two seasons. In addition, John Gibbons has slowly pulled back on the leash he gave Jason Grilli in the 8th inning. In April, Gibbons didn't stray from his trust for Grilli late in the game, using him exclusively in the 8th inning, 9th inning, and high leverage extra innings. In five appearances from Jason Grilli in May, however, three have come in the 7th inning. In his place the Jays have utilized Joe Smith and a mix of Ryan Tepera, Aaron Loup, and Danny Barnes.
While he struggled with the long ball throughout last season, in 2017 Smith has stepped up and returned to elite relief form. Joe Smith has spent a majority of his 11-year career pitching in the 8th and 9th innings. While that may not functionally be predictive of his ability to pitch in high leverage innings in 2017, it has certainly given John Gibbons the confidence to use Smith in those situations. As for the second setup spot, Tepera, Barnes, and Loup have all had adequate enough results to garner the position. Some have better peripherals than others (I'm looking at you Danny), but not so much so as to take hold of the spot and give John Gibbons a de facto setup choice. Perhaps this series against a poor Braves team will spark that separation.
Lead Photo: © Kim Klement-USA TODAY Sports