Justin Smoak did not have a good start to the season. After his first nine games, the switch-hitter was batting a paltry .208/.240/.292 with more strikeouts (8) than hits (5). It was obviously a small sample size, but coming off of last year's abysmal performance, which included a career high 32.8 percent strikeout rate, had fans wishing for Smoak and his two year contract to be sent packing.
Since that time, Justin Smoak has been an entirely different player. He has crushed the ball to the tune of a .301/.354/.592 slash line and cut his strikeout rate down to a below league average 16.8 percent in that time period. As such, he enters play Tuesday hitting a very robust .283/.333/.535 overall.
What's most bizarre is how he got there.
Justin Smoak has always kind of made no sense. Now he's making no sense in a good way.
One of the natural expectations when a player has increased production is that he must be hitting the ball harder. For Smoak, that isn't the case:

With a difference of less than 1 mph from his solid 2015 season, Smoak is basically within the margin of error when it comes to exit velocity; he's not hitting the ball harder, but he's not hitting it much softer either.
But while the Blue Jay first baseman may not be hitting the ball harder, he is hitting it a lot more often (contact rate up to 81.9 percent from a previous high of 79.7 back in 2012). On the surface, this makes no sense:

As you can see from the chart above, both Smoak's out of the zone swing (or chase) rate and overall swing rate are career highs. Typically when people swing out of the strike zone, you expect less contact and more strikeouts. Yet somehow, Justin Smoak has actually drastically cut down his strikeout rate (his overall 20.3 percent rate would be the lowest of his career and pretty much right at league average).
So what's going on here? How did Justin Smoak start making more contact while swinging at worse pitches? The simple answer is that he's making contact with the good pitches to hit, with an insane 96.1 percent contact rate in the strike zone. That's over seven percentage points above his previous career best and ranks second in the major leagues (behind Joe Mauer).
That seems like it bears repeating. Justin Smoak is second in baseball in contact rate in the strike zone behind a man who has won three batting titles. WHAT?!
There actually seem to be a few causes for this.
A Barrage of Lefties
The first reason, perhaps counterintuitively, is that Justin Smoak has faced more lefthanded pitchers. We've all been told (and known) that he has hit poorly when batting from the right side. Since 2013, Smoak had posted an OPS over .620 just once against a southpaw and that was in a tiny 40 PA sample in 2015.
So why is this perhaps a good thing for Justin Smoak? Because we may have been wrong about Smoak and lefthanders all along; we've heard from beat writers about how the team has always liked Smoak's swing against lefties and felt he had more there. When you look deeper, you can see why:
Justin Smoak has always made way more contact batting righthanded than left. In his career, he has struck out in 18.8 percent of his plate appearances against lefties compared to 25.9 percent against righties. This season those numbers have gone to the extreme, with Smoak striking out in just 3.2 percent of plate appearances against lefthanded pitching while making contact on 88.2 percent of swings, easily a career best. There's obviously some regression coming, but it's clear that there is an entirely different skill set when he is facing lefties.
Smoak is also hitting the ball just as hard batting righthanded as when he is batting left (see exit velo chart above). We don't have Statcast data before 2015, but Smoak's exit velocity is nearly equal from both sides of the plate in both 2015 and 2017.
It's not really a coincidence that he has hit lefties better in both of those years. More contact with the same "power" should lead to more hits. In fact, Smoak probably should've hit better against lefties even in his tougher 2016. Despite the lower exit velo, his xwOBA, or expected weighted on-base average last year (.315) was a whole .036 higher than his actual wOBA (.279). Even this year, with his ridiculous results against lefties (.429/.469/.893), Smoak's xwOBA (.537) is only .015 points lower than his astronomical actual one (.552). So while his numbers will have to come down a bit, the way they've been collected to this point has not really been a fluke.
Smoak clearly seems to have some untapped potential against lefties that may be starting to show up. He is hitting the ball often and he is hitting it hard. What's notable is that Smoak is getting those batted ball results against lefties with very different contact types than he has against righties.

As you can see above, Smoak has always been a much bigger fly ball hitter batting righthanded than left. This suggests completely different lofts on the swing. Smoak seems to have an easier time making contact with what would be a lower angle righthanded swing, even if that isn't one geared to maximize power.
A New Swing and Approach
But what stands out even more is how different those swings look to be from year to year. In 2015, the big first baseman was getting on top of the ball a lot. His overall home run rate was a solid 5.5 percent (league average was 3.1 percent), but that was driven by a completely unsustainable 25.4 percent HR/flyball rate. He was simply hitting too many groundballs overall.
Then last year it seemed he tried to join the flyball revolution. His average launch angle soared with both his right and lefthanded swings. Unfortunately, this came with vastly decreased contact rates. When batting left-handed, Smoak's strikeout rate rose to a career high of 37.6 percent when his previous full season high was 27.1 percent. That's a big jump. Unfortunately, the increased strikeouts with big swings combined with the battle for playing time led to more big swings and strikeouts as Smoak began to press.
Before the season, Smoak spoke to Rob Longley of the Toronto Sun about these issues:
"When I got the opportunity, I felt I had to try to make up for it, so I'm swinging at everything. All I should focus on is having a good at-bat, but my focus was on letting me hit the three-run homer and being a hero."
We've certainly seen how a simple change in mindset can help hitters. One need look no further than Kevin Pillar and his magical start to the season.
As a result of this desire to be more controlled, Brook Jacoby worked with Smoak in the spring on developing a more compact swing that could still generate power without sacrificing a ton of contact. It seems to have settled in to what we're seeing with these early results. His lower loft swing is still producing batted balls in the 10-20 degree sweet spot, but he is also making more easy, steady contact.
BETTER HANDLING OF CURVEBALLS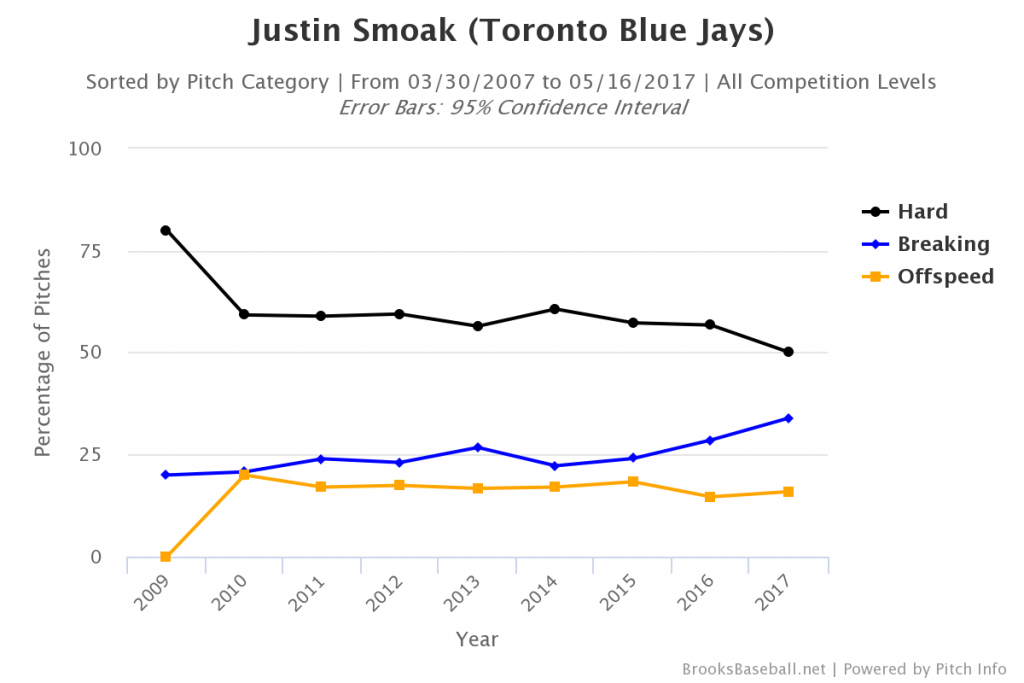 Given his success so far, and his very clear past struggles with them, it's no surprise that Smoak has started seeing far more breaking balls this season than last. The odd part (this seems to be a theme): Smoak is loving the soft stuff.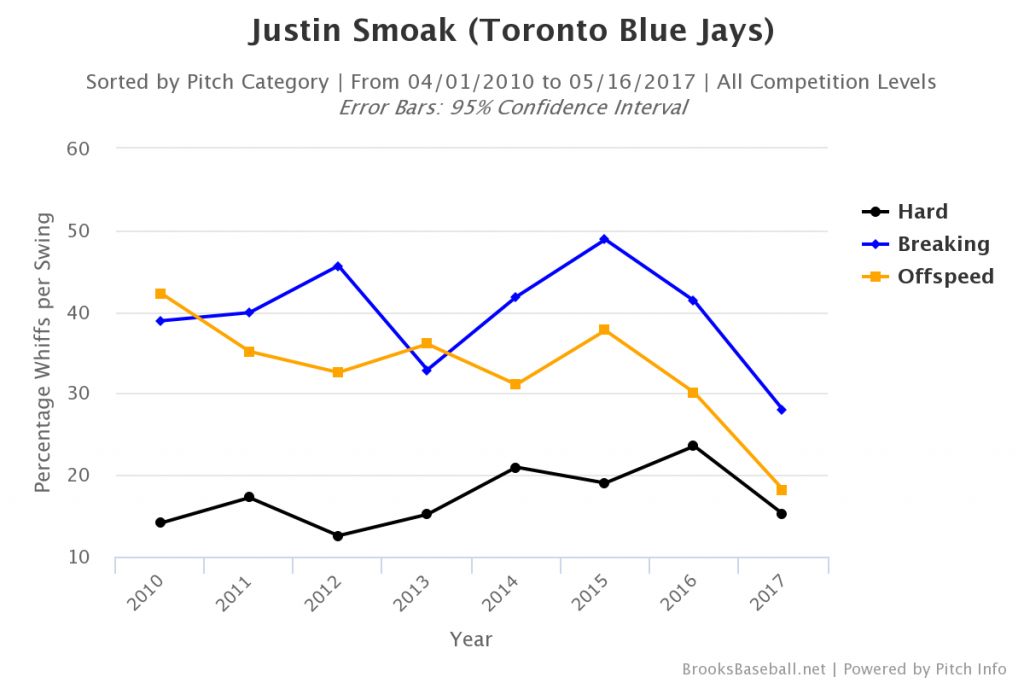 Smoak's contact rate on fastballs is definitely good, but he has done that before. The contact on non-fastballs is, like pretty much everything else he's doing this year, completely unprecedented. He has raised his contact rate on breaking balls all the way to 72.1 percent, up from his previous bests of 67.1 and 61.1 before that. That trend has applied to all off and his miss rate on all offspeed pitches, with Smoak's contact rate coming in at 81.2 percent, way up from a previous career best of 69.9 percent.
It's tough to say exactly why he is hitting offspeed stuff better. The increased volume of breakers could be making it easier for Smoak to recognize them, but it could also be the new swing, the change in approach, or just plain small sample size fluke. Regardless, the simple truth is that he is hitting them better.
Are all of these things sustainable? Probably not. The contact rate almost has to go down with all the chases out of the zone, so he's probably not going to be in contact rate conversations with Joe Mauer for too long. We'll probably see some of the success against breaking balls go away as well.
But there are changes to Smoak's swing and approach – and his past has shown that he may have been slightly unlucky – so he may not go all the way back to "oh god why is he on the roster" levels. And if we're very, very lucky, we may just be finally getting some realization of the potential that so many have seen in Justin Smoak since he was made the 11th overall draft pick back in 2008.
One way or the other, this has been an awful lot of fun to watch.
Lead Photo © Kevin Sousa-USA TODAY Sports