Toronto Blue Jays vs. Baltimore Orioles
Tuesday, October 4th, 2016
Written by Eric Mercer and Joshua Howsam
October baseball. This is it. Every team in major league baseball has played 162 games* and there are ten teams left standing. But for today, we only care about two.
Although the Blue Jays did not win the division, as was the hope at the beginning of September, their season continues for at least another day as they host the win-or-go-home Wild Card game. For the eleventh time this season, the Baltimore Orioles will be occupying the first base dugout at Rogers Centre on Tuesday night. Both teams finished the regular season with 89 wins, but the tiebreaker was awarded to Toronto as they won the season series, 10-9. The Jays are slightly better at home than on the road, but the real issue belongs to the Orioles. The Baltimore birds actually have a losing record on the road (39-42), so they really could have used that extra win.
The Jays have handled the Orioles reasonably well at Rogers Centre this year, going 6-4, but they stumbled a bit last week and nearly lost their hold on a postseason spot. One of those losses came with Marcus Stroman on the mound, and another in a game started by Chris Tillman (but won by the bullpen). This should be a tight affair.
Pitching Matchup:
Marcus Stroman (9-10, 4.37 ERA, 3.45 DRA) vs. Chris Tillman (16-6, 3.77 ERA, 4.53 DRA)
The Jays had some serious thinking to do regarding the starter for the wild card. They had two rested starters, Stroman or Liriano, and reasons to go with either one.
The fact that Liriano was even in the mix must be considered something of a surprise. He was acquired for Drew Hutchison in a glorified salary dump, and as of yesterady had a real possibility of starting the wild card game. There are two big reasons the big lefty was considered: The first was that Liriano has allowed a total of four runs in his last four starts (24.2 IP) and recently dominated Baltimore over 6.1 innings, striking out 10 and walking just one. The second point in favour of Liriano is Baltimore's extreme struggles against lefties this season. They have hit only .234 with a .693 OPS against lefties, both of which rank near the bottom of the league. In contrast, they have hit .263 with a .783 OPS against righthanders.
Despite all of that, the Blue Jays committed to go with Stroman. He has had an underwhelming season relative to expectations and has put up a 7.04 ERA in four starts against the Orioles. They have also hit .344 with a .900 OPS against him. Having said that, Stroman is an extreme groundball pitcher and one of the best in baseball at limiting the long ball, which is a big plus against Baltimore. He also throws more strikes than Liriano. Finally, Stroman has been here before. This will be his fourth playoff start and second in a win-or-go-home game. Stroman seems to thrive on big moments, and this certainly qualifies. The little man will need to come up big. #HDMH.
The Orioles also had a decision to make, although their's was easier from an objective viewpoint. They could've gone with Ubaldo Jimenez, who has thrown well lately, but his inflated season numbers likely scared them off. Buck Showalter instead elected to go with Chris Tillman, their ace, in what is guaranteed to be a noisy environment. Tillman had a 3.77 ERA in 172.0 innings, which looks fine on the surface. There are some worrying signs for Tillman, however. As the season has gone along, he has seen a steady decline in his velocity. This drop reached its valley in his last time out, as he averaged just 90.6 mph on his fastball, well down from his opening day velocity of 94.6 mph. This will be something to watch early on.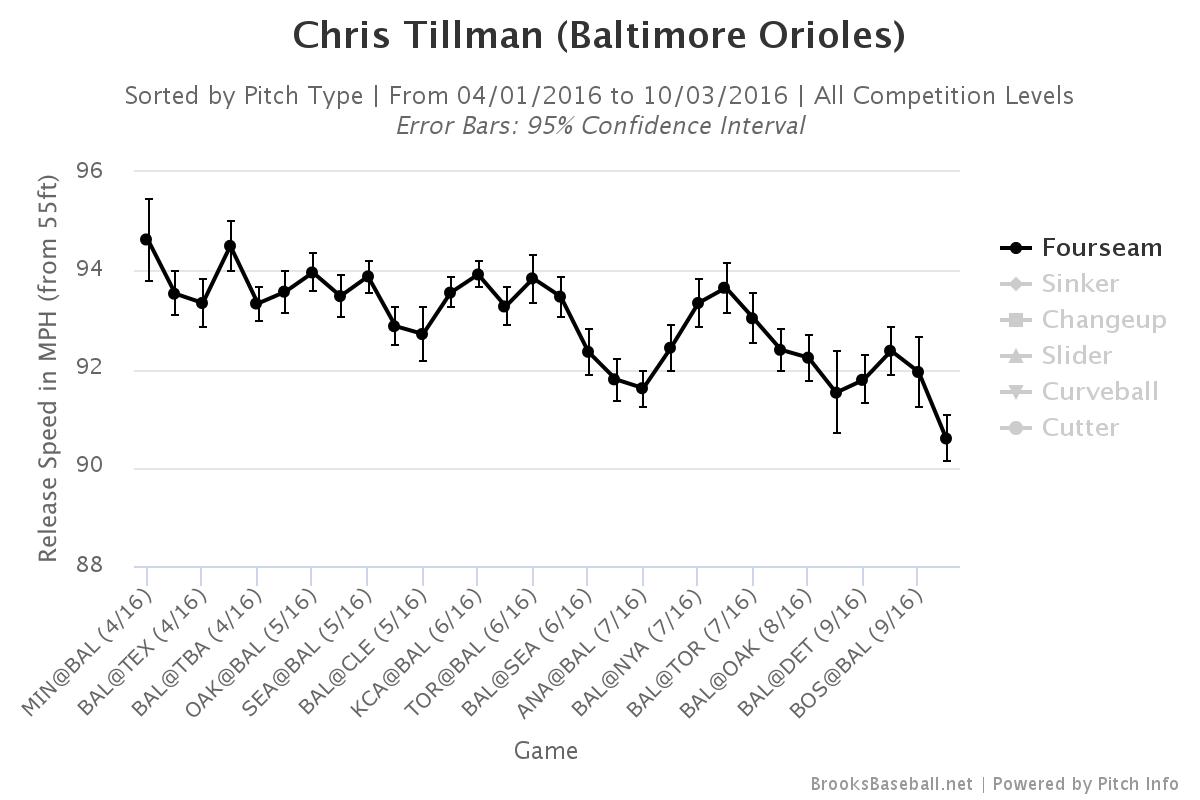 Tillman is also somewhat prone to issuing free passes, allowing 3.5 walks per nine innings this year, and has had a lot of trouble going deep into games against Toronto, including tossing just 5 2/3 innings his last time out, allowing nine baserunners. The Jays would do well to wait on him early to see if he can find the zone. If he can't, there will be an opportunity to do some serious damage. That being said, he is still an effective pitcher. And when Tillman is throwing strikes, he uses his five pitch mix very well to keep hitters off balanced. Expect him to bring his 'A' game.
Keep an Eye On
The Slumping Offenses
The Jays offense has been scuffling as of late, there is no denying it. Their 100 runs in September ranked 29th in all of baseball, just a solitary run ahead of the Marlins. The Blue Jays are getting on base just fine, as their .335 September OBP was 10th best in all of baseball, but they just couldn't bring them home. The biggest culprit has been their disappearing power. Despite ranking third in the AL to Baltimore in long balls on the season, the boys in blue hit just 24 home runs in September, finishing near the bottom of the league (26th, 14th in the AL). Their .363 slugging percentage was dead last in the AL (28th in the MLB). They'll need to hit better on Tuesday if they hope to survive to play another game.
The Blue Jays aren't the only team struggling with the bats. While the Orioles are still mashing the ball out of the ballpark (just one home run behind the leaders for the month of September), they're struggling to score runs on the whole. The reason is simple: they aren't getting on base. The Orioles .306 OBP for the month of September ranked 26th in baseball. Even if you can hit home runs, it's hard to score runs when there's nobody to drive in.
Both of these offenses are obviously capable of a lot more, so this could still turn into a slugfest, but nothing recently suggests that will happen.
The Battle of the Bullpens
They Blue Jays will have to score early if they want to win this one, as the Orioles have a devastating bullpen. Led by closer Zach Britton who went 47/47 in save opportunities and amassed a record a 0.54 ERA along the way (not a typo), the Orioles relief corps has been nothing short of sublime this season. They led all AL groups with a 3.40 ERA, and have blown just 14 leads all season. Look for Showalter to have a short leash on Tillman before turning it over to Brad Brach, Mychal Givens, Donnie Hart, Darren O'Day, and finally, Britton. If the Orioles have a late lead, they just don't lose.
The Jays find themselves facing quite a different situation, as Joaquin Benoit is out with a torn calf, and Jason Grilli has proven himself to be very shaky of late. Roberto Osuna was also looking a little shaky, having blown back-to-back saves, though he looked much better against the Red Sox in the final week of the season. Thankfully for John Gibbons, there will be reinforcements for this game. Both Francisco Liriano and Marco Estrada will be available to help bridge the gap to recent standouts Joe Biagni, Brett Cecil before handing the ball off to Osuna. A recent hiccup vs David Ortiz notwithstanding, Cecil has been outstanding for six weeks, and Biagini has really come into his own as a late-inning reliever.
Managerial Mischief 
With the Wild Card rosters only existing for one day, both teams will be loading up their lineups with extra relievers and bench options. Look for a lot of matchup pitching changes and pinch runners, as both Buck Showalter and John Gibbons will do everything in their power to keep this game from getting away. This likely means it will take a long time, but the chess game will be interesting to watch.
Jose Bautista vs. the Orioles
Joey Bats has proven time and again that he has a knack for coming up big in big games, with more than his share of big moments both recently and in his career. However, he has also had his shares of dustups with the Baltimore Orioles. The feud has escalated over the years, as Bautista has celebrated in grandiose ways and traded verbal barbs with the O's, while they have directed pitches at or behind the Jays' slugger. The primary feud exists with Darren O'Day, but has definitely tilted towards the Toronto rightfielder in recent years. Bautista now owns a .389/.577/1.056 (that's sluging, not OPS) line against the submariner, so expect O'Day to celebrate just a little bit harder if he gets Bautista out in a big moment.
Probable Lineup
| | |
| --- | --- |
| Baltimore Orioles | Toronto Blue Jays |
| Adam Jones – CF | Devon Travis – 2B |
| Hyun Soo Kim – LF | Josh Donaldson – 3B |
| Manny Machado – 3B | Edwin Encarnacion – 1B |
| Mark Trumbo – DH | Jose Bautista – RF |
| Matt Wieters – C | Russell Martin – C |
| Chris Davis – 1B | Troy Tulowitzki – SS |
| Jonathan Schoop – 2B | Michael Saunders – DH |
| Michael Bourn- RF | Kevin Pillar – CF |
| J.J. Hardy – SS | Ezequiel Carrera – LF |
via Roster Resource
Final Thoughts
Win and you're in. Lose and your season is finished. There's not much else to say. The Texas Rangers await, and the Jays would love an opportunity to knock them out again, but Baltimore stands in their way. If the Blue Jays punish Tillman's mistakes, Stroman throw the way he did last time out and Gibby uses his bullpen well, the Jays will move on. Either way, this game is going to be great. October baseball is just the best.
* Except Cleveland and Detroit who have only played 161 games.
Lead Photo: Nick Turchiaro-USA TODAY Sports