We did it!!! We've made it to the end of the season, and this is going to be the final regular season Stuff report. If you've read one, or you've read them all – thank you so much for making this such a fun experience. This Stuff report looks at the Jays pitchers over the past 7 days – as opposed to normal, where we look at two week periods. Stay tuned later this week, where Nick Dika and I will be presenting the 2016 Stuffy Awards. It'll be a black tie affair. On to the Stuff!
Starting Pitchers
A lot was made of the spring training battle between Gavin Floyd and Aaron Sanchez for the Starting Rotation. How silly we all were back then. Sanchez dominated, and the rest was history. Then just yesterday, on a day when Toronto needed him to be at his best, he carried a no hitter into the late portion of the game and silenced the best offensive team in the American League. His Stuff has remained legendary, and consistent all season – there are no signs of fatigue setting in. Pitchers are fragile – there is no arguing that. Who knows what the future holds for Aaron Sanchez, but it looks like we haven't seen his ceiling yet.
Aaron Sanchez, arm action/glove side (front view) pic.twitter.com/oHUGaQiClL

— Rob Friedman (@PitchingNinja) October 3, 2016
While not as mind blowing, Marcus Stroman also had a very consistent season from a Stuff perspective. He had his performance ups and downs, without a doubt, but in another game where the Jays needed a huge performance from their starter, Stroman pitched into the eighth inning against the Orioles (in a losing effort), and was cost a couple of runs by some shaky defence. Both of these young guns were there when their team needed them the most. All of Jays starters appear to be firing on all cylinders right now – and with a bit of luck (and hopefully some offence), it's going to be exciting to see what these beasts can do in the playoffs.
Relief Pitchers
Consensus Blue Jays Rookie of the Year, Joe Biagini, saved his best stuff for last. In fact, Biagini had better stuff than all but four other pitchers in the MLB last week (Aroldis Chapman, Arquimedes Camineiro, Matt Bush, and Joe Kelly narrowly edged him out). Biagini has been put through the ringer this season – he has the second highest workload on the Blue Jays (per the Fatigue Unit's metric – which you can read about here). He's also been a great teammate – exhibit A.
Biagini kisses Grilli. Drunk already? #BlueJays pic.twitter.com/AjdRWc2GXf

— Adam Virani (@adamv_23) October 2, 2016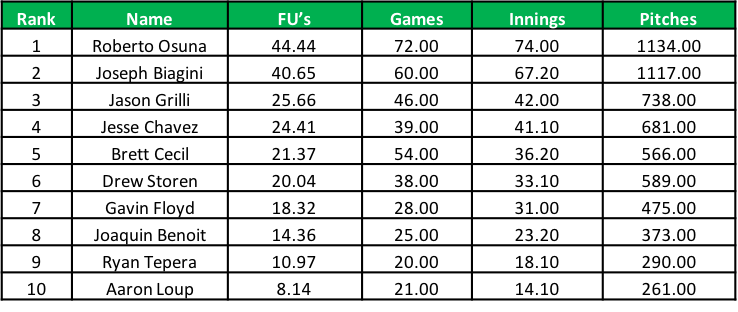 If you were concerned about big spikes in workload, Biagini should be number one on your warning list. I do believe that his recent struggles can be tied directly to his huge workload this season – but if you look at it from a Stuff perspective – Biagini does not appear to be showing physiological signs of fatigue. These last few bumps in the road may just be a matter of other teams finally getting a good scouting report on him, and hitters facing him for the second and third time.
That's it! The end of the 2016 Regular Season Blue Jays Stuff report. Let's hope there are a bunch of games we can use to evaluate stuff this postseason!