The Blue Jays Stuff Report will be appearing in this space every two weeks. The metric was created by Dr. Mike Sonne, who has a PhD in biomechanics from McMaster University. For his work on pitcher fatigue, injury, and other baseball related research, please visit his website over at www.mikesonne.ca.
It's that time of the month where you gather up your family, curl up in front of the window AC unit, and look at the Blue Jays Stuff report.
Blue Jays Starters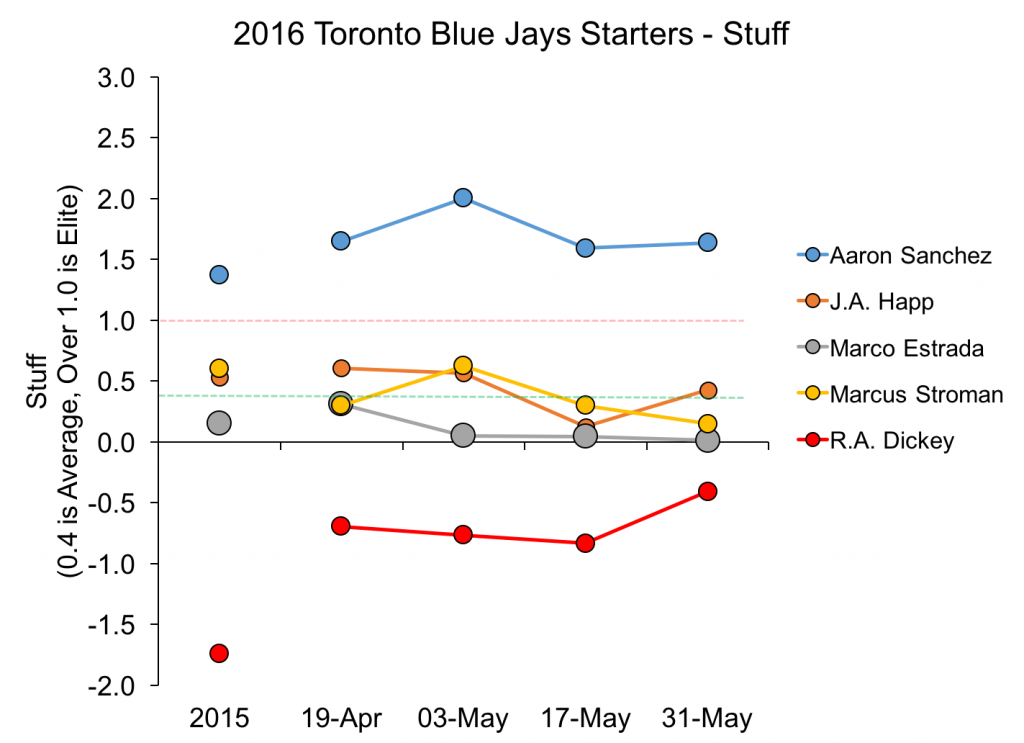 There are no real surprises in the Jays starting rotation when it come to Stuff – Sanchez remains well above the league average, and at last count – had the 10th best stuff of all starting pitchers in the MLB. A concerning trend to watch is that Marcus Stroman has had three consecutive weeks where his stuff has dropped off. Two of his last three starts have been less than desired. We all know that height does not measure heart – neither does Stuff #SDMH, but this is a disconcerting trend, especially with the way it has shown up in the results on the field. Happ and Estrada are pitching with below league average stuff, but their location and pitch mix have been so good, that they keep getting hitters out.
In the past two weeks, RA Dickey has seen a slight increase in velocity, and added some range to his break movement. Knuckleballs tend not to be best represented by the Stuff metric, but it's interesting to see the how the change is still reflected in better recent performance. And let's face it, Dickey's innings are going to be very important with possible limits coming for Stroman and Sanchez, so the better he is, the better for the Jays.
Blue Jays Relievers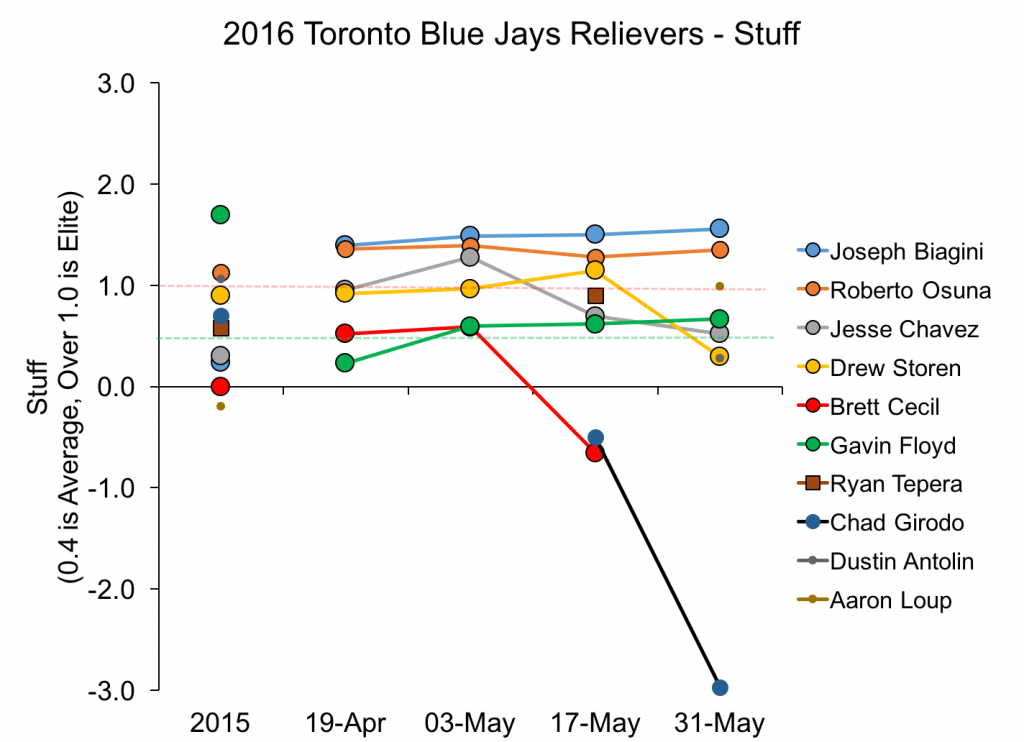 It's been quite fun to see Joe Biagini pitch as well as he has this season, and you can see that his stuff lead has started to increase over Roberto Osuna in the past two weeks. As his stuff continues to trend upward, so too has his role and performance. He is now arguably the second most trusted reliever in the Blue Jays bullpen. It's quite the rise for a man who wasn't even protected from the Rule V draft by the Giants. Clearly though, the quirky reliever has been loved wherever he has gone:
Joe Biagini video. Remarkable yet disturbing https://t.co/WZMQkzB8eU

— Jeff Blair (@SNJeffBlair) December 10, 2015
Aaron Loup debuts with a great stuff profile at 0.99. That's just below the elite level of stuff. It's interesting that despite the large loss in velocity – almost three miles per hour – Loup still grades high because of his incredible movement. One trend that is interesting to follow is that of Drew Storen. Storen has always profiled with excellent stuff because of the nasty movement on his slider. However, he has seen a large drop in stuff in the past two weeks. Looking a bit closer, his velocity, pitch composition, change of speed, and breaking ball velocity all appear to be holding steady. If you look at the Volume 3 of the stuff report, you'll notice that Drew has seen the break distance in his repertoire reduce from 19″ down to 13.8″. Is this a result of injury? Weather? Evil spirits? I don't know. I'm not that kind of doctor.
Overall, the Blue Jays relievers seem to have the stuff, but not the performance. Hopefully they can begin to turn things around, as the talent is still clearly there.
For more information on the "Stuff Metric", visit www.mikesonne.ca.