Here we are again, ready for another edition of One At-bat. Welcome. I must confess, I had an interesting 'throwback' sort of OAB suggested to me. I was about to write it up, and then Saturday, May 28th happened. The Red Sox came into the Rogers Centre the night before, and, but for the grace of Josh Donaldson, would have won that game.
As action packed as the 7-5 Friday night contest was, it had nothing on the Saturday game that followed. I cannot quite capture, without going in to a full game recap, just how much back and forth went on just to get the game to the plate appearance I'm going to break down. The title, though, is One At-Bat, and that is what you will get. We will join the game in the bottom of the ninth inning, with the Blue Jays down 9-8, Ezequiel Carrera on first (after pinch running for Justin Smoak) and Russell Martin in to face Craig Kimbrel.
The setup:
Craig Kimbrel is very, very good. Even excellent. After being traded to the Red Sox in the offseason, he has remained so. He enters the game with 12 saves, a 2.37 ERA and 31 (!) strikeouts in just 19 innings.
In the short term, Kimbrel has not been quite as excellent. After striking out Kevin Pillar in the eighth, he allowed an opposite field single to the Greatest Blue Jay of All Time, Jose Bautista, which brought the tying run in from third. That run resulted in a blown save, only his second of the season.  Returning for the ninth inning with another one run lead, Craig induced a fly ball from Edwin Encarnacion, and a strikeout from the badly overmatched Michael Saunders. Just when it looked like he had the Jays where he wanted them, Justin Smoak lined a ball into center for a single. Russell Martin is now up, and the Jays are down to their last out.
Russell Martin has been… awful. I'm sorry, Mr. Martin, if you're reading this, much respect, I know you're trying, but you probably want to skip to the next paragraph. His tAV is .176. , or if you prefer, his wRC+ is 31. That's 31% of the average hitter's production.  This is AFTER  a two home run game in New York in the last week, his first two home runs of the season. He's struck out 48 times and walked only 10. Of all catchers with 130 PA, he's dead last in SLG%. He's also second worst in K% and BA.
However, in the very, very short run, Martin has been very good. So far this afternoon he has a single and a home run, and the homer came in an 0-2 count.
The Sequence:
Pitch one is a 95.5 mph fastball in on Russell's hands, right on the corner of the plate, he fouls it off. It's a big swing, and he looked to be ready for the fastball velocity, but the pitch was too far inside.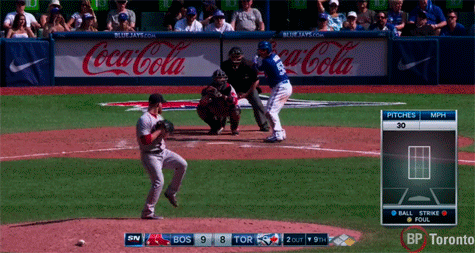 Pitch two is a Kimbrel knuckle-curve, at 87 mph in the middle of the zone. Martin takes a called strike.
In his career, once a batter gets to 0-2, the Red Sox closer has struck out 68.3% of the men he has faced. That's pretty impressive. Of course, Justin Smoak just singled after passing through and 0-2 count, so anything is possible. Kimbrel unleashes a 96.5 mph fastball. Carrerra takes off for second base, (one pitch after Buck Martinez and Pat Tabler stated confidently "He's not going anywhere," on a Kimbrel pickoff attempt.) and Kimbrel misses badly, the pitch crossing home plate five feet off the ground. Vazquez multiplies the Red Sox problems by throwing down to second and missing well to the first base side of the bag. The throw sails past a leaping Dustin Pedroia and Ezequiel advances to third.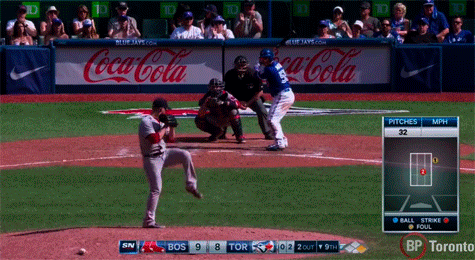 On the fourth pitch of the At-Bat, Russell Martin finds himself in an 1-2 count, and with a Leverage Index of 5.90. The Blue Jays, at this juncture, have a 16% chance of winning the game. Even with that runner on third, there are limited ways for the Jays to tie it up. One of them is the ball getting away from the catcher and advancing the runner. The other is a base hit. The third is an error. There isn't really a fourth way. The 'ball gets away' method already brought a run home in the previous inning for Toronto, when Russell Martin trotted home on a wild pitch.
Kimbrel's pitch is a curve that he yanks badly and Vasquez has to jump out from his position to get a glove on.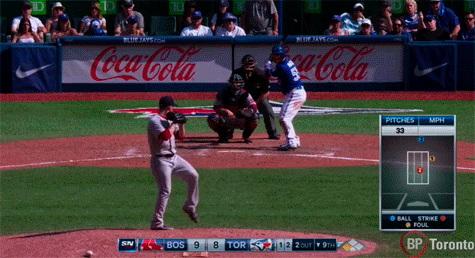 With Kimbrel's misstep, and Vazquez having already allowed a run to score in this type of situation, Martin might be making a guess here, albeit a good one, that the only thing he's going to see is the fastball from here on out. It's not a foolproof plan, because he's seen a perfectly placed curveball already, but Craig is up over 30 pitches in almost 2 innings worth of work. He is tiring, having lost 2mph off his fastball to this point. Martin is still going to have to be at his best to avoid the strikeout, it's where he ended up 40% of the time after a getting to a 2-2 count in 2015.
Kimbrel comes back with the fastball for pitch number five, and Russ see it's right down the pipe, he takes a big cut and only just gets a piece of it, enough that it skips away from Vasquez. Martin is still barely alive.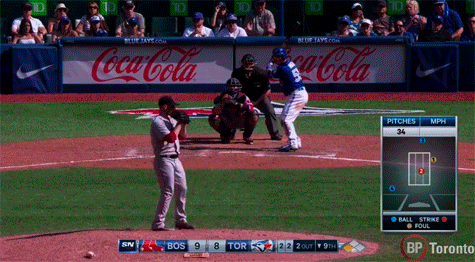 The Payoff:
Russell sets himself for another fastball, and on pitch number six, Craig Kimbrel obliges with one belt high at nearly 97mph. Russell keeps his swing level and compact, and rips the pitch into the left centre power alley.
Carerra scores easily, and Russell rolls in to second base easily. It's the second time in the game Craig Kimbrel's blown a lead, something he often doesn't do twice in a month. The Blue Jays have tipped the scales, and now have a 60.7% chance of winning the game.
Russell Martin with four extra base hits all season long, lacing a double in the gap against Craig Kimbrel, who has only allowed three extra base hits all season, seems very, very hard to believe. Sometimes, though, the incredibly unlikely happens, and when it does it's just a reminder that baseball doesn't have to make sense to be beautiful.
 Lead Image Credit Kevin Sousa-USA TODAY Sports