The Blue Jays Stuff Report will be appearing in this space every two weeks. The metric was created by Dr. Mike Sonne, who has a PhD in biomechanics from McMaster University. For his work on pitcher fatigue, injury, and other baseball related research, please visit his website over at www.mikesonne.ca.
Welcome to the first Toronto Blue Jays Stuff report! My colleague Daanish Mulla and I created the stuff statistic as a way of quantifying what colour commentators are always referring to – the quality of a pitcher's "stuff". If you have never heard about the metric before – here's a brief explanation.
How to Interpret Stuff
These rankings are filtered in descending order, from the best stuff to the worst. I have presented the raw values that went into the calculation (because these are more fun to look at than the z-scores), and I have also provided the percentile for stuff – which is from 0 to 100%. For reference, if a pitcher has 95% stuff, that means that their stuff is better than 95% of all other major league pitchers. Percentiles are blocked in 1% increments, so that is why you may see more than 1 – 100% stuff pitchers.
Blue Jays Starters
You can find "Stuff" ratings for the rest of the league here, but on this page we're going to focus on the boys in blue.
Buoyed by his blazing fastball, and the insane amount of distance covered between his fastball and breaking pitches, Aaron Sanchez not only has the best stuff on the Blue Jays, but some of the best Stuff in all of baseball. It looks like he's starting to gain control over that weapon as well – which must be terrifying to the rest of the AL East. J.A. Happ has seen his stuff stay relatively level compared to his 2015 season, which is encouraging given his overall performance. In fact, despite getting older, Happ's stuff appears to be getting even better.
Blue Jays Relievers
In order to have enough of a sample to be included in the reliever stuff rankings, RPs need to have pitched at least once per week.
In what may seem as a minor surprise to fans, Rule 5 pick Joe Biagini leads the way for Blue Jays relievers in the early part of the season. His stuff ranking comes from an above average amount of break distance, and a 16.5% change in velocity. It is also very encouraging to see how much his Stuff has increased from the 2015 season, as you always want to see growth in a young arm. Roberto Osuna's stuff hasn't gone up, but that's because it remains at his already elite level of Stuff from the 2015 season. On the flip side, Gavin Floyd has seen a pretty substantial drop in his stuff from the 2015 season. As for everyone on this list, it's very early in the season, and there may be significant changes by the time Stuff Volume 2 comes out in two weeks.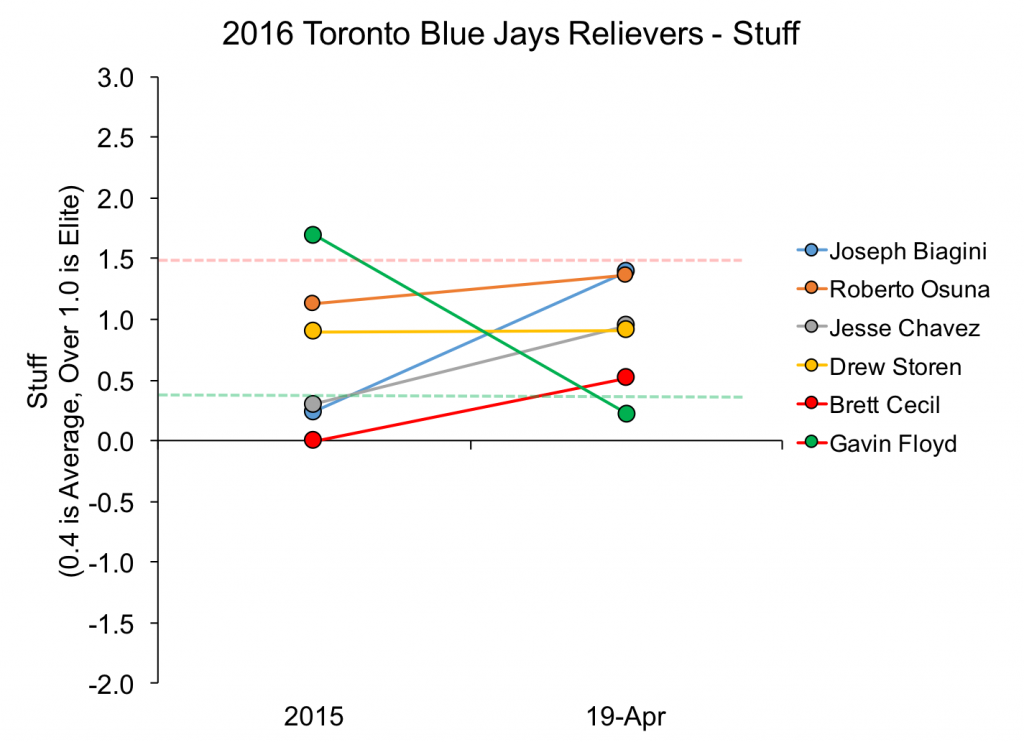 Thanks for reading the first Stuff report. If you have any questions, please be sure to let me know in the comments.
Thanks to Michael Copeland, Nick Dika, and Joshua Howsam for making sure I came across as somewhat literate when writing this piece.
Lead Photo: Bob DeChiara-USA TODAY Sports