Since they say starting pitching wins championships, each time through the rotation we're going to break down each individual start to see what the pitchers did well and what they didn't, with an attempt to go a little bit deeper than just the box score. You can read all past Rotation Reviews here.
The first trip through the four-man version of the Blue Jays starting rotation saw a lot of really encouraging performances. Marcus Stroman and Aaron Sanchez were lights out, and J.A. Happ was very solid in his turn on the bump. Only R.A. Dickey struggled, and even so, put up a passable performance. Week two was a little bit of a different story, with a little bit more inconsistency in the outings.
Marcus Stroman
Line: 5.1 IP, 6 H, 5 R, 5 ER, 3 BB, 4 K, 0 HBP, 0 HR, 56 Strikes, 46 Balls
Pitch mix: 57 Sinkers, 14 Changeups, 10 Sliders, 9 Cutters, and 2 Curveballs
What a difference a week can make. From a gem of a start on opening day to a stinker in the home opener. Given that the Boston Red Sox offense is slightly more daunting than the Rays, a small step back was to be expected, but this outing wasn't even close. The key to Stroman's performance against Tampa Bay was his supreme command of the fringes of the strike zone, combined with his ability to get ahead of hitters. Both of those things abandoned him against Boston. In particular, Stroman struggled to get ahead of hitters, starting only 37.5 percent of batters off with a strike. His overall strike rate fell from 78.7 percent against Tampa to 58.8 percent against Boston. Boston isn't as aggressive as Tampa, but Stroman was also just having trouble locating.
Also, because he was falling behind so often during the game, Stroman was forced to resort to throwing more pitches in the bigger parts of the zone. This creates more hittable pitches just to get back into the count, leading to harder contact. As you can see in the image below, there are not nearly as many pitches that were hitting the edges of the plate. Walks and fat pitches…that's usually a bad combination.
On a positive side, Stroman had a very good changeup in this outing, registering a couple of strikeouts and four missed swings with the offering. This could come in handy with all the lefty mashers in the American League East, starting with his very next time out against the Yankees. If Stroman can continue to get ahead of batters early to let his pitch variety and ability to hit the fringes of the strike zone play up, he will be successful.
R.A. Dickey
Line: 5.0 IP, 8 H, 7 R, 6 ER, 2 BB, 9 K, 0 HBP 0 HR, 60 Strikes, 41 Balls
Pitch Mix: 95 Knuckleballs, 3 Four-Seam Fastballs, 2 Two-Seam Fastballs
To look at R.A. Dickey's line from his first start at the Rogers Centre in 2016, you would have thought Brandon Morrow had tossed on Dickey's jersey and a fake beard and taken the mound. Five innings of two walk, nine strikeout ball looks great, particular in terms of FIP, but seven runs (six earned) isn't exactly ideal. Once you factor in the 8 hits allowed and generally hard (40% of balls in play were line drives) contact, it was clearly a pretty lacklustre outing. Like Stroman, Dickey struggled to get ahead of hitters after doing a good job of it in his 2016 debut. Unlike Stroman though, Dickey struggled to find the zone at all for most of the game.
Dickey wasn't helped by his defense, though. He made an error himself on a pickoff to second base, and Josh Thole was having all kinds of problems handling the knuckleball behind the plate.
Last time out, Dickey's knuckleball velocity was up a tick from his 2015 April, but that wasn't the case against the Red Sox, as he dropped down to 75.2 mph for the game. His pitch mix also changed quite drastically; his fastball usage dropped from 13.4 percent in his first start to just 5 percent against Boston. Dickey struggled in both games as he looks for consistency from the least consistent pitch in existence. When Dickey is getting ahead of hitters he is much more effective at generating weak contact and generally eating up innings. It will be something to watch for in start number three of the season.
Marco Estrada
Line: 7.0 IP, 5 H, 0 R, 0 ER, 2 BB, 8 K, 0 HBP, 0 HR, 62 strikes, 29 balls
Pitch Mix: 37 Fourseam Fastballs, 27 Changeups, 16 Cutters, and 11 Curveballs
The last time Jays fans saw Marco Estrada in a major league game, he was walking off the mound to an enormous ovation after dominating the Kansas City Royals in game five of the ALCS. Armed with a new contract, Estrada missed a bunch of time in spring training with a sore back and actually started the season on the disabled list. Well, if there were any lingering concerns over Estrada's health, I think he put them to bed nicely.
Estrada was dominant from the first batter (a strikeout of Mookie Betts) until the last (a similar fate for Jackie Bradley Jr.). He had even more "rise" on his fastball than last year, at 13.6 inches, and combined it with a strong cutter and his world-class changeup to keep the Red Sox hitters off balance for the entire game. In classic Estrada fashion, he induced six popups, as hitters simply have trouble adjusting to a fastball that stays up at that rate. He also worked ahead of hitters with consistency, throwing first pitch strikes to two-thirds of hitters that stepped into the box.
It was interesting to see how Estrada was going to work in this game, as all of his success last year came from throwing to Dioner Navarro, who is now in Chicago. However, Russell Martin and Pete Walker made a point of watching video from last year's plans of attack. Joshua will be tracking this as the season goes on (with monthly updates), but so far it looks like some of the lessons were taken to heart. Estrada mixed fastballs at the top of the zone with the other offspeed pitches to generate a lot of soft flyball contact, which is something that Navarro stressed in their outings last year.
The opposition was hopeless against Marco Estrada today: https://t.co/HxW4kzHMB3 #OurMoment pic.twitter.com/2jDL5wWHFh

— Toronto Blue Jays (@BlueJays) April 10, 2016
Aaron Sanchez
Line: 6.0 IP, 3 H, 2 R, 1 ER, 3 BB, 5 K, 0 HBP, 1 HR, 54 strikes, 43 balls
Pitch Mix: 11 Fourseam Fastballs, 60 Sinkers, 6 Changeups, 20 Curveballs
All eyes were on Sanchez in this start to see if he could repeat the dominance he showed in his first start against Tampa Bay. While he wasn't quite as strong, it was still an overall very solid outing for the young righty. Throughout his career, Sanchez has had his struggles against left-handed batters, and the New York Yankees are absolutely loaded with them. In this game they set a lineup that included four lefties and three switch-hitters, so Sanchez was working on the wrong side of the platoon an awful lot. The parade of lefty batters makes it interesting that Sanchez threw so many fewer changeups in this outing (6) compared to his start in Tampa (15), instead going to the curveball as his out offspeed pitch. Whatever the reason for that decision, it seemed to work as the Yankees did very little damage all game.
Sanchez struggled a bit with his command, especially in the second inning (he walked two), but he really wasn't helped by the home plate umpire. Hoye was really struggling with pitches on the first base side of home plate for both teams, but this particularly hurt Sanchez in that second inning. Both walks came as a result of missed strike calls inside to left-handed batters.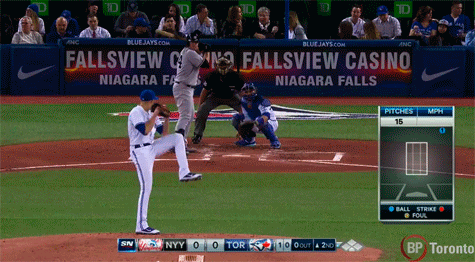 Overall though, Sanchez was able to get key strikes when he needed to, despite not throwing nearly as hard in this outing as he was against Tampa; his average fastball velocity was 95.0 mph compared to 96.6 mph last time out. However, he did a good job of keeping the ball down in the strike zone to avoid damage, with the only real exception being the home run ball to Brian McCann in the sixth. That pitch was almost completely center cut, and McCann did what you're supposed to do with those.
Overall, it was another very encouraging outing for the young fireballer. Sanchez showed that he can succeed against a lefty-dominated lineup, even without his best command or his best stuff.
J.A. Happ
Line: 6 IP, 7 H, 1 R, 1 ER, 3 BB, 4 K, 0 HBP, 0 HR, 63 strikes, 38 balls.
Pitch Mix: 39 Fourseam Fastballs, 25 Sinkers, 13 Cutters, 5 Changeups and 19 Curveballs.
For the second straight outing, Happ has made it look like whatever he learned from Ray Searage in Pittsburgh wasn't lost as soon as he left the Steel City. The tall lefty kept the Yankees off-balance for pretty much the entire game. He used the entire strike zone (see plot below) to keep the Yankees hitters from honing in on one particular location. This was a problem for Happ in Seattle, as he would work almost exclusively away, especially to right-handed batters. That wasn't the case here though, as Martin made a point of crowding some of the powerful righties that Joe Girardi trotted out there.
Happ just had really good command in this game, and that's how he was able to carve up a lineup loaded with righties (and four switch-hitters). He got ahead of hitters, throwing first pitch strikes to 18 of the 26 batters he faced, and threw strikes on 62.3 percent of his pitches overall. By throwing first pitch strikes, the hitters were forced to be on the defensive, which led to a lot of ugly swings and softly hit balls. In fact, the only time that Happ was ever really in any sort of trouble was the fifth inning when Ronald Torreyes and Austin Romine started the inning by going double-single to put runners on the corners with nobody out. However, Happ was able to use the high fastball to get Ellsbury to pop up, then induced a weak grounder from from Aaron Hicks, before getting an easy fly ball to right from Alex Rodriguez. The Yankees scored their lone run (against Happ), but he did an incredible job minimizing the damage.
If Happ can keep pitching like this, the Jays are going to get a lot of value out of their $36M investment, and more importantly, be in great position for a repeat of the division title.
Rotation Stats for the Week
29.1 IP, 29 H, 15 R, 13 ER, 13 BB, 30 K, 0 HBP, 1 HR. 2-1, 4.02 ERA
YTD Stats
55.1 IP, 53 H, 24 R, 22 ER, 17 BB, 50 K, 1 HBP, 5 HR. 4-1, 3.58 ERA
Final Thoughts
Overall, it was a pretty decent turn for the rotation as Estrada, Sanchez, and Happ were all very good, but Stroman and Dickey both need to be better than they showed this time out. They'll get quick chances for redemption though, as Stroman faces the Yankees on Thursday (April 14) and Dickey gets to exact his revenge on the Red Sox in Boston on Friday.
Lead Photo: Nick Turchiaro-USA TODAY Sports
All pitch charts courtesy of Brooks Baseball