Written by Brendan Panikkar and Joshua Howsam
On Tuesday night in Houston, the 9th ranked prospect in the Toronto Blue Jays system, pitcher Ryan Borucki made his major league debut. The tall lefty was the first top 10 pitching prospect in the organization to make his debut for the Blue Jays since Roberto Osuna cracked the major league roster in 2015. Blue Jays Twitter and fans all over social media were quite excited for this debut and Borucki did not disappoint.
The Blue Jays threw their 24-year-old right into the fire with his first outing coming at a bandbox ballpark of Minute Maid Park against the defending World Series champion Houston Astros. He finished with six innings pitched, six hits, two earned runs, four walks, and three strikeouts. There's nothing overly flashy about those numbers but it was a still a very strong showing for the Illinois native. While not yet confirmed, Borucki has definitely earned himself at least another start. The Blue Jays shouldn't feel the need to rush Aaron Sanchez and especially Jaime Garcia back to the rotation. In fact, many want to see more kids make their debut and run with it for the rest of the season so we can see what next year might look like. The good news for Blue Jays fans is based on the one start data we have for Borucki, it sure looks as if he can stick in the big leagues and be successful.
For those who aren't familiar, Borucki features a sinker, changeup, and slider. While the slider (of which he only threw six on Tuesday) ended up developing into the third pitch he needed to become a good starting pitcher and to rocket from high-A Dunedin to the big leagues in just over a year, the changeup is Borucki's bread and butter pitch. He showed why on Tuesday night.
On 26 changeups thrown (all to righties), the rookie southpaw threw an excellent 18 strikes and had a whiff percentage of 21.4 percent of swings. While that swing and miss rate is not especially high for a changeup, nobody was hitting them hard. Of the 11 swings that made contact with the pitch, only five were actually put into play and all of them for outs.
Part of that dominance was based on command. As you can see from the table below, Borucki showed a tremendous ability to keep the ball on the outer part of the plate to righties. The only changeups that came back over the plate were at the very bottom of the zone, which would still make them tougher to hit.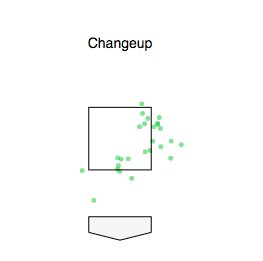 When you add in the velocity separation (8.3 mph on average) and the consistent release points (see below), you have the making of a very good change of pace.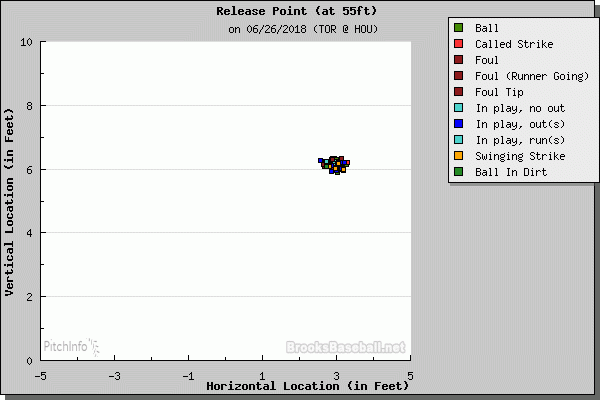 Another thing that is interesting about Borucki's changeup is how much it spins. The 2031 average RPM on his offerings that were registered on Statcast would put him in the top 17 percent of all pitchers who have thrown at least ten of them this year. As a result, his changeup actually fights gravity at a greater rate than his fastball (7.7″ vs 5.7″, respectively), which is unusual and would likely cause some issue for batters.
This ties nicely into Borucki's fastball, which if Tuesday's start is any indication, should probably be getting some praise on par with his wonderful offspeed offering. We saw that his control was a bit erratic early on in his start on Tuesday, likely due to nerves, but as the game went on, Borucki controlled the pitch better and we really got to see the movement that makes the pitch stand out.
Ryan Borucki's sinker averaged 11.23″ of horizontal, arm-side run in his start against the Astros. On its own, that stat probably doesn't mean a whole lot to most readers. But when we put that into league context, it becomes clear just how special that is. Here is the list of starters who get more horizontal break on their fastballs than Borucki did in this outing:
Chris Sale
That's it. Just one guy who happens to be among the very best pitchers in all of baseball. If we add relievers, the only pitcher who joins the list is the Blue Jays' own Aaron Loup. Does that mean Borucki could be Chris Sale? No. Sale's slider is an all world pitch and he throws much harder. However, Borucki does show a truly unique fastball in this case as unlike Sale and Loup, the Jays' prospect doesn't throw from an extremely low arm slot. Borucki is certainly not over the top, more 3/4s, but both Sale and Loup have vertical releases under 5.5 feet from the ground. Borucki is up over six feet. As such, he is generating movement from an arm slot that nobody in baseball is seeing elsewhere.
This is yet another example of the Blue Jays harboring these types of pitchers with outlier fastballs, as written about on this site back in February.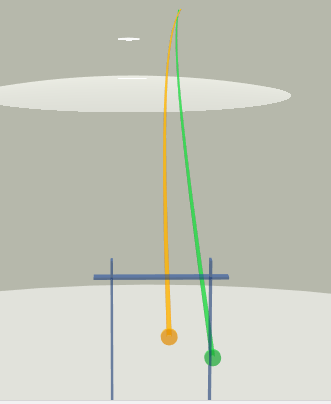 The photo above gives you a little bit of a sense of what that movement looked like. The original trajectory of the fastball (in orange) is off the 3B side of the plate, but it ends up right over the middle. We also got to see a good example of how it can be used effectively.
Here's how the individual offerings appeared.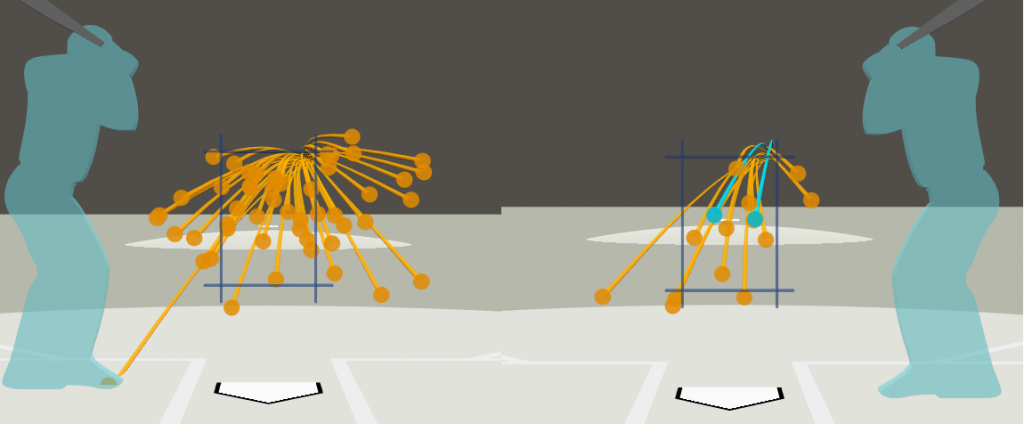 We see some of the early wildness suggested above, but take a look at the pitches on the edges. With its extreme arm-side run, Borucki was able to work very effectively to both sides of the plate. You can see how with that heavy movement hitters would have given up on those pitches on the 3B side of the plate, thinking they were balls, or how Borucki would get quite a few chases and weak contact on pitches near or off the first base side of the plate.
By using these fastballs, changing speeds well, and avoiding the heart of the plate with offspeed stuff, Borucki was able to work his way through a start against a first place team loaded with right-handed power hitters.
If his debut outing is a true example of the type of stuff we can expect from Borucki going forward, we could be in for something fun to watch. The combination of the excellent changeup and outlier fastball movement is exactly what Blue Jays righty Marco Estrada has used to succeed. Add in the extra velocity that Borucki has on his fastball (averaging 92.5 mph) and an improving breaking ball, and there's a lot of potential for Borucki to exceed his usual back end starter projections.
Lead Photo © Troy Taormina-USA TODAY Sports