Minor league signings aren't all that meaningful, typically. At least not at this time of year, especially following the extremely cool free agent market that's pushed all sorts of useful players to the fringes. But the Jays seem surprisingly set at this point in time so let's take a look at what the team's latest, Danny Espinosa, could bring with him if he makes the team.
If Espinosa's name occupied a spot in your mind before the Jays brought him in on a minor league deal, you're either a beard aficionado or you played fantasy baseball sometime in the early 2010's. Both are worthy pursuits.
Espinosa comes to the Jays off a down year in which he racked up -1.1 WARP with three different teams. Initially traded from Washington to the Angels before the season, he was released in July and signed on with the Mariners four days later. He lasted just under a month there and then joined the Rays, where he again lasted under a month. Add it all up and Espinosa slashed .173/.245/.278 across 93 games and 295 plate appearances, collecting six homers and 109 strikeouts along the way. You can see why he's accepting minor league deals these days.
The strikeouts are ugly, and it's been an issue that's dogged Espinosa for his entire career. He led the NL in strikeouts in 2012 with 189 in 658 plate appearances and he's picked up a 28.9 K% over his career. As you might expect, he's stuck around despite the swings and misses thanks to some power. Espinosa's home run totals have yo-yoed a bit, but his ISO has remained relatively consistent other than an injury-filled 44-game campaign in 2013 notwithstanding, before cratering last season. Most of his value as a hitter is tied to that power, again, as you might expect.

Espinosa's poor showing last season is far from a death knell, however, as the table above shows that he's been pretty up and down through his career. It's not great to be counting on a massive upward swing, but the Jays aren't really counting on Espinosa for much and it's not as though we're asking for an unprecedented development.
And while "Jays take a chance on guy with power who strikes out a ton" might sound familiar, the odds of anything resembling a Smoak-esque breakthrough (or rebound, considering some of Espinosa's previous successes) are a notably slimmer than Smoak's were. The numbers don't paint a pretty picture, as Espinosa swings at more pitches both in and out of the zone while making less contact all around. His career swinging strike rate is 32.9% – Smoak's career worst was 29.8% back in 2015.
And to further take the sledgehammer to that oversimplified comparison, Espinosa is far more likely to do his damage on balls low in the zone. For reference, here's Smoak's career Isolated Power with Espinosa's below.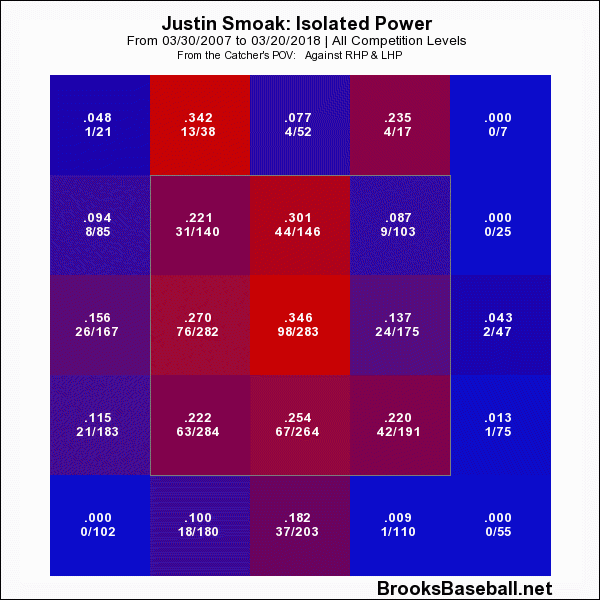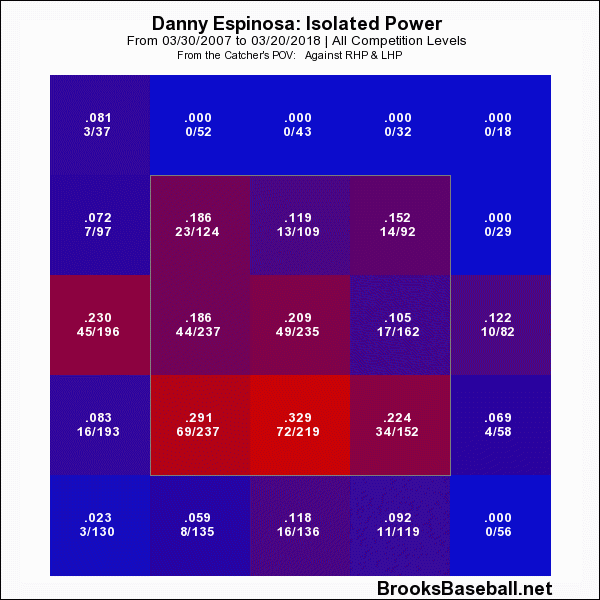 It's pretty clear from the heat map that he likes to crush balls low in the zone. There's nothing wrong with that in and of itself; guys can prefer balls in one zone over the other and still be effective. The problem is that Espinosa hasn't been able to lay of either the high stuff or the low stuff: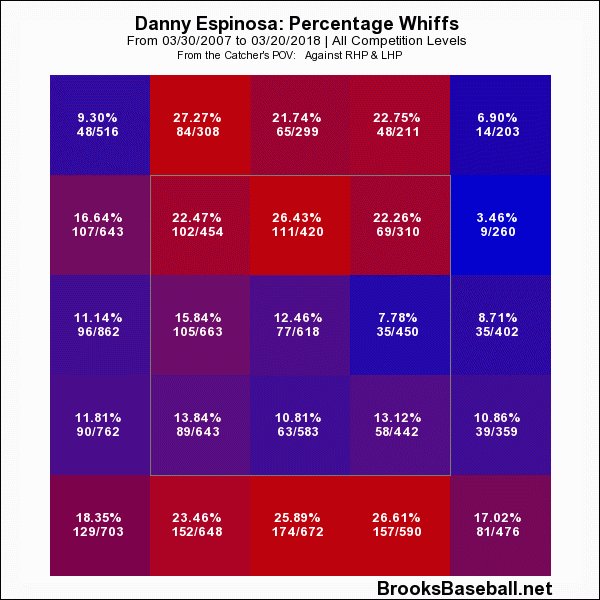 Again, here are Smoak's numbers for comparison. It's going to take a major, major change in approach for him to break the cycle. While it's possible, it's certainly unlikely given the fact that he can neither pump the brakes up high or down low.
All that said, Espinosa does check a few boxes for the Jays. He's a switch hitter that can play both second and short. With Troy Tulowitzki likely to begin the year on the DL, there's a backup infield spot open. The dots are pretty easy to connect here. The Yankees cut him loose not because of spring performance (.265/.342/.382 in 34 ABs), but rather because they went out and traded for Brandon Drury three weeks after bringing Espinosa in and then followed it up by signing Neil Walker a month later.
Aldemys Diaz is looking like the starting shortstop come Opening Day, with Devon Travis at second and Yangervis Solarte as his backup. The real battle will come down to Espinosa vs. Gift Ngoepe, and the eventual choice will reveal a little bit about what the Jays want from that spot. Ngoepe has done most of his AAA work at short, and has drawn some acclaim for his glove work while also delivering some meager numbers with the bat. Defensive metrics have mostly really been kind to Espinosa, but he has spent most of his time at second base and alternated wildly productive offensive years at the big league level with some complete duds. His problem might lie with the fact that Solarte can provide similar power (.152 career ISO vs. Espinosa's .156) without striking out nearly as much while getting on base at a much better clip (career OBP of .327 vs. Espinosa's .297). Solarte probably isn't the primary backup shortstop of choice, but it's not like he's completely new to the position. It's certainly a better look than the 2017 Jays using Russell Martin and Jose Bautista in the infield.
A secondary issue with keeping Espinosa aboard is the fact that he requires a spot on the currently full 40-man roster. The recently-claimed Sam Moll could head right back to waivers – that seems to be the easiest path. They could also choose to stick someone on the 60-day DL to begin the year to open up a spot. Troy Tulowitzki's name certainly sticks out there, unfortunately. It's also possible that they just choose to go the DFA route or just outright someone off the 40-man if they really like Moll and are optimistic about Tulo, with a handful of options to jettison. That sounds like it should take care of the roster issue, but Jays will probably have to open up spots for Tyler Clippard and John Axford as well in a similar roster dilemma.
At the end of the day, Espinosa is a flawed player – the type you might expect to be brought aboard with a minor league signing. Few players who climb aboard at this point of spring training are clear cut assets, and Espinosa is no different. If nothing else, he'll provide a little more versatility and offensive upside than Ngoepe. Whether or not the Jays will buy what he has to sell remains to be seen, but Espinosa warrants a closer look before the team heads north at the end of the month.
Lead Photo © Reinhold Matay-USA TODAY Sports