DUNEDIN, FL – If you only watched Tyler Clippard pitch for playoff teams last year, you might not have been too impressed when the Blue Jays inked the 33-year-old righty to a minor league deal a couple of weeks ago. He's coming off a season where he posted his worst ERA (4.77), walk rate (11.7 percent), and home run rate (1.5/9 innings) of any full season at the big league level, and while he had a brief run of midseason success after being traded by the Yankees to the White Sox, his August and September with the Astros went so poorly that he was left off their postseason roster. But Clippard was one of baseball's best relievers from 2010-2015 and was still very useful in 2016, leaving one in search of possible causes for his struggles last season.
The first thing many people would point to as a reason for Clippard's 2017 decline was the one that is most often tied to pitcher success: fastball velocity.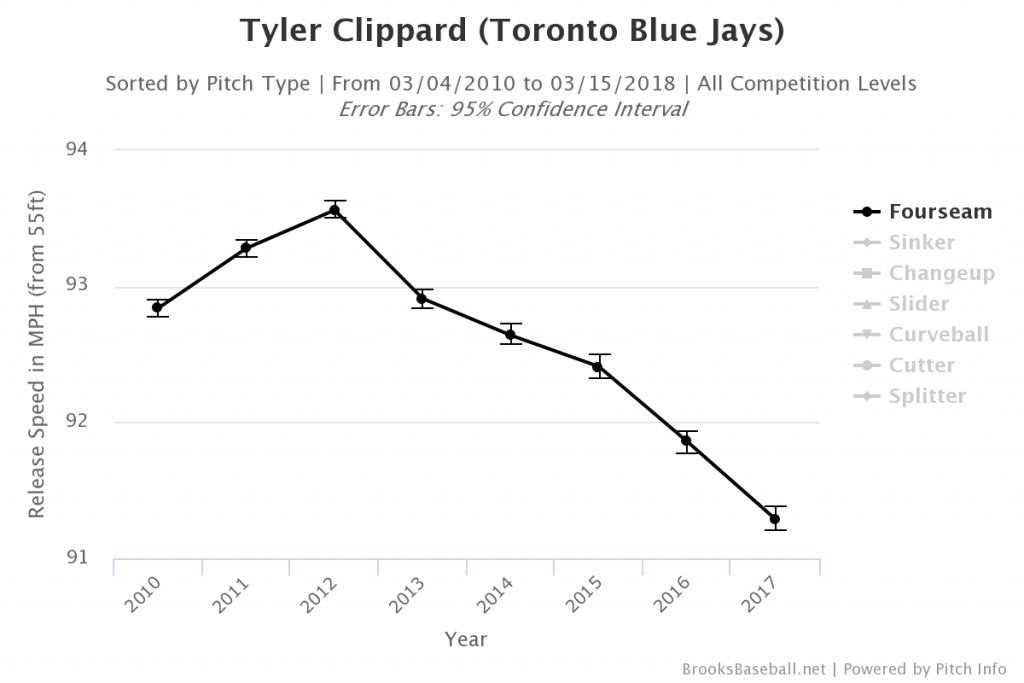 That graph looks a little bit worse than it is, with a total velocity band of less than 2.5 mph, but the drop over the last two years is pretty clear. While Clippard's fastball was mostly in the 92.5 mph range from 2013-2015, it averaged only 91.2 mph last year.
When it comes to relievers, that's usually all you need to know to figure out why they struggled. But when you look at Clippard's underlying performance, his strikeout rate in 2017 was actually slightly higher than his career levels. So he clearly still has the stuff to miss bats. The home run rate can be explained away somewhat by an increase in his HR/FB rate (12.5 percent the last two years with a career average of 9 percent), but he is still giving up more of them and walking more hitters than usual.
There must have been something else going on: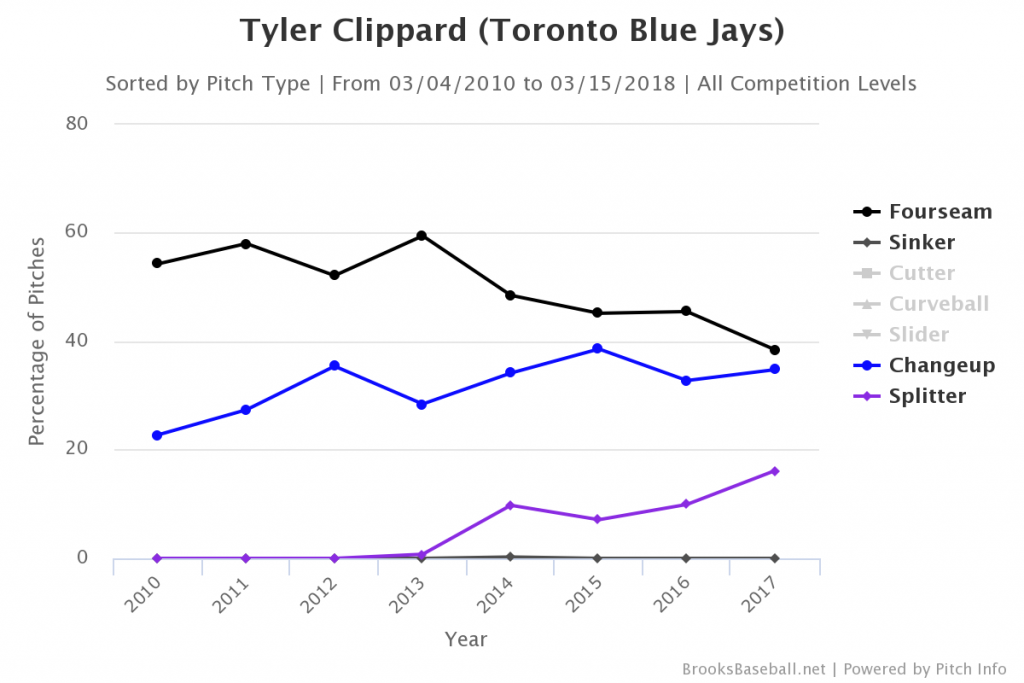 One thing that sticks out that is that Clippard has been throwing the splitter more over the last couple of years, which is uncommon for a pitcher who also throws a changeup. Here's Clippard's take on why he throws both:
"If you're a hitter and you go up there and [a pitcher] has a changeup and a split, how different are those pitches? It can be difficult to decipher between the straight change – it's going to stay in the zone – and next thing you know it drops out of the zone like a split…they play off each other nicely. But it goes back to having a good fourseamer."
Ah, yes. The fourseam fastball. Let's look at that last graph a different way: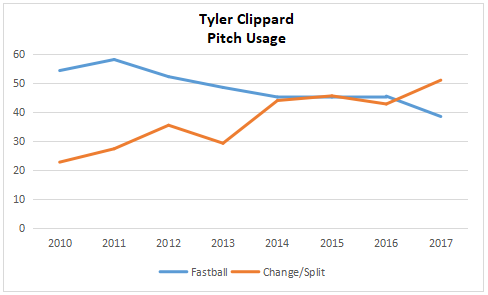 Last year Clippard threw more changeups and splitters than fastballs by a wide margin, whereas the relative rates have been almost equal the last few years. Interestingly, Clippard describes this as "something that just happened," as opposed to an intentional switch. When a pitcher makes this kind of change to their repertoire, there's typically some intent behind it. In Clippard's case, though, it seems like it just ended up that way either thanks to his own subconscious or the plans of the various catchers he threw to last year.
Regardless of how or why this change occured, Clippard knows that it's not the way for him to succeed:
"It was pointed out to me…as a player you have to look at the good and the bad and kind of assess and that was part of the assessment of my season last year that I found. 
"I need to get back to throwing more fastballs. It's something I realized and something I'm trying to get back to because when I had the success that I've had throughout my career I was throwing over 55% fastballs. And last year I don't think it was there."
He hasn't actually been quite at 55 percent the last few years, but Clippard was definitely throwing a lot more fastballs in the past. So why does this matter? As a guy who is only throwing 91.5 mph, using more offspeed pitches can be a good thing, but not when your primary offspeed pitch is a changeup/split. Those pitches rely on a hitter thinking a fastball is coming in order to be successful.
"It's kind of pitching 101. It's not rocket science, it's just getting back to basics."
Clippard agreed with that assessment, calling it "100 percent right," and the numbers would agree as well. Last year, batters chased fewer of Clippard's changeups (29 percent vs 32.3 percent for his career) and made more contact against them than ever (75.7 percent vs 69.5 percent career). What might be even more important is that hitters also made considerably more contact when they did chase (68.5 percent vs 61.2 percent career). That suggests that hitters were not nearly as fooled by the speed of the pitches, even if they were fooled by location and movement.
However, increased fastball usage isn't just about speed deception. It's also about consistency and being able to throw strikes, things which eluded Clippard last year:
"As pitchers in general, your fastball is your no. 1 pitch. At least it should be unless you have an awesome cutter or something like that. So for me, if I throw more fastballs the command of that pitch will be better. And if I'm able to command that pitch, then everything else falls into place. It's kind of pitching 101. It's not rocket science, it's just getting back to the basics and sometimes in this game that's what you have to do."
It sounds simple enough. Throw your fastballs for strikes and people will chase your non-fastballs. But it helps when you also truly understand the profile of your pitches. Because he pays attention to spin rates and movement profiles, Clippard is fully aware of the fact that, like many other Blue Jays pitchers, he possess an outlier fastball. In this case, it's one with the ability to fight gravity at elevated levels: His 11.15″ of "rise" is tied for the 12th highest among 295 right-handed relievers in 2017 and ranks behind only four starters.
"I always tell my catchers that I'm a little bit different as far as – I'm not necessarily trying to paint down and away with fastballs. I'm just trying to get it on a half of the plate…I'm not too worried about height, I'm worried about strikes and pitching towards the corner because I know that if I do miss up it can be effective. So it's kind of a nice leniency to have because as long as I'm getting it out there (outside), even if it's elevated, it's ok."
So Tyler Clippard is a guy who knows he has a high "rising" fastball and features a swing-and-miss changeup as his primary offspeed pitch. If that sounds like another Blue Jays pitcher to you, you're not alone. Clippard has already sought out Marco Estrada to discuss pitching styles.
Clippard specifically asked Estrada about how the latter uses his cutter to complement the fastball/changeup combo. Estrada, who called the two pitchers "very, very, very similar," gave Clippard some ideal situations on when to use it, but also mentioned that Clippard has "a fastball and changeup that are unhittable," and that "as a reliever, [Clippard] can use those for [his] entire career and be just fine." Clippard seemed to be aware of that last bit on his own, but hearing it from his starting pitcher doppelgänger would certainly help convince him that he's on the right track. And given Estrada's success over the past few years and the quality of Clippard's career performance, a meeting of these two minds can't be considered anything other than a good thing.
It will be very interesting to see how Clippard approaches this season. If he can get back to his typical pitch mix as planned, he could be this year's Joe Smith. He has already taken the first steps in identifying the problem, so he's off to a good start.
It's not rocket science. It's pitching 101.
Lead Photo © Andrew Dieb-USA TODAY Sports