Ezequiel Carrera's beginnings with the Blue Jays came with little fervor or fanfare. After signing with Toronto as a minor league free agent prior to the 2015 season, he made his Blue Jays debut in May of that year replacing a struggling Dalton Pompey. The move wasn't likely thought to be a long-term one, as the idea was that Pompey needed a little more seasoning in the minors before returning to Toronto to take over in center field.
Flash forward nearly two full seasons later, and the story in the outfield is now much different. Since joining the team in May 2015, Carrera has been Toronto's third most valuable outfielder behind Jose Bautista and Kevin Pillar, despite never owning a permanent starting role. While this mostly speaks to the Jays' inability to find a permanent left fielder, Carrera has helped mitigate any damage by providing solid value for a fourth outfielder.
This has been especially true in 2017, a year that has seen Carrera hitting .301/.375/.448 and battling Justin Smoak for the Blue Jays batting average crown. Since returning from a right foot fracture on June 27, Carrera has even taken his game to another level, hitting .311/.393/.527 in 86 plate appearances. While his defense hasn't been up to snuff, Carrera's offensive production has made up for any deficiencies in the field to bring him to a 1.4 WARP on the season.
What's spurring Zeke's impressive performance this season? While there clearly isn't just one explanation for the change, the first thing that might catch your eye is a sky-high BABIP of .364. Even for a player with good foot speed like Carrera, this is a lofty rate to maintain, meaning that some regression to the mean is likely to follow. What is yet to be seen is how much regression is forthcoming. Carrera has recorded a high BABIP of .328 for his career, and he may be showing signs that he can maintain a higher rate of hits on balls in play in the future.
The biggest indicator of a possible change in Carrera's game is his hitting approach. Carrera is using an increasingly selective approach at the plate, taking more pitches both in and out of the zone. His swing rate has dropped by more than five percentage points, from 40.9% in 2016 to 35.5% this year. Zeke's new approach at the plate has been allowing him to get on base more – he is currently following up last year's career best walk rate of 8.7% by walking at an even better rate of 9.2% in 2017.
Let's delve further into what Carrera is doing at the plate, specifically with how he has fared against the five pitches thrown most often against him: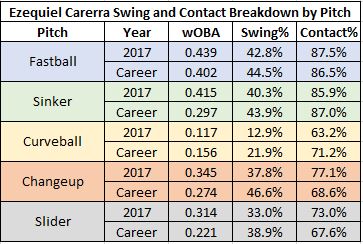 Carrera has always been a fastball hitter, which is something that hasn't changed as he's continued to mash the pitch. This season, however, Carerra has been able to handle other offerings that pitchers have sent his way. He has experienced newfound success against the sinker, changeup, and slider, proving to be a tougher out this year than in years past. He has been more selective across the board against all different pitch types and is seeing noticeable contact rate spikes against the changeup and slider.
This new approach from Carrera is a good sign for him moving forward. While his extra base hits are still coming mostly off of the fastball, his ability to turn around other pitches for hits means that pitchers are having to find new ways to get him out. Even the curveball, a pitch that Carrera still has trouble with, is being chased and swung at less often this year. His selective approach is allowing him more opportunities to get on base, which should always be the goal for a speedy player like Carrera.
Since signing in the winter of 2014, Ezequiel Carrera has gone from minor league depth to finding himself a sizable amount of plate appearances for the Blue Jays. He was originally perceived to be a glove first player with some speed, probably stemming from his jaw-dropping catch playing for the Tigers in 2014. But while he has shown he is a fast player, his relatively poor base running awareness and general inability to judge the length of his arms has prevented him from impacting the game much on those sides of the ball. Even as he has had some memorable moments in the past, there was little reason to believe he could develop into more than a fourth outfielder.
This season, however, Carrera's game seems to be evolving. With his new approach at the plate, Carrera might soon be able to list his hitting as a marketable skill on his resume. He also seems to be learning how to be a valuable base runner, successfully stealing eight bases and only getting caught once. With a lot of uncertainty surrounding the Blue Jays outfield heading into 2018, Carrera might find himself in competition for a starting role. As a speedy outfielder with a .375 OBP, it's difficult to not give him a look.
Lead Photo © Nick Turchiaro-USA TODAY Sports