Written by Rachael McDaniel, Elie Waitzer, and Joshua Howsam
Mookie Betts Has Been A Great Hitter* (*Against The Blue Jays)
Unfortunately for the 2017 Red Sox, a team whose offense has struggled at times, Mookie Betts has not excelled at the plate this season to the extent that Red Sox fans had come to expect. While Betts has significantly raised his walk rate (6.7 percent in 2016, 10.3 percent in 2017) and slightly lowered his strikeout rate (11.0 percent in 2016, 10.7 in 2017), his power numbers have taken a big hit. His isolated power has dropped from .216 to .175 and his slugging percentage from .534 to .441 this season over the last. Betts has also seen his BABIP drop from .322 last season to .269 this season, so there's likely an element of bad luck involved here. Still, the fact remains that Betts has been only a slightly above-average hitter this season.
Except, of course, when facing the Blue Jays. In 52 plate appearances against the Blue Jays this season, Betts has hit .409/.500/.659, his best line against any American League team by a significant margin. He has hit three home runs against the Jays – the most against any team this season. He has stolen six bases against the Jays – again, the most he has against any team this season. Being that the Jays and the Red Sox are rivals, at least to the extent that a last place team and a first place team can be considered rivals, one would have hoped that the Jays would be able to benefit from a Red Sox star player having a down season. Alas, that was not to be. Betts has absolutely ravaged the Jays in 2017, including three hits in seven plate appearances versus Monday starter Marcus Stroman.
Over their last ten games, the Red Sox are 4-6, including a three-game sweep at the hands of the bad Baltimore Orioles during which the Sox allowed 25 runs and scored four. Betts has slashed .206/.317/.265 over this period, a major contributor to Boston's offensive malaise. He's slumping, for sure – but I would advise you not to allow this recent poor performance to lull you into complacency. Having the worst offensive season of his career has not, after all, stopped Betts from being a one-man wrecking crew when facing the Blue Jays in 2017.
Drew Pomeranz Is Back For More
It's a pity they couldn't fit "The Dirty Cheerleader" on the back of Drew Pomeranz's jersey for player's weekend. He went with "Big Smooth" instead, but that doesn't make him any less filthy. Pomeranz will face-off against Stroman to open the series, and a quick look through their surface stats tells us that we should expect a shockingly even matchup.

Beyond the identical ERAs they're obviously vastly different pitchers. Pomeranz thrives off his sharp knuckle-curve, which he throws almost 40% of the time. It's a devastating pitch, but improved fastball command has been the key to his recent run of success. Dating back to June 16 – a span of 13 starts – he's only surrendered more than three runs in one start. He's faced Toronto twice during that stretch, winning both decisions and holding the Jays to a combined one run over 12.2 IP.
Despite those poor results, there were some encouraging signs from the offence in their last go-around against Pomeranz. The Jays drew five walks against the lefty and forced him out of the game midway through the sixth despite his dominance. Command and durability are Pomeranz's greatest weaknesses. He's averaging 3.4 walks and 5.1 innings per game. Taking advantage of that by running up his pitch count with patient at-bats will be critical to the Jays' success against Boston in the series opener.
Bat-Missing Blue Jays
It's no secret that the Blue Jays aren't exactly a pitching staff that is built on big velocity. None of Happ, Estrada, or even Stroman lights up the radar gun, and the bullpen has featured plenty of innings from the likes of Danny Barnes and Joe Smith, neither of whom are anything close to flamethrowers. Add in injury to Aaron Sanchez and the diminished velocity of Roberto Osuna and you end up with a graphic like this:
The Jays sitting behind the perennially soft-tossing twins on pitches at 96+ mph is a bit disappointing. That would logically lead one to believe the Blue Jays have trouble missing bats, but that's actually not at all the case. The club actually sits fifth in the American League in strikeouts per nine with 8.62. Joe Smith's contributions may now be in Cleveland, but there are still plenty of strikeout pitchers on this roster, showcased by Sunday's 17-strikeout performance (in a loss) against the Twins.
Rookie Tim Mayza has certainly impressed (even though his overall performance has been up and down), recording 13 punch outs in just 7 1/3 innings pitched. He joins a relief squad that features five more pitchers (Osuna, Leone, Barnes, Loup, and Tepera) that are striking out over a batter per inning, making the late innings a common game of swing-and-miss.
But it's not just relievers that are generating enough wind to power a small building; the starters in this series could leave a few hitters shaking their heads as they head back to the bench.
As mentioned above, Marcus Stroman will be starting things off. Oddly, the Jays' ace may be Boston's best bet at putting the bat on the ball as his sinker-heavy approach is designed to make hitters put the ball in play on the ground. He still gets his share of Ks, but it's really not his game. J.A. Happ, starting the final game of the series, has been punching batters out since June of last year (108 in 107 1/3 innings this year) and is likely to be tough on some of the young Red Sox lefties (Devers, Benintendi, and Brock Holt – in for the injured Bradley).
The one to watch will be Tom Koehler. While not historically known as a strikeout pitcher, the newest Blue Jay had quite the debut, striking out seven Rays over five innings. He used a heavier fastball-curveball mix than he has in recent years, with that curveball acting as a particular weapon. Thanks to move drop on the pitch than he has had all season (below), with the only similar outing also ending up with solid strikeout numbers for the tall righty (seven Ks in six innings against the Padres). In the end hitters whiffed on 60 percent of their swings against Koehler's hook.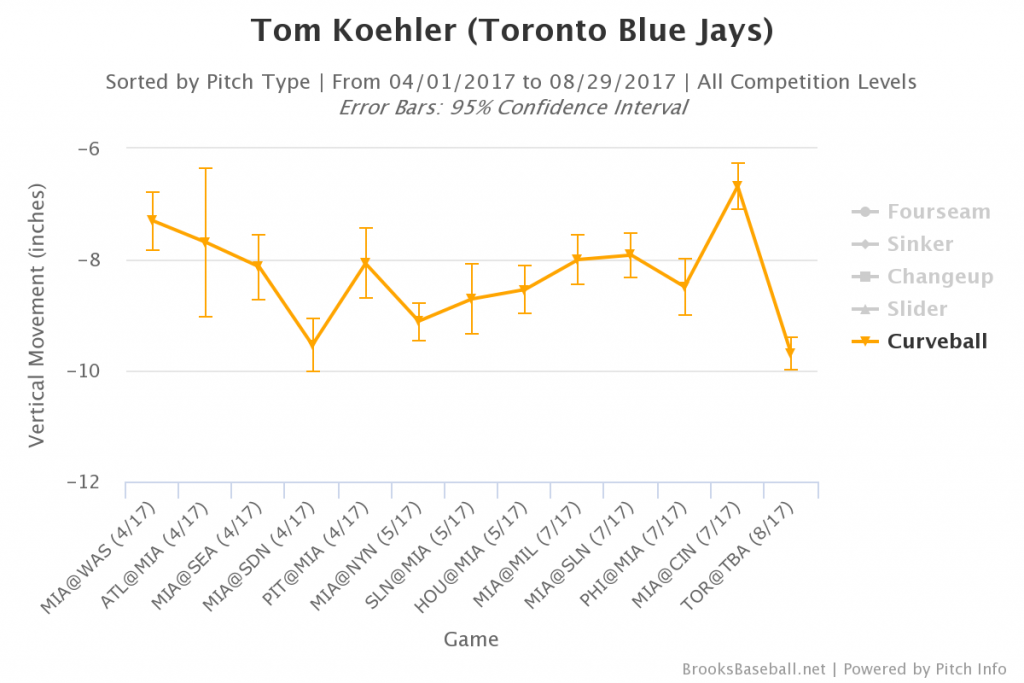 If he can keep throwing getting that kind of movement, Koehler could cause fits for the Beantown batters.
UPDATE
So it looks like Koehler will instead be joining the strikeout-artist bullpen in favour of Brett Anderson. Anderson is a very interesting piece. Despite being just 29 years old, Anderson often feels like more of a washed up veteran type than the high-ceiling arm he has always been. The reason for this is simple, of course: injuries. Anderson has had trouble staying on the field for pretty much all of his career. Despite periodic success when actually taking the hill, Anderson has thrown only a total of 707 innings since 2009.
The flip side here for Toronto is that they have no need for Anderson to stay healthy. They have no retention rights for the lefty, only the need for a few good starts from here to the end of the season. If he's "Healthy Brett Anderson," the Blue Jays win a no consequences bet. If not, they cut him and Koehler jumps right back into the rotation.
As for this series, Anderson's left arm poses the same problem for those young Boston hitters that Happ's does. He likely will see lefty killer Chris Young in place of Holt or Mitch Moreland (Boston's first baseman), but Benintendi and Devers are definitely going to be in the lineup.
Lead Photo © Dan Hamilton-USA TODAY Sports