Written by Jenn Smith, Richard Lee-Sam, and Joshua Howsam
A Judge in Need of A Recess
In just his first full season in the major leagues, twenty-five year old Aaron Judge has all but been anointed the new face of Major League Baseball. With his six-foot-seven, 285 pound frame, the slugger is a sight to behold. He's fun to watch, too, jacking up majestic home runs including the longest one hit thus far this season, a mammoth 496-foot blast off of Baltimore's Logan Verrett.
There is no question that the 59-51 Yankees, who are supposed to be in the midst of a rebuild, are serious contenders. They are currently in a wild card position and are just 3.0 games out of first in the AL East due in large part to Judge's performance during the first half of the season. Prior to the All-Star Break, Judge slashed .329/.448/.691 with an OPS of 1.139 and a .426 BABIP. He also hit 30 home runs, breaking Joe DiMaggio's Yankees rookie home run record. Such a stellar first half earned Judge his first All-Star appearance.
Since then, however, Judge has been mired in a slump. In the twenty-two games since the All-Star game, Judge is hitting a paltry .182/.333/.377 with an OPS of .710 and five home runs and 12 RBI.
Though his 29.8% strike out rate during the first half of the season was already quite high, he has been striking out at an alarming rate of 36.5% since the break. He is also pulling the ball less (30.2% during the second half versus 41.2% before the break) and making far less hard contact (27.9% compared to 49.0% during the first half of the season). The result is fewer line drives and more fly balls that simply are not leaving the park.
It's likely that this downturn in production is nothing more than a mid-season slump as the league adjusts to him. Judge is offering at more breaking pitches than he did at the beginning of the season (save for the month of May), but his whiffs/swing rate on breaking stuff has soared since the All-Star break.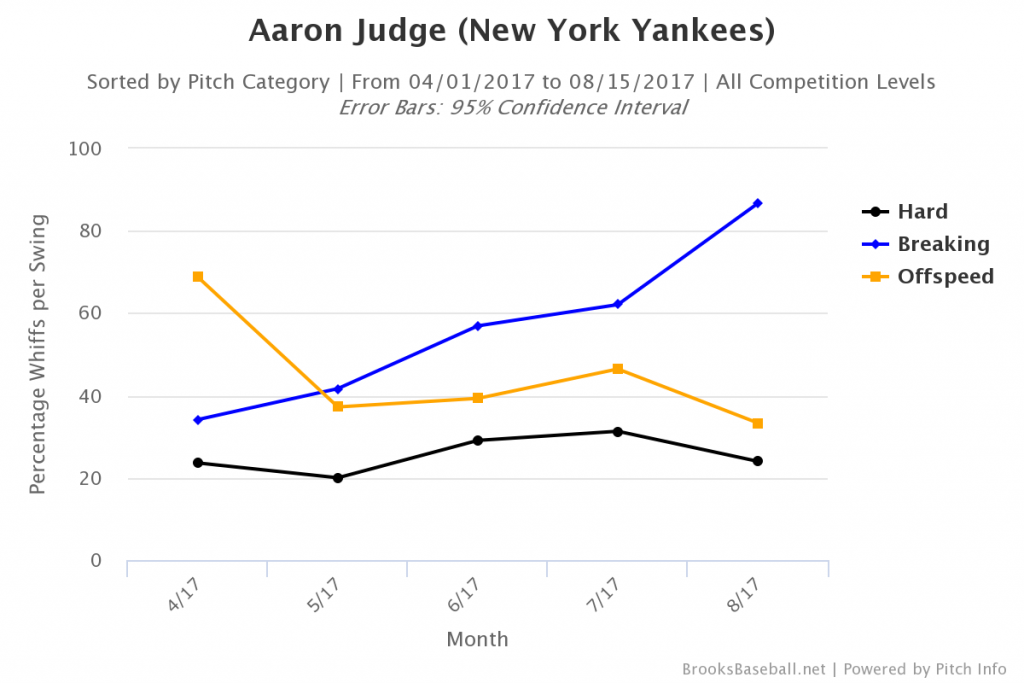 Yes, you read that right. He is missing on over 80 percent (86.7) of his swings against breaking balls in the first week of August. He's also swinging more at pitches inside.
Judge will need to adjust back – and has already shown signs of doing so, going 3-for-10 with a home run, three walks and three RBI this past weekend in Cleveland. Look to see how the Jays' pitchers attack him during this series
Sample Size Fun!
Marco Estrada looked less like Marco the Magician and more like a replacement level pitcher in June and July. Before his start against the Yankees on June 1st, Estrada had an ERA of 3.15 on the season and struck out 10.22 per nine, walking 2.23. The next ten starts by Estrada saw him yield 45 earned runs in just 45.2 innings pitched, ballooning that 3.15 earned run average to 5.43. Estrada was still striking out hitters – his current K/9 of 9.4 is a career high in any season with at least 10 starts – but he was also allowing an obscene amount of free bases. In those ten starts and 45.2 innings, Estrada walked a whopping 33 hitters.

We know what a typical Marco Estrada outing looks like; a steady mix of fastballs and changeups, low in the zone to induce weak contact. A quick look at the heat maps will show you how erratic Estrada has been. On the left is Estrada's pitch locations for first 11 starts followed by his next 10.
Estrada went from throwing his changeup outside of the zone 29.5% of the time in his first 11 starts to missing with it outside 43.3% in his next 10. Not only that, but he dialed his usage back and leaned on his fastball more, something he was also struggling to locate. This next heat map shows just his fastballs in those 10 starts. I'll let it speak for itself.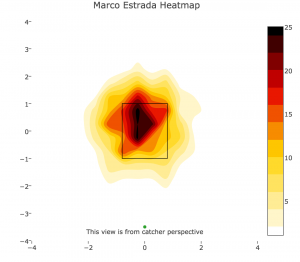 So Estrada was either missing with his stuff or leaving it right over the middle of the plate plate. Take into account that it's easy to sit on a 90 MPH fastball when you don't need to worry about the changeup as much and it's no wonder that he only completed five innings twice from June 1st to July 26th.
The good news here is that he has completed seven innings in back to back starts – something he hadn't done all season. This is a small sample size but he commanded both the changeup and fastball well, missing the zone far less often, at a clip of just 29.2% with the changeup and 32% with the fastball, respectively. That's much closer to the success he saw at the beginning of the season. He was still pretty heavy on the heater but with his changeup working again he was able to sneak it by hitters again.
Estrada pitches Thursday as Blue Jays bats face Sonny Gray in pinstripes for the first time.
Five Inning Ballgames
For the first half of 2016, there was a common theme when facing off against the New York Yankees. You could get to their mediocre starting pitching, but once you faced off against that three-headed monster of Dellin Betances, Andrew Miller, and Aroldis Chapman, the game was ostensibly over. The three pitchers combined for a 149 2/3 innings of 2.35 ERA ball with a whopping 247 strikeouts. But when the trade deadline arrived and the Yankees found themselves barely on the fringes of contention, they shipped Chapman to the Cubs and Miller to Cleveland in an attempt to accelerate a mini-rebuild.
This year, the Yankees have gone in the other direction. After already assembling a tremendous bullpen that included Betances, a re-signed Chapman, and dominant years from righthanders Chad Green (1.41 ERA with 64 Ks in 44 2/3 IP) and Adam Warren (1.93 ERA with 43 K in 46 2/3 IP) and lefthander Chasen Shreve (2.73 ERA with 34 K in 29 2/3 IP), the Yankees loaded up at the 2017 trade deadline when they acquired Tommy Kahnle and David Robertson from the White Sox (along with Todd Frazier).
Kahnle and Robertson are both in the midst of incredible seasons of their own and between them have a 2.04 ERA and 24 strikeouts in their first 17 2/3 innings since joining the 2017 Yankees.
What this means is that even if the Jays do drive up the pitch counts on C.C. Sabathia, Masa Tanaka, and Sonny Gray, they still have to contend with a deadly collection of arms that could be arriving as early as fifth or sixth inning if the game is close. This is going to put pressure on the Jays bats to do something that could be tough against that trio of starters (and for this often toothless offense): The Jays need to get a lead early and hold it or this series could be over very quickly.
Lead Photo © David Richard-USA TODAY Sports