I am not saying we should do this.
The Toronto Blue Jays currently are projected for 78 wins, with a 6.3% probability of making the playoffs. That looks bleak, but it also comes with a couple of caveats. Primarily, PECOTA is built on nearest neighbors, a method of projection that uses individual player/team comparisons as the baseline of eventual future performance. The trouble with a nearest neighbors method is that there isn't a particularly large sample of comparable players for most, and there also isn't a very large sample for teams to be compared to.
So for some players, real outliers in the minors, it'll either match them with no one in particular and guess average. Or if there is one match, it'll essentially tell you this new player will have the exact same career as the former. Again, it does the same thing for teams.
So when PECOTA sees this year's Toronto Blue Jays, it sees that it has performed like a bad team, and then is grouping it in the "Bad Teams" cluster, projecting the rest of the season as a bad team. What it doesn't see is a historic lumping together of injuries, bad luck and under-performing players.
Realistically, the team in its current form is an 85 win team over the course of a season, with approximately 80-82 wins at the end of this particular one. There's nothing wrong with being a fine team. There is nothing wrong with being merely good for a bunch of years in a row. Baseball is a weird sport where bad teams win ten consecutive games and then have their opposition dog it in the playoffs. An 85 win true-talent team can win the World Series, an 85 win true-talent team can have a 75 win season, and the same team occasionally wins 85 games.
I also acknowledge that members of the front office have recently said that they would be opposed to a full tear down. However; if Ross Atkins and the front office team decide to sell, there are certain players I would look at holding onto instead of burning it straight down.
The first player I would look to trade is Jose Bautista. Despite a drop in power, Bautista still walks and reaches base at an above average rate. He is projected to have a .294 rest of season TAv, meaning that PECOTA certainly still thinks there's some thump left in this stick. He also hasn't had a terrible season so far. Though he hasn't lived up to expectations, he has been worth 1.2 WARP. For around one to one and a half wins in the seventy or so remaining games, coming in the form of a .294 TAv, you could probably fetch a return similar to what the Yankees got for Carlos Beltran last year. They received Dillon Tate, Erik Swanson, and Nick Green. Dillon Tate was the fourth overall pick in 2015, and has been electric since coming off the minor league DL this season. The other two are more minor league depth prospects who have ceilings as hard throwing middle relievers. Toronto would probably have to pay down some or all of Bautista's deal to make this happen, but all in all, I think it would be a good way to salvage some value. Potential destinations include the Rockies who might be looking for a bat and first baseman to replace Ian Desmond, as well as the Diamondbacks and Nationals.
Ezequiel Carrera is another good piece that other teams would pay for. After being a below average fourth outfielder for the bulk of his career, he has asserted himself as a serviceable platoon player, who can defend center field in a pinch. He's not special, and the yield wouldn't be substantial, but if the Blue Jays could trade him for a younger version of himself, that's a quick win in my book.
The next player to move is Russell Martin. He is having a good season on both sides of the ball, despite some bad BABIP luck. He's still a well above average framer who has a .368 OBP, which is more than you can say about most catchers. He has two years remaining after this season, which for a player of his age is concerning. But Martin keeps himself in remarkable shape and is more versatile than most catchers, which would be an easy sell. There are a lot of teams that are in the hunt and looking for catchers. In order to reap the maximum reward, this would obviously involve paying down approximately seven million dollars of his deal per season, or seventeen million over the three seasons. A good trade comparison for Martin would be the Jonathan Lucroy trade last year. They received Lewis Brinson and Luis Ortiz. Brinson is a top tier prospect while Ortiz is also ranked in most top 100 lists. This deal also involved Jeremy Jeffress, so I wouldn't expect quite the same level of compensation unless we throw Joe Smith in the deal as well, which might be worth it. I see Martin as a good fit for possibly Cleveland (who actually tried to trade for Lucroy last year before he refused the deal) as a bridge while they wait for Francisco Mejia. This could also be of interest to the Brewers, Rockies and Diamondbacks, who are all quite weak at the position.
J.A. Happ has been shoving it recently (his last start notwithstanding) and I am absolutely sure that the Jays could be handsomely compensated for a pitcher like him. I'd expect the return to be something just below what the Rays got for Matt Moore or what the Padres got for Drew Pomeranz. Probably either one prospect ranked in thirty-fifty overall range or two prospects from sixty to one hundred. Happ has struck out 23.8% of opposing batters while only walking 4.6%. And while his HR/FB numbers are significantly higher than his career average, his hard hit rate is right in line so this is probably just bad luck. Even still, with a FIP in the mid-high threes and being left-handed, there should be a lot of interest there. The Brewers, Dodgers, Diamondbacks, Astros, and Cubs could all be suitors for him.
Steve Pearce was traded last year for Jonah Heim, a low minor league catcher who isn't performing and also isn't highly regarded. Steve Pearce has also been mashing ever since the end of April. He has been doing it to both lefties and righties, too. The fact that he is signed for as little as he is for next season also helps raise his value. The issues with Pearce, though, are that he's old and he's either a bad outfielder or an average first baseman. You could probably get a prospect in the seventy five to hundred range for him, or maybe by including him in a deal for another player, you can increase help yield a more significant return.
Justin Smoak is another player that I looked at, given that he has been excellent and is on a very cheap deal, but I would rather hold onto him for this season. If the team is in a similar situation next year, that would be the time to move him. He still has two more years (one plus a team option), so keeping him through 2019 is a good option as well. Ideally he performs next season, in which case he will have a longer track record and could get moved for higher quality players, though I could definitely be sold on moving him this year. There are a lot of teams looking for a first baseman, so I'm sure someone would pay a top 50 prospect with a couple other throw-ins.
Maybe the most controversial candidate to be moved is Roberto Osuna. The still young closer is in his best season yet. He has a 1.46 FIP and a 2.06 ERA. He's still in his 0-3 term yet has been a closer in the playoffs for two different postseasons. In short, he's a stud. Some fair comparisons for the return you might get for Osuna, look to Andrew Miller, Aroldis Chapman, and Craig Kimbrel (though he moved in off-season deals). Miller went to the Indians for top prospect Clint Frazier, another good prospect in Justus Sheffield, and then two relief prospects. Frazier is consistently ranked in the top 30 prospects in baseball, Sheffield in the top 100. For Chapman, the Yankees received a package centered on Gleyber Torres, who is a consensus top five prospect. Roberto Osuna has numerous suitors, most notable the Nationals, and he could be used to bring in not only a good player, but an above average, middle of the field, big bat prospect, who is a centerpiece of this team for years. I want to trade Osuna, but with a heavy heart.
The last piece I'd move is Josh Donaldson. I don't know which specific team we would sell to because most playoff teams have a good option at third, but I'm sure there's one out there. At the very least, there's a team who wants to upgrade. The closest comparison that I could find for an in-season trade of Josh Donaldson is Yoenis Cespedes. Donaldson has a year longer deal that Cespedes did, though, and he's also a better player at a premium position. The Tigers received Michael Fulmer and Luis Cessa. This wouldn't be enough to get it done. I would start with looking at a top twenty prospect, then two or three more from the top hundred, if the return were only prospects. I think that a better look would be taking a zero to three player who could be worth around three and a half wins until the end of his first deal, and then fill out with a two win major leaguer with two more years of control, or instead two prospects ranked from fifty to one hundred.
The names left off this list that were at one point ripe for it are Marco Estrada, Francisco Liriano and, although mentioned, Joe Smith.
Marco Estrada I think would be a good candidate to resign. And with current performance, it might be tough to sell him. He is still talented, though, and a couple good starts could change everything.
Francisco Liriano is another guy who might rebound, but I think it'll be tough to recoup the value lost for him.
Joe Smith would certainly get a haul for the season he had, but I think he would be better used as a player to sweeten the deal in one of the aforementioned trades than he would being traded on his own.
In summary: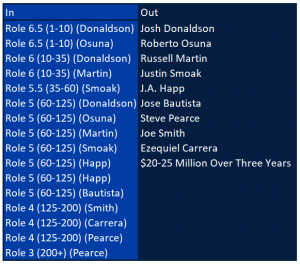 These moves would clear money off the books for next season and, most importantly, it would infuse the minor league system with a lot of talent. The next two free agent classes are very good (2019 is shaping up to be jaw dropping, as I'm sure you know), and it would be nice to have the spending room to go out there and make something happen.
Because of their unique situation, being a very talented team that hasn't lived up to expectations, the Jays have the pieces to turn their system into the best in baseball. It could accelerate a rebuild significantly, with the team potentially being competitive in 2019 when Aaron Sanchez, Marcus Stroman, and Joe Biagini should all still be in their primes.
Lead Photo © Nick Turchiaro-USA TODAY Sports