Stop me if you've heard Buck say this line with Devon Travis at the plate: "He missed a big chunk of Spring Training, so he's still working on getting his timing right."
Any seasoned baseball fan will tell you that Spring Training stats don't matter, but in a game of inches, those repetitions are crucial for a hitter to get back into his rhythm. In 2016, a healthy Devon Travis got 64 Spring Training at-bats. This year he got just 13.
To make things a bit trickier, while Travis has been calibrating his swing, he's had to simultaneously adjust to another challenge. Through 18 games, he's seen almost 10% more breaking balls than last season. This trend is not isolated to Travis, and may have something to do with a certain series against a certain baseball team from Cleveland. We're not even a full month into the season, so this will regress a bit, but Toronto's hitters are being ambushed with breaking balls.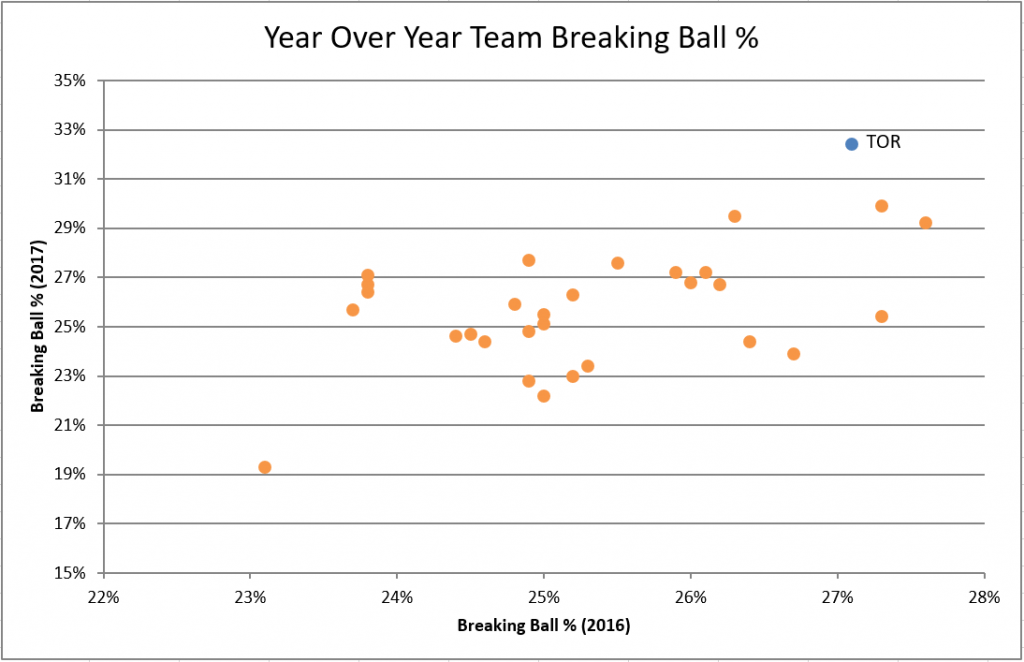 It's not the whole story, but the breaking ball surge has been a huge factor in the Jays' anemic offence thus far. Against Travis, the plan of attack has been to pound him low and away with sliders to try to induce a whiff or some weak contact. Judging by his .179/.190/.370 slash, this strategy has been incredibly effective. But if we dig into his peripherals a bit, there are several reasons to expect that it won't be effective for much longer.
The first, and perhaps greatest cause for optimism, is that his raw metrics have remained at the same level as last season. His exit velocity has actually gone up a tick, and he's built on the launch angle gains detailed here. We can wrap this up nicely using xwOBA, a predictive statistic formulated using exit velocity and launch data from Statcast. According to Baseball Savant, Travis' wOBA should be on par with Kris Bryant and A.J. Pollock right now. That's a massive disparity, which should bring about some significant positive regression.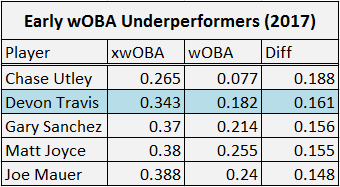 The second reason is the unseemly .143 BABIP. Last season's .357 BABIP may have been due for a bit of regression, but Travis' mature all-fields approach has always produced high averages. It is a little troubling that he hasn't been spraying the ball the other way, but hopefully that's a skill that will come around as he gets his timing right. Including his minor league tenure, his career BABIP is .335. The projections have him pegged around .307. He'll finish the season somewhere in between those marks.
One last thing to monitor is that Travis is being unprecedentedly selective. His current O-Swing% is around six points below his career average. Being more selective is a great sign if you're Kevin Pillar, but it could also be a sign that Travis isn't quite comfortable at the dish yet. Another word for selective is timid. Being aggressive is an effective approach for Travis, and a rising swing percentage over the next few weeks will be a good indicator to watch.
If you add up his Spring Training and regular season at-bats, Travis is now at 91 PAs, which effectively brings him even with all the guys who enjoyed a healthy and full Spring Training. There'll be no more blaming his struggles on missing time from here on out, but with that juicy xwOBA there won't be a need to. In some cases of early season struggles, there's something to look for that'll be predictive of a poor season to come. In Travis' case, it's predictive of the exact opposite. Assuming he doesn't take too many more trips to the disabled list, Devon will be better and he's already starting that ascension.
Lead Photo: © Kelvin Kuo-USA TODAY Sports