Every week in this space, we're going to be running down the "Pitcher of the Week" for the Toronto Blue Jays. This won't always be the best pitcher, but it will always be someone who did something notable that we can break down further. Using information from games through Friday (Saturday-Friday), we will try to show you something interesting each and every week. 
Since last Sunday's post highlighting J.A. Happ's performance against the Baltimore Orioles, the Blue Jays have continued a stretch of largely impressive starting pitching performances despite the losses piling up in the standings. This week kicked off with Aaron Sanchez's magnificent duel with Chris Archer, and also featured a dominant complete game loss by Marcus Stroman on Wednesday in which his sinker looked about as good as it ever has. Francisco Liriano turned his season around in a big way on Thursday, striking out 10 Orioles and allowing just two runs over 6.2 innings of work, but found himself taking the loss thanks to one measly run of support.
Still, none of those three will be named the Blue Jays pitcher of the week, because something else happened with the pitching staff that may have gone unnoticed as the offense sputtered and fans turned their televisions off before the late innings came around: Joe Smith took some friggin' names.
Smith pitched only twice between the 8th and 14th of April, but both outings might best be labeled as "enlightening". Little attention was given to Smith after he joined the club from Chicago (and Los Angeles) over the winter, but in just a couple of short weeks the sinkerballer has emerged as potentially a better right-handed option than Jason Grilli in front of Roberto Osuna at the back of the bullpen.
Between Tuesday and Thursday, Joe Smith faced six batters. Five went down on strikes. Over his last three appearances, including April 7th, he's faced ten batters and struck out eight of them. Among 108 relievers to have worked five or more innings here in the early goings of 2017, Smith's strikeout rate of 44.4 percent ranks as the fourth best. Smith is known more for his groundballs than his strikeouts – his previous career high is 23.9 percent in 2014 – but he's doing something a little bit differently this season that might explain his 18.6 percent swinging strike rate; a mark more than double his career rate of 8.2 percent.
The explanation is something that most pitchers would consider backwards thinking, but it might be working for Joe Smith because as a sidearmer, he's a little bit backwards already. Via Brooks Baseball, Smith's sinker is currently averaging -3.71 inches of sink relative to gravity. That's significant in and of itself, as he had been struggling to get the same drop on the pitch in 2015-2016 as he had in his dominant 2011-2014 stretch. He's back to those levels now.
What makes things different, however, is how he using another pitch. Joe Smith's slider is averaging +3.70 inches of sink. So basically, because of his arm angle and the spin he imparts on the ball, his fastball sinks more than a spinless pitch, while his slider "rises" somewhat. That's normal for Smith, of course, but what's new is the size of that gap. That differential of 7.41 inches is easily a career best, and fact, he's only ever averaged more than six inches of vertical differential once: back in 2010.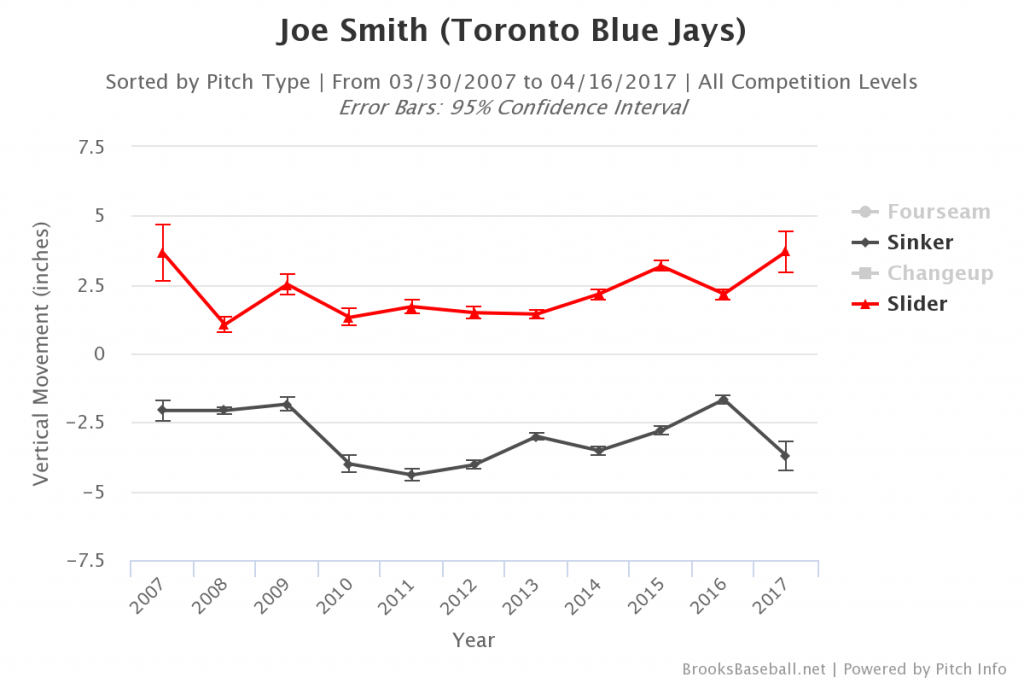 Using this gap in movement, Smith is throwing more sliders in the early going than ever before (35.6 percent vs career 30 percent), making things very tough on hitters.
Most pitchers want to elevate their fastball and bury their breaking ball in the dirt. For Smith, the best recipe might be the complete inverse. It has quickly become something worth monitoring, and if home runs continue to be an issue for Grilli, Smith could find his relief outings occurring in higher and higher leverage settings.
Lead Photo © Butch Dill-USA TODAY Sports