Every week in this space, we're going to be running down the "Pitcher of the Week" for the Toronto Blue Jays. This won't always be the best pitcher, but it will always be someone who did something notable that we can break down further. Using information from games through Friday (Saturday-Friday), we will try to show you something interesting each and every week. 
In a week that featured three strong pitching performances and one absolute disaster, it was tough to choose which outing to spotlight as our Pitcher of the Week. I've chosen to focus on J.A. Happ, who combined the good with the bad, but all in interesting fashions.
A lot has been made about J.A. Happ's heavy use of the fourseam fastball. He threw it over 50 percent of the time in Seattle, over 60 percent in Pittsburgh, and then 46 percent of the time in 2016. The fourseamer is his bread and butter. That switched in this game.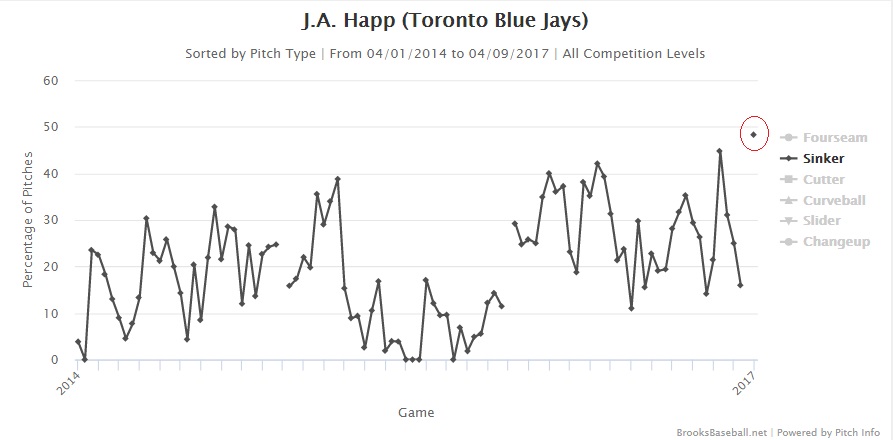 In order to make Wednesday's game visible, I had to shorten the chart to starting in 2014, but the 48.3 percent of two-seamers J.A. Happ threw in this game were a career high – he threw 43 sinkers to 32 fourseamers. I've written in the past about how Happ's two fastballs play up most when he uses both of them, but it was interesting to see him go so far in this direction.
For the most part, it's hard to argue with the results. While he did allow three runs, he struck out nine and allowed only seven baserunners across his seven innings of work.
The "why" is what makes this so interesting. Why did Happ decide to go away from his previous plan of attack? The Score's Jonah Birenbaum had an interesting theory. He believes that Happ chose to go with the sinker to fight the industry shift towards flyballs. It's a reasonable idea that is backed up by what Marcus Stroman did both in the WBC and against Tampa, also throwing more sinkers than he ever has (which is saying something). It absolutely would make sense for pitchers with the ability to sink the ball to try and force it onto the ground.
I think there could be another reason for the heavy lean on the two-seamer, however: Happ was really struggling to locate the fourseam to righties, particularly in the third inning (where Baltimore scored two of their runs).
Take a look at the second strikeout in the video below (and watch the rest if you want. Strikeouts are fun.)
Look where Martin's glove was then look where it ended up. Happ was gifted with the called strike, but that's clearly nowhere close to where he wanted to throw it.
You may have also noticed that there is a runner on when Happ strikes out Hardy. That's because it followed a leadoff single by Jonathan Schoop. After working the count to 2-2, Russell Martin once again called for the high, inside fastball. This is what he got: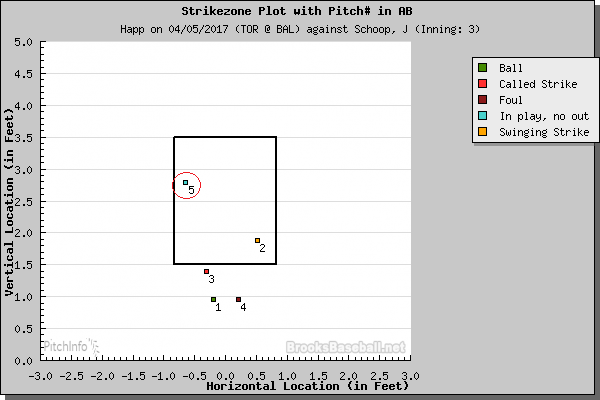 Martin wanted the pitch at the letters, and Happ threw it at the belt. The result was a very hard hit ball.
After striking out Hardy (on the aforementioned missed fastball) and getting a first pitch lineup from Joey Rickard on a sinker, Happ jumped ahead of Adam Jones 0-1. Martin once again called for a high fourseam fastball:
At the start of that video, you can see Martin bringing his glove back down after signalling that he wants the pitch up. It didn't get up.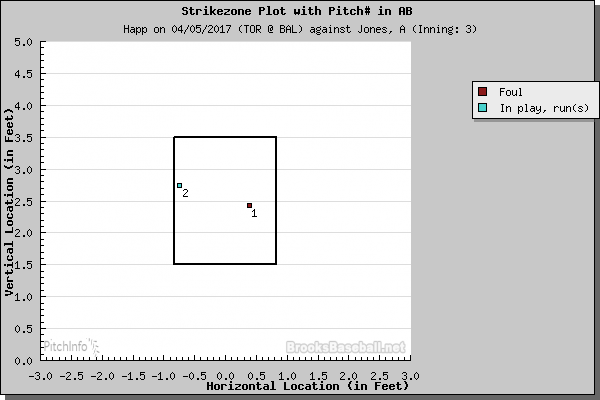 In the first two innings, Happ threw 13 fourseamers and 11 twoseamers. In the third, he threw 8 fourseamers and 9 sinkers. The rest of the game: 9 fourseamers and 23 sinkers. That sure looks like Martin realizing Happ doesn't have it and making a switch.
It was interesting to see the Jays adjust to Happ's command issues, but oddly encouraging. Despite struggling to locate his best pitch, Happ was still able to have success against a very strong lineup. This bodes well for him going forward and to helping him repeat his strong 2016 season.
Lead Photo © Evan Habeeb-USA TODAY Sports