Written by Dave Church, Sean Addis, and Mike Passador

1. Baltimore's Brilliant Bullpen
Given the Jays' early offensive struggles, they could use a few easy marks on the opposite side. While a rickety Orioles rotation may seem like just such a group, the bullpen has been a much tougher task for the Jays to conquer of late, save for an unforgettable moment in the wildcard game (which required deposed starter Ubaldo Jimenez to provide the fireworks). The Jays haven't gotten a regular season run off the Baltimore relief corps in the last five meetings between the teams, a span of 15.1 innings.
Even if the Jays can get to the starters- an uncertain ask, given their offense so far this season- the Orioles shouldn't hesitate to go their bullpen. Noted Jose Bautista rival Darren O'Day held the Jays scoreless in 2016, as did closer Zach Britton. Elite setup man Brad Brach struck out 18 Jays in 13.1 innings. Fireballer Mychal Givens struck out 13 in 11. For a lineup struggling to do much of anything right, this bullpen may not provide much relief for the Jays.
With four games against the Orioles, the Jays will want to get that bullpen involved quickly anyway, to potentially wear them down over the course of the series. Patient at-bats and drawing walks are things that the Jays continue to do well even as their offense scuffles, and it's something that might help in this series. Runs would be better, but one thing at a time. If the Jays can grind out good at-bats, the hope is that the great players in their lineup (the ones not named Josh Donaldson, anyway) will have the results that their pedigrees would suggest.
And while the Jays didn't score any runs off Britton in the first series, they did get runners on base in several innings against him. A little luck might have broken that scoreless streak a little sooner.
2. Chris Davis Loves the Rogers Centre
Baltimore Orioles first baseman Chris Davis has had an excellent start to the 2017 season. Over the first seven games he has an impressive 1.141 OPS. The timing couldn't be worse for the Blue Jays because Chris Davis loves hitting at the Rogers Centre, but a hot-hitting Davis REALLY loves hitting at the Rogers Centre; he has a stat line of .317/.411/.683, with 17 home runs in 214 at bats in Toronto. This does not bode well for a pitching staff trying to keep the opposing offence off the board, while allowing their struggling offence time to score some runs.
Davis has had success against this present group of Blue Jays pitchers (1.039 OPS) and the challenge facing Jays manager John Gibbons is he only has one left-handed option in the bullpen. With the injury to JP Howell, his only southpaw option is Aaron Loup. This is the same Aaron Loup who has historically struggled against the power hitting first baseman (5/12, with one home run). It will be interesting to see what pitchers John Gibbons chooses for late game match ups against Davis over the four game series.
Why has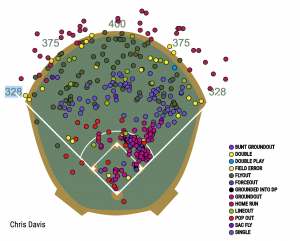 Chris Davis performed well at the Rogers Centre? Many hitters have said they see the ball well in addition to how far the ball travels at the dome. Another factor is Davis' ability to hit to all fields with power. As you can see in his hitting spray chart his ability to drive the ball into both alleys makes him a perfect hitter for the Rogers Centre.
One positive for the Blue Jays is Davis is also prone to the strike out. Therefore, the key for this series is making sure to pitch to him strategically, get him to chase pitches out of the strike zone and most importantly stay away from his power.
3. Josh Donaldson's Burdensome Calf

Donaldson's recovery time is important in the sense that it's always bad to have your best player at less than 100 percent. While it's nice that he's healthy enough to DH, Donaldson not playing the field creates a ripple effect that hamstrings the team's ability to make late-game maneuvers.
Firstly, the move forces Kendrys Morales to first base. That's not too bad in itself, as Morales made a few nice plays on Wednesday and should be passable at the very least, but it's certainly not ideal. He hasn't topped 10 appearances at first since 2014 and hasn't topped 30 since 2012. It's not a long term concern right now, but that extra wear and tear can't be great for someone who isn't used to playing the position.
That also pushes Steve Pearce into left field full-time, which may have been the plan to start with, for better or worse. His career-high of 49 outfield appearances came in 2015 and barring injury (which is no casual statement with Pearce) he'll rocket past that with ease. He played just 12 games in the outfield all of last season, so the team's medical and high performance staff will have to handle Pearce with extra care.
Without getting into the quality of Donaldson's direct replacements at third (and the potential benefits of pushing Justin Smoak to the bench), that leaves JD and Morales as players you'd rather not having running the bases late in the game, with precious few alternatives on the bench. The team turned to backup catcher Jarrod Saltalamachia as a pinch runner on Wednesday, leaving them perilously thin in terms of any ensuing substitutions. Losing the DH wouldn't be the end of the world in a single game, but limiting John Gibbons' options for an indeterminate amount of time isn't the most helpful thing. And running up replacement-level batters (or worse) against the O's bullpen will not be pretty.
Lead Photo © Nick Turchiaro-USA TODAY Sports