Every week in this space, we're going to be running down the "Hitter of the Week" for the Toronto Blue Jays. This won't always be the best hitter, but it will always be someone who did something notable that we can break down further. Using information from games through Friday (Saturday-Friday), we will try to show you something interesting each and every week. 
The Toronto Blue Jays entered play on Saturday with a 1-3 record, and outside of an implosion by Francisco Liriano on Friday night, it's hard to lay blame at the feet of anyone on the pitching side. On Monday and Tuesday against the Orioles the offense went a combined 1-for-16 with runners in scoring position, and in very un-Blue Jays fashion, failed to find the outfield seats in either game. It wasn't much better on Thursday when the team went 1-for-5 in the same situations, but they made that one hit count — a monstrous grand slam in the third inning off the bat of designated hitter Kendrys Morales.
That made it somewhat tough to pick out somebody noteworthy. But with eight runs on eleven hits and five walks, the offense finally broke through on Friday, led by our Hitter of the Week and former Most Valuable Player, Josh Donaldson.
Donaldson reached base in three of five plate appearances, moving his early season totals to nine and 19, respectively, for a beautiful .474 on base percentage. Of course, this is the Bringer of Rain we're talking about, so obviously Donaldson did more than just get on base. In our abbreviated four-game schedule Josh paced the squad with a pair of extra base hits, including a massive solo shot in the eighth inning of Friday's game to bring the Jays within one. With an exit velocity of 103 miles per hour, Donaldson launched a 2-2 fastball a whopping 414 feet to dead center field, which Platinum Glove defender Kevin Kiermaier somehow, incredibly, almost pulled back into play.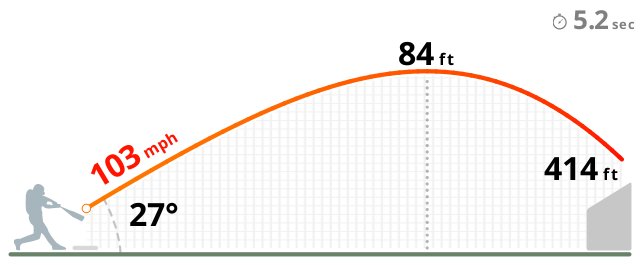 The only blemish on Donaldson's resume this week was the seven strikeouts, but with the calibre of breaking and off-speed stuff he was seeing — from Kevin Gausman and Dylan Bundy in particular — it's hard to fault him for a few extra swings and misses. Donaldson saw 80 pitches, but just 47 of them were fastball-type offerings. The remaining 33 were fronted by a whopping 20 sliders, and outside of a couple of hangers, they were thrown in just about picture-perfect location. The zone profile below, from Brooks Baseball, shows the pitch location of all 33 non-fastballs Donaldson faced; you couldn't walk sliders to the plate and put them in a better spot (Catcher's POV).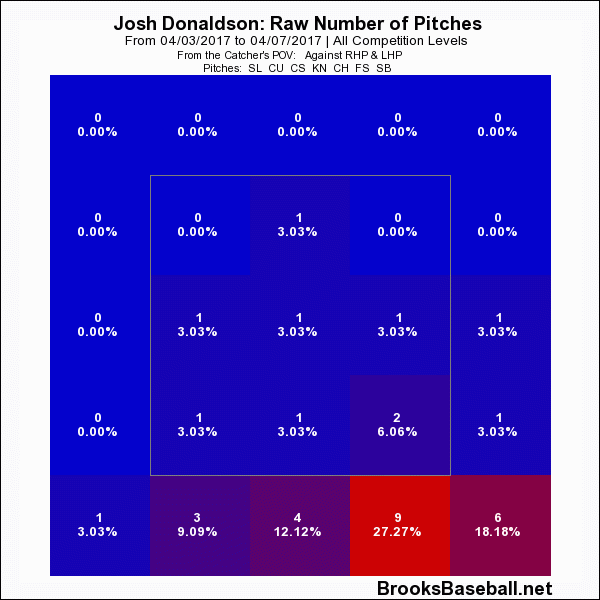 Overall, in this case it's immaterial whether you prefer the offensive metrics at Fangraphs, Baseball Reference, or here at Baseball Prospectus, because Josh Donaldson is atop the Blue Jays leaderboard on all of them. In four games Josh has unanimously been valued at 0.3 wins above replacement, putting him on pace for 12.2 WAR over a full 162 games. With that being said, Donaldson's certainly not going to play all 162 games, and it would be nigh-impossible to maintain his current .375 batting average. But that shouldn't stop us from pointing out that he played like a super-charged Mike Trout this week, and a super-charged Mike Trout is absolutely worthy of being named the BP Toronto Hitter of the Week.
Lead Photo: © Kim Klement-USA TODAY Sports