Written by Sean Addis, Richard Lee-Sam, and Joshua Howsam

1. Tropicana Difficulties
Over the last nine years, Toronto Blue Jays have struggled against the Tampa Bay Rays at Tropicana Field to a record of 28-56. Why is that? If we look at the last two years, the potent Blue Jays offense was only able to generate an OPS of .660. Where they play is big reason for that; Tropicana Field has the seventh lowest run factor in baseball (0.889 where 1.000 is average) and even lower home run (0.877) and double factors (0.861). These numbers are even lower for right handed hitters thanks to the deeper dimensions left-centre (410'). This increase in rooms certainly plays right into Tampa's hands, giving gold glove centre fielder, Kevin Kiermaier, an opportunity to make more spectacular catches.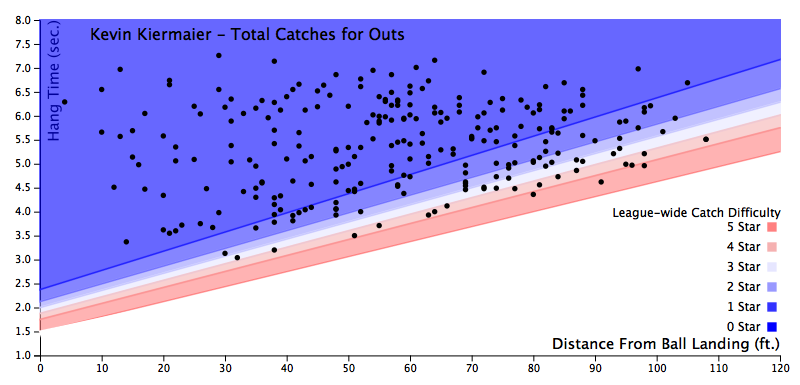 The above chart lists all the catches Kiermaier made last year. You can see how many he made that had low hang time and required a greater distance for Kiermaier to make the catch. His presence in the outfield reduces the ability for the Jays power hitters to take advantage of the gaps. Kevin Pillar is no slouch, but Kiermaier is as good as they come. 
Another reason the Jays hitters have struggled has been their woeful performance against ace Chris Archer, who seems to throw in every series between the two and who will pitch on Saturday. Toronto has hit the righty to a mediocre line of .216/.287/.328. But there may be some hope. The two newest additions to the lineup, first baseman/left fielder Steve Pearce (3/8, 2 HR), and designated hitter Kendrys Morales (10/16, 2 HR) have had some success against Archer albeit over a smaller sample size. This may not seem significant, but the Jays will take any positive they can.
2. Aaron Sanchez and his Blister
Last season we saw flashes of the dominant starter that Aaron Sanchez could become. Sanchez finished 2016 eight innings shy of 200 with an AL-leading ERA of 3.00. This spring, he struggled, walking nine over 10.2 innings in March. If you remember correctly, Sanchez' first go-round as a starter in 2015 didn't go perfectly due to him walking just over five batters per nine innings. As a result, he struggled to pitch deep into games and was later put in the bullpen. He lowered his walk rate significantly in 2016 but still ranked 44th out of 71 qualified pitchers with 2.95 BB/9. With his elite stuff though, that was more than acceptable.
There were plenty of stories about how Sanchez was working on his changeup this spring, and that it was the cause for the reoccuring command issues, but given his past, there was some concern that it was simply regression. However, after his final spring start against the Phillies, manager John Gibbons said that Sanchez popped a blister on his right middle finger.
This is something to pay attention to because the Blue Jays don't have many other SP options at the moment and Sanchez is an integral part of the rotation. Hopefully the command issues were merely related to the blister and 12 days off between starts is enough time for it to heal.  If we go back to last year for reference, Sanchez suffered a similar blister ahead of a start against Boston where he walked four and gave up six runs in 3 2/3. He was back making another start ten days later and was "Aaron Sanchez" again.
It is worth noting that blisters can linger, with the most recent example being Rich Hill from last season (out from July 18 – Aug 23), but all accounts suggest Sanchez should be good to go.
Sanchez made two starts against the Rays last season, surrendering only one run over 14 innings, striking out 14 and walking just two. Nine of those strikeouts were swinging.
Sanchez faces Chris Archer on Saturday.
3. Evan Longoria's Blue Jays Mastery
If you've been following the Jays at all the last few years, you know that Evan Longoria has been a persistent thorn in Toronto's side. Over nearly a full season's slate of games (152), Longoria owns a .287/.363/.487 line against the Blue Jays. Among starters in this series, he has has had particular success against Marcus Stroman (.364/.391/.727 in 23 PA) and Francisco Liriano (.316/.350/.579 in 20 PA) in small samples, but when you look at his batted ball profiles, it's easy to see why.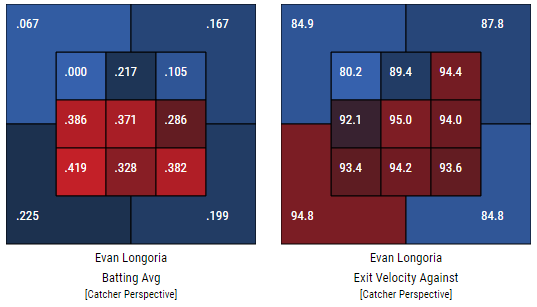 Both Stroman and Liriano are pitchers who pound the bottom of the zone, and that's where Longoria earns his money. As you can see from those charts above, Longoria absolutely crushes the ball when it comes in under the belt.
On the flip side, the Rays' third baseman struggles with the ball up. This helps explain his .158/.273/.158 line against Marco Estrada (Sunday's starter). That leaves Aaron Sanchez as the other Jays starter this series with any success against the Rays' franchise player, holding him to an anemic .071/.071/.143 line in 14 plate appearances. His overall dominance against righties (career TAv of .191) and his willingness to work up in the zone make him a good matchup for Longoria.
So Sanchez and Estrada should be alright (assuming the blister issue is healed), but Stroman and Liriano will have to adjust their attacks if they hope to contain the Rays slugger.
Charts via Baseball Savant
Lead Photo: © Kim Klement-USA TODAY Sports