Kevin Pillar will swing at virtually any pitch that is thrown at him.
Sometimes it works out, and he'll hits a home run on a pitch like this.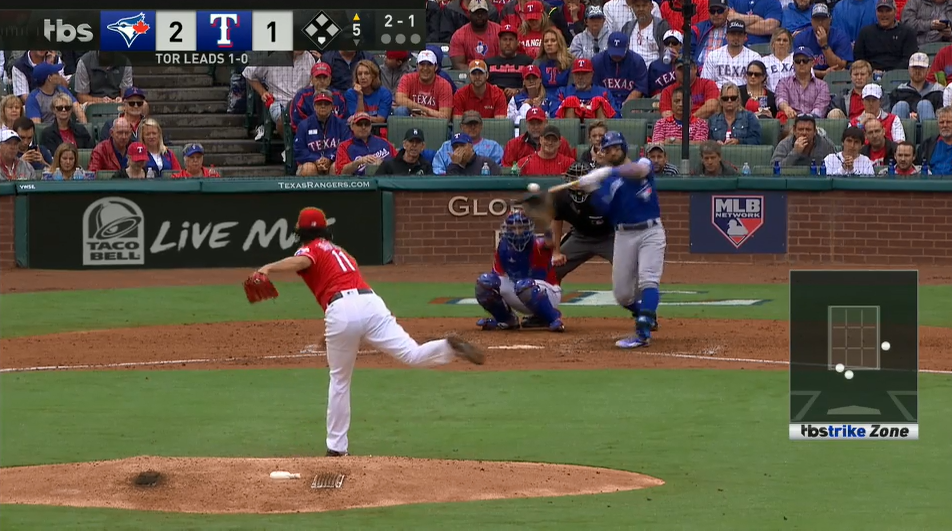 However, most of the time you get swings like this one, from a game against the Houston Astros on August 3rd of this past season.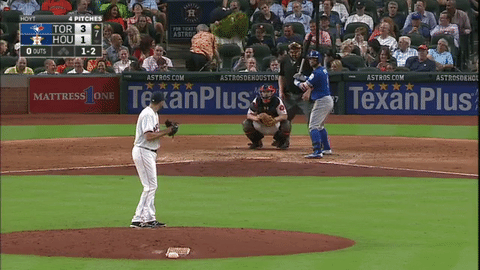 Needless to say, that wasn't a good look for a major league hitter to be swinging out of his shoes like that, especially because that was that pitcher's first major league batter.
You didn't need to see that video to know that Kevin Pillar swings way too often at pitches outside of the zone. You, an intelligent reader of BP Toronto and frequent watcher of the Toronto Blue Jays, yell at your television incessantly while Pillar is hacking away at the plate. In fact, Pillar does this so often that he ranks 285th out of 297 in O-Swing% among qualified all batters since 2013. O-Swing% is a statistic that measures how often a batter swings at pitches thrown to him outside of the strike zone. The league average from 2013 to 2016 was 30%. Pillar sits at a whopping 39.2%, almost two standard deviations away from the mean. However, despite all of that swinging, Pillar still manages to strike out less often than the average batter. At a career K% of 16.1%, Pillar comes in at over three percentage points lower than the mean of 19.2% from 2013 through 2016.
How does one manage to do that? There are a few different ways, but one way Pillar does it is by making contact with the bad pitches he swings at on a regular basis. The average batter makes contact with a pitch outside of the strike zone 66.3% of the time. Kevin Pillar does so on 70.3% of his attempts. That's a good way to avoid putting up big strikeout totals, but it is also why he isn't such a great offensive player. The strike zone exists for a reason. Making contact with pitches inside of it tends to make those balls travel farther, whereas making contact with pitches outside of it tends to lead to outs.
Unless, of course, you're Vladimir Guerrero. In the first image above, Kevin Pillar sure looks like a regular Vladimir Guerrero. I can assure you, that is the only time he has ever looked like a regular Vladimir Guerrero.
Earlier this month, Eno Sarris wrote at FanGraphs about Vlad and the best bad ball hitters to play baseball. I highly recommend you read the article in it's entirety, but the gist of it is that Vlad is the best retired bad ball hitter of all-time. On swings outside the zone, Vladimir Guerrero hit .306 for his career. That's pretty good. Do that for your entire career, and you're ending up in Cooperstown, like Vlad is next year.
Well, how does this relate to Kevin Pillar? As mentioned above, Pillar swings at a lot of pitches he shouldn't be, but he makes contact on them at an above average rate. His problem is that he doesn't hit them too well, and whereas Vlad was able to hit .306 on those ill advised swings, Pillar is sitting at .199 for his career.
Pillar's a pretty good offensive player when it comes to pitches inside the strike zone, with a career batting average of .299, but his struggles obviously arise because he can't do anything with the pitches he chooses to swing at that he should hold off on. So, what if we gave Vladimir Guerrero's ability to hit pitches outside of the strike zone to Kevin Pillar? What if instead of reaching safely on only 19.9% of his 428 career at-bats that ended because of a swing outside of the zone, he did so on 30.6%? All of a sudden, Kevin Pillar is a different player. Pillar has 276 career hits on swings inside the strike zone, and 85 on those outside of it. With Vlad's blood in his veins, that 85 becomes 131. Pillar's career batting average skyrockets from .267 to .301. Kevin Pillar went from being Rajai Davis to Frank Thomas. Some of those hits could have been at times when the Blue Jays needed just one more hit to win a game. Some would have been meaningless. Still, that's pretty cool.
So we know how much better Pillar would be if he was a genetic clone of Vlad's batting average out of the zone, but how about if we turn to slugging percentage? In the zone, Pillar has a career .434 slugging percentage. Respectable. You can put up some nice seasons with that slugging percentage. However, out of the zone, it gets ugly, at just .278. Comparatively, Vlad had an in zone slugging percentage of .495 and an out of zone slugging percentage of .495 for his career. That's very impressive. So let's give Vlad's skills to Pillar, and see what it does for his career. Pillar's career slugging percentage of .385 jumps to .453. That's going from Gabe Gross to Tony Batista. I'll take it. There are a lot of different ways to get that jump in slugging percentage. We can give Pillar more singles, doubles, triples, home runs, or any combination of those four. Whatever you choose, he becomes a much better player, contributing to the Blue Jays' offensive attack a lot more often than he is currently.
When you started reading this article, Kevin Pillar had a .267 career batting average and a career .385 slugging percentage. After a little bit of genetic modification, those numbers were elevated .034 and .068 points respectively. What was the point of this article? I don't know. It was a fun exercise I guess. But in a way, it's also just another argument in favour of Kevin Pillar ceasing from swinging at pitches out of the zone, because, unfortunately, he isn't Vladimir Guerrero.
Lead Photo: © Dan Hamilton-USA TODAY Sports

Thanks to Eno Sarris for the data assistance on this one.