Once upon a time, the Blue Jays traded for a third baseman at a bargain price. There was some speculation as to whether he would be a real asset to the team in the immediate aftermath, but it didn't take long for the fans to realize they had found a real gem. It became readily apparent that they had acquired an impact player who could help the team for a long time.
Yes, the Jose Bautista trade is one you can revisit with a smile on your face again and again.
Recently, for the first time since August 21, 2008, the Blue Jays and their fans faced the prospect of a life without Jose Bautista. And if you're a fan of The Bat Flip, or home run number 50 off King Felix, or of the "Who are you and why are you talking to me?" attitude, it was a difficult time. Jose has come home, sure, but there was a very good chance of seeing him in another team's colours. Jose is also 36, so he can't be "The Franchise" forever.
The Blue Jays have another third baseman now, acquired in a surprise move, and one who made an even more immediate impact on the franchise. Josh Donaldson, MVP, is a Blue Jay in 2017. He will make 17 million dollars. In 2018, he and the Jays will be set to go through the arbitration filing process again. He will end up making over 20 million dollars. In 2019 he will have an opportunity to become a free agent.
Unless the Blue Jays do something about that right now.
Back when Alex Anthopolous was in the driver's seat, he took a gamble on one great year of Jose Bautista. He got a signature on a five year deal with option for a sixth, and Jose proved to be worth every penny. He was 30 years old.
Now, Jose Bautista and Josh Donaldson aren't the same player, first off, let's make that clear. We'll go to a handy visual aid to demonstrate this.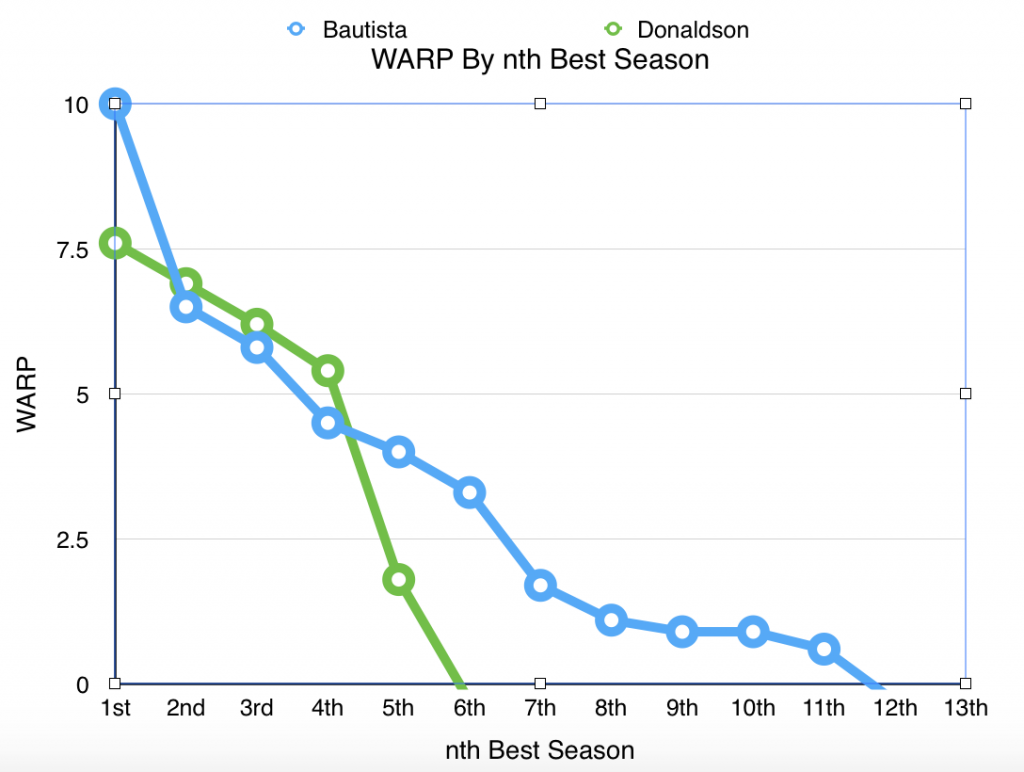 Josh Donaldson is, without a doubt, as much of a franchise player as Jose Bautista was. He didn't have that one crazy peak season, but three of his best four years have been a bit better than Bautista's.
He's even got a couple of points up on Jose. The first is that he's been incredibly durable. How durable? Well, 2016 he had an 'off' year, and only played in 155 of 162 regular season games. Point two is that his breakout occurred when he was two years younger than Jose. Look here: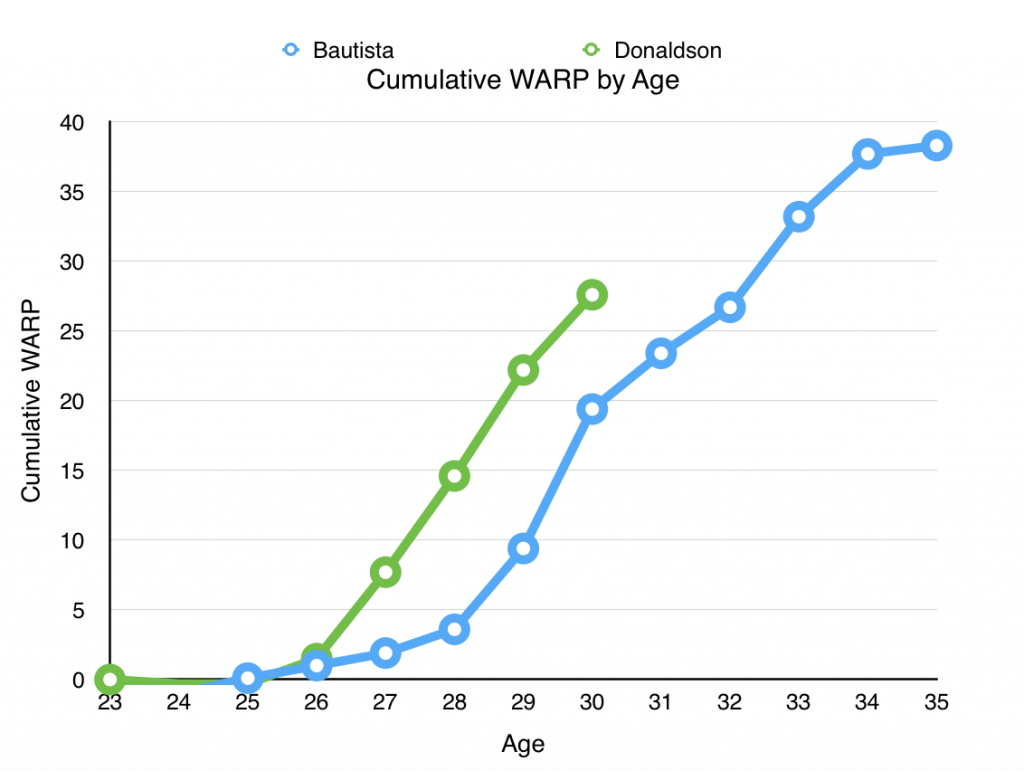 The idea of an extension would be entertained with a whole lot more information to consider, but what it comes down to is this: Someone has to play third base for the Toronto Blue Jays. Why wouldn't you make sure it's the guy already playing there, ready to take on the mantle of Franchise Player before any of the drama of free agency?
MLB is chock full of excellent third basemen. We can learn a lot from how other teams have treated these guys. Let's look at the best third baseman in the game in 2016.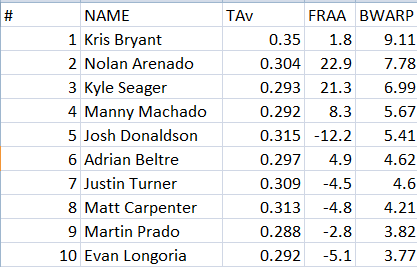 I've included the TAv and the FRAA column as well, so we have an idea where they get their value from.
Let's run it down. Bryant is only two years in the league and an MVP, but the Cubs haven't done anything yet because he isn't even arb eligible. Nolan Arenado, making $11.75 then $17.75 million, and a free agent in 2020, after JD. Kyle Seager, extended by the Mariners into either 2021 or 2022, for $100 million plus an option, Manny Machado shouldn't even be on here, because he is a shortstop playing perpetually out of position, but he has two more arbitration years left. Skipping Donaldson, we see Adrian Beltre, who is already 83 years old and not really a good comp if we're looking at a long term deal. Justin Turner just got a four year, $64 million extension with the Dodgers, and he's 32! Matt Carpenter is tied up in a 6/$52M deal with St. Louis, and hasn't shown up in the MVP conversation since his career year in 2013. Prado is 33 and will get his second kick at free agency. Finally, Longoria was a home grown product of the Rays, and signed a 100 million dollar extension so he could remain one for life.
I'm going to cut to the chase here, there are three situations above that I consider similar enough to Donaldson's to be worth considering. They graph out like this.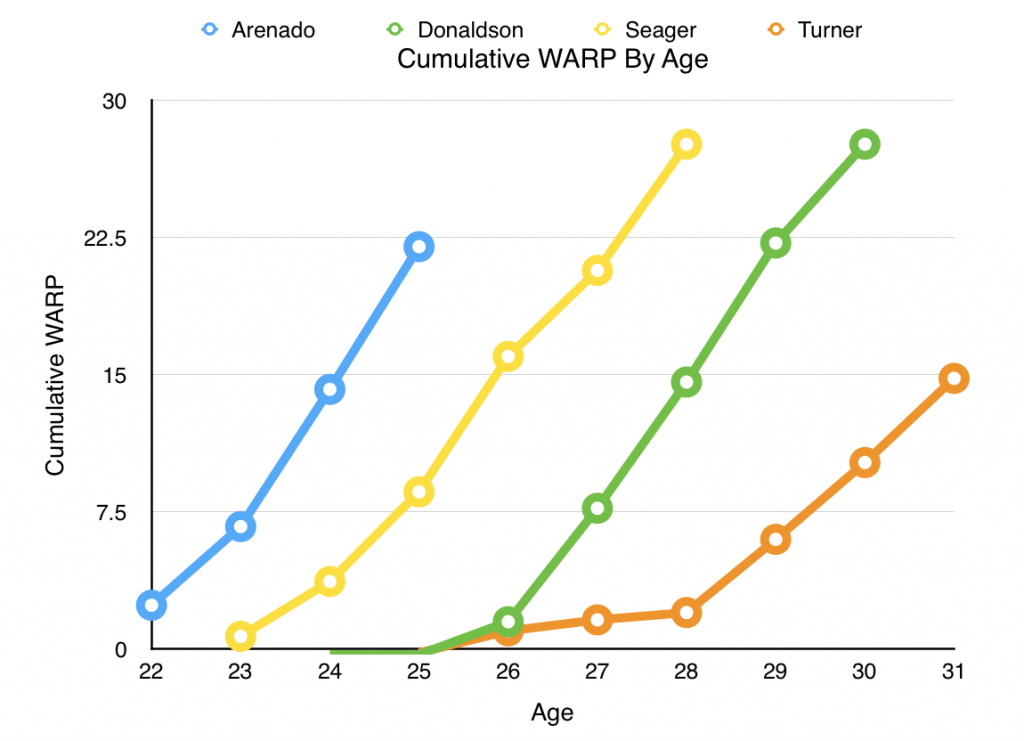 So there are our candidates. Arenado is the traditional young superstar, and it's in his interest to hit free agency well below thirty. If the Rockies choose to extend him long term, they need look no further than the Kyle Seager template, and tack on a bunch of dollars due to youth and inflation. Seager is signed for $100 million over 7 years. Turner is older, clearly not as good, and getting 4/$64M. So that means JD gains a little on the inflation side, having waited longer that Seager (both in calendar years and team control), but loses on the age side, as his value will start to taper off somewhere relatively earlier in the contract.
I would think something like 6/$150M or 7/$170M might get Josh's ears to perk up. Give him an opt out after three years and he gets to take a deep breath at 34 and see what he really wants. That should be palatable to Toronto, as at an average annual value ~$25M, those deals aren't going to have a huge impact on the budget (given that's approximately what Donaldson will be making in his last go around in arbitration).
I know what you're thinking… why now? I've considered a few factors. Number one, it would be a great way for the Jays to commit to a long term winning culture, and to show that as one star fades in Bautista, they want the brightest possible one shining in his place.
Number two, Josh just saw the market for older power bats crumble this offseason, and will potentially be facing one of the most loaded free agent classes in the history of pro sports. EE and Jose never sniffed 100 million dollars, despite their lofty expectations at the start of the season. Now is the time when it looks like it's going to be a long and uncertain road to free agency. Offering certainty now would ease his mind.
Number three, starting negotiations before the arbitration and free agency wheels start to turn means that there's less pressure from outside the negotiating room for both sides.
Finally, the Jays have but one third base prospect in the pipeline… maybe… and Vlad Jr. is still a teenager. Having a solid hand at the hot corner prevents the Jays from putting pressure on a potentially valuable prospect. And who's to say that he doesn't come up as JD ages and considers a veteran move to first base?
Someone has to play third base for the Toronto Blue Jays. Why not pick a durable, disciplined and productive hitter who has already had a ton of success in Toronto? The Jays have more information about Josh Donaldson than they have any other player, and everything we can see from the stands says he's worth the investment.
Lead Photo: © Nick Turchiaro-USA TODAY Sports