Coming into the 2016 season, if you asked fans/writers about the biggest weakness on the Blue Jays roster, you'd probably get a near unanimous answer of "pitching." The hitting was coming off an historic run-scoring season, and the defense was only going to be improved by a full season of Troy Tulowitzki at shortstop. Meanwhile, the starting staff had questions marks up and down the staff, with the only predictable performer being the man with the unpredictable pitch, R.A. Dickey. Everybody else had enormous variations in their projected performance, which left a lot of people chewing their nails.
Obviously things worked out a little differently than expected. The bats were up and down all season, but the pitching ended up leading the American League in ERA (3.78) with the starters also topping all of baseball in innings pitched. It was an incredible feat for many reasons, but the most impressive was the cost.
Mark Shapiro and Ross Atkins knew they had to be careful with how they spent their money. Yes, the payroll was going to go up off last year's pennant chase, but they still had very finite resources. They had to watch David Price walk out the door, instead choosing to fill the rotation by bringing back J.A. Happ and Marco Estrada. Fans saw this as a betrayal from the front office and Rogers, but it turns out these people knew what they were doing.
Finding cheap production is the goal of all front offices. The idea of Moneyball tends to be thrown around in casual circles as "stat nerds who focus on on-base percentage," but the real idea is simply finding a skill that the league doesn't value properly. The Jays did that over and over again, and ended up with a league-leading rotation for just barely more than the cost of David Price by himself. What's even more impressive is that they exploited multiple different inefficiencies to get there.
The first move the team made was bringing back last year's standout Marco Estrada. You've probably read about it multiple times (I've definitely written about him a bunch), but the Estrada's pitches don't quite move like anybody else's; his extreme spin rate makes his fastball "rise" more than anybody else in baseball (They stay up 13" higher than the expected fall due to gravity). But that spin doesn't just help the fastball; it lends itself to the to his most famous pitch as well. Estrada's changeup stays up a whole 2.1" more than the next highest slowball in baseball (10.7" vs 8.6"). Its "rise" is so unusual that it would even place among the top 20 fastballs.
As a result of this unusual break, Estrada generates popups at an extreme rate. Among pitchers who threw at least 80 innings, the Jays' righty generated 10 percent more popups than the person in second place (16.2 vs 13.6 percent). With release angle and spin data, the Jays would have been able to see that Estrada's "rise" has been trending upwards every year as his arm slot became more vertical. As a result, it was possible to identify this skill as being repeatable and coachable, so the club gave him a qualifying offer and ended up with an elite arm on a two year, $26M deal.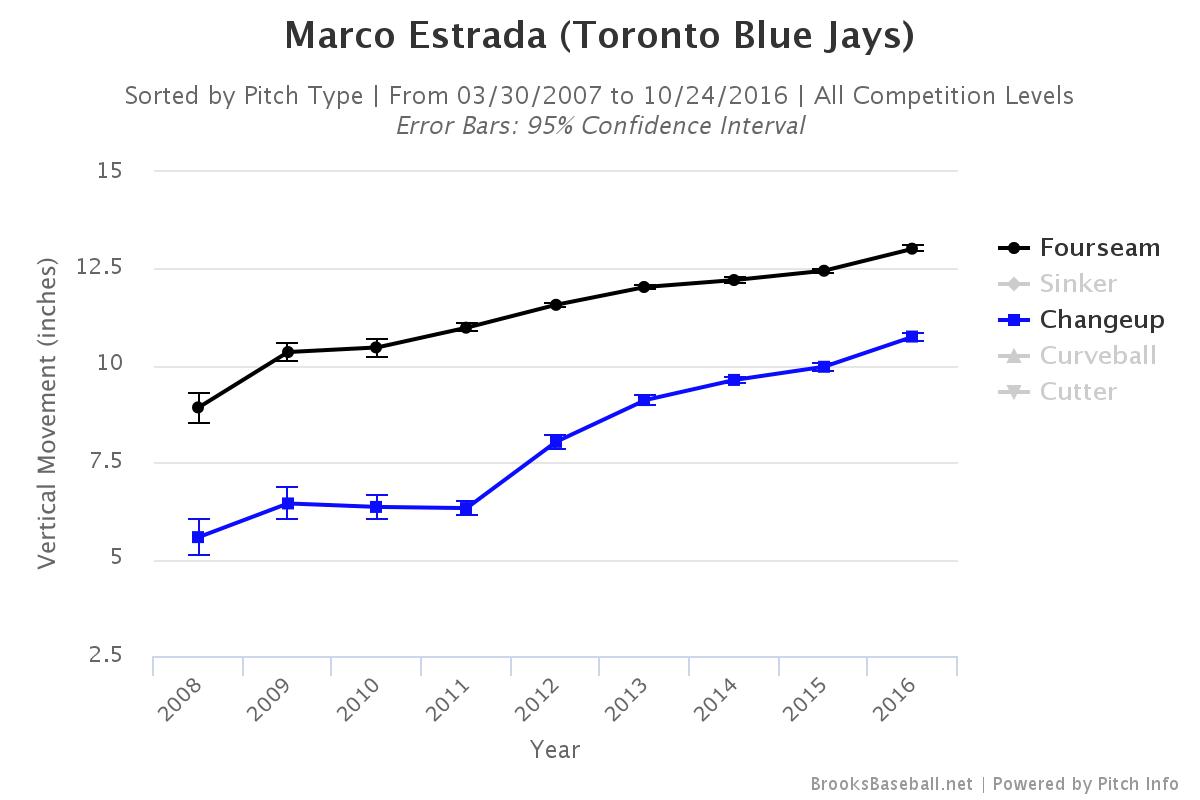 This trust in PITCHf/x data likely also led to the signing of J.A. Happ. Much of the credit to Happ's turnaround was attributed to his time in Pittsburgh with pitching guru Ray Searage. Searage certainly deserves a ton of the credit for cleaning up Happ's mechanics, but it wasn't the sole reason for his 2016 success. Heck, Happ pitched the entire season completely differently than he did with Pittsburgh (which we outlined in our early season roto reviews). No, the real reason is that, like Estrada, Happ possesses unique stuff.
As I first outlined back in August, thanks to a mechanical change made by the Blue Jays prior to 2014 J.A. Happ's two fastballs (fourseams and sinker) now have more separation in their sink (5″) than any other qualified starter in all of baseball (Bartolo Colon is second at 4.3″) .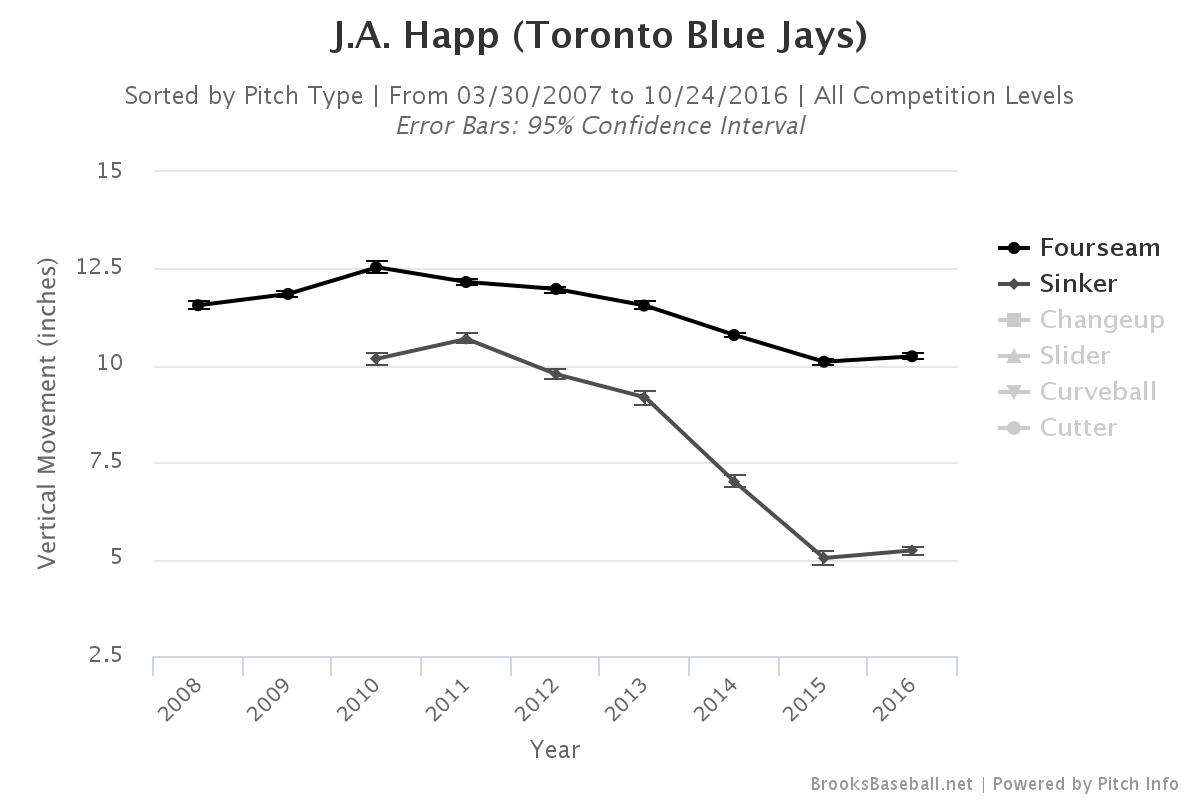 With Pittsburgh, Happ was mostly just throwing fourseamers, but upon arrival in Toronto he immediately started throwing a bunch of sinkers (his 27.6 percent usage is a career high). That was almost certainly no accident. A man doesn't just suddenly abandon the tactics that made him more successful than at any other point in his career unless someone smart give him a really compelling reason to do so. Using PITCHf/x data, the Jays had one.
By combining the two vastly different fastballs, the Jays were able to maximize Happ's abilities. The two seamer generated grounders on 60.5 percent of balls in play, while the fourseamer's miss rate spiked to 25.6 percent, by far the highest in Happ's time as a full-time starter. That gave the lanky lefty the ability to get double plays to get out of jams (he generated 21 this year – 50 percent higher than his previous career high of 14), while also allowing him to deliver punchouts when needed.
When combined with the increased command from the mechanical tweaks in Pittsburgh, Happ turned into a legitimate front of the rotation starter. The Jays saw what nobody else did, and got one of the league's best starters in 2016 for three years, $36M.
The Jays didn't just exploit these inefficiencies in free agency, however. When it came time to improve the team during the season, the Blue Jays needed to find a way to get people who could help, but who would come cheaply not in dollars (thanks to the savings from those earlier contracts), but in players. With limited prospect capital thanks to the trades of 2015, the Jays had to be creative.
On the surface, the Blue Jays chosen method was easy; they went after players who weren't performing elsewhere. But it wasn't quite that clear. In picking up Jason Grilli, Joaquin Benoit, and Francisco Liriano, the Blue Jays seemed to target a very specific type of underperformer: players with inexplicable command issues.

As you can see from the chart above, all three of those pitchers were walking hitters at rates that were extremely out of line with what they'd done previously in their careers. None of them had seen a dip in stuff (each was still striking out over a batter per inning — 12.2 per nine for Grilli), but each had been hit hard and had trouble with the strike zone.
The Jays bet that the small samples on which these numbers were based weren't indicative of talent level, and that given time and work with Russell Martin and Pete Walker, these prior standout performers would start throwing the way they had in their entire careers.
The evidence speaks for itself. All three players quickly reverted back to walk rates that were closer to their career levels (well beyond, in the case of Liriano) and made massive impacts down the stretch. Grilli and Benoit stabilized the bullpen, and Liriano's addition and success allowed Aaron Sanchez to stay in the rotation all year. The combined cost was a D prospect, the carcas of Drew Storen, and Drew Hutchison – with Liriano also bringing back two solid prospects in Reese McGuire and Harold Ramirez.
Add in Rule Five pick Joe Biagini with his five pitches that grade as average-to-plus out of the pen, and that's six extremely important cogs in the pitching success that were acquired (or retained) at costs far below their value because the Jays identified things in them that others couldn't see. Sure, not every move worked. Storen and Chavez were unmitigated disasters, but like the five mentioned above, their acquisition costs were almost nothing. As such, the only negative impact was their performance on the field, not to their ability to make other additions to the team.
It's easy to build a team by picking up stars (if you have the money/assets). The 2016 Blue Jays exploited the market and were able to build a league-best rotation on the cheap. That's impressive.
Well done, Messrs. Shapiro, LaCava, and Atkins. I can't wait to see what you do for an encore.
Over the next week or so, other writers at BP Toronto will be sharing their thoughts on the 2016 season in our series "The Season that Was." You can read them all here. Look for a new one every day.
Lead Photo: Kevin Jairaj-USA TODAY Sports