TORONTO – It's no fun to pile on when a person is down, but so far in the American League Championship Series the Toronto Blue Jays have been completely outplayed in every facet. No one is going to point fingers at the Jays' pitching, but a whole lot of weight falls on the shoulders of an offense that simply isn't getting it done.
The Toronto offense is Arctic cold right now; they have scored a season-low in runs over a three game stretch in the most important time of the year. If you're a Jays fan there isn't a whole lot to hang your hat on at the moment. They've squandered alarmingly favourable matchups the last two games, one of which came against 8.1 innings from the Cleveland bullpen and the other versus Josh Tomlin.
"They shut us down," Jays manager John Gibbons said. "They did a great job going through a number of guys and did a good job shutting us down.
"I still believe our offense is due to erupt. It hasn't happened yet, but I've seen it too many times. Hopefully (Tuesday) is that day, we'll see."
While certainly the Cleveland pitching staff deserves a ton of credit for making the Toronto hitters look completely lifeless at the plate, the simple matter of the fact is that some of the Jays' big bats are just missing pitches. Take the fifth inning of Monday's game. The Blue Jays had just tied the game at two on a groundout by Ryan Goins that scored Ezequiel Carrera and the heart of the Toronto lineup was coming up to bat to face Bryan Shaw. All three of them had a pitch to hit, and only Josh Donaldson was able to do something with it.
Take a look at what Jose Bautista had to hit(below).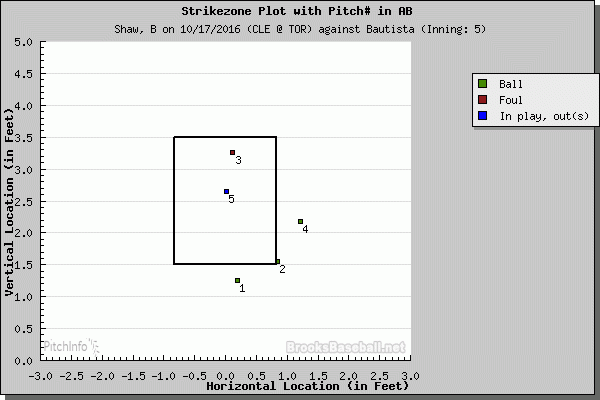 That blue dot is a cutter that Cleveland righty Bryan Shaw threw right down the middle of the plate. Bautista flied out to left field about 20 feet short of the wall.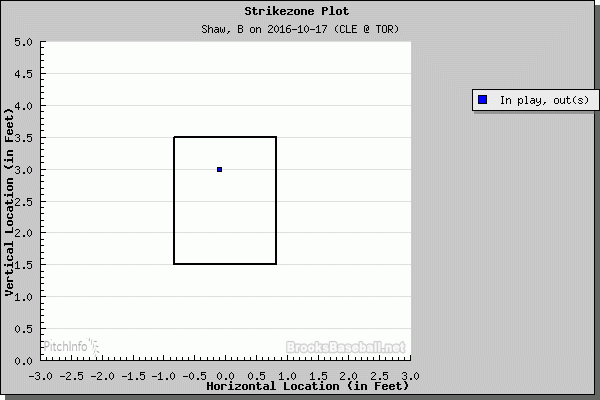 That's the cutter that Encarnacion missed(above). Typically he smashes those pitches if this heat map is any indication(below):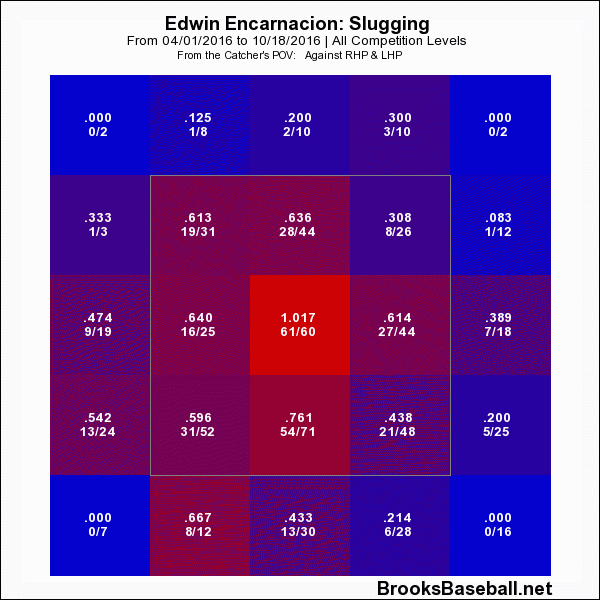 Now, these charts and missed pitches don't mean all that much in the grand scheme of things. Just like pitchers, hitters miss sometimes. Baseball is an extremely hard and complicated game. The best of the best miss less often than everyone else, which Bautista and Encarnacion are certainly in that category. What it does indicate is what anyone can see with their eyes; the Jays' offense is off. The likelihood of either of them missing those pitches when they're seeing the ball well is slim. However, even if both sluggers would've reached base versus Shaw it doesn't mean the Jays would've won, but for a team that hasn't even held the lead at any point in the the series, at least one hit could've gone a long way to building some form of momentum.
It's not just the big bats that are missing either. Troy Tulowitzki, Bautista, Kevin Pillar, and Russell Martin are a combined 4-for-41 in the series, with Martin looking particularly lost at the plate. Dioner Navarro has as many hits as each of them, and that came in one at-bat. However, after the loss in Game 3 Gibbons didn't sound like he was thinking about changing the lineup once again in hopes of sparking the offense.
"I may have already done that enough," Gibbons said. "No, we'll run the boys out there tomorrow that got us to this point. It's a pretty good group. And they're due. They're due. We'll see. We'll see if it's (Tuesday)."
The task will be a whole lot harder with Corey Kluber, the 2014 Cy Young winner on the mound for Cleveland. The man who escaped trouble in the first three innings of Game 1 before getting locked in and shutting out the Blue Jays over 6.1 innings and allowing just six hits.
While the task may be daunting, what the Jays need is pretty simple.
"We just got to play better," Pillar said. "We got to figure out a way to get to their starting pitching early, get a lead, and play from ahead for once.
"This [team] is filled with guys that would damn near sell their soul to get to the World Series and we understand we still have that opportunity we just need to play better. It's that simple."
Lead Photo: John E. Sokolowski-USA TODAY Sports