Toronto Blue Jays vs. Cleveland
Monday, October 17th – 8:08 PM ET
Written by Jenn Smith and Joshua Howsam
For the second straight season, the Toronto Blue Jays return home down two games to none in the American League Championship Series. They begin their uphill battle tonight when Marcus Stroman takes the mound against Cleveland's Trevor Bauer in what is as close to a must-win game as it gets for Toronto.
After winning six straight games to begin October, including the Wild Card game and a sweep of the ALDS during which they scored a total of 27 runs, the Jays' offense has gone ice cold and have scored just one run in eighteen innings. Cleveland hitters have not fared much better, having thus far scored just four runs on 10 hits in the first two games. Given that both teams were top ten in runs scored, one could not have expected such low-scoring affairs.
Pitching Matchups:
Marcus Stroman (9-10, 4.37 ERA, 3.43 DRA)
Must-win starts seem to be becoming the norm for the 25-year old Stroman; he was on the mound for the winner-take-all Game 5 of the 2015 ALDS, was the starter in Game 3 of last year's ALCS with Toronto down 2-0, and then went six innings against Baltimore in this year's Wild Card game. The Jays won each one. In addition, the crowd will be very loud, and that usually helps the Duke grad.
It was something of an up and down season for Stroman as he held a 3.54 ERA on May 12, then saw that balloon all the way up to 5.33 by the end of his June 26th start. He righted the ship after that though, pitching to a 3.42 ERA the rest of the way with an 8.3 K/9 and 2.0 BB/9. The bat missing was a huge step, which when added to his season-long MLB-best groundball rate of 60.1 percent (the next highest was 56.7 percent) made him look an awful lot like the pitcher the Jays were expecting when they tabbed him as the Opening Day starter. Interestingly enough, that turnaround started against this very same Cleveland squad. On Canada Day, Stroman went 6 2/3 innings, allowing just one run. He then shut down Cleveland again on August 21st in their park, this time tossing 7 2/3 innings of one run ball, and striking out nine.
The key for Stroman will be to make sure he is working down in the zone, but he will also need to mix his pitches. His sinker usage has dropped off heavily since the start of July (see below), making it much tougher for hitters to sit on the one pitch. If he keeps that up, he should be able to keep the tough Cleveland lineup at bay.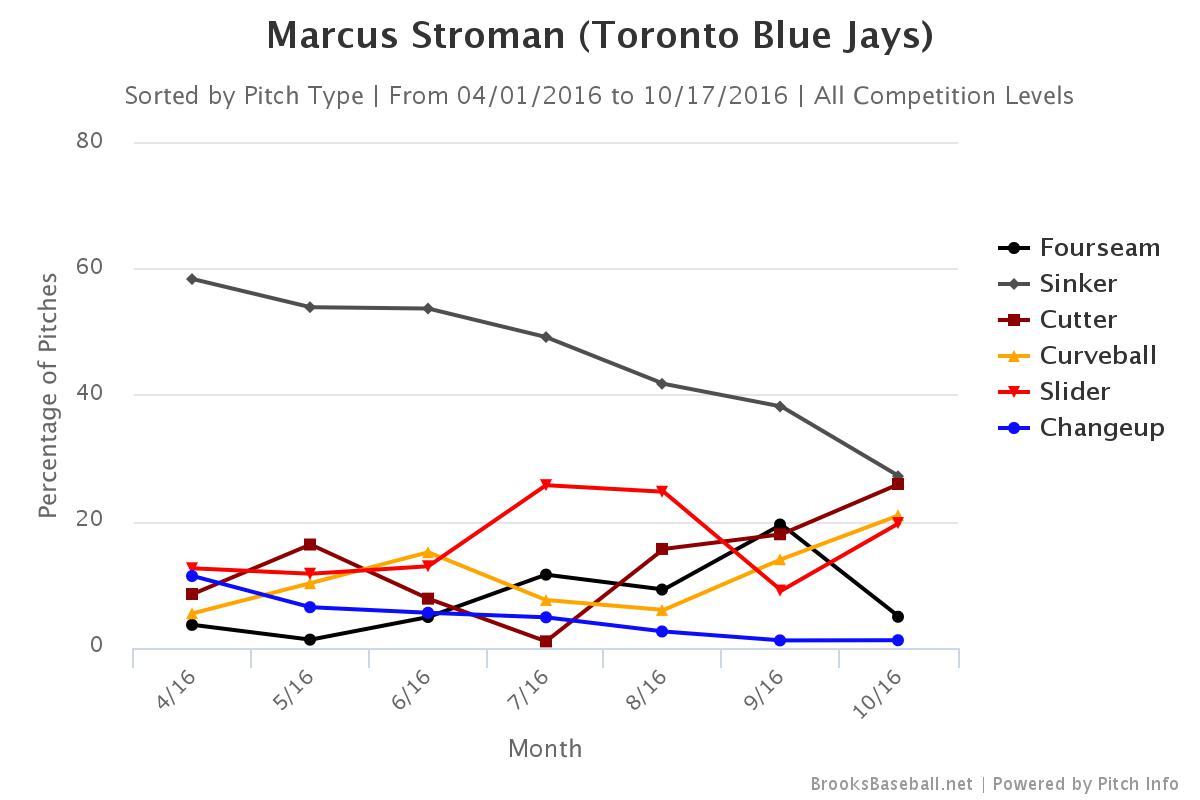 Trevor Bauer (12-8, 4.26 ERA, 4.12 DRA)
Self-professed Star Wars "nerd" Trevor Bauer had his Game Two start pushed back due to a laceration on his right pinky finger sustained while repairing a drone. Over his 190 innings this year, Bauer posted a 4.26 ERA with an 8.0 K/9, 3.3 BB/9, and a HR/9 rate of 1.0. While those totals are pretty average overall, he absolutely dominated the Blue Jays this year. In 13 innings across two starts, Bauer gave up just two runs while striking out 16 and walking just five. If he's on, this could be another tough night for the Toronto hitters.
As the season progressed, Bauer relied less on his sinker and cutter in favour of his fourseam fastball and curve, which have accounted for nearly 72% of the pitches he's thrown this month. Both pitches generate more whiffs/swing and fly balls compared to those of other pitchers. One might expect him to throw more breaking pitches at the fastball-sitting Jays, particularly since that seemed to be the key to Josh Tomlin's success on Saturday.
Additions and Subtractions
No players have been added or subtracted from either roster since it was announced ahead of Game Two that Justin Smoak would replace Devon Travis. The team revealed yesterday that Travis had a bone bruise with a "very small flap of cartilage" caught in the joint and will likely undergo arthroscopic surgery to repair the damage.
Keep an Eye On
Big Bats Need to Wake Up
It's quite simple, really – the Jays' offense needs to figure things out, and fast. After a steady diet of breaking balls from Josh Tomlin on Saturday – 42.4 percent of his pitches were curveballs, with another 22.4 percent being cutters – Toronto can expect more of the same. Not only do the bats in general need to wake up, but so too does the man referred to as Joey Bats. Jose Bautista is 0-for-6 with two walks and five strikeouts in eight plate appearances in this series, and 3-for-21 overall with ten strikeouts in the postseason.
Bautista will get his chance right away in this one though, as he has been slotted back into the leadoff spot, where he started 40 games this year.
Infield Defense
With Marcus Stroman being an extreme groundball pitcher – as mentioned above, he induced a 60.1% groundball rate against both righties and lefties this season – it is imperative he have the best possible defense behind him. As such, the loss of Travis is actually somewhat mitigated with the defensive upgrade that comes with Ryan Goins slotted in at the keystone sack. Look for a lot of groundball outs when the Jays are in the field.
Cleveland Pen
It seems almost redundant to be writing about the Cleveland bullpen once again, but here we are. Miller and Allen have each worked in both games of the series so far, after two long outings apiece against Boston, and it will be interesting to see if either or both of them start to experience a fatigue-related dip in their performance. Obviously Toronto would prefer to have the game in hand and not need to see either one of them, but the history between these two clubs suggests a close game is upcoming. If one of those relievers is feeling just a little tired, it could mean the difference between a win and a loss.
The Strike Zone
The Blue Jays have complained quite a bit about the strike zone in the first two games, with Jose Bautista taking it a step further with his "circumstances" comments to the media. It will be interesting to see how things look in game three, with the Jays at home and Marcus Stroman often needing a few calls on pitches just below the zone.
Probable Lineup
| | |
| --- | --- |
| Away Team | Home Team |
| Carlos Santana – DH | Jose Bautista – RF |
| Jason Kipnis – 2B | Josh Donaldson – 3B |
| Francisco Lindor – SS | Edwin Encarnacion – 1B |
| Mike Napoli – 1B | Troy Tulowitzki – SS |
| Jose Ramirez – 3B | Russell Martin – C |
| Lonnie Chisenhall – RF | Michael Saunders – DH |
| Coco Crisp – LF | Kevin Pillar – CF |
| Tyler Naquin – CF | Ezequiel Carrera – LF |
| Roberto Perez – C | Ryan Goins – 2B |
via Roster Resource
Final Thoughts
It's pretty simple: If the Jays win, they still have a shot to take this thing. If they lose, they're pretty much drawing dead. They have the home crowd and their guy on the mound, so they simply need to get it done. If not, this thing probably isn't going back to Cleveland.
Lead Photo: Dan Hamilton-USA TODAY Sports