Toronto Blue Jays @ Texas Rangers
Thursday October 6th, 2016
Written by Mike Passador and Joshua Howsam
Buck Showalter strode off the mound fresh off a conference with Ubaldo Jimenez. Perhaps he told the lanky right hander to take his chances with Edwin Encarnacion rather than issue a free pass and face Jose Bautista with the bases loaded. Perhaps he told Jimenez to serve up a middle-middle fastball so they could sleep in their own beds tomorrow. Whatever was said, Encarnacion planted the pitch in the second deck and himself in Blue Jays lore with a mammoth blast.
Those heroics bring us here.
Here, of course, is Arlington, the spot where so many (fans and impartial viewers alike) hoped the path would lead. Buckle up.
The Blue Jays toyed with disaster in the season's final weeks but found a way to get it done. The same symptoms of distress persisted in the wild card game, namely the team's continued ineptitude with runners on base. Aside from a clutch single from Ezequiel Carrera, all of Toronto's runs came on longballs. Three double plays certainly didn't help the cause, but the Jays found a way to get it done yet again and dispatched the rival Orioles in extras.
The Blue Jays will face the Texas Rangers in the ALDS for the second consecutive season and will be looking for similar results. In a bit of role reversal from last season, it's the powerful Rangers who earned the AL's top seed and enter the series as favorites. The Blue Jays went 4-3 in their seven games against Texas this season (though just 1-2 on the road) after eliminating the Rangers in a drama-filled Game 5 in last year's postseason. Punctuated with Jose Bautista's bat flip for the ages, the aggrieved Rangers would try to exact some revenge in the seventh and final game of the regular season set and things got physical.
With two good teams who don't like each other much and two good pitchers on the mound, expect a close, fiery game to kick off the ALDS.
Pitching Matchup:
Thursday, October 6th – 4:38 PM ET
Marco Estrada (9-9, 3.48 ERA, 4.40 DRA) @ Cole Hamels (15-5, 3.32 ERA, 2.65 DRA)
Many assumed that this would be J.A. Happ's start, allowing Sanchez to go in game two and thus be available for a game five, but the Jays have turned to last year's postseason standout, Marco Estrada. The changeup specialist had a strange season, as he continued 2015's dominance well into August, then suddenly went through a spell where he gave up 25 runs (24 earned) in 28 innings across six starts. That rough patch caused a lot of concern, as it was accompanied not just by a dip in velocity, but also a drop in the league-high "rise" on his fourseam fastball (see chart below). The common viewpoint was that his ailing back was finally starting to affect his on-field performance…when all of a sudden he turned right back into the pitcher from the first half. In his final three starts of the season, Estrada allowed just two runs on nine hits in 19 innings, striking out 19. Part of the turnaround was simply due to increased command and velocity, but he also began throwing fewer cutters. This seems like a good plan, as batters are slugging .535 on the pitch. If he continues to throw the ball as he has recently, the Rangers will be in some of trouble.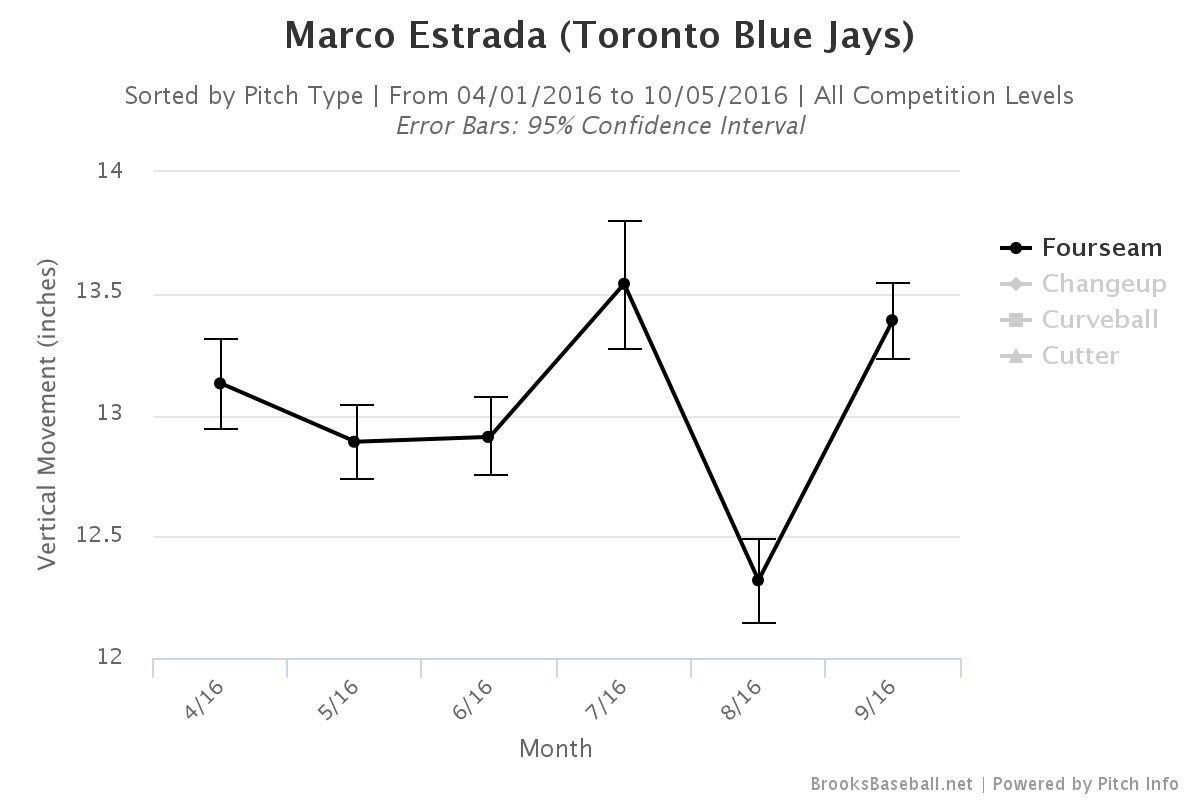 The Blue Jays managed to miss Hamels both times they played Texas, meaning the last time any of their hitters has seen the Rangers ace was in last year's ALDS. Just in case they haven't been paying attention, he's still very, very good. Though he scuffled a bit down the stretch (6.75 ERA in his last six starts), Hamels was easily the Rangers' best starter on the season. He topped 200 innings pitched and 190 strikeouts (he finished with 200) for the seventh straight year. Like Estrada, Hamels relies on a plus changeup, especially when facing right-handed hitters as exist on the Blue Jays, but this year he has also heavily increased his use of the cutter. In fact, he now throws it almost as much as his fourseam fastball (see chart below). The heavily varied pitch mix will be an adjustment for the Blue Jays, who seem to have trouble with pitchers who rely on multiple offerings. They'll have to force Hamels to get the ball up, or it could be another low-scoring output from Toronto's offence.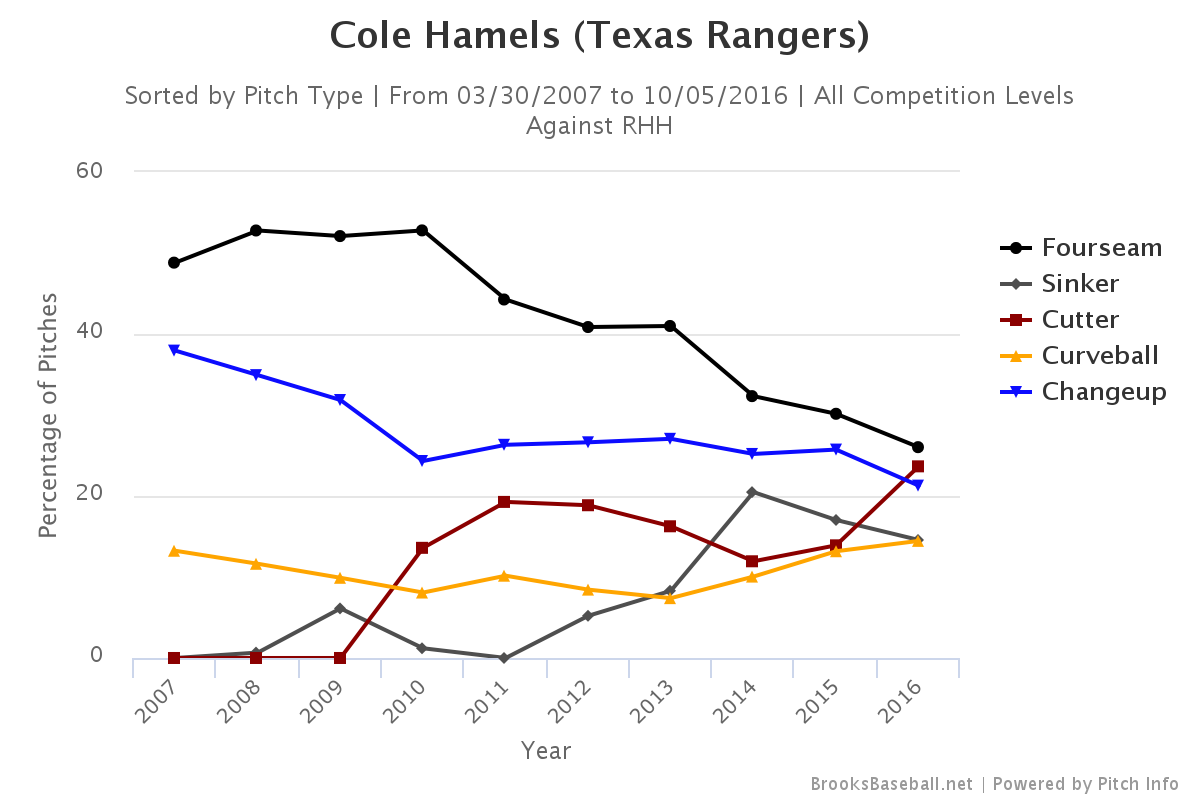 Keep an Eye On
Bullpen Pecking Order

The much-maligned Toronto bullpen deserves full marks for their work in the wild card game. Brett Cecil, Joe Biagini, Jason Grilli, Roberto Osuna and Francisco Liriano combined for five shutout innings and bought the offense enough time to push the team through to the next round of postseason play. It would seem as though those are the pitchers in John Gibbons' circle of trust at the moment and they'll be the ones counted on for the remainder of October.
The mighty Rangers present some more difficult matchups thanks to a fairly even left/right split throughout the entire lineup. It makes the matchup game a puzzling one for Gibbons and might necessitate some uncomfortable at bats. To wit, Brett Cecil was pulled in the 7th inning after walking Chris Davis. Right-handed Joe Biagini was brought in to take on righty Jonathan Schoop (who actually fares better against righties) and left handed Michael Bourn. Gibbons played the (traditional) matchups and it all worked out, but it might not be so easy against the Rangers.
The Jays probably won't have the same luxuries against Texas, whose Odor-Lucroy-Choo-Moreland run seems like Cecil's territory. That looks like the safest bet but will also require a tough at bat against the right-handed Lucroy. Could they turn to a righty to take on Lucroy and then work through the next two batters? Or will they let Cecil sink or swim? The context of the game will help make the decision but there will be some major risk-reward moves made deep in games.
It will be interesting to see how Gibbons navigates the late innings with his limited slate of trustworthy relievers.
The Running Game
With the deadline addition of Carlos Gomez, the Rangers now feature four players with double digit steals (Elvis Andrus, Ian Desmond, Rougned Odor, and Gomez), not to mention part time speedster Delino DeSchields Jr. After catching a league-leading 43.8 percent of basestealers in 2015, following back-to-back years of 38.4 percent rates, Russell Martin's caught-stealing rate plummeted to a league-worst 16.4 percent among catchers who caught at least 85 games. When combined with Estrada on the mound – he allowed the 10th most stolen bases in the AL (12) – look for the Rangers to attempt to take a few extra bags in this game.
Power Displays
The Rangers lineup currently boasts seven players who have hit 20 or more home runs this season, including two players who topped 30 (Odor and Beltre) and that's not counting Carlos Gomez. Gomez has been on an absolute tear since being acquired from the Houston Astros, hitting .284/.362/.543 in a Rangers uniform with eight home runs in just 33 games. He is definitely showing the form that made him a two-time All-Star with the Brewers.
On the flip side, the Jays have a number of mashers of their own. Edwin Encarnacion led the way with 42 long balls (plus one notable postseason home run), with Josh Donaldson not far behind him at 37. In addition to those two top of the order mashers, five other players hit 20 or more bombs, two of whom hit 24 (Michael Saunders and Troy Tulowitzki).
Ameriquest Rangers Globe Life Ballpark in Arlington (close approximation) isn't quite the home run park it is known for, but with Estrada and Hamels on the mound (neither of whom is particularly home run stingy), don't be surprised if a few balls find their way to the seats in this game. You might see a bat or two flipped as well.
Bad Blood

When you think about it, Hero and Villain are relative terms.
Jose Bautista enters this series with a bullseye on his back from just about every angle after his franchise-shaping dinger and the immortalized bat flip that followed led into a mid-may dustup between the two squads. For those who need a refresher, the man they call Joey Bats authored a signature moment by crushing a Sam Dyson pitch deep to left for a three run home run that recaptured the lead in a crazy seventh inning in the deciding game of last year's ALDS. The Jays and Rangers played six games without incident this season, only for the aggrieved Rangers to take out their frustrations in the final regular season meeting between the clubs. In what was presumably Bautista's final at bat of the game, he was plunked by rookie Matt Bush. He slid hard into second and angered Rougned Odor, who promptly landed a hard right hook on Bautista's jaw. A real brawl followed, as did a continued war of words.
This is one of the matchups that the baseball world seemed to be clamoring for. If X represents the number of times we'll see the bat flip in the next week, X+1 might be the number of times we see Odor's punch. Tensions will be running high on both sides and the conversation is already dominating coverage of this series. Sam Dyson chose not to talk about it while Bautista offered a lengthy response to being disliked. The best quote on the matter comes from the Toronto slugger: "I'm not looking for revenge. I'm looking to win ball games."
Winning games is truly the best revenge. Hopefully both sides remember that nugget and set aside the frivolous macho crap to focus on a huge set of baseball games.
Probable Lineup
| | |
| --- | --- |
| Toronto Blue Jays | Texas Rangers |
| Devon Travis – 2B | Carlos Gomez – LF |
| Josh Donaldson – 3B | Ian Desmond – CF |
| Edwin Encarnacion – 1B | Carlos Beltran – DH |
| Jose Bautista – RF | Adrian Beltre – 3B |
| Russell Martin – C | Rougned Odor – 2B |
| Troy Tulowitzki – SS | Jonathan Lucroy – C |
| Michael Saunders – DH | Shin-Soo Choo – RF |
| Kevin Pillar – CF | Mitch Moreland – 1B |
| Ezequiel Carrera – LF | Elvis Andrus – SS |
via Roster Resource
Final Thoughts
The Blue Jays head to Texas with a pair of daunting pitchers waiting for their arrival. In what's surely to be a heated series, the Jays could do themselves a major favor by getting off to a quick start and winning one on the road. While that's no small feat against Hamels and Darvish, the Jays will be countering with top notch starters of their own. If they can knock a timely hit or two they can set themselves up nicely for the trip back home.
Lead Photo: Jerome Miron-USA TODAY Sports