The Blue Jays Stuff Report will be appearing in this space every two weeks. The metric was created by Dr. Mike Sonne, who has a PhD in biomechanics from McMaster University. For his work on pitcher fatigue, injury, and other baseball related research, please visit his website over at www.mikesonne.ca.
The Blue Jays stuff report – volume 6 – now with no artificial sweeteners!
Blue Jays Starters
No one wants to see the Stro show struggle (except maybe @GideonTurk). After his latest loss, he claimed he was feeling a lot better about his stuff.
"I know it didn't look it but I felt much better out there." https://t.co/1kLhAED7Ns #BlueJays

— Shi Davidi (@ShiDavidi) June 26, 2016
Looking at the stuff report, Stroman has started to climb back to where he was at the end of the 2015 season. As Kyle Matte mentioned – it seems that a good amount of Stroman's struggles can be related to the lack of difference between his pitches. This is reflected in the stuff metric by his relatively small difference in velocity between offerings (only 12%), and lack of depth in the range of break (once again, only 12″). His velocity seems to be up though – so let's keep hoping for better times for Stro in the immediate future.
Something to look out for: Marcus Stroman's fastball yesterday was the fastest it's been since… well, ever. pic.twitter.com/vL0OTZD1TV
— ℳatt (@matttomic) June 27, 2016
Everybody else seems to be holding steady, with the exception of Marco Estrada, who has taken a small step forward. Sanchez remains elite, and Happ and Estrada are sitting right around average (or slightly below). Dickey, of course, is not measured properly due to his use of the knuckleball.
Blue Jays Relievers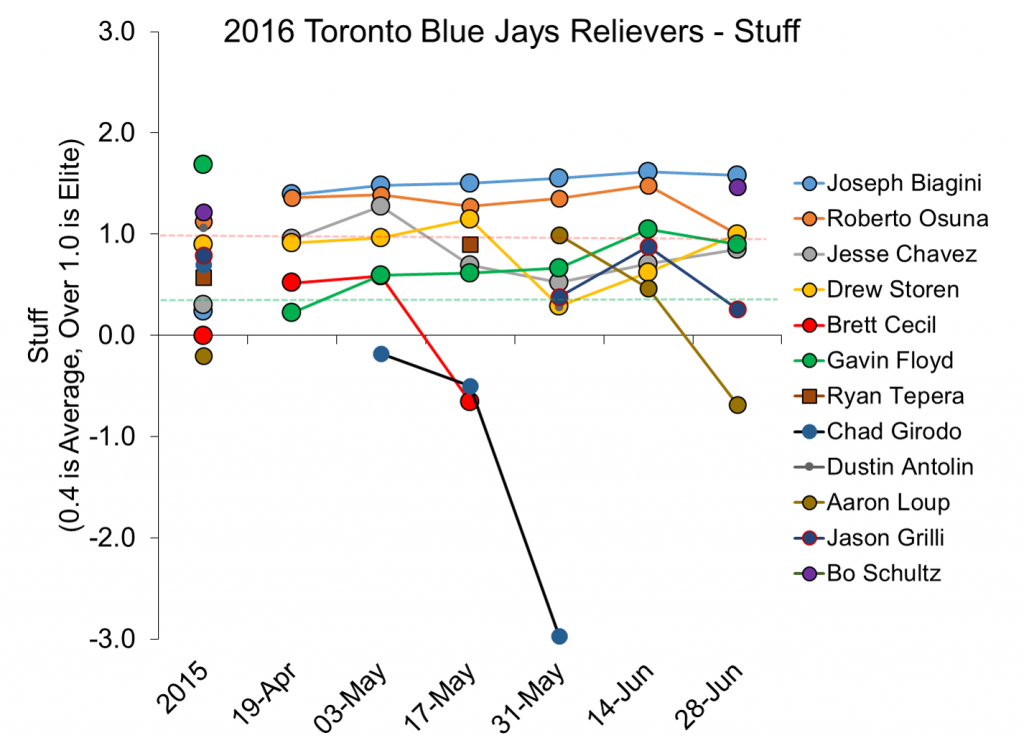 Reigning Blue Jays relief stuff champion Joe Biagini holds steady at the top through volume Six of the stuff report. Osuna appears to have had a drop off in stuff, but keep in mind that he also had quite a few days off in the past couple weeks. Look for Roberto to be back in the high end of the Stuff metric in Volume 7. Drew Storen seems to be rebounding of late, which combined with some better command, has produced results closer to those desired by the club when they traded for him.
The new comer to the Stuff report this week is former podcast guest, Bo Schultz. If you watched Sunday's game against the White Sox (and ignore the fact he got taken yard by JB Shuck…), you can see why. According to both the Sportsnet and WGN tickers, Schultz was touching 100mph with his fastball, and he managed to strike out the side (around that one mistake that ended up in the right field bleachers). Fun fact – it took me almost 10 minutes to find the 100 emoji so I could send it to a friend. Not my proudest moment. Welcome back, Bo.