I've written a couple of articles about Marcus Stroman for Baseball Prospectus Toronto this year. In March, I wrote that the Blue Jays needed to sign him to an extension that resembles the one Corey Kluber inked with Cleveland last year. Two weeks ago, I wrote about a way to try to fix Marcus' struggles, by throwing the four-seam fastball more often, and higher in the zone.
Today, I'm saying that the Blue Jays need to send Marcus Stroman down to the minor leagues, be it Buffalo, New Hampshire, or whichever team the Blue Jays management trusts the most. I'm not linking these pieces in this paragraph so you'll go and read them. Hopefully you already have, and if you haven't, feel free. But I'm linking them because they represent what has occurred to Stroman in 2016. This was supposed to be his year. He worked so hard to get back on the mound in 2015, and when he did, he dominated, winning all four of his starts in the regular season, and one more in the playoffs. The Blue Jays didn't make the flashiest moves to bolster the rotation in the off-season, making this Stroman's rotation to lead in 2016. He got the opening day start. Some people were even picking him to win the Cy Young award. Everything was looking up.
But, as we all know, he has fallen flat. After yesterday's shellacking against the Orioles, his ERA now stands at 5.23. His stand rate is just 63.2%. Simply put, too many runners are reaching base, and once they are there, they are coming around to score. And it's not hard to see where the problem has been in his game. Example A: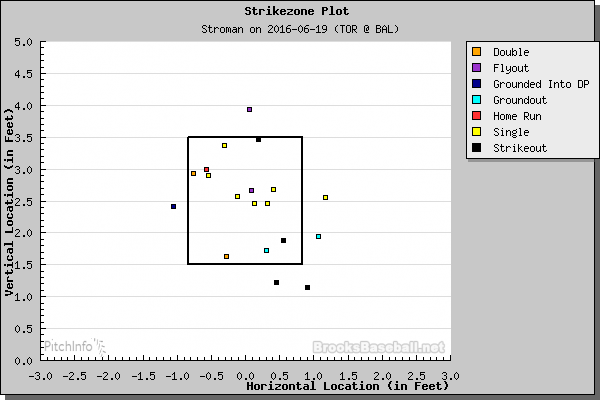 That's the strike zone plot from Stroman's start against the Orioles yesterday. In the upper half of the zone (or right under the line), you have seven singles, a double, a home run, two flyouts, and a GIDP. That's a .750 batting average. In 2016, batters have hit Stroman to the tune of .366/.416/.707 on pitches in the upper half of the strike zone. For comparison, in Stroman's 2014 season, they hit .225/.266/.313 on those same pitches.
For Stroman to succeed, he cannot be throwing his sinker at the top of the zone. When he does, the batters hit it. Hard. This is different than what I proposed in the article a couple of weeks ago, when I suggested Stroman should start to throw his four-seam fastball high in the zone. The goal of that pitch selection would be to change the eye level of the batter. Stroman isn't trying to throw the ball up there. He's just missing his spots.
After reinventing himself over the past few years as a contact pitcher, Stroman has come to rely more and more on the sinker. It is what allowed him to post a 64.1 percent groundball rate in 2015, and a 58.7 percent mark thus far in 2016. When he's getting the ball down, he's just fine. But when that pitch doesn't work out as intended, Stroman doesn't work. It's of the utmost important that he is able to control it. Right now, he's not.
That's why Marcus Stroman needs to be sent down to one of the Blue Jays minor league affiliates.
The Blue Jays currently sit three games back in the AL East. The Boston Red Sox don't seem to be going away anytime soon and the same goes for the Orioles. This is going to be a three team race for the rest of the season. The Blue Jays can't afford to have Stroman figure things out at the major league level. Not when every game matters.
After Sunday's game against the Orioles, the Blue Jays won't be playing an AL East opponent until July 29th. That's a span of 39 days. Some might argue that because these games aren't interdivison games, it's fine for Stroman to stay in the bigs and try to find his control. I think the complete opposite is true. Stroman needs to be 100 percent when the Blue Jays start to play the Orioles and Red Sox once again next month. In order for that to happen, beyond getting his control back, he needs his confidence back. Continuing to get on that major league mound every fifth day and getting shelled each and every time out there isn't going to get his confidence back. What could get it back is going down to the minor leagues, working with the necessary coaches to fix his control, and mowing down minor league lineups.
There is also a replacement for Stroman waiting in Buffalo for a scenario just like this one. Without it, this plan wouldn't work. Drew Hutchison, the Blue Jays 2015 opening day starter, has been dominant in AAA. In 13 games started, his ERA sits at 2.87. He has struck out 85 batters and only walked 26. By all reports, his slider is nasty once again. It definitely looked good in his lone start with the Blue Jays in 2016. It's not like the Blue Jays would be calling upon Ramon Ortiz or Chien-Ming Wang to make a few starts. Hutchison is a player who has had success in the past, and is only in the minor leagues at all because of the success of the rest of the Toronto rotaiton. With the Blue Jays offense potent once again, they can win with Drew Hutchison on the mound. The same cannot be said for Marcus Stroman recently.
At this point, it's not fair to Stroman and to the team to keep on throwing him out into the fire and expecting him not to get burned. He's young. He's a competitor who will do anything to succeed. If that includes going down for a few weeks to get his mojo back, it needs to happen. The Blue Jays management, coaches, and Stroman will surely have some talks this week as to how to proceed, because everybody knows something isn't right.
There are two off days this week, so theoretically Stroman's next start can be pushed back a while if they want to give him another try in the big leagues with some additional rest and time to work on things. That could be a solution, but I don't think it will be. I think he needs to go down to Buffalo. I hear it's pretty nice this time of year, maybe he'll enjoy it.
Lead Photo: Dan Hamilton-USA TODAY Sports