The Blue Jays were supposed to have one ace this season. Instead, they have three. Unfortunately, that three doesn't include Marcus Stroman, which is a bit concerning considering he is supposed to be the guy leading the Blue Jays rotation into the next decade. It doesn't require much analysis to come to the conclusion that Stroman hasn't been good in 2016. If you'd like to use ERA to measure what has happened, his ERA now stands at 4.82 after Saturday's disaster against Boston. If you're more of a FIP person, he's at 3.73, which is fine, but not for somebody who has some of the nastiest stuff in the league. Prefer DRA? Stroman's at 5.02. Again, not at all where he should be.
The funny thing about Stroman's season is that his stuff has still been really good. When you watch him pitch, you probably marvel at the movement he gets. And yet, he's struggling. It's not his control that has been the issue. He's walked 7.4% of batters faced this season, which rates out as above average. There's actually really only one number that sticks out at you when you look at his basic statistics that explains why he is struggling. He isn't striking batters out. In fact, only 16.2% of the batters he has faced in 2016 have struck out. That's not ideal.
Sometimes that is fine. Not everybody is a strikeout pitcher. There is more than one way to skin a cat. However, for this particular cat, be it the American League batter, the best way to skin it is to strike it out. Stroman probably knows this, and after his last outing in Boston, he told reporters that he is going to make adjustments to improve:
"I just have to find out what's been going on, work on it and get back to how I have been in the past."
In the past, Stroman used to strike batters out. A lot of them, actually. In the minor leagues, the lowest K% he had in any given stop along the way was 21.1%. That's more than fine. However, the Stroman from three years ago is a completely different animal than what he is today. When he was being developed, he was a power pitcher, relying on his four-seam fastball to get batters out. He would throw it up in the zone, and often, and it worked. But it stopped working when he came to Toronto, so he grew. As the pitching coaches like to say, he became a pitcher, instead of a thrower. He developed his two-seamer. He developed his breaking stuff. And he basically rid his repertoire of the four-seam fastball.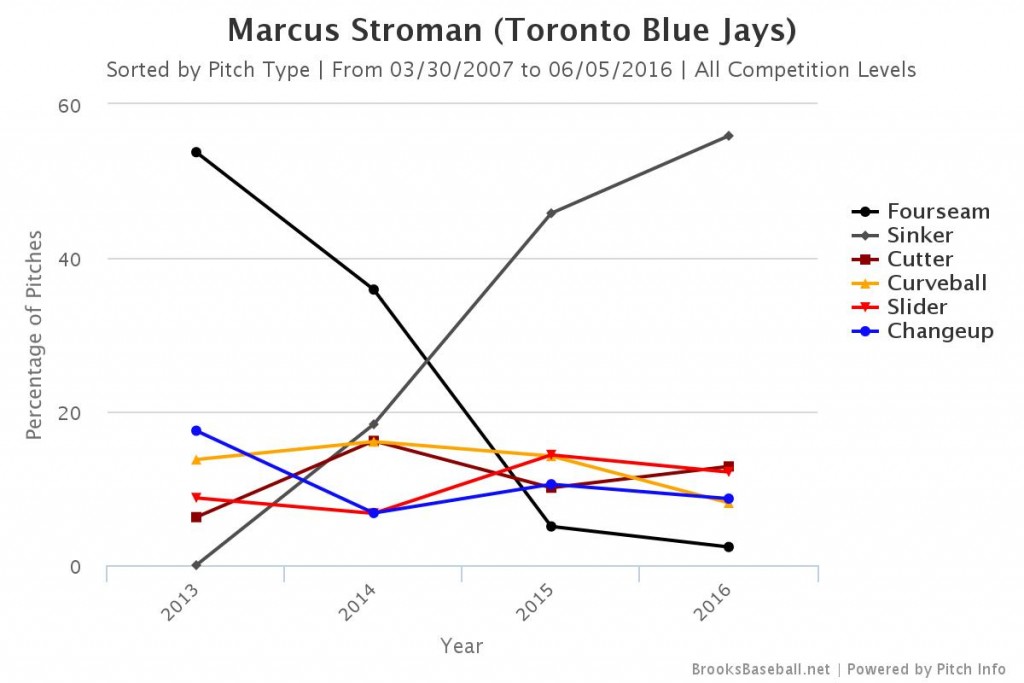 Marcus Stroman went from using the four-seam fastball 53.75% of the time in 2013 to just 2.37% in 2016. That drop is reminiscent of Jeb Bush's polling numbers in the same time period. Not good.
Throwing more four-seam fastballs in and of itself isn't a solution. After all, most fastballs of that variety are just straight pitches that don't exactly fool batters. However, it becomes a weapon when it has strong velocity, which Stroman's definitely does, and when it is used in the right places and right times. For example, here is a sequence from Stroman earlier in the year against Adam Eaton where he went to the four-seam fastball and got a strikeout:
Pitch 1: Cutter
Pitch 2: Cutter
Pitch 3: Slider
Pitch 4: Four-seam Fastball
Batters not named Kevin Pillar usually step up to the plate with a plan, and the more pitches and more variety a pitcher features, the more success they will have because the hitter will have a harder time guessing what is coming. As Joshua Howsam and Steve McEwen have highlighted numerous times in their rotation reviews this season, that is how J.A. Happ is continuing to dominate the opposition despite not having anything particularly sexy in his repertoire. He changes up his arsenal and pitch usage every start, and this is able to keep hitters off balance. Stroman has to do the same with the four-seam fastball. He is throwing his two-seam fastball at a 48.9% rate this season, 7th highest among qualified starting pitchers. Hitters are able to look for that pitch, and anytime Stroman makes a mistake, they are able to pounce on it. If Stroman starts to mix in more four-seamers, it will add another area in which Stroman can have the upper hand against batters.
However, the four-seamers shouldn't just be thrown anywhere in the strike zone. Let's revisit the Adam Eaton plate appearance from earlier. Look where pitch number four, the strike out fastball, was located.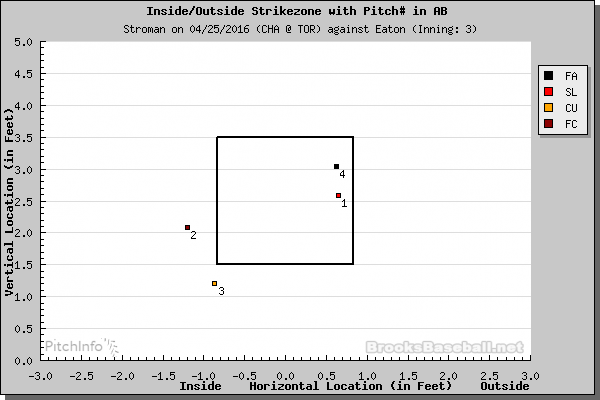 Up in the zone. Eaton has no chance.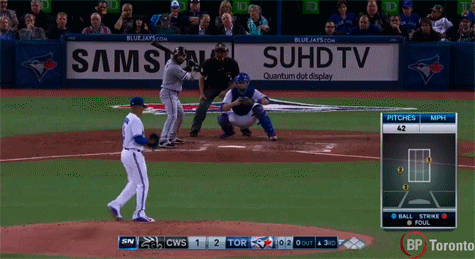 Stroman, being a heavy groundball pitcher, pounds the bottom of the zone most of the time. Stroman should start to throw the four-seam fastball high in the strike zone to try to get batters to swing and miss right through it. Currently, if you're a batter facing Stroman, you just have to focus at the bottom of the strike zone and you're sure to get a pitch to hit. If Stroman starts to throw the four-seam fastball up, that adds another area where the hitter needs to protect. This is similar to how another Blue Jays pitcher has had success, Marco Estrada. Batters are so used to everything being down and fastballs that fall, that because Estrada's fastball has "rise" on it, he is able to throw it in spots that usually lead to hard hit balls, and instead induce weak fly balls.
Not only should Stroman diversify his fastball usage, but he has a similar problem with his breaking balls. Not so much that he is using one more than the other, but that his slider and curveball are so similar in movement and velocity that their effectiveness has significantly declined. Kyle Matte wrote about this last week on BP Toronto, and this is the main takeaway from his fantastic article:
"When everything is in the lower half of the zone and thrown within a 12 mile per hour velocity band, it doesn't matter how good each individual pitch is; the batters can undeservedly find some level of comfort."
Marcus Stroman is struggling. He needs to change his approach, or hitters will continue to take advantage of his incredible sameness. Throwing the four-seam fastball more often and altering his grip on one of his breaking pitchers are just a couple of ways he can do that to try to regain the dominance he has featured "in the past."
Lead Photo: Winslow Townson-USA TODAY Sports