I have, once again, deemed it appropriate to have another edition of One At-Bat. And you, presumably, have deemed it appropriate to read it. Wonderful! We've gotten off to a great start.
If this is your first time with One At-Bat, it's not really complicated. You get a recap of exactly One At-Bat, pitch by pitch. Sometimes I wander outside of the format for dramatic effect, but today's OAB is exactly as advertised. Often in these pieces, I have to immediately eliminate really important, game changing plate appearances, because the batter puts one of the first two pitches in play. Great hitting, but not much to dissect. Other times, I eliminate an otherwise compelling battle between pitcher and hitter because the result is underwhelming. Every story needs a beginning middle and ending, these lack endings. Sometimes I feel like the story has already been told better somewhere else. Often there is an oral history of memorable OAB. For example, Joe Carter does not need the OAB treatment; he and Mitch Williams have already explained it all in their own words.
Now, on to today's selection. This At-Bat was never a threat to be eliminated on any of those grounds. At the risk of giving too much away, pull up a chair, this is going to take more than a few sentences to get through.
Our featured plate appearance occured Friday, June 3rd in Fenway Park. In the top of the 8th inning. Koi Uehara, Boston's 41 year old former closer, (still effective, but usurped by the younger, more dominant Craig Kimbrel in an offseason trade), is in a 3-1 game. He struck out Michael Saunders and then walked Justin Smoak. Devon Travis, off the disabled list earlier than expected because of Troy Tulowitzki's trip there, is coming up to bat.
The Setup:
Koji is, as I mentioned, a former closer. His stuff, though is not typical of closers. He throws primarily two pitches, a not very fast fastball (87mph) and a very nasty splitter (78mph). Koji combines these pitches, and elite control of them, to make himself an effective reliever. Since 2009, his K/9 is 11.49 (17th among relievers), BB/9 1.32 (1st) and ground ball rate is 31.4% (11th). Batters either strike out, or hit harmless fly balls. Pretty awesome.
Devon Travis, as a rookie, while playing injured for a month, hit .304/.361/.398. Alas in 2016, his early return has shown to be a tad premature, and he's slashing .150/.188/.250. So, Devon, meet Goliath.
The Sequence:
Koji gets the at-bat started with a fastball, low and away, and Travis lays off. Time for a quick visit from the catcher.
The second pitch is right on the outside edge, another fastball, and Travis takes it for a strike.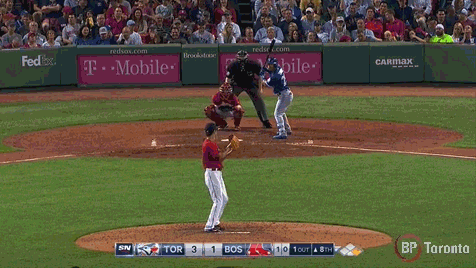 Pitch three is a fastball again, and Travis overswings a bit and misses it completely. 1-2 count. After a 1-2 count, Uehara has a history of striking out 50.5% of the batters he has faced.
The catcher calls for the fastball again, Eckersley notes on the Sox broadcast that "high gas" is what he's asking for, but high and away is not tempting for Travis.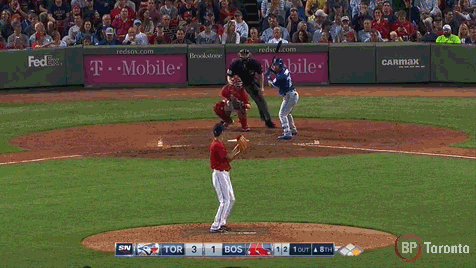 That's four fastballs in a row, and the count is 2-2. Travis hasn't seen Uehara's other pitch, you know, the tough one.
Which is why, with two strikes, it's almost guaranteed to show up now. And it's on the inner half and up. This isn't where Koji wants to put splitters to right handed batters, observe the heat maps: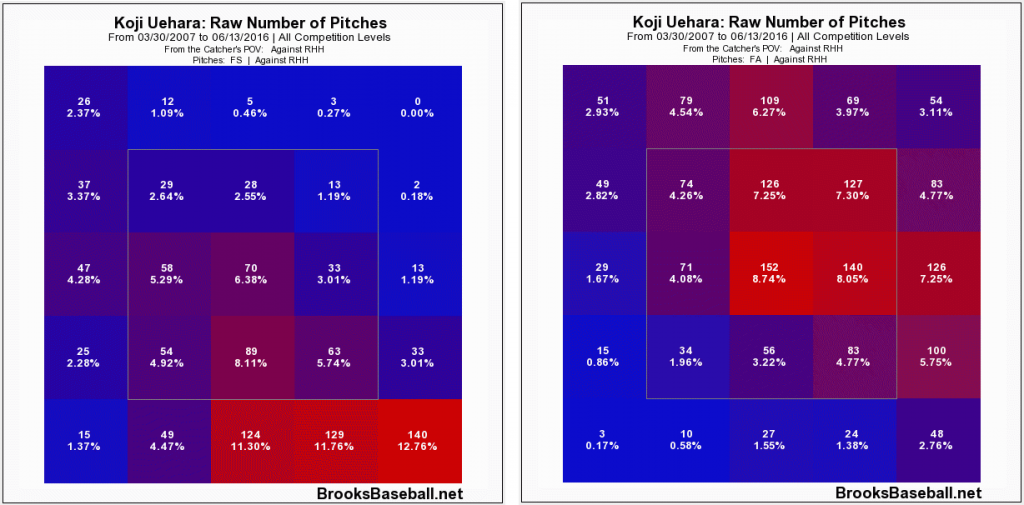 On the left is Koji's splitter location vs. RHB, on the right, his fastball location. The formula is pretty consistent. Keep the splitter low and preferably away, where it will induce weak contact when the batter is thinking fastball. Throw the fastball in the zone, from the center to up and away, keeping it away from anywhere hitters can pull the ball consistently. It's worked thousands of times. So far, he's put exactly one pitch in the target zone, the called strike on the black, away.
Uehara's splitter, as we said before, is up, so Travis hooks a fly ball foul. He's seen five pitches, and probably three that were not where Uehara imagined them.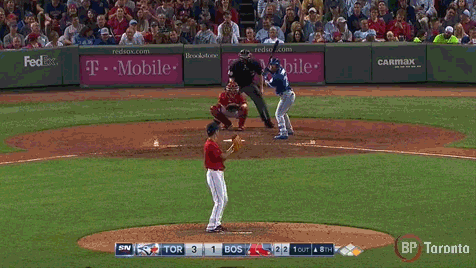 Pitch six is back to the fastball, but instead of putting it on the outside black, its almost in the opposite batter's box. Devon Travis is one more mistake away from a free pass to first. On the other hand, Koji has already walked one in the game, that's usually his total for three week's worth of work.
Pitch seven is a splitter again. Strangely, it's in the upper half of the zone again. Travis just clips it on it's way by and it skips foul to the backstop.
Pitch eight is splitter number three. And a full swing from Devon Travis sends another fly ball sailing foul down the left field line.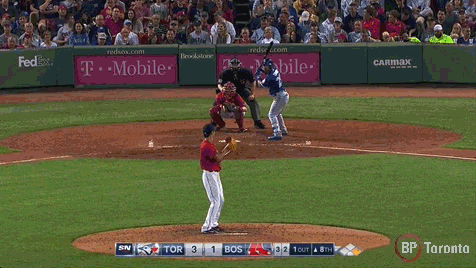 Unbelievably, Travis seems to be homing in on the splitter at this point. It's been in the top half of the zone again and again. Both players reload with a new baseball.
Pitch nine. Yes nine. Full count, and nine pitches in and the .150 hitter is still hanging around, seeing if he can figure out strikeout master Koji Uehara in real time. Isn't baseball great?
It's a fastball, and, though Travis drops the head and fouls it off, he's clearly off balance. He's timed the splitter, and is fighting the fastball. Eckersley calls it from the booth in Boston. Does the Red Sox battery see that?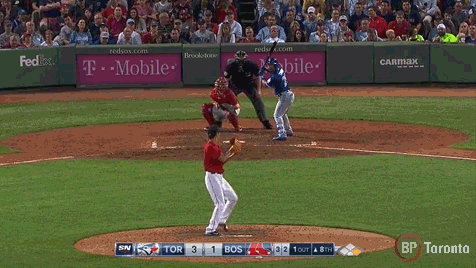 Pitch ten, splitter up in the zone, and Travis is still not quite where he wants to be, just managing to get a piece of the splitter that comes in above the belt again.
The Payoff:
Yes, I didn't write "The Payoff" until eleven pitches into the At-Bat. Justin Smoak is running on every 3-2 pitch, and that means he's run enough to round the bases completely clockwise, and jogged just as far counterclockwise to go back to where he started. Isn't baseball great?
The next pitch is a splitter, the fifth one that Travis has seen in the last couple of minutes. He was never that far off of it, and as soon as the ball and bat meet Dennis Eckersley says "Oh!" in a dejected sort of way. The ball hits the baggies above the back of the Monster seats, and Travis adds to the Blue Jay lead, making it 5-1.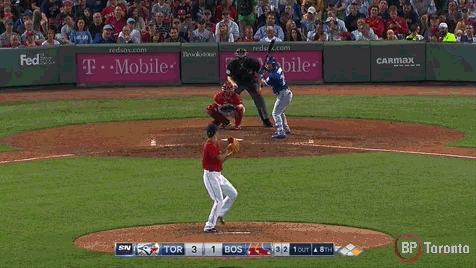 If you ever wondered whether a young catcher makes a difference, reading swings and calling games, well, Christian Vazquez is a rookie, and he might have learned a painful lesson right there. He had eleven pitches to find something that worked, but Koji didn't help him by failing to have the finesse we're used to seeing from the Red Sox setup man.
The lesson gets just a touch more painful when you consider that the Sox will go on to rally in the 9th, and this game will end 5-4. Sometimes it's the little things that make for a big play.
Lead photo credit: Kim Klement-USA TODAY Sports