Since they say starting pitching wins championships, each time through the rotation we're going to break down each individual start to see what the pitchers did well and what they didn't, with an attempt to go a little bit deeper than just the box score. You can read all past Rotation Reviews here.
The Blue Jays starting rotation was coming off a disastrous overall week, which was mostly due to J.A. Happ's meltdown against Tampa and some shakiness from Sanchez, but they looked to get on track with a few games against the lousy Twins. Let's see how they did.
MARCUS STROMAN
Line: 5.2 IP, 13 H, 7 R, 7 ER, 2 BB, 2 K, 0 HBP, 0 HR, 60 strikes, 38 balls
Pitch mix: 1 Fourseam Fastballs, 55 Sinkers, 8 Changeups, 11 Sliders, 12 Curveballs, 15 Cutters
This was one of the worst starts of Marcus Stroman's career, as the seven runs allowed represent the most since Stroman debuted in the big leagues in early 2014. The Rays were all over him from the very beginning, scoring one run in the first, three in the second, and another one in the third. Even in his shutout inning (the fourth), the Rays managed to get a hit. The Blue Jays number one starter clearly just didn't have it on this day. Unfortunately, this start was coming on the heels of J.A. Happ getting torched by the same Rays team, so Stroman was forced to pitch into the sixth inning. Finally, after giving up yet another double (the fifth extra-base hit of the game) and a walk, Pat Venditte was called in to try and clean things up.
Stroman doesn't get a lot of swings and misses to begin with, but this start was especially bad. The Rays swung and missed at just four of his sinkers (28 swings on 55 pitches), no changeups or sliders, and just three curveballs. When you're not missing bats at all, it's tough to win. The biggest reason he was having so much trouble getting whiffs is also the reason he gave up so many extra-base hits. He just couldn't get the ball down. As you can see from the graph below, almost everything was in the middle of the plate, or well off of it. When you throw the ball there, you're going to get hurt.
There isn't really much more to say about this outing. Like Happ last time around, Stroman clearly just did not have his command. Every starter just has games where they can't get anybody out (except maybe Clayton Kershaw), and this was one of his.
R.A. DICKEY
Line: 6.0 IP, 8 H, 5 R, 4 ER, 1 BB, 6 K, 0 HBP, 3 HR, 65 Strikes, 38 Balls
Pitch Mix: 96 Knuckleballs, 5 Twoseam Fastballs, 2 Fourseam Fastballs
This outing started pretty well. Dickey struck out the first two batters of the game, and had four through his first two innings of work. In fact, he was cruising until with one out in the fourth inning Logan Morrison and Desmond Jennings took him deep for back-to-back home runs. He gave up an unearned run in the fifth, then allowed a two-run homer to Kevin Kiermaier in the sixth inning. It was an interesting outing, as the only time Dickey ever appeared to be in any actual trouble was the second inning, with runners on second and third and two out (thanks to a passed ball), but he didn't give up a run. All of the Tampa scoring came in a flash, with the three home runs.
Dickey struggled to get ahead of batters in this game, throwing first pitch strikes to just 14/27 hitters, but that wasn't really the reason he got hurt.  He threw strikes for most of the game, and his knuckler was dancing. However, it's no secret that velocity on the knuckler is what helps make Dickey successful. As mentioned last week, that has been trending up lately (see graph below). Unfortunately, the first two home runs came on knuckleballs at 73 and 74 mph, respectively. The third came in at 78, but was up and in and Kiermaier just turned on it.  As long as he continues to throw the pitch hard, he should be hurt far less often.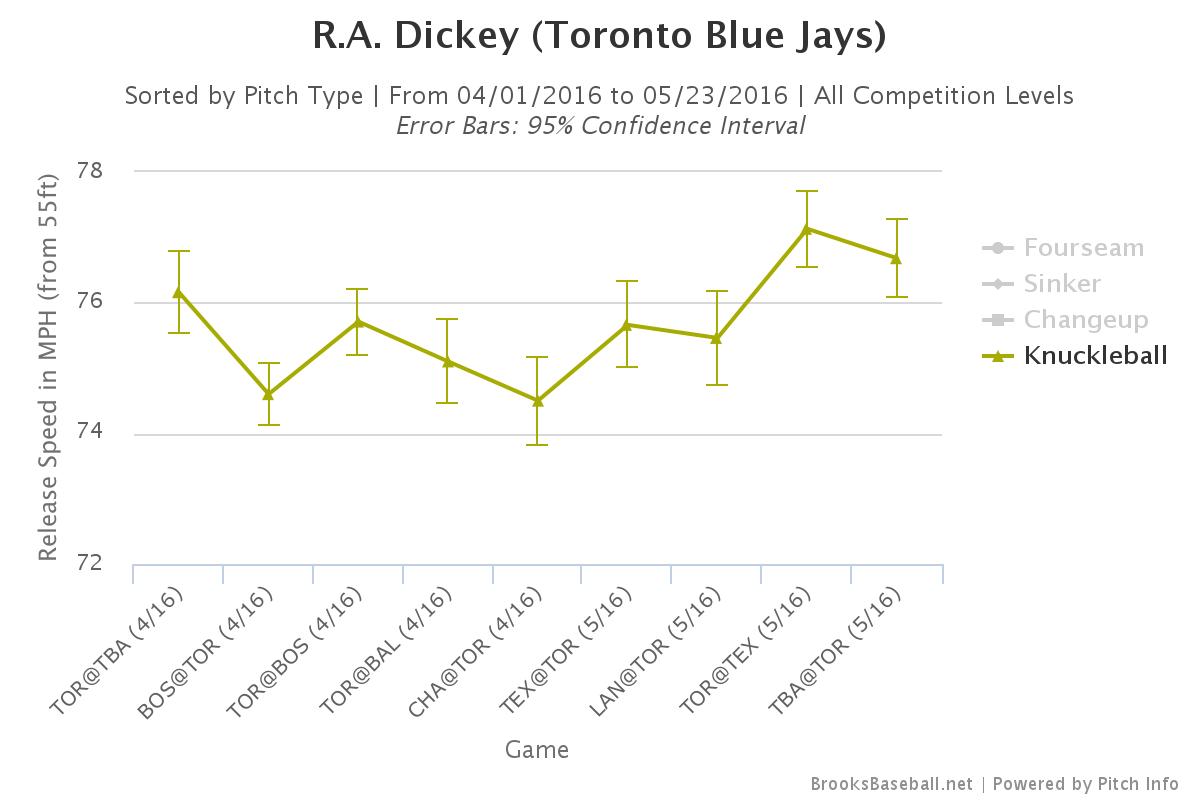 The six strikeouts and the one walk are encouraging signs, and this is the first time this year where Dickey has really had an issue with home runs, so this is still an overall decent start.
MARCO ESTRADA
Line: 8.0 IP, 3 H, 2 R, 1 ER, 1 BB, 9 K, 0 HBP, 0 HR, 68 strikes, 36 balls
Pitch Mix: 57 Fourseam Fastballs, 27 Changeups, 9 Curveballs, 11 Cutters
Facing the lowly Twins, expectations on Estrada were pretty high for this start, and he didn't disappoint. After allowing an unearned run in the first inning and a run off a bunt single in the third, Estrada was untouchable. He kept the Minnesota hitters off-balanced all night, matching his season high with nine punchouts, while also putting up a season low one walk. Of the nine strikeouts, seven were swinging, and Estrada generated 15 whiffs on 48 swings. That is good for a 31.25 percent Whiff rate, with league average hovering just about 22 percent. So clearly, the Twins just couldn't handle what Estrada was throwing up there.
As usual, Estrada caused his fair share of popups and flyballs (13), but what's most important is that he continues to limit hard contact. He has yet to allow more than five line drives in a single game (this one, in fact, though two were off the end of the bat), and when you avoid those, the odds of having success go way up.
Estrada did a ridiculously good job of working up in the zone with his fastball (and its 12.5″ of 'rise'), and down in the zone (or out of it) with the changeup and curveball. By constantly changing the hitters' eye level in addition to changing speeds (see below), the Twins just had no chance. When Estrada is locating the way he was in this game, it's very tough on opposing batters. Sadly, Estrada didn't get the win because of the lousy Jays bats, but he continues to look every bit like the front of the rotation guy he was last year.

AARON SANCHEZ
Line: 7.0 IP, 8 H, 2 R, 2 ER, 0 BB, 7 K, 0 HBP, 0 HR, 65 strikes, 31 balls
Pitch Mix: 13 Fourseam Fastballs, 67 Twoseam Fastballs, 3 Changeups, 12 Curveballs
Coming off a tough outing against the Rangers where he gave up some late runs (with the help of the bullpen) to lose a lead, Sanchez looked to get back on track against the lowly Twins. He gave up an early run (in the second inning), but wouldn't allow another Minnesota player to cross home plate until his seventh, and final, inning. The seven strikeouts are encouraging, including an extremely impressive sixth inning where he struck out the side, all swinging. The whiffs were an issue for Sanchez in the past, but that seems to be somewhat behind him now. However, even more encouraging about this outing is that Sanchez didn't allow a walk. It is the first time since his season debut against the Rays that Sanchez has not issued a free pass. This is particularly nice to see because the command had been somewhat elusive of late, with five and four walks in his last two starts, respectively.
It should come as no surprise that Sanchez dominated the Twins, as they lean extremely right-handed. Their only real offensive threat that hits from the left side is Joe Mauer, and he isn't exactly the batting champion he used to be. Interestingly, Sanchez was extremely fastball-heavy in this outing. He threw just fifteen offspeed pitches in the entire game (84 percent fastballs), including just three changeups. The split of offspeed stuff isn't surprising with the left-right split, but Sanchez threw just one curveball from his 68th pitch until the end of the game.
There are few pitchers who can succeed while throwing almost exclusively fastballs, but Sanchez is clearly one of them. When he has a good one, he really doesn't need much else. He had a good one in this game. He had his highest average velocity on the pitch all season at 96.85 mph (he only topped 96 mph once previously – that first start against Tampa), and his highest max velocity as well, breaking 99 mph for the first time all season (99.25 mph). He didn't have the same run on his two seamer as usual, but was getting more sink (an extra half inch). That velocity, with sink (and still plenty of run) is tough enough to hit when Sanchez is having control issues. When he's pounding the zone as he did in this game, he's pretty much untouchable.

J.A. HAPP
Line: 7.1 IP, 3 H, 3 R, 3 ER, 3 BB, 5 K, 0 HBP, 0 HR, 61 strikes, 34 balls.
Pitch Mix: 43 fourseam fastballs, 22 sinkers, 12 changups, 3 curveballs, 15 cutters .
Happ was coming off a disaster outing against the Rays, and looking to get back to his winning ways against the Twins. If you just looked at the runs allowed, you might think this start was merely decent, but when you look at the whole thing, Happ was absolutely dominant. He didn't allow a run in the first seven innings, and had only allowed a single hit which was immediately erased on a double play. He struggled to open the eighth, however. He gave up a leadoff seeing-eye single, then walked the light-hitting Darin Mastroianni (for the second time) to put runners on first and second with nobody out. He received a gift when Kurt Suzuki popped up a bunt, but Danny Santana followed with a line drive double to tie the game. Gavin Floyd then came in and gave up a home run (after a hit batter), to cash the third run charged to Happ.
Despite taking the loss, Happ was absolutely on point. He gave up three walks and despite throwing first pitch strikes to 55.5 percent of the hitters, he still managed to keep the Twins off-balance for the entire game. He reached double digits in missed swings for the third time this season (10), and had his second lowest "hard-hit" rate of the season at just 21.1 percent (best was against the Giants).
Happ was throwing harder in this game than he had at any point in the season, averaging 94 mph with his fourseam fastball. He also touched 96.4 mph on one of them, which again, was a season-high. As we've mentioned before, a huge reason for Happ's success has been how unpredictable he is from start to start with his pitch mix, and this was no exception. With Happ firing bullets,  Martin went heavily with the fourseamer over the two-seamer, which reversed a trend we had been seeing for much of the season. In addition, he went heavily with cutters and changeups to play off the increased velocity instead of dropping in curveballs to get outs. It will be interesting to see what he does next time out if the velocity holds.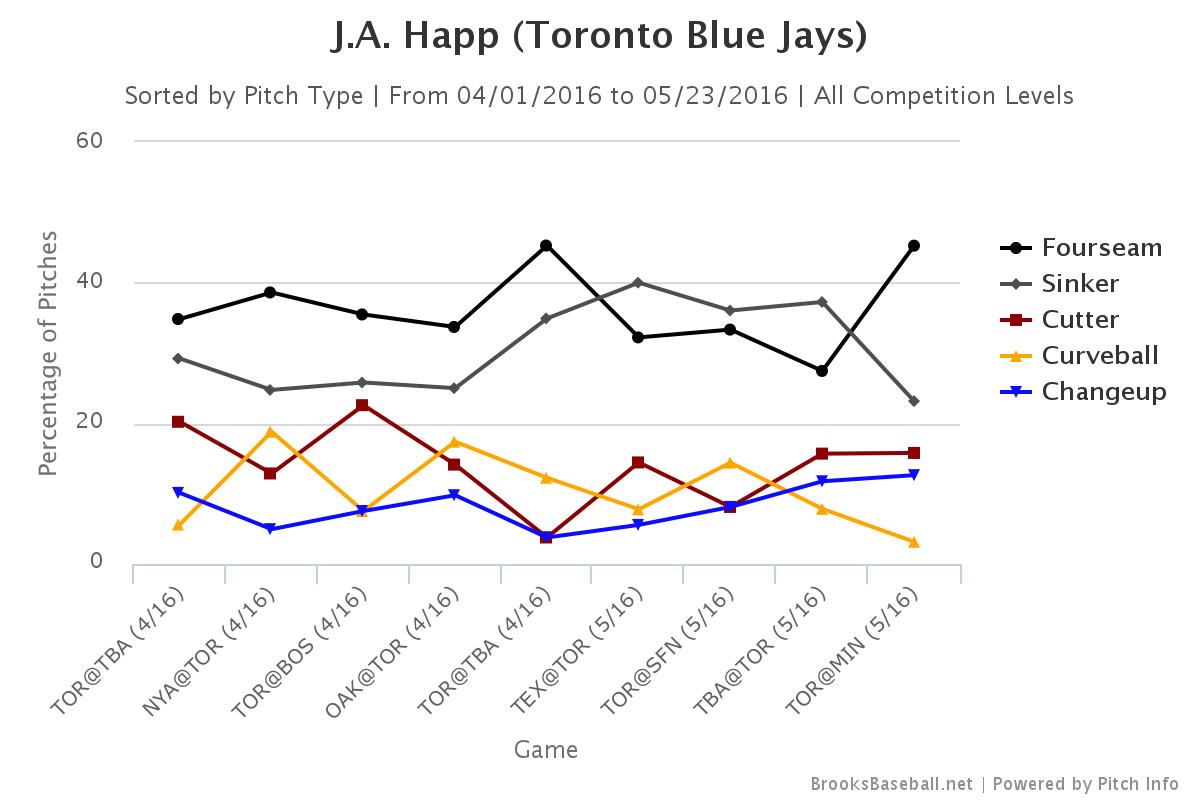 Rotation Stats for the Week
34.0 IP, 35 H, 19 R, 17 ER, 7 BB, 29 K, 0 HBP, 3 HR. 1-3, 4.50 ERA
YTD Stats
297.1 IP, 261 H, 128 R, 117 ER, 96 BB, 230 K, 5 HBP, 28 HR. 12-9, 3.54 ERA
Final Thoughts
Once again, a horrible start has skewed the overall numbers, as a 4.50 ERA would suggest the rotation was bad. However, three of the five starts were legitimately excellent (Happ, Sanchez, Estrada), with one rough one (Dickey) in addition to the dreadful outing. It started out poorly, but turned around nicely.  In particular, it was nice to see how Sanchez and Happ bounced back following hiccups last time through. All in all, it was a decent turn for the starters and bodes well going forward.
Lead Photo: Brad Rempel-USA TODAY Sports