Since they say starting pitching wins championships, each time through the rotation we're going to break down each individual start to see what the pitchers did well and what they didn't, with an attempt to go a little bit deeper than just the box score. You can read all past Rotation Reviews here.
The last stroll through the Blue Jays rotation included continued dominance from Sanchez, Stroman, and Happ, another stumble from R.A. Dickey, and a mediocre turn from Estrada, all against the rough and tumble AL East. This week's slate included the final AL East series for a while, a visit from the Oakland A's and a return of an old friend.
Marcus Stroman
Line: 7.0 IP, 6 H, 3 R, 3 ER, 1 BB, 3 K, 0 HBP, 2 HR, 67 Strikes, 34 Balls
Pitch mix: 3 Fourseam Fastballs, 55 Sinkers, 18 Changeups, 16 Sliders, 5 Curveballs, 4 Cutters
It wasn't quite the dominance that Stroman showed over the Yankees in his last outing, but once again Toronto's nominal ace showed why he is being counted on to lead this pitching staff in 2016. Facing a tough Orioles lineup, Stroman allowed just seven baserunners in seven innings, and was only hurt by the long ball, with home runs coming off the bats of Manny Machado and Matt Wieters, both of whom will do that on occasion. The second of those blasts came with nobody out in the seventh and a runner on, cutting the Blue Jays lead from 4-1 to 4-3. It was actually the third time this season in four outings that Stroman has allowed runs in his final inning of work, twice by allowing home runs. Still, it was a very strong performance, and nobody can ask for more than he gave.
One thing that may be sticking out to you so far is how few punch outs Stroman is getting in 2016. His strikeout rate on the season is just 13.3 percent, which is well below league average. Instead, it has been groundballs and weak contact that have been carrying the Duke grad through the day. Against the Orioles, Stroman managed to generate ground balls on 52.2 percent of balls in play. It wasn't quite the crazy ratio he showed against the Yankees (73.9 percent), but still well above the league norm. He also used a much greater variety in his pitches this time out, throwing a bunch of changeups and sliders, but very few curves or cutters. He also brought out a few fourseam fastballs, which is something he has been avoiding since the season opener against the Rays. It's a good pitch for swings and misses if used more often, but has more value as one to generate popups from people expecting his sinker. After all, the four-seamer drops five inches fewer on average than Stroman's sinker.
In the end, Stroman succeeded because he pounded the strike zone (only three three-ball counts), kept the ball down and changed speeds with a variety of pitches. If a pitcher can do two of those things, he usually has a chance to win. Stroman did all three.
R.A. Dickey
Line: 6 IP, 5 H, 3 R, 3 ER, 2 BB, 4 K, 0 HBP 0 HR, 58 Strikes, 36 Balls
Pitch Mix: 83 Knuckleballs, 10 Twoseam Fastballs, 1 Changeup
When this game started, it looked like it was going to be yet another R.A. Dickey April Disaster™. The first four hitters went groundball single, rocket double, walk, rocket single. That left runners on the corners with nobody out, and two runs already in. But Dickey settled down quickly, getting a double play grounder (which scored another run) and a strikeout to end the inning. From that point on, Dickey only allowed three more baserunners, two of whom were immediately erased on double plays. In the end, he had put up his first "Quality Start" of the season, against an offense that had been on fire in the early part of the season.
Oftentimes the biggest factor for Dickey's success is merely his ability to get ahead of hitters. When he is falling behind, batters can sit on a knuckler in a specific spot, or if they're way ahead, the extremely hittable fastball. When that happens, Dickey gets crushed. That wasn't the case this time out though, as after the shaky first (3/6 first pitch strikes), Dickey started off 75 percent of the hitters he faced with a pitch in the zone.
The other noteworthy thing is that Dickey threw a changeup in this game. As I have mentioned in the past, Dickey has a very good changeup. As a knuckleballer, it's something he doesn't need to break out too many times in a game, but he should go to it more often when he's behind in the count if only to keep hitters from sitting on his fastball. Now, he only threw the one in this game, but if he starts breaking it out more often, we could see a lot more of this:
Marco Estrada
Line: 5.0 IP, 6 H, 1 R, 1 ER, 4 BB, 9 K, 0 HBP, 1 HR, 62 strikes, 42 balls
Pitch Mix: 44 Fourseam Fastballs, 30 Changeups, 8 Curveballs, 15 Cutters
This was certainly an unusual performance from Marco Estrada. After all, it's not often you see a player put up a line that sees him leave the game with a higher WHIP (2.00) than ERA (1.80). It was definitely a struggle, as last year's standout pitcher threw 104 pitches in just five innings, with just 59.6 percent of them going for strikes. He gave up a lot of hits and quite a few walks, which meant there were baserunners on pretty much the whole game. The reason only one of them actually came around to score is that Estrada kept on getting huge strikeouts in key spots. He finished the game with nine, which leaves him with 20 Ks on the season in just 18 innings pitched. He was always something of a strikeout pitcher in Milwaukee, so it's nice to see this ability returning in the early going.
It's something I'm going to harp on every time I write one of these, but Estrada's biggest success comes when he is working up in the zone with his fastball, and this game was a perfect example of that. Three of the four hits on fastballs came on pitches low in the zone, but for the most part he worked hard up and soft down, keeping the Orioles hitters off balance enough to get those big strikeouts when he needed them.
Aaron Sanchez
Line: 4.1 IP, 10 H, 6 R, 6 ER, 1 BB, 3 K, 1 HBP, 1 HR, 53 strikes, 32 balls
Pitch Mix: 8 Fourseam Fastballs, 48 Twoseam Fastballs, 10 Changeups, 15 Curveballs, 4 Cutters
The last time I did one of these I said it was getting hard to come up with superlatives to describe Aaron Sanchez so far this season. Well…he made it a little easier this time, having easily his worst start of the season, and probably the worst of his career.
Coming home after two very tough losses to the Orioles, the Jays were hoping that Sanchez could continue his dominant run and get them back in the win column. Instead, he got ripped around the ballpark, giving up a career high 10 hits and allowing more runs than innings pitched for the first time in his career as a starter. It was also the second shortest outing of his career, behind only his first career start which came against the Orioles last year. To put it simply, he was really bad. He wasn't helped much by his defense, as Josh Donaldson missed a would-be double play ball in the second inning (which led to a runner being thrown out at home, so he still got one out), which was then followed by a groundout. Instead of being out of the inning, Sanchez still had an out to go and then promptly served up a three-run homer to Chris Coghlan. Overall though, this loss was on Sanchez, and he knows it.
If someone wanted to figure out what went wrong, they might first notice that Sanchez threw a lot more changeups than his last start when he dominated the Red Sox. In fact, this led Greg Wisniewski to suggest that Sanchez can succeed as two-pitch pitcher who relies heavily on his fastball. Interestingly though, nine of the ten A's hits came on Sanchez fastballs, with the other coming on a cutter. And he was throwing some of the curveballs and changeups for strikes, so it wasn't as though people were able to just sit back and wait for the fastball.
The biggest reason for the struggles is that Sanchez' fastball just wasn't good in this game. It was the slowest it has been all season by both average velocity (94.34) and max velocity (96.59). He was also getting less movement on it, with over an inch less horizontal run than his previous low (7.82″ vs 8.83″), and nearly 2.5 inches off of his season high (10.28″). As a pitcher who relies on a big time fastball to generate the vast majority of his outs, it's tough to succeed when that fastball isn't there. Hopefully the extra rest for his next start helps bring back the successful version of the heater.

J.A. Happ
Line: 7.0 IP, 7 H, 3 R, 3 ER, 1 BB, 1K, 1 HBP, 1 HR, 59 strikes, 34 balls.
Pitch Mix: 31 Fourseam Fastballs, 23 Sinkers, 13 Cutters, 9 Changeups, and 16 Curveballs.
J.A. Happ continues to make Tony LaCava look good, showing that the Jays were wise to invest in him this season. For the second straight start, Happ went seven innings, something he accomplished just six times all of last season. He gave up a season high three runs, but if that's something you can say, you know someone has been pitching well.
The results were somewhat interesting, as despite throwing 70.3 percent first pitch strikes (which is excellent), Happ struck out only one batter. However, he also generated groundballs at a greater than 50 percent clip (52.2) for the second time this season. This is an interesting development for a pitcher who came into the season with a 38.8 percent groundball rate for his career. In fact, he used those grounders to generate three double plays, two of which preceded run-scoring singles.
As mentioned, Happ has done this twice, the other time coming against the New York Yankees in his second outing of the season. So logically, we should see if there was anything in common between those two starts: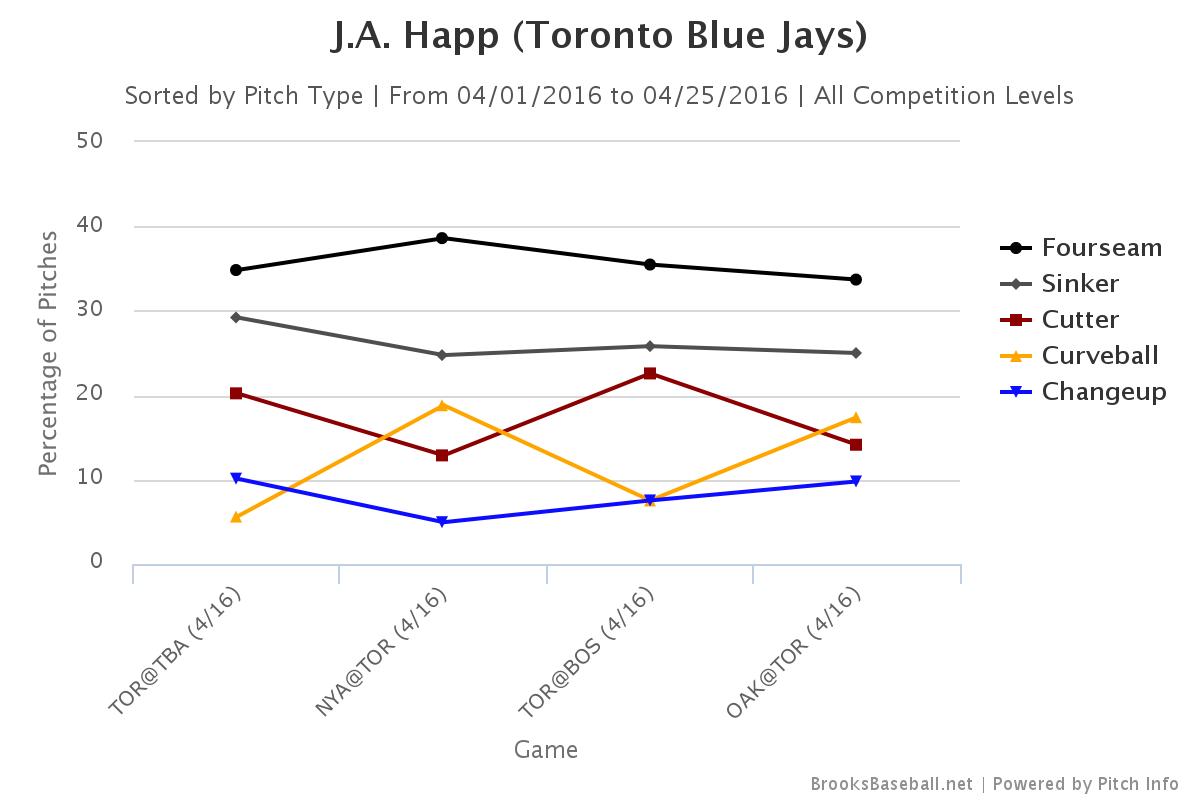 In the two outings where Happ generated a high percentage of grounders, he used the curveball a lot more often than in the two outings where he was getting flyballs. This is a trend that should be interesting to watch, as the Jays have one of the best defensive infields in baseball (if not the best), and it could help him get out of a lot of jams.
Drew Hutchison
Line: 5.2 IP, 4 H, 2 R, 2 ER, 3 BB, 5K, 0 HBP, 2 HR, 55 strikes, 40 balls.
Pitch Mix: 54 Fourseam Fastballs, 6 Twoseam Fastballs, 10 Changeups, and 25 Sliders.
In an effort to give the rest of the rotation a little bit of rest, the Blue Jays called up a former face for a spot start.
Drew Hutchison hadn't exactly been dazzling in Buffalo, but Toronto hadn't had an off day since the start of the Yankees series and needed the spot start. The overall results of the outing were pretty decent, as Hutch allowed only the two runs and struck out five. Sure, he also walked three batters and both runs were scored on home run balls, but as spot starts go, the Jays couldn't have asked for more.
Of course, this wasn't just any spot start. It was also last year's opening day starter trying to show that he belongs in the big leagues. So while the totals were good, the actual process was mixed:
The good: Hutch is throwing hard and his slider looks WAY better.
The bad: He still has absolutely no fastball command.

— Joshua (@JoshuaHowsam) April 24, 2016
A big part of the problem for Drew Hutchison last year was that he simply lost the slider that had earned him so much praise at the end of 2014. He was throwing it harder and it was flattening out (see image below). In his first outing this year, both of those problems seemed to be corrected; he was throwing it a bit slower and getting much more drop. In addition, he was able to throw it for strikes (68 percent of pitches) which helped him get whiffs (misses on 25 percent of swings).
It wasn't the only problem though. Hutchison also struggled with his fastball command in 2015, leaving a bunch of them up in the zone. He got more swings and misses, but also gave up a lot of hard contact. It was much of the same on Sunday, as Hutchison was all over the place with his fastball, and very rarely down in the zone. He's going to need to correct this if he wants to return to the major leagues full time.

Rotation Stats for the Week
35.0 IP, 38 H, 18 R, 18 ER, 12 BB, 25 K, 2 HBP, 6 HR. 2-2, 4.63 ERA
YTD Stats
123.0 IP, 114 H, 54 R, 50 ER, 41 BB, 95 K, 4 HBP, 12 HR. 9-5, 3.66 ERA
Final Thoughts
With the exception of a dreadful start from Aaron Sanchez, the Blue Jays have to be pretty pleased with how the rotation performed this time through. No other starter gave up more than three runs, and a solid start from R.A. Dickey must have been particularly nice to see. Next week's games come against the Chicago White Sox and the Tampa Bay Rays, both of whom possess weak hitting lineups.
Lead Photo: Dan Hamilton-USA TODAY Sports
All pitch charts courtesy of Brooks Baseball