Since they say starting pitching wins championships, each time through the rotation we're going to break down each individual start to see what the pitchers did well and what they didn't, with an attempt to go a little bit deeper than just the box score. You can read all past Rotation Reviews here.
After an up-and-down second trip through the rotation, the Jays starters didn't exactly get a respite, as they continue their run through the gauntlet that is their early AL East schedule. This week's slate included the series finale against the New York Yankees, and a four game set in Boston against the rival Red Sox. Let's see how they did.
Marcus Stroman
Line: 8.0 IP, 3 H, 2 R, 2 ER, 2 BB, 3 K, 1 HBP, 0 HR, 67 Strikes, 39 Balls
Pitch mix: 64 Sinkers, 8 Changeups, 14 Sliders, 13 Curveballs, 7 Cutters
Coming off a lackluster outing against the Boston Red Sox in the the Toronto home opener, the Blue Jays and their faithful were looking for a rebound from their nominal ace. As you can see from that line above, Stroman delivered in spades. It may not have looked like that early on though. After cruising through three innings, Stroman ran into some trouble in the fourth. With the score still knotted at 0-0, the Toronto righty proceeded to give up two hits, a walk, a hit by pitch, and a wild pitch to stake the Yankees to a two run lead. That would be it for the Bronx Bombers though. After that point, Stroman completely shut them down. Literally. They didn't get another baserunner the rest of the game.
There isn't exactly a huge secret to how this one went. Stroman's groundout to flyout ratio in this game was 17-2. 17-2! When you toss in the hits, and other balls in play, Stroman's overall groundball rate for the game was a whopping 73.9%. For reference, last year's MLB leader was Brett Anderson at 66.3% for the season. What makes this even more impressive is that the Yankees have a couple of extreme flyball hitters (Beltran, and McCann) and two other big bats (Arod and Teixeira) who are flyball/groundball neutral. Typically when flyball hitters meet groundball pitchers (or vice versa), the bat and ball meet in the middle and exciting things happen. That wasn't the case in this game. Stroman did a decent job getting ahead of hitters (63.3 percent first pitch strikes), then just pounded the bottom of the zone with his sinker. He sprinkled in enough breaking balls to mess with the hitters' timing, and the Yankees just kept driving the ball into the rug. When Stroman is pitching like that, there aren't a lot of teams that are going to beat him.
R.A. Dickey
Line: 4.2 IP, 6 H, 4 R, 2 ER, 4 BB, 3 K, 0 HBP 0 HR, 62 Strikes, 44 Balls
Pitch Mix: 100 Knuckleballs, 6 Two-Seam Fastballs
For the third straight outing, R.A. Dickey failed to register an out in the sixth inning, this time bowing out with just four and two thirds innings under his belt. It was much of the same from the 41 year old knuckleballer, as he just couldn't command the pitch, walking four while also leaving a number of knuckleballs up in the zone. His line still probably could have been better had Josh Thole been able to corral a third strike offering to Hanley Ramirez in the first. Ramirez instead reached first base, and then Travis Shaw smoked a two-run double (David Ortiz was on base as well) to put the Blue Jays in a three run hole. However, that's just one of the many pitfalls of being a knuckleball pitcher; getting the batter to swing and miss is just part of the equation.
This was just one of those days where Dickey had no command of his knuckler. He fell behind a bunch of hitters (only 45.8 percent first pitch strikes), and left a lot of balls out over the plate. As a result, the Red Sox were able to do some damage. On the plus side, Dickey's velocity rebounded a little from the drop he showed in his second start (up from an average of 74.6 mph to 75.7 mph). It's still not where he wants to be, as he is most successful in the 77-80 range, but it's a step in the right direction.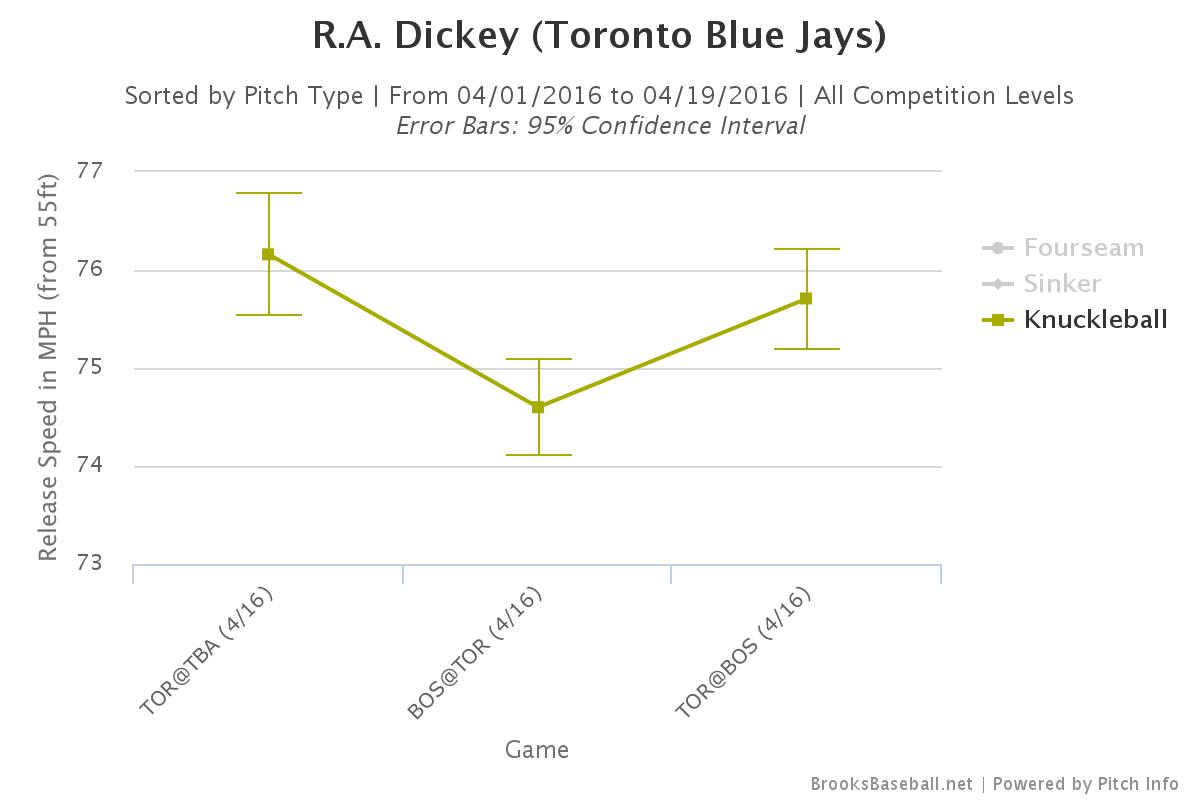 Marco Estrada
Line: 6.0 IP, 8 H, 4 R, 4 ER, 1 BB, 3 K, 0 HBP, 1 HR, 64 strikes, 32 balls
Pitch Mix: 38 Fourseam Fastballs, 28 Changeups, 16, Curveballs, 13 Cutters
It would have been tough for Estrada to repeat the dominance he exhibited in his season debut, but overall he still put up another very solid performance. It started off the same way, with a Mookie Betts strikeout, but this time Estrada ran into trouble in the third inning. With two men on, Estrada served up a low fastball to Xander Bogaerts that he deposited into the seats atop the Green Monster for a three-run homer. Remember what I said above about flyball/groundball clashes? Bogaerts is a heavy groundball guy, Estrada is a heavy flyball guy…ball meets in middle for a line drive. The Red Sox would add another run in the inning to make it 4-0 game. However, it wasn't as bad as it looked. Had it not been for a Josh Donaldson misplay on Dustin Pedroia's grounder, Boston likely only scores two runs in instead of four (and possibly zero, though it would have been a tough double play). For the rest of the game, Estrada was great, allowing only a few singles and a solitary walk.
Part of the reason for Estrada's mediocre outing was that he wasn't pitching in areas that are conducive to his success. As has been established in the past Estrada's best success comes when he's using that good "rising" fastball up in the zone. Unfortunately, that wasn't the case against Boston. Despite Estrada's heater fighting gravity at even greater rates than the past (see below), most of his work in this game was in the lower part of the strike zone. Many of the outs were still on balls up, but of the eight hits he allowed – including the aforementioned home run – six were below the belt.
All that said, with a less than optimal pitch mix, Estrada still pitched a solid game and continues to provide hope for another excellent season.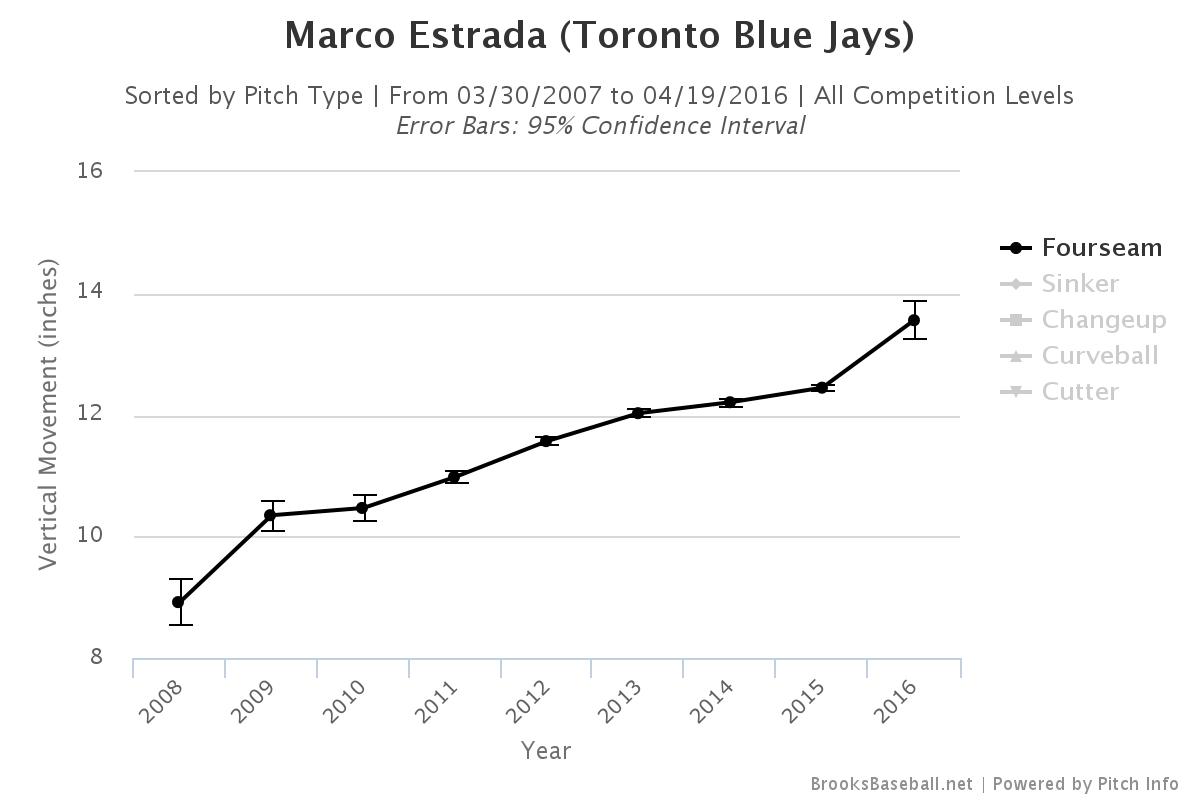 Aaron Sanchez
Line: 7.0 IP, 2 H, 1 R, 1 ER, 4 BB, 7 K, 0 HBP, 0 HR, 66 strikes, 39 balls
Pitch Mix: 19 Fourseam Fastballs, 68 Sinkers, 1 Changeups, 12 Curveballs, 5 Cutters
It's getting pretty hard to keep coming up with superlatives to describe games started by Aaron Sanchez. Fresh off a three-hit masterpiece against the Yankees, the fireballing righty decided to one up himself by carrying a no-hitter into the fifth that was ended by a broken bat flare. In the end, Sanchez gave up just two hits against Boston, the flare and a groundball up the middle. He walked four, but two of those seemed like "unintentional intentional walks" to David Oritz (he seemed to be heavily pitching around the dangerous hitter). Overall, the young hurler was in command from start to finish, striking out seven and inducing groundballs on 56.3 percent of balls in play (actually his lowest mark of the season).
In one of the funnier managerial decisions thus far, John Farrell did Sanchez a huge favour by inserting Chris Young into the lineup instead of Brock Holt. A career .224/.292/.410 hitter against righties, Young entered this game 0/4 on the season with three strikeouts against right-handed pitching. Meanwhile, Sanchez has a career .145/.215/.173 line against right handed batters. Young went hitless and struck out another three times. It probably wouldn't have mattered who was hitting though, as Sanchez was just simply dominant.
A big part of Sanchez's success in this game was his ability to get ahead. He threw strikes to 63 percent of hitters, and finished 20 of the 27 batters he faced either even or ahead in the count. Sanchez also picked his velocity back up from his previous start (95.8 mph average sinker vs 94.4), and threw his hardest pitch of the season at 98.7 mph (we'll come back to that one). He had a bit of trouble getting the curveball down and out of the zone, but he was able to throw a bunch of them for strikes (66.7 percent), which helped set up his dominant fastball by keeping the Red Sox hitters guessing. This was evident by the four strikeouts looking.
I want to highlight one of those called strikeouts because it ended with the most impressive pitch I've seen Sanchez throw in his entire career. A big part of his trouble against left-handed batters has been his inability to throw strikes inside with any consistency. Far too often he would either miss down and in, or the ball would leak back out over the plate away. Don't tell that to Travis Shaw. After missing outside with a fastball to start the plate appearance, Sanchez threw an inside sinker for strike one, a curveball in the zone for strike two, then dropped this monstrosity.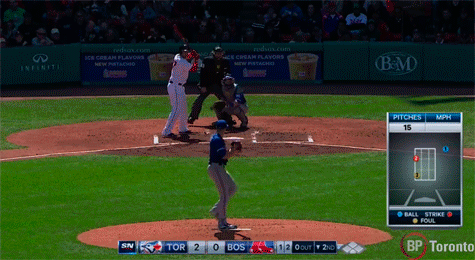 Remember how I said Aaron Sanchez threw his hardest pitch of the season? That's it right there. A 98.7 mph comeback fastball with 9.6 inches of horizontal movement, on the black. Barry Bonds probably couldn't have hit that pitch.
When Aaron Sanchez is doing that, he's just untouchable. Thankfully for Jays fans, there are no signs of him stopping any time soon.
J.A. Happ
Line: 7.0 IP, 4 H, 1 R, 1 ER, 1 BB, 4 K, 0 HBP, 0 HR, 59 strikes, 34 balls.
Pitch Mix: 34 Fourseam Fastballs, 24 Sinkers, 21 Cutters, 7 Changeups and 7 Curveballs.
In his first start of the season, J.A. Happ gave up two runs in six innings of work. In his second outing, he gave up one in six innings of work. During Monday's Patriot's Day matinee, the tall lefty gave up one run in seven innings pitched. At this rate, J.A. Happ is going to start throwing complete games by early May.
Simply put, J.A. Happ was outstanding in his outing against Boston. It must be rough for Red Sox fans to see your team win the first two games of a four game set, then run into Sanchez and Happ throwing like that. It must be even more frustrating for Red Sox hitters when they get ahead 1-0 in 54 percent of their plate appearances and manage just five baserunners in seven innings. They couldn't get anything going against the born-again Blue Jay, as he kept them off balance for the entire start. In the end, the Bosox hit only three balls that even made it to the warning track (which is very shallow in left field).
In similar fashion to his outing against the Yankees, Happ was all over the strike zone, making it very hard for the Red Sox hitters to get comfortable. He and Russell Martin also did a tremendous job using subtle speed changes between the fastballs and changeups, then dropping in the slow curve when they really wanted to mess up the batter's timing. This is how you pitch successfully even without top notch stuff.
Rotation Stats for the Week
32.2 IP, 23 H, 12 R, 10 ER, 12 BB, 20 K, 1 HBP, 1 HR. 3-2, 2.76 ERA
YTD Stats
88.0 IP, 76 H, 36 R, 32 ER, 29 BB, 70 K, 2 HBP, 6 HR. 7-3, 3.27 ERA
Final Thoughts
Despite yet another stumble from R.A. Dickey, and a solid, but not great start from Marco Estrada, the rotation once again did a tremendous job. As a group, they averaged over six innings per start, and held two excellent offenses down for the better part of five games. The most encouraging thing is that the guys who have been the most consistent are the ones for whom there was expected to be the most variability.
Lead Photo: Kim Klement-USA TODAY Sports
All pitch charts courtesy of Brooks Baseball