Toronto Blue Jays vs. New York Yankees
April 12th – April 14th
By: Greg Wisniewski & Tammy Rainey
The first week of the season failed to live up to expectations of Blue Jays fans, as many were expecting a continuation of the intoxicating final third of the 2015 season. However, the ever-timely words of the late Douglas Adams (or French Montana for Roberto Osuna) still apply – Don't Panic. So far Josh Donaldson and Jose Bautista have been carrying an otherwise ineffective offensive effort, Michael Saunders .774 OPS is third best on the team, and out-of-character pitching failures have let to more collar-tugging than we had anticipated. The Jays' opponent, the New York Yankees, have are coming into town having played only five games to Toronto's seven. That's because they've already had two games postponed due to the fun that is April weather systems. They've done a lot of damage in those five games though, putting up a total of 35 runs, or seven per game.
Pitching Matchups:
Tuesday, April 12th – First Pitch 7:07 PM ET
Aaron Sanchez vs. Masahiro Tanaka
Aaron Sanchez is the Jays pitcher a lot of people like to dream on. After bulking up by 20+ pounds in the offseason, and committing himself to train for a starter's stamina, expectations were high. Then his first start of the season was everything that we had hoped for. He was absolutely brilliant, shutting down Tampa for seven innings using all of his pitches and throwing strikes. It remains to be seen, of course, how much of that dominance were due to Sanchez having raised his game, and how much was the Rays being an overly aggressive team in their first series out of Spring Training. If Sanchez maintains his velocity for the whole seven innings, and keeps the free passes to a minimum against the veteran Yankees, he will have passed another difficult test.
Thanks to a rain out in Sunday's finale with the Tigers, Masahiro Tanaka, the de facto ace of the Yankees staff, will be starting this series against the Blue Jays. When he arrived in the Big Apple after signing a 175 million dollar contract, he was a dominant force, but then he experienced a partial tear of his UCL. Opting for rehab instead of surgery, Tanaka has stayed in the rotation but has had his rest carefully monitored. Then, over the winter, he also had bone spur removed from his elbow. His manager, Joe Girardi, thinks Tanaka has been more tentative since the first injury. His first start of 2016 was only 87 pitches long, and Tanaka himself described a feeling of fatigue at the end of it. He started last April at lower velocities as well, but ramped up over the summer. The Jays will be looking for that timidness to result in enough mistakes to capitalize on. The basic plan of attack against Tanaka is to force him to bring the ball up. If he is pounding the lower part of the zone and forcing hitters to chase the splitter, he can be very tough to beat.
Two different Blue Jay leadoff hitters have taken him deep to start a game, will Kevin Pillar be the third?
Wednesday, April 13th – First Pitch 7:07 PM ET
J.A. Happ vs. Michael Pineda
The timing of Marco Estrada's return from injury means that J.A. Happ slots into the fifth position in the Blue Jays rotation. Often rotations have more to do with off days and injuries, but in this case, the fifth spot seems like the right place for him to be. If Happ is what he was for a few months in Pittsburgh in 2015, there will be much joyous dancing. If he does what he did in Tampa on his first turn through: 6 innings, 2 runs, 4 strikeouts and one walk, everybody goes home happy as well. Happ altered his pitch mix in 2015 favouring the four seamer more and more as the year went on.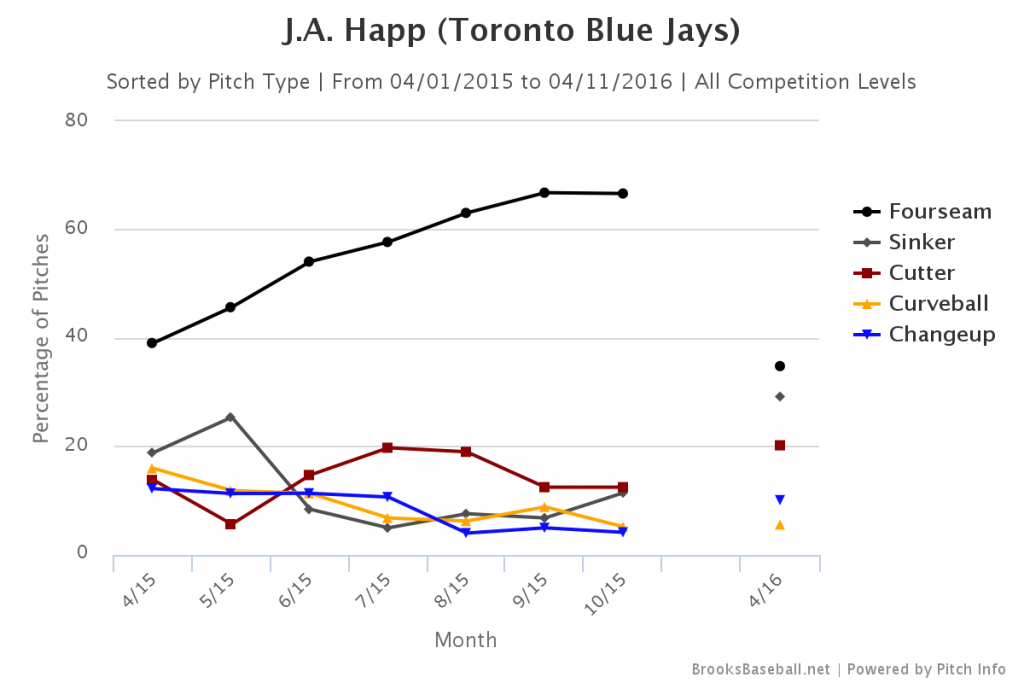 And then 2016 comes along, and he completely reverses course? What's up J.A.? Success was too much for you?
Pineda is an imposing physical specimen, listed at 6'7″, 260 lbs, he figures to have all the tools to make for a dangerous mound opponent. However, since the beginning of his career in 2011 with the Mariners, he's only logged 69 total starts. Injury problems have kept him off the mound for at least part of every year since. 2015 included a month away due to a forearm strain, and he was inconsistent, at best when he returned. Pineda last recorded an out in the seventh inning on July 10, 2015. His last two starts of last year, he allowed 7 runs in six innings and 4 runs in 3.2. He began 2016 in much the same vein, with six runs allowed in 5 innings, including three home runs. If there's a pitcher who can help some of the Blue Jay bats heat up, Pineda looks like the most likely candidate.
Thursday, April 14th – First Pitch 7:07 PM ET
Marcus Stroman vs. Nathan Eovaldi
Marcus Stroman will be back on the Rogers Centre mound again to finish of the series, and he will be attempting to make everybody forget the worst 'home' start of his career. Boston did everything but take Stroman deep, tagging him for six hits and working three walks off of him in just 5.1 innings. That added up to five runs, which is, frankly, really ugly for your number one starter. The incredible command he had in Tampa just wasn't there, and the sinker didn't have much bite, with the Red Sox squaring up the mistakes and hitting line drives all over the park. Stroman hasn't walked as many as three batters in the regular season since August of 2014, so you can expect a return to the kind of control of the zone we've been used to since his 2015 return. Keep an eye on his sinker location early. If he starts elevating the ball, it could be a long night.
Nathan Eovaldi throws very hard. His 98 mph fastball is probably the first thing you'll notice about him, and it helped him strike out seven in just five innings in his first start. It helped him not walk anyone as well. What it didn't help him do was get out of the game unscathed. Eovaldi doesn't have a swing and miss pitch. Despite its rocket like velocity, batters only swing and miss at an Eovaldi fastball 6.7 percent of the time. While poking around his Brooks Baseball page, I did notice this:

That change in the slider speed seems crazy. It turns out, it's not the same slider as before. If he's going to try it out as his put away pitch, we will see if the Jays advance scouts have noticed that five mph, and how the Blue Jay batters want to deal with it.
Additions and Subtractions
Newly-signed LHP Franklin Morales hit the DL on Sunday to make room for Marco Estrada to rejoin the Blue Jays rotation. Due to MLB option rules this leaves the team without a second LH reliever to compliment Brett Cecil. This will likely change on Wednesday, the first day the team can recall a player optioned to the minors at the start of the season. The best guess is that reverse-split RH Ryan Tepera, who made the team out of camp but lost the position when Morales was signed, will get the call, but switch-pitcher Pat Vendette is make a strong case in the early going at Buffalo. Odds are RH rookie Arnold Leon will be waived in the same transaction. Otherwise, the Toronto line-up remains intact from Opening Day.
Over the off-season the Yankees signed a whopping zero free agents. It was the first time since the advent of Free Agency that it had happened. Nutty. Aroldis Chapman is both an addition from the offseason, and a subtraction due to suspension. Swingman Brian Mitchell made the 25 man roster, and was then placed on the DL after injuring his toe in a spring training game. We won't see him this series, unless it lasts more than 4 months. Former starter Ivan Nova now finds himself a member of the Yankee bullpen.
Keep an Eye On
Starlin Castro
Newly acquired (from the Cubs) 2B Starlin Castro is off to a blazing start with a .450 batting average and a 1.326 OPS over the first five games. Do dark pinstripes have a magic that the blue pinstripes don't? He is going to be a big part of the success of the Yankees, as he is one of the few true right-handed hitters in the lineup.
Josh Donaldson's Calf
No, not a baby cow. Donaldson suffered a minor injury to his calf muscle during the series in Montreal (this seems to be an annual theme. Someone gets a nagging injury from playing on that cement), and was forced to work as the designated hitter against the Boston Red Sox. This move meant that both Justin Smoak and Chris Colabello were forced to sit on the bench, and shortened the Jays normally potent lineup. When Ezequiel Carrera is hitting sixth, as happened on Saturday, something isn't right. Donaldson is expected to be back at third base to start the Yankees series though, so let's hope he can stay healthy.
Russell Martin
While the Blue Jays bats have been on a strikeout binge to start the season, (27.4% of the team's plate appearances!!) Russell Martin is by far the worst offender among the regulars. He's struck out in exactly 50% of his trips to the plate, and has just one real hit on the season (his other one was a line drive off the pitcher that would've been a double play if it went by). That's too crazy to continue, and this series would be a great time for him to find his usual discipline in the box.
Early Leads and Bullpen Usage
Good news! The Blue Jays have scored first in every game this season. Bad news! The bullpen has failed to hang on to four of those leads, and the team is one game under .500. Watch and see who John Gibbons decides to trust with the lead if the starter is in trouble in the sixth or earlier, as he can't mix and match Cecil, Storen and Osuna every night without wearing them out. Gavin Floyd and Joe Biagini have been solid, but neither has a long track record as a reliever.
On the flip side, the Yankees are still a very dangerous team if they're handed a lead late. The aforementioned Chapman may be suspended, but this team still runs out Dellin Betances and Andrew Miller (pitching with a broken bone in his non-pitching hand) at the end of games, and that can be devastating. The Jays will have to do damage against their starters and the mediocre middle relief corps.
Probable Lineup
| | |
| --- | --- |
| Yankees | Blue Jays |
| Jacoby Ellsbury – CF | Kevin Pillar – CF |
| Brett Gardner – LF | Josh Donaldson – 3B |
| Alex Rodriguez – DH | Jose Bautista – RF |
| Mark Teixeira – 1B | Edwin Encarnacion – DH |
| Brian McCann – C | Troy Tulowitzki – SS |
| Carlos Beltran – RF | Chris Colabello – 1B |
| Chase Headley – 3B | Michael Saunders – LF |
| Starlin Castro – 2B | Russell Martin – C |
| Didi Gregorius – SS | Ryan Goins – 2B |
via Roster Resource
Final Thoughts
The early season AL East gauntlet continues. Even in less compelling seasons, the best crowds of the year have always been when the Yankees come to town. In 2015 the Jays rewarded those crowds with a 13-6 record against New York. Now that the Blue Jays are the favorites, the fans will no doubt be looking for the home team to continue their dominance.
Lead Photo: John E. Sokolowski-USA TODAY Sports