They say that pitching wins championships. We're not quite sure who "they" are, and we think the Toronto bats could probably disagree, but who are we to argue? So here at BP Toronto we've decided to make starting pitching a focus, so that when the Jays finally raise that World Series banner, we can look back and say "here's how they got there." We started with this over at Blue Jays Plus, and now we're launching our first Rotation Review for Baseball Prospectus.
Every time through the rotation, we're going to break down each individual start to see what the pitchers did well and what they didn't, with an attempt to go a little bit deeper than just the box score.
Marcus Stroman
Line: 8.0 IP, 6 H, 3 R, 3 ER, 1 BB, 5 K, 0 HBP, 1 HR, 74 Strikes, 24 Balls
Pitch mix: 47 Sinkers,  16 Sliders, 14 Cutters, 13 4 Seamers, 7 Changeups, and 1 Curve
After an inspiring recovery, from a torn ACL to being a key member of the Blue Jays playoff success, Marcus Stroman has sky high expectations amongst fans. It may be one year delayed, but Marcus Stroman finally made his first opening day start for the Blue Jays and he did not disappoint.
Using his usual mix of quality pitches and supreme command, Stroman pitched deep into the game without much hard contact made against him. For Stroman, his dominance started with the sinker and his ability to throw it for strikes. Pitching is so much easier when you are ahead of hitters and Stroman was ahead all night. 27 of the 32 hitters Stroman faced ended up behind in the count, and only four plate appearances ended with Stroman chasing in the count. Even if you count two run 9th inning against him, the Blue Jays ace threw an absolute gem as he pounded the lower part of the zone with his sinker. In the end 62 of his 98 pitches were down in the zone, which led to 17 ground balls and a serious lack of rallies from the Rays.
While his velocity was down almost a half a MPH from 2015, it doesn't seem to be anything to worry about. Pitchers are still getting their arms back into game shape, and that only comes with more starts. Following up a performance like this one will be tough to do, but perhaps Stroman can build off of his game one success and keep his velocity a bit deeper into the start.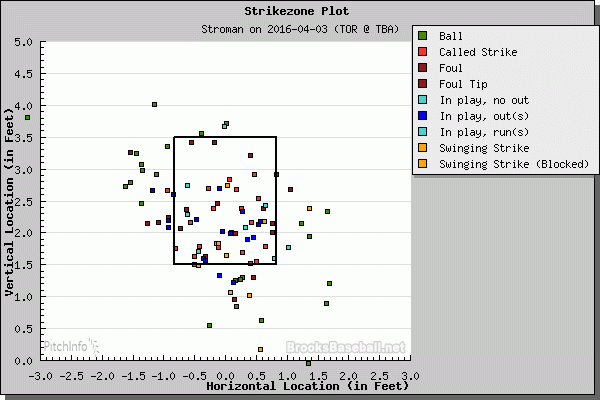 R.A. Dickey
Line: 5.0 IP, 6 H, 3 R, 3 ER, 2 BB, 3 K, 0 HBP 1 HR, 54 Strikes, 28 Balls
Pitch Mix: 71 Knuckleballs, 11 Two-Seam Fastballs
R.A. Dickey has always been somewhat of a disappointment for Blue Jays fans. Coming off his Cy Young season, he had a high acquisition cost, leading to sky high expectations. Still, he has always been a very valuable starter overall by eating innings with league average run prevention. However, he has often had issues at the start of each year. In each season since joining the Blue Jays, Dickey has seen his ERA rise for the month of April; it was 4.15 in 2013, 5.23 in 2014, and 5.40 last year.
In his first start this season, it was a bit more of the same from Dickey, as he struggled from the outset against Tampa. The Rays had runners on against the knuckleball specialist in the first, second, fifth and sixth innings (he faced one batter before being removed). Dickey was probably lucky to escape with only three runs allowed. He escaped a first and third, one out situation in the first inning, and a first and second nobody out situation in the fifth. In those two innings Dickey's strike rate fell to below 60 percent (53 and 55, respectively). It's often pretty simple for Dickey: when he throws strikes, he gets outs, and when he falls behind, he is forced to throw fastballs hurt him.
Still, there were some encouraging signs from the 41 year-old. Dickey's knuckler was a little harder in his first start than it was last April, averaging 76.2 MPH, up from 75.2 mph in 2015. He also threw more strikes than he has in any April since joining the Blue Jays, at 65.9% against Tampa. From 2013 to 2015, Dickey's numbers in that category ranged from 62.6% to 62.9%. It's also worth noting that Dickey didn't throw a single fourseam fastball in this game, per Brooks Baseball. In his career, he has mostly split between two and fourseam pitches when in trouble, with the occasional changeup against a left-handed batter, but yesterday it was all knucklers and sinkers. Given how much damage hitters tend to do when Dickey goes away from the knuckleball, it's good to see him aiming for a bit more movement to at least give himself a chance – he get about an inch of extra run and two inches of "drop" on the sinker compared to the fourseam.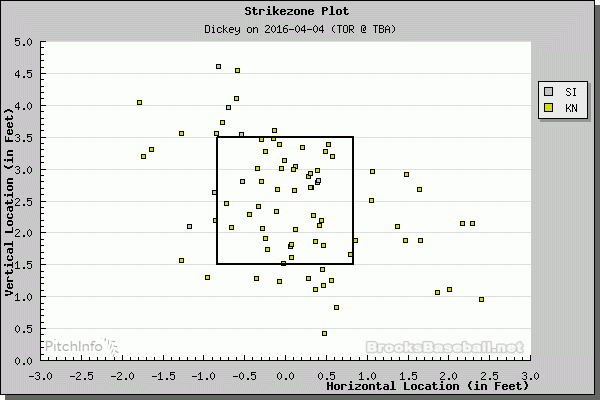 Aaron Sanchez
Line: 7.0 IP, 5 H, 1 R, 1 ER, 0 BB, 8 K, 0 HBP, 0 HR, 64 strikes, 27 balls
Pitch Mix: 14 Fourseam Fastballs, 49 Sinkers, 15 Changeups, 1 Cutter, 12 Curveballs
Without a doubt, the pitcher facing the most scrutiny coming into the season was Aaron Sanchez. He put on a lot of weight in the offseason, then got locked into a serious rotation battle with Gavin Floyd – one that lasted the entire spring. The young righty emerged victorious in the end, and made his season debut Tuesday against the Tampa Bay Rays. There were a lot of people who had doubted his ability to pitch as a starter before the outing, but I'm betting a lot of them have been converted.
Simply put, Sanchez was awesome. In fact, he was so good that it's actually quite difficult to decide what was most encouraging from this performance. The first thing that probably sticks out is that Sanchez didn't walk a single batter, a feat which he accomplished only once all last year. He has had control issues throughout his career, but showed vast improvement this spring. It has only been one start, but it was nice to see it carry into the regular season.
The other thing that stood out in this start was his strikeout totals. Sanchez was a big time strikeout pitcher in the lower minors, but as he has risen through the system and eventually reached the major leagues, his ability to generate swings and misses has gone away. In his career, Sanchez has a swing and miss rate of just over 18 percent. That all changed on Tuesday, as Tampa missed on a whopping 32.7 percent of their swings. To get an idea of how good that is, last year Francisco Liriano led the major leagues with a swing and miss rate of 33.5 percent, and Clayton Kershaw was third at 32.6 percent. If he can keep up anything close to that kind of bat-missing ability, he's going to be very tough to hit.
The biggest reason that Sanchez got more whiffs was that he was able to mix his pitches up very well, which kept the Rays off balance for the entire outing. All of his offerings were working well, and the Rays hitters just couldn't adjust. For a graphic representation of how good Sanchez was last night, see below:
I'm going to quantify stuff for #BlueJays pitchers over at @BProToronto. Here's a sample from the first 3 games. pic.twitter.com/8QNHxGIR52

— Mike Sonne (@DrMikeSonne) April 7, 2016
That's the "STUFF" metric that has been developed by Dr. Mike Sonne (and will soon start appearing on this site regularly). Click that link for a more accurate primer, but basically, the metric uses velocity and movement variables to assign value to a pitcher's 'stuff'. Aaron Sanchez' rating from yesterday's start would have put him in the top three in all of baseball last year, which matches up nicely with the strikeout rates. In the end, this was about as good as anybody could have possibly hoped for. If Aaron Sanchez is even close to this good going forward, the Jays are in for a real treat.
J.A. Happ
Line: 6 IP, 7 H, 2 R, 2 ER, 1 BB, 4 K, 1 HBP, 1 HR, 54 strikes, 35 balls.
Pitch Mix: 31 4 Seamers, 25 Sinkers, 18 Cutters, 9 Changeups and 5 Curveballs.
Coming into the season, J.A. Happ was possibly the largest question mark in the Blue Jays rotation. After being shipped off Pittsburgh Pirates in the middle of last season, J.A. Happ had a career resurgence, posting a 1.85 ERA over his last 63+ innings with the Bucs. Over the past few years Pirates pitching coach Ray Searage has helped revitalize the careers of several pitchers, including the likes of A.J. Burnett and Francisco Liriano. However, unlike Liriano and Burnett, Happ has never been a groundball pitcher, which seems to be a part of the Pirates success with their pet pitcher projects.
Instead, what Happ did do was increase his fastball usage even further to around 87%. Mind you this 87% is spread across 3 pitches, his cutter, four-seamer, and sinker. Combined with a far more consistent release point, this led to more strikes for Happ, and better command around the zone. Many of these aspects were apparent in Happ's first start with the Blue Jays in 2016. He started off 17 of 26 batters with first pitch strikes and maintained his delivery well. The strike-zone was poor and extremely inconsistent for both pitchers and that somewhat hindered just how effective Happ was. Happ did a very good job of keeping the ball along the black, with very few pitches over the heart of the plate.
The one pitch that stood out in particular for Happ's first start was his cutter. He threw 18, and four were whiffed on, including a beautiful one thrown on the outside corner to strike out Tim Beckham. Some may argue that his cutter is more of a slutter (slider/cutter), but no matter what you call it, it is a truly effective compliment to his sinker. Happ held his velocity well and should hold up if he goes deeper into his starts. It will be interesting to see if he can build off of this start and go a bit deeper into the game next time out, but overall his start was extremely impressive and a terrific building block to start the season on.

Rotation Stats for the Week
26.0 IP, 24 H, 9 R, 9 ER, 4 BB, 20 K, 1 HBP, 4 HR. 2-0, 3.12 ERA
YTD Stats
26.0 IP, 24 H, 9 R, 9 ER, 4 BB, 20 K, 1 HBP, 4 HR. 2-0, 3.12 ERA
Final Thoughts
Overall, it's hard to be disappointed with the performance of the temporary four-man rotation. Sanchez and Stroman were excellent, Happ was very solid, and Dickey wasn't half bad himself.
That concludes the first rotation review of the season. Stay tuned for the next one which will drop some time in the middle of next week. If there is anything else you would like to see, or something you'd like us to focus on, let us know in the comments and we'll do our best to incorporate it next time around.
Lead Photo:Kim Klement-USA TODAY Sports
All pitch charts courtesy of Brooks Baseball