Directed and Edited by Sean Addis
On May 22nd, many Toronto Blue Jay fans declared the recent New York Mets two game series as a must attend-series, though it had nothing to do with the teams playing that night. Tuesday marked the return of a legend.
Bautista back in Toronto. #BlueJays pic.twitter.com/GKcWealroB

— Gregor Chisholm (@gregorMLB) July 3, 2018
Jose Bautista was the face of the Blue Jays for a decade. He provided exciting moments ranging from a 50 home run season to multiple jaw-dropping throws, culminating with the infamous "Bat Flip." He was the hero Toronto needed to lead them out of a very dark period. Even though the last couple of seasons had seen a regression in performance, his place in the heart of many Jays fans is still beating strong. That meant replacing him wasn't going to be easy.



On January 19th, the Blue Jays made a trade to acquire a 26-year old right fielder from the St Louis Cardinals. As Ross Atkins said to BP Toronto prior to Wednesday's Mets-Jays game "we acquired what we deemed could be an everyday outfielder for a reliever and a minor league reliever. We felt it was a good decision." The post-Bautista era in right field would be manned by Randal Grichuk.
Thank you to the @Cardinals organization and fans for all the love and support you gave me over the past 5 years. While I am going to miss St. Louis, I am excited to start the next journey in my career with the @BlueJays!!

— Randal Grichuk (@RGrich15) January 20, 2018
Atkins wasn't the only one excited about the trade, so was the newest Blue Jay. "I was happy, I knew going into St Louis this year I wouldn't have much playing time with the trade for [Marcell] Ozuna," said Grichuk. "I was definitely happy for the opportunity to come over here and play every day."
A week after the trade, he shared on Sportsnet's the Jeff Blair Show that the Blue Jays were one of the teams to which he hoped to be traded. One reason was playing time. The other was more sentimental: being able to go to Houston and play in front of family and friends. "[It's] something special for me. I am happy to be in AL and be able to go back there once a year.  So many people came out and showed support (during the recent road trip). It is three days I look for in the schedule," shared Grichuk.
"Obviously struggling is tough on the mind, but doing it somewhere a team hasn't seen you at your best and understand what you are capable of it is really tough. You want to get out of it as quick as possible." – Randal Grichuk
The Houston-area native was in good spirits about being in Toronto and the Blue Jays were pleased with their decision. But for some fans in Toronto, though they understood on a baseball side the team needed to move on from Bautista, emotionally letting go of an icon wasn't going to be as easy.
So when Grichuk struggled during the first month of the season, had his playing time reduced, and subsequently was put on the disabled list with a knee injury many fans became frustrated and impatient. Some started questioning his abilities and focused on the weaknesses of his game, such as his past poor plate discipline (career 0.2 BB/K ratio).
No one was more frustrated with those early struggles than Grichuk himself. As he stood by his locker and recalled the first month, there was disappointment in his voice. He came into the season wanting to show his new teammates what he could bring to the team. "I wasn't doing that. Obviously struggling is tough on the mind, but doing it somewhere a team hasn't seen you at your best and understand what you are capable of it is really tough.  You want to get out of it as quick as possible. Unfortunately, I did not get out of it," said Grichuk.
Two very important people empathized with the early season struggles of the new outfielder, Ross Atkins and Toronto manager, John Gibbons. The Blue Jays skipper has seen this happen before with new players. "When he got here he had a tough start" said Gibbons. "Guys put that extra pressure on and I think that is what happened and he of course he had the injury."
Since taking over after the 2015 season, Atkins and team president Mark Shapiro have placed more emphasis on the wellness of the club's players. "I think we shared his frustration, not nearly as much as he did," said Atkins. "What we tried to do is take as much pressure off of him to prove the trade [was worthwhile]."
In the game of baseball, struggles happen to the best athletes over a 162 game schedule. But in Grichuk's case, it was poor timing as this was his first introduction to Toronto. As Atkins later said, "ultimately we are human". Baseball can be a game of failure, the key is how you handle that adversity and move forward.
Consequently, Grichuk may have struggled in the box score but his behaviour and work ethic during the struggles made a big impression on Toronto's management. "As frustrated as he was and as much as he did care, his professionalism and emotional intensity level were at an elite high level," said Atkins. "In those struggles, you see the true colours and his true colours are very bright."
As we flipped the calendar on June 1st, Grichuk did the same with his performance. He returned from the disabled list and for the duration of the month he hit .294/.341/.647 with eight home runs and 20 runs batted in. Working with coaches he was able adjust his stance, which helped to limit the holes in his swing.
Not only has he been voted (by us) as having the best hair in the league, you've chosen him as your June @HondaCanada Player of the Month.

Please help us in congratulating Randal Grichuk! @RGrich15 pic.twitter.com/CbpMe3ikOG

— Toronto Blue Jays (@BlueJays) July 2, 2018
The Toronto organization, his teammates, and fans finally got to see the tools that Grichuk brings to the table. As Atkins stated, "[Grichuk is] an above-average athlete, with some speed and arm strength and is a tick above to play all three outfield positions."
When Grichuks was struggling early, it was easy to focus on his weaknesses. As he was playing well in June, people were starting to focus on his strengths: a swing that generates high exit velocities and above-average raw power. But what has most impressed the manager is his ability to hit some line drives around the field. Why? "You don't just want him to be a slugger; you want him to be a good hitter," explained Gibbons.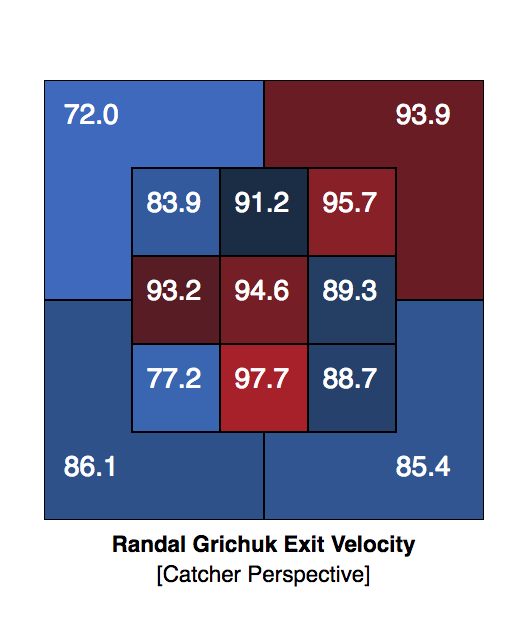 It was because of this recent good hitting that Gibbons has periodically pencilled Grichuk into the leadoff spot against lefties (when Granderson would be on the bench). When asked about hitting in top spot of the lineup, Grichuk says he keeps the same approach. He simplifies it to, "you go out there trying to get a quality at bat and to get on base."
Randal Grichuk is finding his groove atop the #BlueJays batting order. That and so much more from @SNJeffBlair.https://t.co/I1FWZHCNT7

— Sportsnet (@Sportsnet) July 2, 2018
Atkins also used the words "steady" and "selfless" when describing the six-foot-one, 205 pound right fielder. These words could easily be applied to his presence in the outfield.
Steady because of what he brings in the field. "He is dependable out there. He gets to a lot of balls that a lot of guys don't get to," said Blue Jays outfield coach Tim Leiper. "He does all the little things you need to do to be a good outfielder."
Leiper went on further to explain that Grichuk's excellent range posed an initial new challenge for the team. In the past, the corner outfielders have had limited range. As a result, the Blue Jays have relied too heavily on the excellent play of centerfielder Kevin Pillar. Grichuk has changed all that because he is a plus defender. So the main challenge for Leiper was how to position the two players so they didn't overlap in the field and maximize their ability.



Grichuk's "instincts" and understanding of outfield defence have helped with a smooth transition into the Blue Jay outfield. "I know Pillar and I both have a lot of range. If a ball goes up that is in between I will let him take it," explained Grichuk. "I don't like there to be confusion of him calling and me calling it, both of us calling it and running into each other. I've got to play back and let him take what he can get." This is an example of him being selfless.
Going forward Gibbons sees a strong future for Grichuk. He feels the right fielder has the capabilities to become a middle of the order bat. Also he could play some more centerfield, like he did Wednesday night against the Mets. "He could do that even more often out there because he is that good," said the Blue Jays manager.
Bautista returning to Rogers Centre this week brought back great memories for many, but it may have helped put some closure for some. Grichuk has come in with no intention to replace or compare himself to the Blue Jay legend. "My main focus is on understanding the player I am and what I can do and trust it and go out and play my game," said Grichuk.
The Mets series was about saying a proper goodbye to the past, Randal Grichuk is the future.
Lead Photo © Dan Hamilton-USA TODAY Sports