Ben Revere stepped up to the plate in the ninth inning of Game 6 of the 2015 American League Championship Series against the Royals with his team down 3-2 in the series and 4-3 in the game. Dalton Pompey and Kevin Pillar, the tying and go-ahead runs, were in scoring position with just one out. The name Ben Revere wasn't exactly one to strike fear into opponents' hearts. But in a situation that begged for a slap single to cash in some runners, he was a slap-single hitter. The Jays had the Royals right where they wanted them.
In a 2-1 count, Revere took a high fastball from Wade Davis that seemed like it was off the plate. Instead, home plate umpire Jeff Nelson called it strike two, evening up the count. Revere struck out on the next pitch, and Josh Donaldson later grounded out to end the game and the Blue Jays' World Series hopes.
With one split-second decision, Nelson may have singlehandedly altered Blue Jays history. And the agonizing part is that, three years later, we know mathematically that the Blue Jays had a good chance of at least tying the game that ultimately ended their season — if only the call had gone the other way.
Out of all the things for Blue Jays fans to be hung up on, even three years later, that strike two call is the most common one, and for good reason: In 2015, Ben Revere slashed .280/.316/.344 when he was in a 2-2 count. When he was up 3-1, that line became .318/.605/.545. Going from a 31.8% success rate down to 28% is a huge swing, and it could have been the difference for Toronto.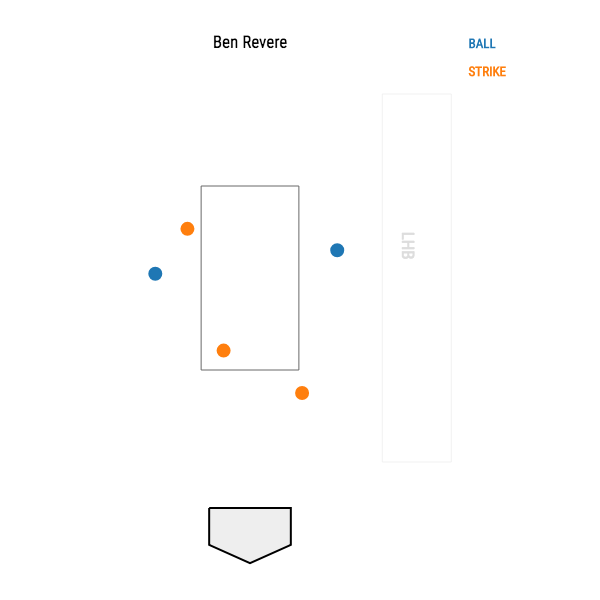 Hitters, even those that are relatively average at the plate like Ben Revere was, turn into stars when they have the count in their favour.
* * *
Teoscar Hernandez made a great first impression and gave fans some hope in a lost season when he clubbed eight home runs last September. But while he had all the power in the world for 26 games, he struck out way too many times for anybody to think that he had an outfield job locked down. 37.9% of his plate appearances ended via the K, and it wasn't like his 6.3% walk rate made things better. He was home run or bust, which was a large reason for him starting the 2018 season in Buffalo.
Things look to be different for Teoscar. He bookended a dismal May with really good months in April and June, and suddenly, his roster spot isn't in question anymore. But even though some in Toronto may think that the outfielder is undergoing a Jose Bautista-like transformation, we've seen a lot of the same, save for two differences.
First, let's talk about what hasn't changed.
 His defense
Teoscar Hernandez in both left and right field can turn a simple play into an adventure. Both his DRS and UZR/150 are in the negatives. He brings positive value to the Blue Jays, but none of it is in the field.
He can barrel the ball
Hernandez didn't get much attention for this last season because he only appeared 26 games, but he was actually one of the best in the league at making good contact. Here's a list of players with a better barrels/plate appearance than Hernandez this season: Mookie Betts, J.D. Martinez. That's it. Hernandez has been elite at making good contact when he doesn't swing and miss.

 His plate discipline is still horrid
Hernandez' penchant for swinging at, well, everything thrown his way earned him a reputation in the few short weeks he played in 2017. In 2018, not much has changed. Going into Tuesday's game, his O-Swing rate, meaning pitches chased outside of the zone, ranked 41th worst out of a possible 167 qualified hitters. He's still swinging – and missing – at the same rate he did last year.

There's one major thing I've omitted from that table: his strikeout rates. Even though everything else remained the same, Hernandez saw his K% plummet from a disgusting 37.9 to a workable 25.3 mark. How could everything else involving his plate discipline look similar but still have his strikeouts drop by a sizeable margin?
That leads us back to our good friend Ben Revere.
If Ben Revere, a below league average hitter known primarily for slap singles, becomes a star when the count's in his favour, a guy that can really put the hurt on the ball should absolutely rake when in the same situation. Right?
Last season, when Teoscar Hernandez was in the driver's seat and ahead in the count, he slashed .125/.300/.375. No, that isn't a typo. With the pitcher at his mercy, Hernandez slugged an embarrassing .375 despite, being great at barreling the ball. This season, he's hitting .347/.467/.707 when ahead in the count. The difference between 2017 and 2018 Teoscar Hernandez – aside from a little job security – is that he's taken what he's being given and hurting the pitcher with it.
To dig a bit deeper, this what Hernandez did when sitting in a favourable count (via Baseball Savant):
2017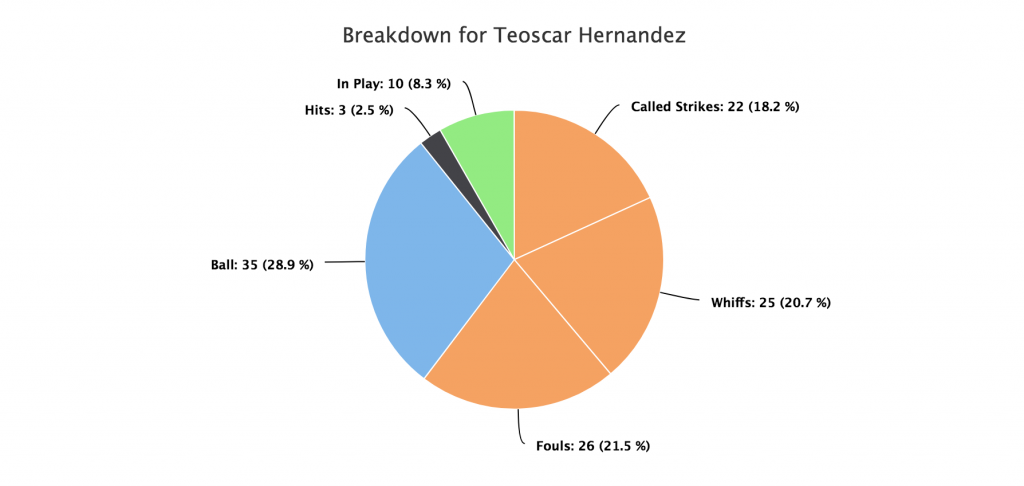 2018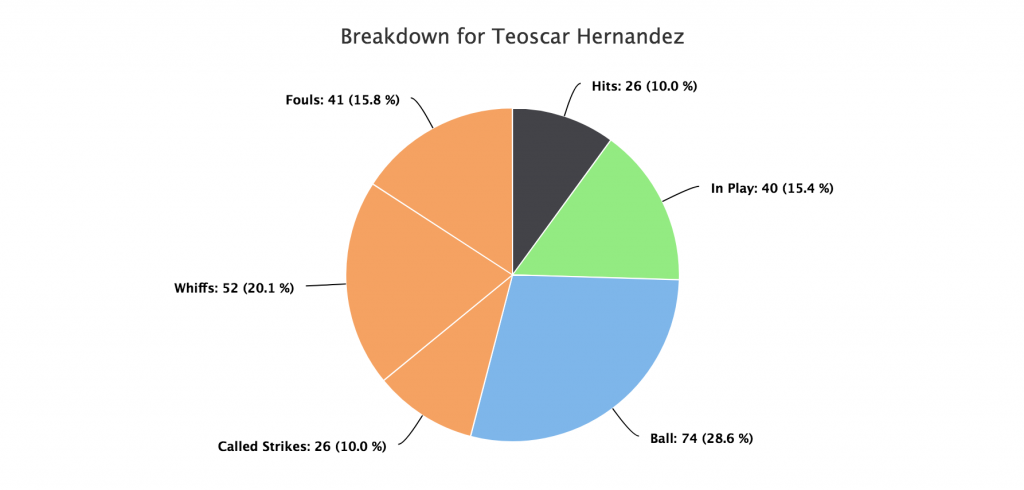 Just by looking at these graphs, you wouldn't have thought that he had a huge advantage in 2017. The majority of the time, pitchers got back into counts via called or swinging strikes or foul balls. He only put 8.3% of those pitches into play. In 2018, he's making the most of what he's being given, and it's leading to success.
Teoscar Hernandez might not be the patient Jose Bautista that works counts and grinds pitchers down, but he'll do just fine if he continues to control the at bat when he gets the upper hand. The lottery ticket that was acquired for Francisco Liriano at last year's trade deadline might just cash out big time.
Lead Photo © Kevin Sousa-USA TODAY Sports