As the calendar inches towards March, the Blue Jays find themselves entering a season where almost everything would have go according to plan in order to be in the wild card race come September. In past springs, you had the idea that if Justin Smoak could chip in on offense, the team would be in a great spot with sluggers Donaldson, Bautista, and Encarnacion leading the way. Now, coming off the best season of his career, Justin Smoak is expected to be one of main contributors at the plate with two of those three gone.
Try to remember what your opinion of Justin Smoak was pre-2017. Not very good, right?
It's very hard to find a two-year, $8.5M contract extension with a team option that was met with that much anger and confusion. And for good reason. During Smoak's first two seasons in Toronto, he was a strikeout machine, fanning in almost 30 per cent of his plate appearances. The offensive production which you would expect from a corner infield position wasn't really there as Smoak slashed .222/.306/.430 over 258 games between 2015 and 2016. So what did the Blue Jays see in him to warrant that extension during the 2016 season?
2015 Justin Smoak was actually pretty good at barrelling the ball and putting it into play with authority. That year, 8.2 per cent of Smoak's plate appearances ended in barrels, good for 22nd among all hitters with at least 50 batted ball events. That number dipped to 6.5 in 2016 as Smoak struggled heavily. In 2017, he rebounded and was near the top of the league in barrels again. The rank in parentheses are his league ranks among hitters with at least 50 batted ball events that year.

Maybe the Blue Jays knew something, as Smoak evolved into one of the best hitters in the game during the first half of the 2017 season, even earning his first all-star nod. What's surprising is that he also improved his plate discipline. Smoak's strikeout rate fell from 33% to 20% in just one season. So not only was he putting good balls in play, he was having fewer unproductive plate appearances.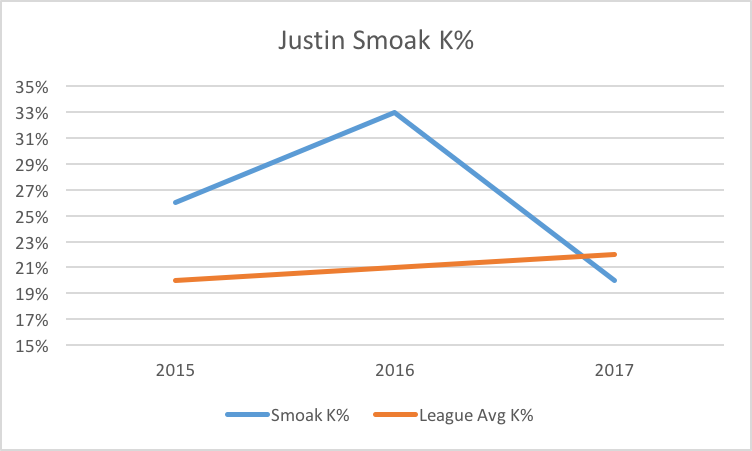 But as a meaningless season began to wind down, Smoak went cold. Near the end of August, he missed two games with a calf injury, and upon returning to the lineup, he wasn't the same. Smoak went from hitting .291/.364/.576 on August 25th with the finish line in sight to ending the year at .270/.355 /.529. Was it a Cinderella-esque nightmare that caused his OPS to plummet from .940 to .883 in just 31 games? It's a pretty small sample size, but should Blue Jays fans be worried about their first baseman returning to his old form, especially in a season that they need production from anywhere they can get it?
The Bad News
In his last 31 games, Smoak's fly ball rate soared. This may seem like a good thing because he can't beat you with his legs and you want to see your 6'4, 220-pound slugger put the ball in the air, but the quality of most of his flyballs wasn't that good. The former barrel machine just wasn't able to make good contact and the result was many outs made in the air due to his exit velocity dropping.

Here's what his launch angle charts looked like for fly balls and popups for three date ranges; the old Justin Smoak between 2015-2016, Smoak's breakout in games 1-127 in 2017, and his struggles to end the year in his last 31 games, respectively.
2015-2016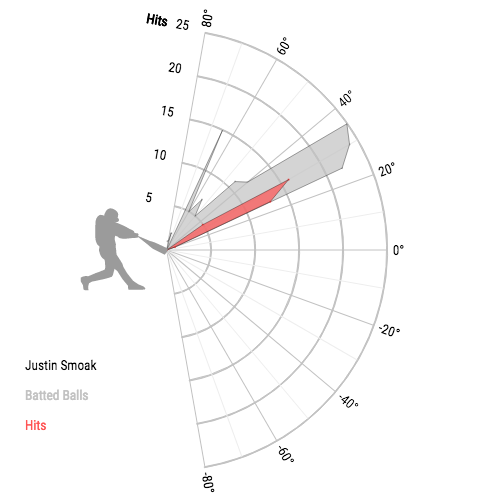 2017 Breakout (First 127 Games)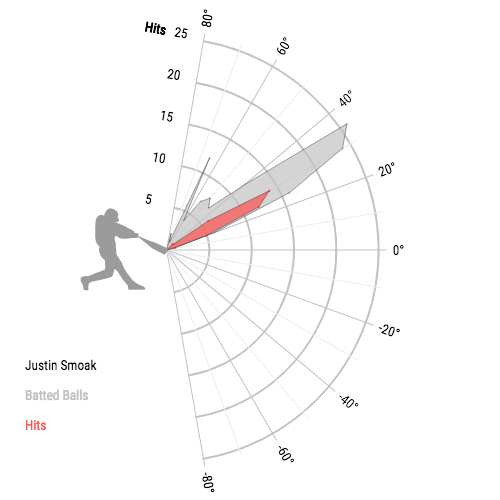 Final 31 Games of 2017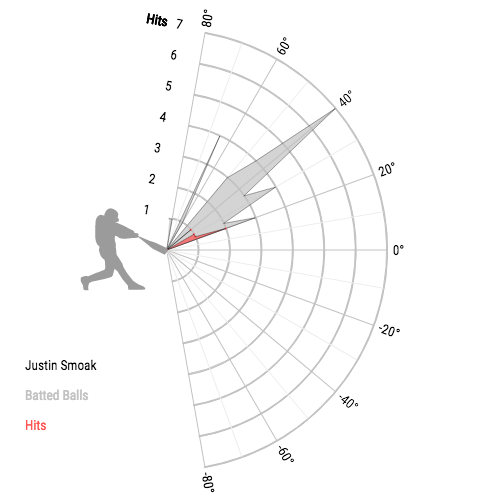 Smoak was really getting under the ball to end the year, with considerably more balls being hit with a launch angle above 40 degrees than any other trajectory. This is something that can be further illustrated with the image below. The red zone is the barrel zone and where you want to be, and the green dots are hits. The first picture sjows Smoak performed on fly balls in his first 127 games and the second one show the final 31 appearances.
First 127 Games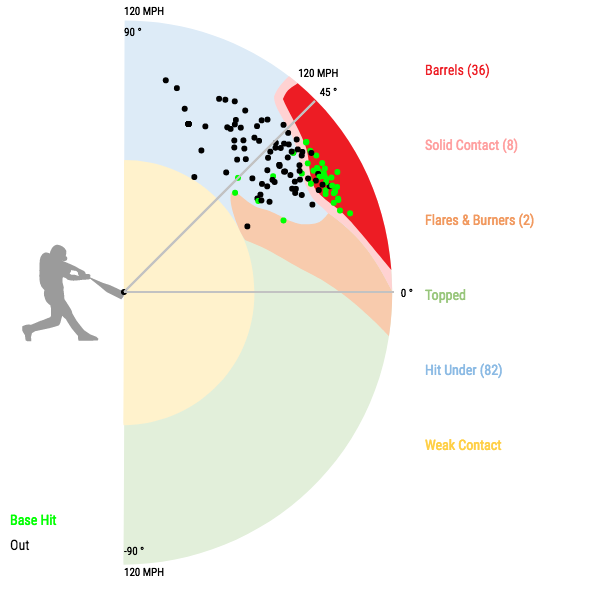 Final 31 Games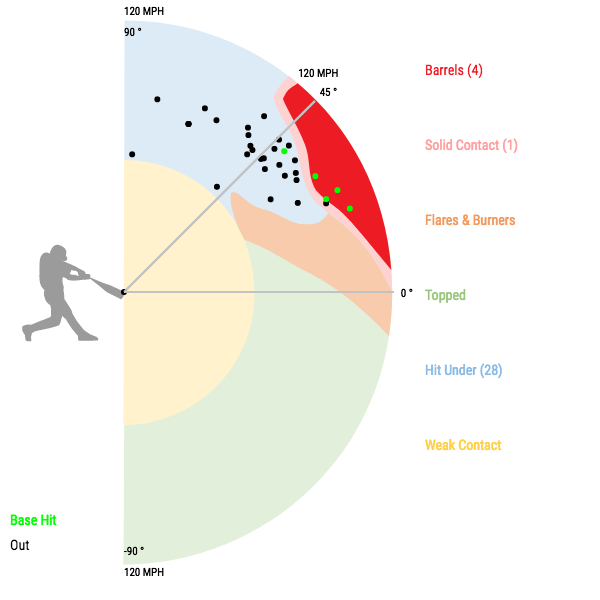 There were simply fewer balls hit with authority towards the end of the year. From August 26th to the end of the season, Smoak hit just .152 on balls in the air with an isolated slugging percentage of .273 – a measure of power and extra-base hits. That last number may not sound quite so bad, but while a .273 ISO would be great in insolation, this is just on flyballs where most balls are either home runs or extra-base hits. For reference, among players with 250 fly balls over the last three years, the worst three ISOs on flyballs are Yadier Molina's .283, Nick Markakis' .261, and Alcides Escobar's horrible .173. So clearly Smoak was struggling.
The Good News
Aside from those 31 games, Justin Smoak has been really good at hammering the ball in the air in his Blue Jays career. How good has he been? From the 2015 season to the end of 2017, Justin Smoak had an isolated slugging percentage of .662 on fly balls. That's a far cry from the .273 to end the season and actually ranks him 9th league wide among players with at least 250 fly balls over the three seasons.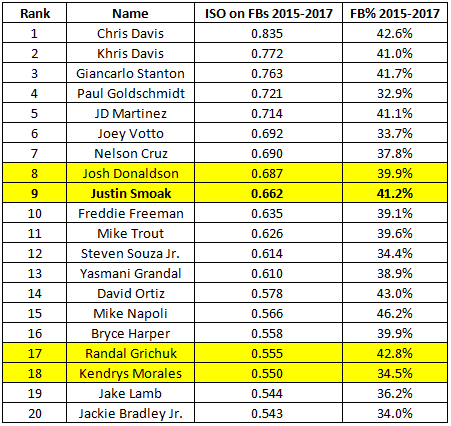 It's also interesting to point out that three other Blue Jays crack the top 20: Josh "they don't pay you for ground balls" Donaldson, Kendrys Morales, and newcomer Randal Grichuk. This current front office is responsible bringing in Morales and Grichuk the past two offseasons, as well as extending Smoak in 2016, which makes me think that the signing was less random than it seemed at the time.
Another piece of good news is that even when his power suffered, Smoak didn't revert to the subpar plate discipline that we've seen from him in previous years. He still wasn't whiffing as much as he did in the past or even chasing pitches outside of the zone. Things would look a lot bleaker if he was striking out at the 30% clip we were used to.

There could also be a physical reason for some of Smoak's problems. The tall switch-hitter swung considerably less when he started to struggle, meaning something could have been bothering him. According to a Gregor Chisholm report earlier this week, Smoak said that he had patella tendinitis in one of his knees in addition to fouling a ball off his foot in early September. Now I won't pinpoint his sudden dip in fly ball exit velocity, the inability to barrel the ball, or reluctance to swing late in the season on an injury, but it's still a possible cause and definitely one worth mentioning and monitoring.
Smoak's workload also was different last year. Judging by his comments to Chisholm, it seemed like he wore down a little bit as the season progressed. His 158 games in 2017 were the most he's ever played in a season, well above his previous high of 132. Now that he's aware of the rigors of that type of playing time, Smoak worked on conditioning his body to handle that kind of toll.
PECOTA projects him to hit .240/.326/.430 this year, which seems a bit conservative now that we know what he can do. If a healthy Justin Smoak can maintain that plate discipline that never waned all year and keep hitting the ball in the air well, pretty much the only thing that he's consistently done well over his Blue Jays tenure, we could see another campaign for a Justin Smoak all-star spot. Even if he doesn't, that two-year, $8.5M deal with the 2019 option still looks like great value for the slugger.
There are a lot of ifs involving Justin Smoak, but that's pretty much the motto of the rest of the 2018 Blue Jays. This team needs almost everything to go right, but if it does, Toronto should be in the wild card conversation in a few months.
#IfOnly
Lead Photo © Nick Turchiaro-USA TODAY Sports