According to a tweet from Robert Murray, the Blue Jays are close to finalizing a deal with reliever Seung-hwan Oh, pending a physical. Ben Nicholson-Smith is now reporting the contract guarantees him $2 million dollars and includes an option for the 2019 season.
Sources: #BlueJays, Seung-hwan Oh in agreement on deal, pending physical. https://t.co/FBUX7SpYCE

— Robert Murray (@RobertMurrayFRS) February 26, 2018
Earlier this month, it was reported that Oh had signed with the Texas Rangers but the deal was not completed as the Rangers backed out after seeing his MRI results. The injury Oh is apparently dealing with is right elbow inflammation. If Oh passes his physical, the deal will also require a 40-man roster move, as the club is currently at the maximum.
After pitching in Asia for the majority of his career, the 35 year-old reliever has spent the last two seasons in the major leagues, most of it as the Cardinals' closer. Oh had a very effective 2016 season, posting a 1.92 ERA (2.88 FIP) and an 11.64 K/9 but struggled in 2017 as his ERA shot to 4.10 (4.44 FIP), losing the closer's role at various points throughout the season.
Oh, who is apparently nicknamed "The Final Boss" primarily throws a fastball/slider combination while mixing in a changeup around 7% of the time. Despite his 2017 struggles, many of Oh's underlying numbers look relatively stable.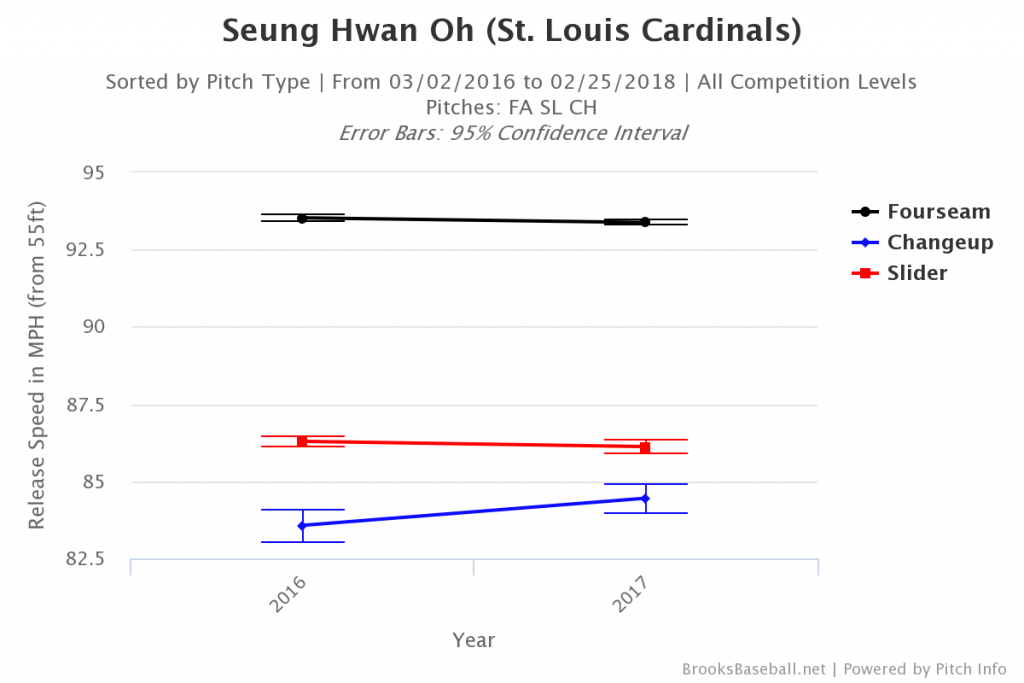 As you can see from above, his velocity and walk rates both remained similar to his 2016. Also, the only really noticeable change in Oh's repertoire was with his changeup, but as mentioned, he rarely throws it. Where he struggled was in his ability to generate swings and misses – his swinging strike rate dropped from 18 percent in 2016 to 12.9 percent in 2017, resulting in a lower overall strikeout rate (8.19 K/9).
That increased contract rate also came with a change in his batted ball profile, as Oh went from generating 40% groundballs in 2016 to a mere 28.7% last year. With the home run spikes across baseball, that led to a lot more balls leaving the yard for the righthander.
If Oh is able to rebound, which certainly could be possible with the lack of a dip in stuff – other than the changeup which is usually just a correctable release issue – he provides late inning cover for Roberto Osuna and could be one of the club's better relievers. It's nothing guaranteed of course, as at his age and with his health concerns there are definite downsides.
Despite those risks, the Oh signing looks to be a good one for the Blue Jays. At $2M, he doesn't cost much and he adds another arm to a bullpen that lost Dominic Leone. It's easy to forget but Oh was a two-win reliever just two seasons ago. Like most of the Blue Jays offseason activity, the front office has continued to acquire solid, but not spectacular players in it's quest to increase the depth on a team that struggled when key players were sidelined in 2017. And when it comes to acquiring depth, the Blue Jays sure seem to like the St. Louis Cardinals.
Lead Photo © Charles LeClaire-USA TODAY Sports