The fourth Collective Bargaining Agreement, signed between MLB Ownership and the Players Association on July 12, 1976, introduced the radical notion of free agency into baseball. It represented a monumental leap in the direction of players' rights in a sport where, even to this day, their employment options are startlingly restricted. To wit: Players have little to no control over whom they are drafted by; can potentially be kept in the minor leagues as long as five seasons before potentially becoming available via the Rule 5 draft to another team they can't select; and, once they finally reach the highest level, find themselves under control for three years at baseball's equivalent of minimum wage, and for another three years after that at fractions of their true market worth.
If the length of team control wasn't already challenging enough, even free agency has lost a lot of its luster in recent years as front offices have smartened up to the realities of the decline phase of a player's career. Around the turn of this decade it became popular for teams to leverage those cost-controlled years into lengthy extensions at heavy discounts, forcing players to decide whether to bet on themselves remaining healthy and productive for each of the next five or six years, or to settle for an adequate lump sum of guaranteed cash today. In many cases the players have erred on the side of caution, locking themselves to an organization through their prime years only to find other teams unwilling to pay for their past production once they reach free agency around the age of 30.
The growing trepidation with free agency has been fully realized this offseason, as signings are well below the last five years and have caused some to raise the possibility of price fixing or collusion. To compare signings across years, I broke down the offseason into 21 weeks, beginning with October 10th through October 16th and ending with February 27th through March 5th, at which point Spring Training has fully commenced. Figure 1 below was produced using these weekly buckets and the annual signing tracker available on Baseball Reference.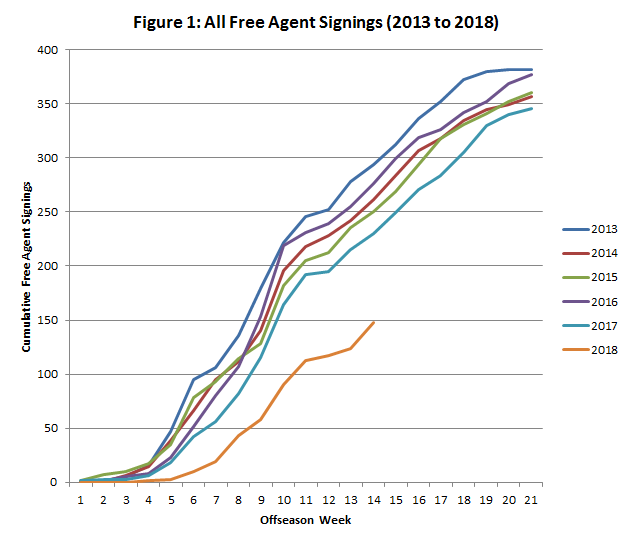 The 2013 offseason covers the signing period leading up to the 2013 season, and so and so forth through to 2018 (current). The data for 2013 to 2017 trends consistently, with 2017 potentially a foreboding sign of what was to come. The five-year average for free agent signings over the first 14 weeks of the offseason (ending January 15th) was 262. Here in 2018, we've seen just 148 free agents signed by January 15th, nearly 44 percent below that average. The previous five-year low by this date came in 2017 with 230 signings.
To hit the five-year average of 364 free agent signings by March 5th, we would need to average 4.4 signings per day from January 16th on, which is nearly triple that of the rate we've observed this offseason (1.5 per day).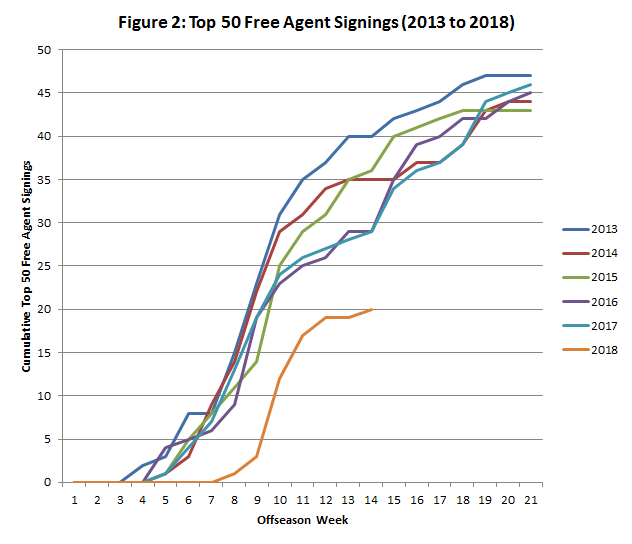 It's not just the peripheral, mediocre, and older talent that have felt the cold shoulder from ownership this winter. The players widely considered to be the top of the class, i.e. those identified annually by MLB Trade Rumors as the Top 50 free agents, have suffered as much as the rest. Just 20 of the top 50 free agents for 2018 have signed as of January 15th, which is equally far below the five-year average of 34 by that date. Furthermore, most of those 20 were relievers who signed alarmingly well-scaling deals.
Just one of MLBTR's top 11 has signed, and unsurprisingly, it's a reliever: Wade Davis for three years and $52 million. The fifth-ranked potential free agent, Masahiro Tanaka, chose not to opt-out of the three years and $67 million remaining on his deal. And while many were skeptical of his decision at the time, in hindsight, you have to wonder if his agent, Casey Close, might have sensed that something was afoot. Yu Darvish, J.D. Martinez, Eric Hosmer, Jake Arrieta, Mike Moustakas, Lorenzo Cain, Lance Lynn, Greg Holland, and Alex Cobb all still find themselves without a home.
Over the last five years, the longest we've seen it take for two of MLBTR's Top 10 free agents to sign was December 9th, 2017, when Dexter Fowler joined Yoenis Cespedes in having a deal. In 2013, 2014, 2015, and 2016, it was November 29th, December 7th, November 18th, and December 4th, respectively. We're six weeks past the previous worst and still waiting for someone on the above list to join Davis.
All of this is particularly noteworthy given the impending free agency of Josh Donaldson. Barring the unforeseen, Donaldson will be a member of inarguably the most impressive free agent class in recent memory. Among position players he'll be joined at the top by Bryce Harper and Manny Machado, and not far behind that trio are Charlie Blackmon, Daniel Murphy, and Andrew McCutchen. On the pitching side, both Clayton Kershaw and David Price have the ability to opt out of their existing deals, and will be joined by the untethered Dallas Keuchel, Craig Kimbrel, Andrew Miller, and Zach Britton. That's just the premium talent: The middle of the class is equally deep and unprecedentedly impressive, featuring Brian Dozier, Elvis Andrus, A.J. Pollock, D.J. LeMahieu, Gio Gonzalez, Patrick Corbin, and Cody Allen among many, many others. Seriously, just look at the list.
One could argue, and ownership certainly would were a collusion lawsuit to arise in the future, that teams are simply saving their money this offseason with their eyes (and chequebooks) set on next winter. But the current climate of penny-pinching and the depth of the class next winter could seriously hamper Donaldson's ability to find the deal he seeks. He's unequivocally among the most talented of his peers, but his 2019 age (33) will be working against him with Harper (26) and Machado (26) looking to push their way into the Alex Rodriguez and Giancarlo Stanton echelon of contracts. Donaldson is hyper-competitive and will want to play for a contender for the remainder of his career, but even the biggest spenders have a finite amount of money at their disposal in a given winter. If the Yankees, Dodgers, and friends splurge more than one billion dollars combined on Harper, Machado, and Kershaw, they might be hesitant to make a $100-150 million commitment to Donaldson as their second expenditure.
It's why everyone, including both Donaldson and Mark Shapiro themselves, seems to realize that Toronto was, is, and continues to be his best fit. Even with his 2018 salary already settled, the suddenly tight purse strings across baseball and the continued unemployment of J.D. Martinez and Eric Hosmer in mid-January could serve as a catalyst to reignite discussions on a longer agreement. It would take some flexibility from the Rogers ownership group, particularly in the short term with Martin and Tulowitzki still under contract, but they can definitely make the dollars and years work on a fair and realistic contract.
Last week the Toronto Star's Richard Griffin proposed the four-year, $110 million dollar contract signed by Yoenis Cespedes last winter as the framework for a Donaldson extension. With younger players struggling to find long-term deals now, and even younger players likely to command the attention next year, four years and an immense bucket of cash for Josh Donaldson today sounds like an excellent compromise.
Lead Photo © Nick Turchiaro-USA TODAY Sports