While the offseason has given us pretty much nothing but non-stories and pure speculation to talk about (even amongst the league's newsbreakers), that doesn't mean that the hot stove is completely off. The Jays have a few obvious spots to fill headed into free agency and there are already a handful of players that the team has been connected to. There are all kinds of rumors at this point in the baseball calendar with agents and players angling for massive contracts and teams playing coy on who they're after.
Each rumor makes a certain degree of sense but for the sake of this exercise we're going to include just about everything that's been making the rounds so far. No Giancarlo Stanton though, as I don't want to end up talking myself into something that's not going to happen under any circumstances. My fragile heart can't take it.
Instead of sitting around and waiting for things to happen, let's sit around and talk about what's rumored to potentially happen, maybe, hopefully.
Lorenzo Cain
The Jays were one of the first teams connected to Cain and it's not hard to see why – with two outfield spots there for the taking. While there's little doubt that Cain is an All Star who has the potential to give the team an immediate jolt, there are plenty of little concerns that cast some negativity over this potential transaction.
One of Cain's most obvious assets is his speed, as evidenced by the fact that he's stolen 110 bases across five seasons since becoming a full time player. Even better, his 26 steals last year came with only two failed attempts, placing him sixth in success rate. He's also been a strong defender in center field for the entirety of his career and is coming off a 5.7 WARP year. Again, he's really good.
The question becomes how much longer he can stay at that level, as the already-old Jays might balk at signing a 32-year-old for longer term. It also doesn't help that Cain hadn't topped 140 games in a season until last year. The odds of a regularly-injured (though not overly seriously) player who relies on speed maintaining that skillset probably aren't the highest. And while you can go back and forth about the impact of Toronto's turf, Cain himself might be hesitant to deal with that for half of his games.
There's also the fact that Kevin Pillar currently occupies center field for Toronto. Cain has handled right field in the past but loses some of his value as a plus defender if he's not in center. On one hand, playing him in one of the corner spots might save some wear and tear. On the other, the Jays won't be able to factor that into the price for one of the hottest commodities on the market. Paying for value that you know you won't recoup isn't the best strategy in the world. They could move Pillar to right or left but his bat becomes far tougher to play in the corners. A Cain signing would probably portend a Pillar trade, which might not be the worst idea in the world.
Cain is still a great player and is likely to remain as such for another year or two. It's after that that things get dicey. And while signing him would represent a definite win-now mentality, it's up for debate as to how far he (and a post-extension Josh Donaldson, presumably) can prop the contending window open given the AL East landscape.
J.D. Martinez
Jon Heyman raised some eyebrows on Monday with an article that was basically entirely dedicated to matching Martinez and the Jays, which included a weird attempt at comparing Toronto to Detroit, where Martinez loaded his resume with 99 home runs in three and a half seasons. He's in line for a huge payday after connecting for a sterling .387 ISO last season and there are plenty of teams who'd make room for him, let alone one with the obvious outfield holes that the Jays have. Put it all together and this smells like some agent-side posturing. On the other hand, do you really think that Scott Boras would engage in such a tactic?
There's no denying that a hitter of Martinez's caliber would be a wonderful fit in the corner for Toronto. If you close your eyes you can see the t-shirts now, with J.D. Kong scaling the CN Tower. The issue lies in the fact that he's looking for a deal in excess of $200 million with some of the game's notorious spenders prepping their checkbooks. It's nice to see the Jays at least on the list here, but don't get your hopes up.
Jay Bruce
No mention of the Blue Jays' outfield holes is complete without also talking about Jay Bruce. Heyman tossed Bruce's name out there in the aforementioned Martinez article, though you don't have to look very hard to find other sources tying the two parties together.
After his star significantly waned towards the end of his Reds tenure, Bruce has made a comeback of sorts in the last two seasons. His defensive metrics have yo-yoed of late and could tank at any point now considering he's set to turn 31 and already slow, but he's a natural fit in right field. He'd also fulfill the organizational goal of getting some more left handed presence in the batting order, though it's unclear if that's a priority that has carried over from last winter.
Bruce is what he is at this point – a left handed power hitter who has clocked 25 or more home runs in seven of the last eight years. He's also been in the top 50 (bottom 50?) in strikeout rate in each of his qualified seasons. There are definitely warts to pick at, and that becomes increasingly tough to overlook if he ends up signing in his rumored $80 million range, but the Jays have been connected to Bruce for quite some time now and even had a completed trade for him scuttled by a failed physical. This is their first chance to make a move without sacrificing prospects or players.
Eduardo Nunez
GM Ross Atkins has already said that creating some infield versatility is one of the team's priorities this offseason. Nunez is a pretty obvious connection of dots here as he'd fill a utility role and is coming off the best offensive season of his career. It wasn't necessarily an out-of-nowhere breakout either, as Nunez has combined for 6.4 WARP in four stints between Minnesota, San Francisco and Boston over the last two seasons.
Circling back, Atkins went on to say that "[o]ur priority is complementing our infield in some way with versatility, someone that can not just play when needed, but someone who can potentially get 600 plate appearances across our infield in some form or fashion."
Nunez picked up 491 PAs last season, so that's not out of the realm of possibility. How versatile he can be is another question entirely. While Nunez has logged time at second, third, short and in the outfield, he's seen a dramatic shift in his deployment over time: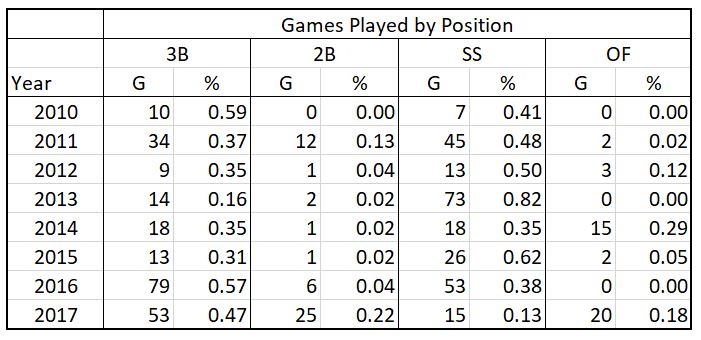 While it's important to note that Nunez has no bearing over his teammates and thus where he slots into the lineup, it's pretty evident that he's spent most of his recent career picking up time at third base. In Toronto, that means he'd be spelling Josh Donaldson. If that happens, the season is already lost. In any meaningful season, the Jays would lean on Nunez to play at second and short – the two spots where he grades the worst in both UZR and DRS by a wide margin. The Jays do have need for help in the outfield though, so he works on that level. Nunez makes plenty of sense on the surface but the price may not end up making sense here. Even if the cash isn't back breaking, the Jays shouldn't feel compelled to get into a bidding war on a thin market for a guy who'd be playing a little outside of his comfort zone. Nunez is better than Barney or Goins, certainly, but probably wouldn't be some sort of utility savior.
Dee Gordon
The need for infield depth has been highlighted by the unfortunate (though relatively predictable) injuries to Devon Travis and Troy Tulowitzki. The payroll-shedding Marlins would probably love to ditch second baseman Dee Gordon, who's set to make $37 million over the next three years (plus a $1M buyout of a $14M option for 2021). He's a bit different than the other middle infield solutions currently in the rumor mill as acquiring Gordon all but ensures the end of Travis' tenure as Toronto's starting second baseman. While Gordon has 1,320.2 big league innings at shortstop under his belt, all but 16.1 of those came prior to 2013. Even if Gordon were a viable option at short, it would assume that the Jays could find a taker for Tulowiztki's monstrous contract, which would easily be the greatest feat of any theoretical transaction on this page.
Given the organization's apparent focus on restocking the pipeline and Miami's desire to send out money, it's highly unlikely that the two teams meet on the middle in terms of outgoing prospects and dollars. Gordon would check a lot of boxes for the Traditional Leadoff Guy crowd but this one seems best left in what-if territory for now.
Jarrod Dyson
Speaking of potential leadoff guys, here comes another slap hitting speedster. And he's left handed! Fetch the fainting couch.
Jokes aside, Dyson has twice been mentioned by Ben Nicholson-Smith, once with the interesting tidbit that he apparently has a fan in John Gibbons. The two crossed paths in Kansas City when Gibby was a bench coach for two seasons at the beginning of Dyson's career, but other than that it's tough to guess where they might've formed a relationship.
Dyson can play all over the outfield and has the speed and track record of a serious threat on the basepaths, but the Jays might also be interested in his on-base skills. He's delivered OBPs of .340 and .324 over the last two seasons, both of which saw him set career-highs in plate appearances.
While Dyson would make for a cheaper option and likely excel in a limited role, the Jays current roster configuration makes it hard to see him sign on in the near future. We're not in the business of forecasting trades, but another shoe would have to drop before penciling Dyson into the opening day lineup.
Robbie Ross
Ross was connected to the Jays in a report from Sportsnet's Ben Nicholson-Smith. The southpaw is entering his age 29 season and has split his six year career between the Rangers and Red Sox thus far. All but 12 of his 266 appearances have come from the bullpen, and it's clear here that the Jays would be looking at some lefty help in the bullpen. He produced -1.9 WARP in 2014, his last year with the Rangers and the only season in which he was used as a starter. Since joining Boston, Ross has posted 0.7, 0.1 and -0.1 WARP over the last three years. Take last season's negative showing with a grain of salt as Ross was limited to just 9.0 innings with a host of injury troubles.
He hit the DL at the start of June with elbow injuries and ended up undergoing back surgery at the end of August, though he's expected to be ready for spring training. As such, Ross probably won't command much on the open market. The Jays have hit on these low-risk bullpen moves in the past and that'd be the end goal here, though whether Ross would be worth even the minimal investment considering in-house alternatives like Aaron Loup, Matt Dermody and Tim Mayza remains to be seen.
As for his career numbers, Ross boasts a 3.92 ERA, 1.39 WHIP, 7.5 K/9 and a ground ball rate just shy of 53 percent. He's outperformed his DRA (Deserved Run Average) in every season besides last year's injury-induced nightmare, but the ground ball numbers are probably what the Jays are most interested in here. Ross isn't exactly a lefty specialist either as while he holds them to a lower batting average (.255 vs. .271 for righties over his career), lefties and righties own similar OPS's of .723 and .712. Considering the probable cost and role here, it'd be hard to get too fired up about Ross one way or the other if this came to pass.
Joe Smith
Nicholson-Smith mentioned a potential reunion with Smith as an aside in one of his recent columns, and there'd be a ton to like about that move. The Jays were able to sign Smith to a cheap one-year, $3 million contract in early February and it wound up paying off with 1.3 WARP in only 35.1 innings. He was a terrific setup man who held the fort while the team gained confidence in their younger arms and helped the Blue Jays net some prospects in a deadline trade that sent him both to a contender and closer to home in a time of family turmoil. It was a win-win of a year for everyone, and the Jays would probably jump at the opportunity to re-sign Smith even if the price tag is slightly larger than it was this time a year ago. Low risk bullpen moves are really hard to hate, especially in their on-paper form.
Tyler Chatwood
Chatwood has the distinction of being the most closely pursued player listed here, at least as far as we know. Atkins revealed that the team has already engaged with Chatwood, who is one of the league's hottest names at the moment. While he's not likely to break the bank, teams are enthralled with his nasty spin rate, a spike in his ground ball rate and a career 3.31 ERA away from Coors Field.
This regime found success by moving quickly on a lower-tier pitcher in free agency with their J.A. Happ signing and the fact that they've already done more than simple due diligence could mean that they'll try and get this done quickly. There will be plenty of other suitors but Chatwood would make for an excellent addition if the Jays can distinguish themselves from the pack.
Shohei Ohtani
The Jays are said to be "well prepared" for their pitch to the potential two-way megastar. There are still plenty of hurdles to get through here, namely whether or not Ohtani even comes to MLB this season, but when he does he'd be a tremendous fit in Toronto. A boy can dream.
Lead Photo © Richard Mackson-USA TODAY Sports