Thanks to a late end to the postseason (the final game World Series game was played on November 2nd), we sit here on November 17th and the Hot Stove is still sitting comfortably on "low." The only move of consequence so far was Ryon Healy going from Oakland to the Mariners for a couple of players who most fans would describe as "let me Google that guy."
For that reason, people tend to turn to idle speculation and hypotheticals. I am not immune, so I posted the following on Twitter.
If Shohei Ohtani were to come to the Blue Jays and say he'd sign only if they can get to a certain cap space level and the trade to get it somehow requires Bo Bichette going the other way, would you do it?

— Joshua (@JoshuaHowsam) November 16, 2017
It's an absolutely silly question (and a bit of a run-on sentence to boot). In what world would it take a prospect of Bo Bichette's calibre to get a little bit of international bonus pool money? But that wasn't really the point. I asked this question to get a window into the fan perspective of the very unusual situation in which we find ourselves with Shohei Ohtani coming over as a bonus pool-limited free agent.
On the surface, this should be a landslide in the "yes" department. Bo Bichette is definitely a great prospect, but if the choice is between a top prospect in high-A and an MLB-ready talent like Ohtani making the league minimum, it should be pretty clear. Ohtani has the potential to be a generational talent – thanks to his potential to add some value with the bat – and at minimum projects as a future top of the rotation starter who is already advanced enough to help right now. Those types of players just don't come along very often.
But when you look in at the results, the "yes" vote is only leading with 54 percent of the tally after 550 votes. That's very close for something that seems pretty one-sided.
So why does this happen? I asked a couple of the people who openly voted no why they chose to lean the way they did.
There were reasons given ranging from general concern about pitchers and their durability to simply not being able to wrap their head around the idea of trading a player in order to acquire a free agent, but the ones below were the most fascinating.
The first reason was the one that I expected, but I wanted to discuss it further: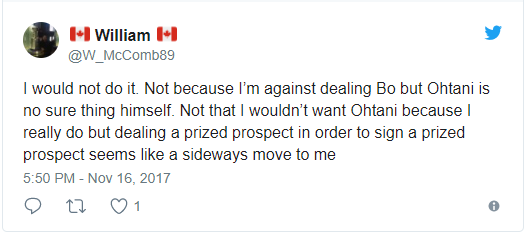 This is a case of comparing two different types of unknowns (and not the only such reply I received).
Ohtani's scouting reports are excellent. He seems like he has all the tools to succeed and nobody (who isn't motivated by prejudice towards "Japanese Pitchers") thinks he's anything but a top-level talent. On the flip side, Toronto fans have been hearing glowing report after glowing report about Bichette ever since he laid waste to the Gulf Coast League in his professional debut. As a result, people can't help but book a ticket for the hype train and expect Bichette to turn into a superstar who will hit the major league ground running as early as September 2018.
As a result, this false equivalency is created between "prized prospect" Bichette and "prized prospect" Ohtani. They absolutely are both prized prospects, but they're not the same. Ohtani would be the number one prospect in baseball. Bichette is not. But when we're confronted with a situation like this, it's the natural inclination to lean towards the more familiar of the two unknowns. In this case, rightly or wrongly, that's Bo Bichette.
Another reason I was given for picking the Toronto prospect in this poll was even more fascinating and one that we ignore far too often: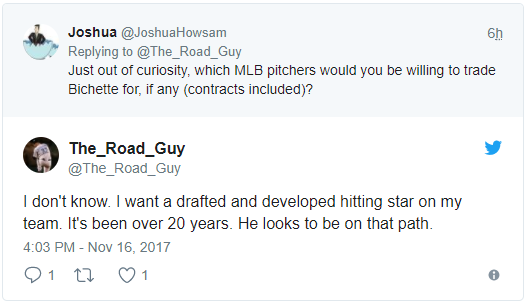 Sentimentality.
When I put it up there as a one word sentence, it reads as though I am dismissing sentiment as a ridiculous thing, but it's the opposite. Far too often when debating various roster moves, we ignore the very real emotional attachment that people build with players on the roster. That's an odd thing too, because this very same attachment is the number one reason for fandom. Without it, all stadiums would look like those in Miami or Tampa and the game actually would be dying. We all have players we get attached to and simply don't want to see moved. For me, that's Anthony Alford. He's the nicest guy in the world and I don't want to see him traded for anybody. I know it's not rational, but I don't care.
In the case of Bichette (and Vlad Guerrero Jr.; it's often hard to separate the two), the prospect of building a home grown, franchise hitter is incredibly appealing. It hasn't been done since…Vernon Wells? Carlos Delgado? Some of us think of Jose Bautista and Edwin Encarnacion as home grown because they became stars here, but they came from elsewhere. Even Devon Travis was picked up in trade. So the dream of seeing Bichette rise through the system as "our" guy and then becoming a star has a tremendous appeal. It can even lead to choosing a situation that is likely a bit worse (in this case Bichette over Ohtani) but that is much more enjoyable if it works out.
The big takeaway here is that there truly is no right way to appreciate this game. There are moves that are objectively better for the team, but they may not be better for the fan. Emotion, messaging, and attachment play a big part in how we view our own players and how we cheer for them and forgive their flaws. As a result what seemed like an obvious decision became incredibly less so.
That's pretty cool.
Lead Photo © Jasen Vinlove-USA TODAY Sports
Thank you to everyone who responded to the poll and to @The_Road_Guy and @W_McComb89 for letting me use their tweets.