Written by Nick Dika, Andrew Munn, and Greg Wisniewski
How is Tim Beckham Doing This?
Blue Jay A – 5.6 BB%/15.1 K%/13HR/14SB – 8.0 VORP
Oriole B – 5.8 BB%/28.3 K%/ 18HR/ 6SB – 29.1 VORP
As you can probably guess from the title of this section, Oriole B is Orioles' shortstop Tim Beckham. Blue Jay A is Kevin Pillar. Despite posting a similar walk rate and a K rate 13.2% higher than Pillar's, Beckham has managed to make himself significantly more offensively valuable in 55 fewer at-bats this season. Beckham has been especially hot since being traded to Baltimore, hitting .393/.418/.667 since August 1st.
The O's shortstop and former first-overall pick who was acquired at the non-waiver trade deadline is having what may be a breakout season at age-27, slashing .295/.341/.477. Given his problematic plate approach, is his breakout sustainable or is he benefiting from the same Orioles' devil magic that seemingly keeps them in contention no matter how many times they trot Ubaldo Jimenez out to the mound?
Despite his contact problems, Beckham has always managed to run high batting averages on balls in play, posting a career BABIP of .352. This year, Beckham's BABIP is sitting at .386, uncharacteristically high even for him. Given his exit velocity sits a tick above average at 88.6 mph, Beckham has been benefiting from some batted ball luck. The only other change in his offensive profile is that Beckham has managed to significantly cut his infield fly ball percentage – from 12.8% in 2016 and a career average 7.1% all the way down to 4.3%, well below the league average of 9.6%. For reference, if you're wondering why Pillar has been so much less valuable, he pops up at a 15.3% clip.
Can Beckham keep up his torrid pace? Definitely not. When some of his batted balls stop falling for hits, his average (and OBP with it) are going to regress. But if he is able to keep minimizing his infield flyball percentage, he may be able to keep some of the offensive gains he's made this season. Coupled with his defense at shortstop, the Orioles will definitely take it. And everyone else will continue to shake our heads.
Get Your Outfielders Ready
Thursday night's matchup involves two pitchers who operate with nearly identical strategies. Of all qualified starters in 2017, Marco Estrada and Jeremy Hellickson rank 2nd and 6th respectively in fly ball percentage. Both use nearly the exact same pitch mix, with their primary weapons being the fastball and changeup, while also turning to the curveball and cutter on occasion. While both have had success in the past, each pitcher has also shared in their struggles during the 2017 campaign.
Hellickson was a trade deadline acquisition for Baltimore, one whose mediocre campaign with the Phillies has taken a turn for the worst since donning the orange and black. In five starts for the Orioles, the right-hander has tossed 29 and 2/3 innings with an ERA of 5.46. His home run issues have become even more pronounced, giving up seven home runs over the same stretch. On the year, he has given up 1.84 home runs per nine innings as his increased fly ball percentage in comparison to years past has lead to a new career high in home runs allowed.
Meanwhile, Estrada has been no stranger to struggles of his own this year. Over his 151 and 2/3 innings pitched he has produced an ERA of 5.04 giving up home runs at a rate of 1.42 per nine innings. Despite this, he has pitched better as of late, lasting at least 6 innings in five of his last six starts. Over the same period, he has tossed an ERA of 3.86 over 37 and 1/3 innings, striking out 30 and walking 12.
Adding to the potential fireworks are both teams' tendency to slug fly balls. This could be especially troublesome for Estrada, considering that Baltimore currently leads baseball in xWOBA on fly balls at .458. While Toronto sits down in 20th by the same measure with a .412 xWOBA, they are also 13th in the majors in home runs. Combining these two teams' offensive firepower with extreme fly ball pitchers could potentially lead to quite the power display Thursday night.
Osuna or Later His Season Will End
Roberto Osuna is still at the back of the bullpen, saving games more often than not for the Toronto Blue Jays. And, despite his success (which has been interrupted by both bad luck and poor execution lately), it probably isn't going to be that way much longer.
Osuna is not complaining publicly about any injury. That's nice, but it's also clearly not entirely honest. Velocity is a great indicator of possible injury concerns with pitchers, as is exit velocity with batters. It's not the only thing, but if you can't move 100% comfortably through your motion, it follows you can't hit 100% of your speed.
Osuna had a lowered average velocity to start the year, but started to loosen up a bit in June of this year, observe the Brooks Baseball graph: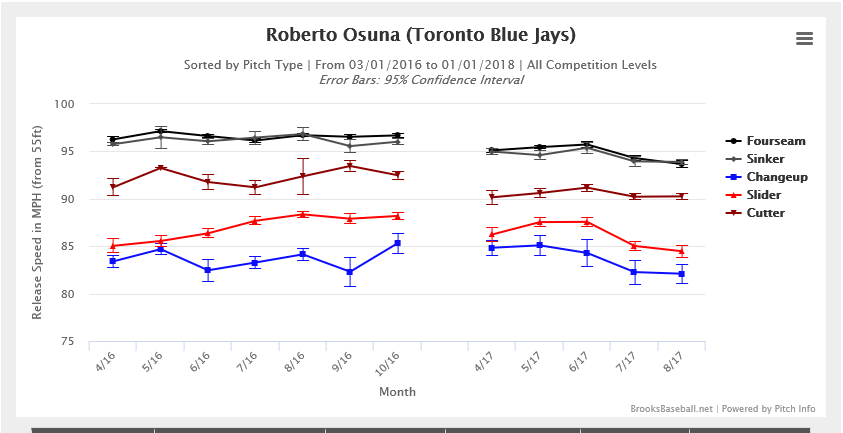 Notable, though is that even during his best month in 2017 he was not throwing as hard as his worst month in 2016. And then in July and August, he dipped below 95 mph average and has continued sliding.
Instead of average velocity, we can check max velocity. If the average is lower, but the max is pretty close to the Osuna of old, we could speculate that that's a strategic decision to mix speeds more and disrupt the timing of hitters.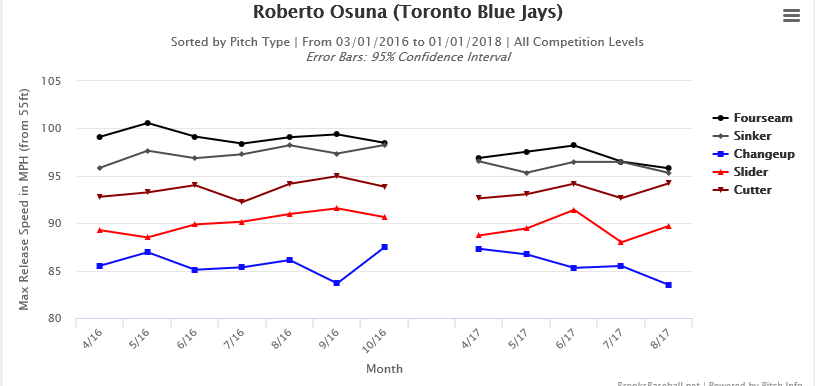 So there it is. Or isn't really. Roberto can try and reach back for a little something extra, and what he gets is 96mph. Only a year ago that was 99mph. We could look at the sudden plethora of cutters and two seam fastballs as other evidence that throwing the hard four seamer is not easy for him anymore, but the velocity drop is probably argument enough when it's 3 mph.
Roberto Osuna is not right, and in a lost season it's only a matter of time before the team has to decide to do the right thing and look to the long term. If Roberto Osuna isn't asked to answer the bell in a save situation this series, it's not his fault, it's a decision that's been a long time coming.
Lead Photo © Joe Nicholson-USA TODAY Sports